Ever felt the sting of betrayal? We all have.
It's tough to muster the courage to forgive and move forward.
But what if a powerful tool could help? This post unveils the life-changing practice of prayer for the forgiveness of others who hurt you.
Are you ready to embrace forgiveness over resentment? Desmond Tutu once said, "Forgiveness is the attribute of the strong."
So, let's dive in! We'll explore the amazing benefits of letting go of bitterness and welcoming the healing power of forgiveness.
Remember, you're not alone. We're here to support you on this transformative journey. Let's begin!
Short prayer for the forgiveness of others who hurt you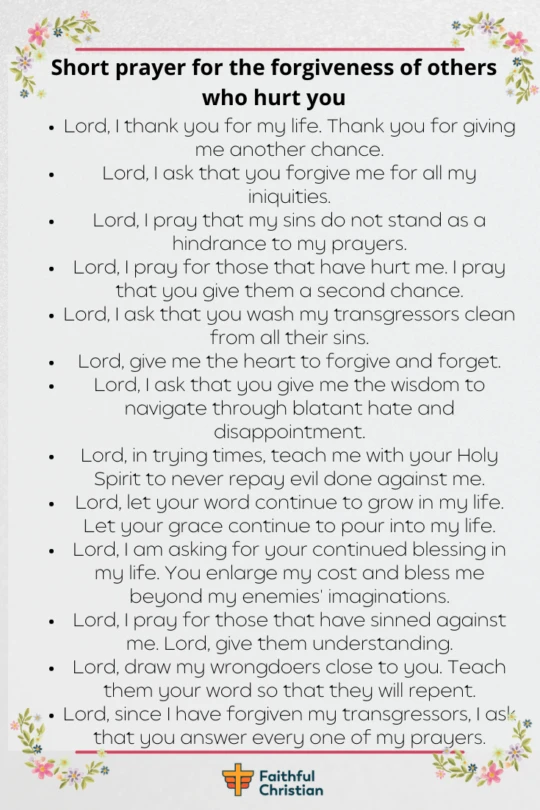 The following heartfelt prayer will guide you in forgiving those who have hurt you. Embracing God's grace, wisdom, and love is essential. It helps us find the strength to forgive, heal, and grow spiritually.
During prayer, let the divine presence encompass you and experience the transformative power of forgiveness.
For the gift of life, Lord, I am grateful. I also appreciate the countless blessings received so far.
I cherish the opportunity to grow, learn, and seek your guidance.
Humbly, I approach you, Father, asking for mercy and forgiveness for my transgressions. May my shortcomings not hinder my prayers or my connection to you.
I pray, Lord, for those who have caused me pain. Bestow your mercy upon them, offering opportunities to learn from their mistakes. Help me find the compassion and grace to forgive them and release the hurt they have inflicted.
Please cleanse the hearts of my transgressors, Lord, washing away their sins and guiding them toward redemption in your love.
Father, grant me the strength and wisdom to forgive and release past wrongs. Help me navigate life's challenges, especially when confronted with hatred and disappointment.
In trying times, may your Holy Spirit teach me not to retaliate against those who have wronged me, but to rise above negativity and remain steadfast in your love.
Let your word continue to flourish in my life, and shower me with your grace, blessings, and guidance.
Father, I pray for your generous blessings in every area of my life. Broaden my horizons and bless me beyond my adversaries' reach.
I lift up to you, Lord, those who have sinned against me. Grant them understanding and empathy to seek forgiveness and redemption.
Draw my transgressors closer to you, Lord. Enlighten them with your teachings and inspire them to repent for their transgressions.
Trusting in your promise to answer my prayers and fulfill my needs, I forgive those who have hurt me.
Prayer for the forgiveness of sins.
When we were yet sinners, Christ died for us.
Praying for the forgiveness of those who have harmed us reflects our kindness and compassion, and acknowledges God's desire for us to forgive regardless of their awareness or repentance.
Forgiveness is about releasing resentment and moving on.
When we forgive those who have caused us pain, we please God, since we are also flawed beings.
We sin daily, yet God continues to care for us and shield us from harm. Consider the times you lived in sin, without concern for whether your actions were aligned with God's will.
You may have engaged in dishonesty, adultery, or other immoral behaviors. Even so, God remained loyal to you.
Forgiving those who hurt us is essential, even if they don't understand the consequences. Offering grace and forgiveness is vital in these situations.
By forgiving and letting go of the hurt they've inflicted, we enable ourselves to heal and grow.
Today, let's seek guidance from God to learn the essence of forgiveness, drawing on relevant Bible verses for inspiration.
Forgiveness holds great importance in the teachings of the Bible. Ephesians 4:32 urges us to practice kindness and compassion. Meanwhile, Matthew 6:14-15 teaches that when we forgive others, our heavenly Father extends forgiveness to us in return.
With these verses as our foundation, we'll ask God to teach us how to genuinely forgive others. We'll pray for the forgiveness and blessings of our adversaries, seeking the same grace and mercy God has granted us.
Prayer for the forgiveness of others-let us pray.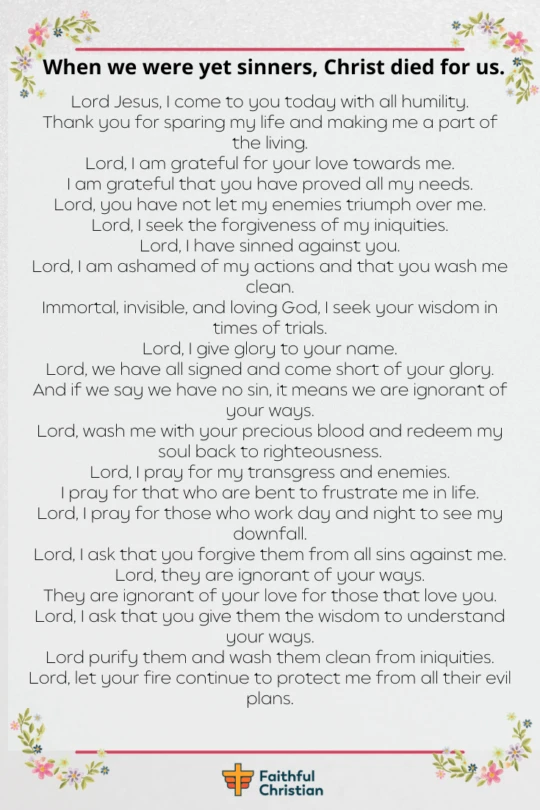 Heavenly Father, I approach Your throne of grace today with humility and gratitude, as Hebrews 4:16 encourages us to "approach God's throne of grace with confidence,… in our time of need."
I am grateful for the gift of life, Your unwavering love as expressed in Romans 8:38-39, and for Your provision in fulfilling all my needs according to Philippians 4:19. Your love and care sustain me daily. I am deeply grateful that You have not allowed my adversaries to triumph over me. (Psalm 118:13).
In Your presence, Lord, I seek forgiveness for my transgressions and acknowledge my sins. According to 1 John 1:9, when we confess our sins, You are faithful and just in granting us forgiveness. You also cleanse us from all unrighteousness. Recognizing my shortcomings, I humbly seek Your forgiveness and the cleansing power of Your love.
Eternal, unseen, and compassionate God, I look to Your wisdom during my times of trial, as James 1:5 says, "If any of you lacks wisdom, you should ask God." So, I seek your wisdom to direct my paths and actions at this point of pain and anger.
Acknowledging our sinfulness (Romans 3:23), we have all sinned and fallen short of Your glory. Wash me clean with Your precious blood, restoring my soul to righteousness (Psalm 51:10).
I lift up in prayer those who have wronged me, my adversaries, and those who seek my downfall, following Christ's example in Luke 23:34.
In my prayers, I request pardon for those who have hurt me. I pray for healing and understanding for both parties involved.
Bestow upon them the wisdom to discern Your divine guidance, as stated in James 3:17: "But the wisdom that comes from heaven is first of all pure." Purify their hearts and cleanse them from their sins, as described in 1 John 1:7.
Psalm 91:11 proclaims, "For he will command his angels concerning you to guard you in all your ways."
With this in mind, I pray for Your protection, shielding me from any ill intentions they may harbor. Dispatch Your angels to keep watch over me day and night, safeguarding me from their harmful plots.
Heavenly Father, I am grateful for Your attentive ear, as expressed in 1 John 5:14: "This is the confidence we have in approaching God: that if we ask anything according to His will, He hears us."
Thank You for listening and responding to my prayers. Amen.
The goodness of the Lord leads you to repentance.
Our ever-present, loving, and compassionate God is always with us, guiding our journey towards healing and forgiveness.
When we look to Him for guidance to forgive those who have hurt us. He does this just as He graciously forgives our own missteps.
Let's join together in prayer today for those who have caused us pain, asking God to lead them towards redemption.
We'll request that God's life-changing power reaches their hearts, inspiring them to become their best versions.
As Ephesians 4:32 teaches us, "Show kindness and empathy to one another, extending forgiveness to each other, just as, through Christ, God forgave you."
God's love is limitless, and He is entirely forgiving.
Today, we'll pray for your transgressors to discover the courage to repent and seek God's forgiveness, as encouraged in 1 John 1:9.
We'll implore God to bestow His mercy upon them, drawing them nearer to His loving presence. James 4:8 teaches us that if you "Come closer to God, and He will come closer to you."
Through our prayers, may they recognize their errors and find the bravery to repent, embracing the essence of 2 Corinthians 5:17, "So, if anyone is united with Christ, they become a new creation: The old has passed away, and the new has arrived!"
Let us pray for the forgiveness of sins for others that hurt us.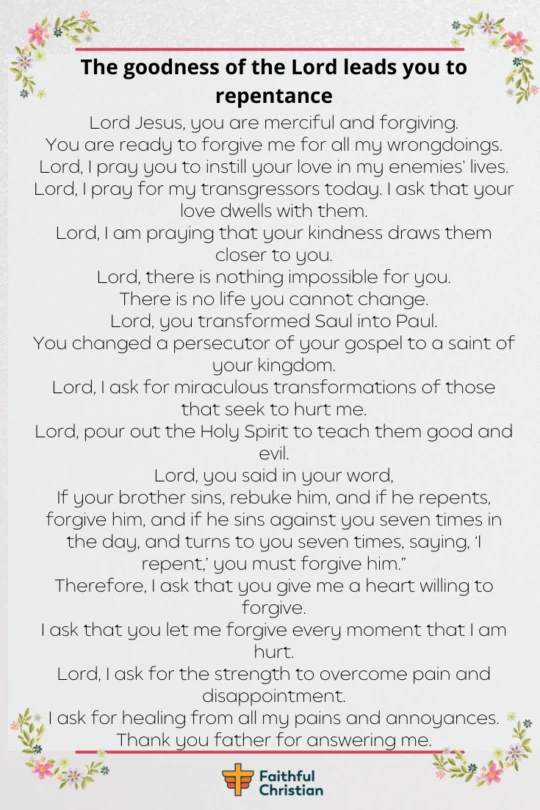 Heavenly Father, your limitless mercy and forgiveness grant redemption to all who seek it.
In 1 John 1:9, your Word reminds us that you willingly cleanse us from all unrighteousness. Thank you for graciously forgiving all my transgressions.
Lord, I pray that your love touches my enemy's heart. Let your love and my actions encourage them to rethink their harmful intentions toward me.
Romans 12:20 teaches us, "If your enemy is hungry, feed him." Grant me the grace to love them despite their hostility and the power to continually forgive their transgressions.
May they be transformed by your love and grace, experiencing a change of heart and life.
I pray that your steadfast kindness draws them closer to you, leading them to repentance and transformation.
The Lord's patience with sinners is emphasized in 2 Peter 3:9, highlighting His desire for everyone to repent.
Lord, all is possible with you. No life is beyond your redemptive power.
Please send your Holy Spirit into their lives, softening their hearts and replacing their malice with goodness and love.
You transformed Saul, the persecutor of your gospel, into Paul, a devoted follower and champion of your kingdom.
Acts 9:15-16 reminds us of your divine plan, "Go! This man is my chosen instrument to proclaim my name."
I pray for miraculous transformations in the lives of those who seek to harm me, just as you transformed Paul.
Pour your Holy Spirit upon them, guiding them to discern good from evil.
As Jesus stated in John 16:13, may your Spirit lead them on the righteous path.
You told us in Matthew 17:3-4 to forgive those who offend against us repeatedly.
Therefore, Lord, I ask for a heart that willingly forgives, ready to pardon those who cause me pain.
Grant me the strength to overcome hurt and disappointment, and the ability to forgive every time I am wronged.
As Philippians 4:13 assures us, "I can do all things through Christ who strengthens me." May your strength sustain me during difficult times.
I pray for healing from the pain I have endured. Psalm 147:3 reassures us that you "heal the brokenhearted and bind up their wounds."
Thank you, Father, for hearing and answering my prayers. Under your guidance, I can embrace forgiveness and find peace. Amen.
Draw near to Him, and he will also draw near to you.
Although it may seem weird, praying for those who have harmed us is a crucial component of our faith.
I understand you might be wondering about this concept. You may ask, "Why should I pray for my enemy?"
The reality is, God desires for us to be shining examples of love. He doesn't want us to only love those who love us back. Instead, He wants us to extend love to everyone, including our enemies.
To truly love our enemies and those who dislike us, we need to start with forgiveness. Genuine love can only flourish when there is heartfelt forgiveness in place.
Forgiveness is a central commandment from God, crucial for our spiritual journey and relationships (Matthew 6:14-15). Developing a closer relationship with God enables us to truly repent and experience His grace.
Without this bond, forgiveness remains incomplete. By praying for our transgressors (Romans 12:14), we show our commitment to forgiveness and their spiritual growth.
Let us pray for those that sin against us.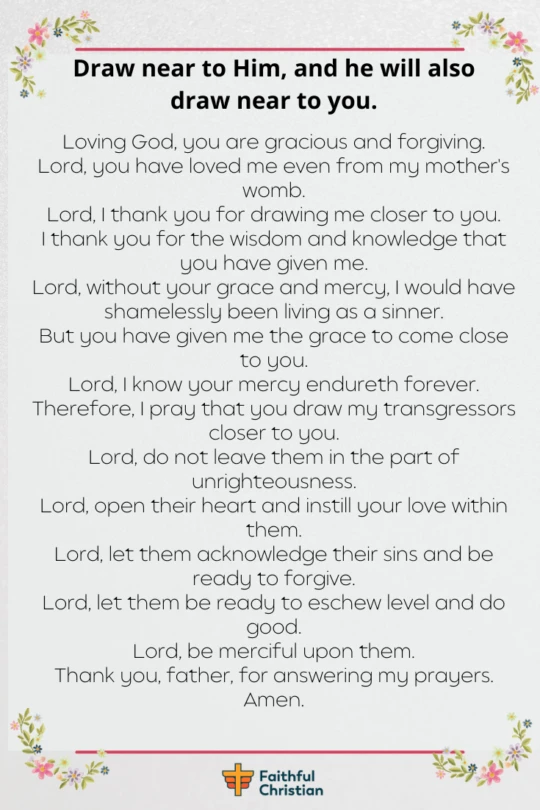 Loving God, your grace and forgiveness are boundless, as you teach us in Ephesians 4:32. I pray for your continuous grace in my life.
Grant me the patience and strength to depend on you, allowing me not to seek vengeance on my own but to leave my battles for you to fight.
Lord, instill in me a forgiving spirit to withstand the enemy's plans.
From my very beginning, you have loved and watched over me, Lord. You alone know how I was knitted together in my mother's womb (Psalm 139:13). You know my strengths and weaknesses, my trials and pain. Lord, do not abandon me in challenging moments; keep your angels by my side at all times.
I am thankful, Lord, for bringing me closer to you and granting me wisdom and understanding (Proverbs 2:6). Through this wisdom, I know I must forgive, and I pray you supply me with even more.
Without your grace and mercy, I could have continued living a sinful life, but you have called me closer to you, reminding me of 1 John 1:9.
I know your mercy endures forever, Lord (Psalm 136:1). Never leave me in the wilderness but stay with me through every uncertain time in my life.
I pray that you guide those who have hurt me towards you, Lord. Guide them away from the path of unrighteousness and toward your light (Psalm 119:105).
Open their hearts, Lord, and fill them with your love, as Romans 5:5 says, "…God's love has been poured out into our hearts through the Holy Spirit, who has been given to us."
Help them to acknowledge their sins, repent, and turn away from wickedness. Lord, wash them and make them clean. Purify their minds and fill them with your word (Isaiah 1:16-17).
Lord, we know your compassion will never fail. You give the wicked time to repent, so do not be harsh with my oppressor. Grant them time to repent. Great is your faithfulness, Lord; your mercies are new every morning (Lamentations 3:22-23).
Thank you for answered prayers. In your loving presence, I find healing, forgiveness, and peace. Amen.
He is faithful and just to forgive.
We often ponder whether we can be forgiven for significant transgressions or if those who have committed terrible acts can also find forgiveness.
God's unwavering faithfulness and understanding stem from His knowledge that we are all imperfect beings.
Even though we are born sinners, seeking God's forgiveness remains a viable option. He is ready to save us if we sincerely repent and open our hearts to Him.
Our firm belief is that God is disposed to forgive those who have caused us harm. He willingly draws them close, purifies their hearts, and erases their iniquities.
Jesus' words in Luke 23:34 illustrate his capacity to forgive, even in the face of persecution, as he implored God to forgive others while acknowledging their ignorance.
Let us draw inspiration from Jesus' example and ask God to remain faithful in forgiving our transgressors. We pray for enlightenment and the ability to forgive others, following the Bible's teachings.
Prayer for the forgiveness of others who wronged us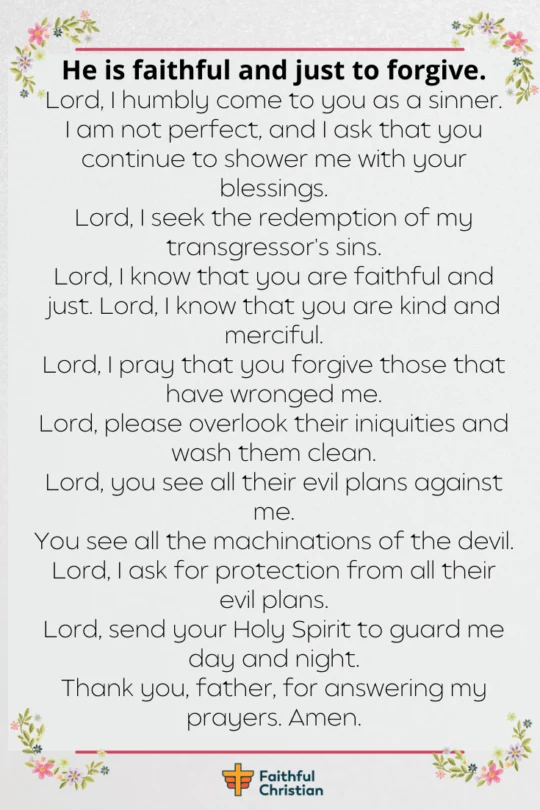 Heavenly Father, I humbly approach you, fully aware of my imperfections as a sinner.
Despite my flaws, I seek your continuous blessings and guidance in my life.
Desiring redemption and forgiveness for those who have hurt me, I remember 1 John 1:9, which emphasizes God's faithfulness in granting forgiveness and purification.
Ephesians 4:32 highlights God's kindness and mercy, urging us to forgive one another as Christ forgave us. I beg God's unending love to pardon those who have hurt me.
Psalm 37:12-13 acknowledges that, "The wicked plot against the righteous and gnash their teeth at them; but the Lord laughs at the wicked, for he knows their day is coming."
You are fully aware of the evil intentions and schemes they have devised against me, Father.
In my vulnerability, I seek your divine protection from their malicious plans.
As stated in Psalm 91:11, "For he will command his angels concerning you to guard you in all your ways," I trust you will send your Holy Spirit to watch over me day and night.
Thank you, Lord, for answered prayers. Amen.
Frequently Asked Questions (FAQs)
How do you show mercy to someone who hurt you?
Showing mercy when someone has hurt you starts with forgiveness.
Release any resentment and anger, and strive to understand their viewpoint.
Empathy allows you to see their side, making it easier to offer mercy. Extend kindness and compassion, regardless of whether they seek it.
Keep in mind, mercy reflects your character, not the offender's actions.
How do you pray for a difficult person?
Praying for a challenging person requires a loving heart.
Ask God to help you see them with His eyes and grant you the grace to love and forgive.
Pray for their well-being, personal growth, and spiritual path. Request that God work within them and guide your interactions.
Be specific in your prayers, focusing on the difficulties you face and seeking wisdom in handling them.
How do you pray to let someone go?
When letting someone go through prayer, seek God's strength and wisdom to release them from your heart.
Ask for His guidance in moving on, and express gratitude for lessons learned.
Give your emotions, pain, and attachments to God, trusting Him to heal and guide you toward peace.
How do you pray when you feel defeated?
During times of defeat, pray openly about your vulnerabilities, fears, and doubts.
Share your struggles with God, seeking His strength, guidance, and comfort.
Focus on His promises, remembering past triumphs and moments of His faithfulness.
Pray for persistence and resilience, asking for wisdom to learn and grow from challenges.
How do you forgive someone who continually hurts you in the Bible?
Forgiving someone who repeatedly hurts you, as taught in the Bible, involves remembering Jesus' teachings on forgiveness (Colossians 3:13).
Pray for strength to release resentment and anger, and for the grace to respond with love.
Rely on God's wisdom to establish healthy boundaries and trust His ability to heal and transform the relationship.
How do you ask for forgiveness from someone you hurt?
When seeking forgiveness for causing pain, approach the person humbly and genuinely.
Admit the harm you've caused, express true remorse, and accept responsibility.
Offer a sincere apology and listen to their feelings.
Make amends if possible and commit to learning from your mistakes, avoiding future repetition.
How do I pray for all sins to forgive?
To pray for the forgiveness of all sins, come before God with a humble, repentant heart. Confess your sins candidly, admitting your shortcomings.
Express your regret and seek God's forgiveness, trusting in His mercy (1 John 1:9). Ask for His guidance to turn from sin and follow His path.
Remember, forgiveness is a gift from God, and His love and mercy are always available to the truly repentant.
Author: Akatakpo Dunn
Dr. Akatakpo Dunn is a dedicated follower of Christ, an active member and speaker, and an ongoing learner of the Scriptures. Passionate about his faith and serving others, he is committed to sharing his spiritual journey and insights to inspire and uplift fellow believers. He has been active in the church for more than 23 years. Through The
Faithful Christian Blog
,
Dr. Dunn
combines his love for God, philanthropy, and Scripture, providing a valuable resource for those seeking to grow in their faith.
Follow me: on Youtube, Facebook, Twitter, Instagram, and Pinterest.
Content Disclosure:
At The Faithful Christian Blog, I create authentic and inspiring content. Although I am the main author, I occasionally use AI for minor language enhancements. This minimal AI usage ensures high-quality, trustworthy articles without compromising originality or sincerity, ultimately supporting our shared faith journey.
Warmly,
Dr. Akatakpo Dunn
Was this article helpful?