Stay clear of hypocrites, and don't be one yourself.
God detests hypocritical people and has said it repeatedly in the scriptures.
They say one thing, and they are the opposite of what they preach in the real sense.
In the early days after I started my blog, I lost confidence in myself.
I have written about my struggles with fornication.
And how I Have struggled to overcome it.
In the early months of 2018, I decided to spread the word of God.
I started this blog to preach and tell people about Christ.
And then, just after April, I fell to fornication again.
I was dumbfounded.
How did I get to this point?
How could I have preached something different and yet, fallen to sin?
I felt like a hypocrite teaching the scriptures and not doing them.
I was demoralized and so ashamed of myself.
But the truth is when you accept your wrongs and improve on them, you are no longer a hypocrite.
Since then, I have grown into a more responsible and God-fearing man.
And have been more conscious about what I do and what I say.
I have also gotten married to my lovely wife.
The truth is, as Christians, we will face temptations.
And when we fall and do not repent, we put our salvation at risk.
But what does the bible say about hypocrites?
The good news is that there are many bible verses about hypocrisy we can learn from.
These scriptures remind us of the repercussions of faking yourself.
God wants us to repent and be truthful to ourselves.
Remember, He searches the heart and can see all your secrets.
So, what's the point of being an impostor or deceiver?
I have put together bible verses about hypocrites to inspire you.
---
Recommended for you
---
Bible verses About hypocrisy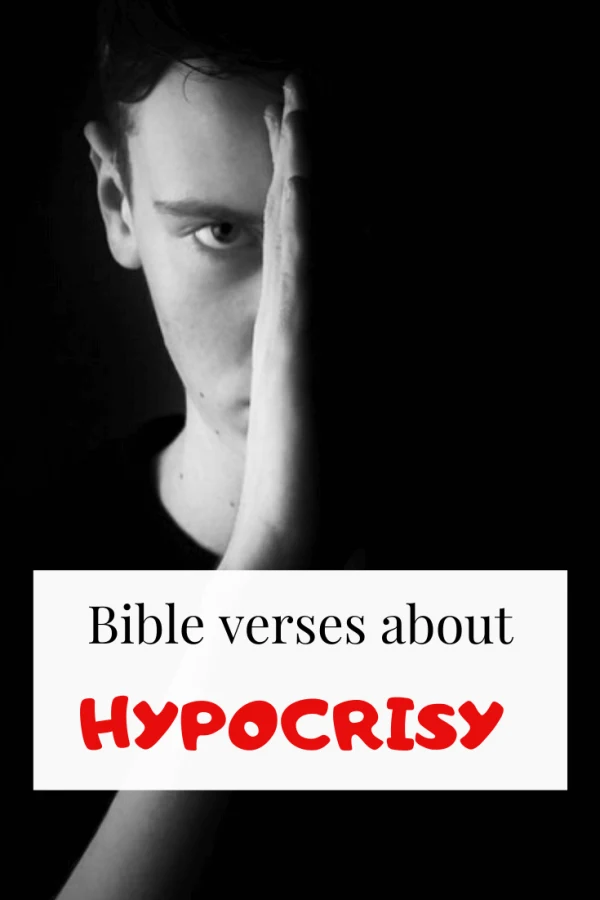 1 John 4:20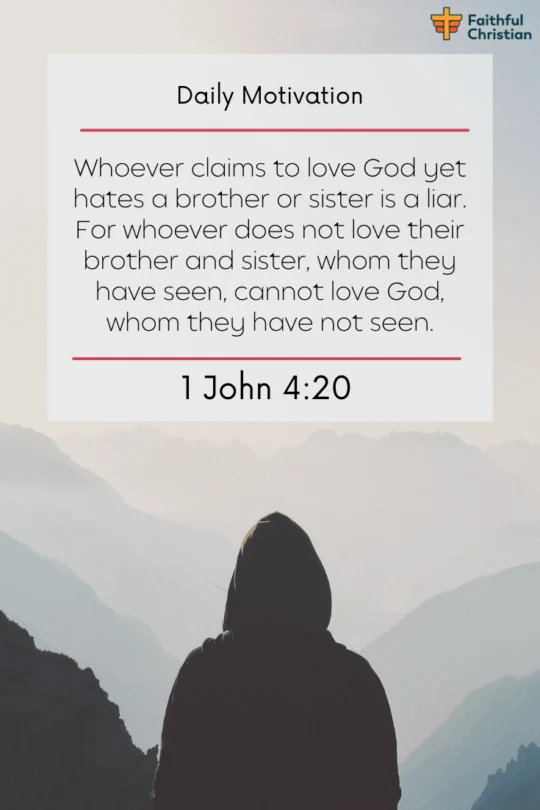 Whoever claims to love God yet hates a brother or sister is a liar. For whoever does not love their brother and sister, whom they have seen, cannot love God, whom they have not seen.
The Bottom line
The English dictionary defines a hypocrite as a person who pretends to have certain beliefs, attitudes, or feelings when they really do not.
It means you are simply a mockery of your faith and your love for God.
Think about it this way. When we decide to follow God, we have ultimately surrendered our lives to him.
We accept his commands and are ready to do them.
God has commanded us to stick with our brothers and love them wholeheartedly.
But if we fail to do so, despite claiming we are Christians, we are simply hypocritical.
The truth is, you cannot claim to love God you have not seen, yet not love your neighbor.
The scripture teaches that when we love those around us, we are true worshipers of God.
Matthew 7:1-5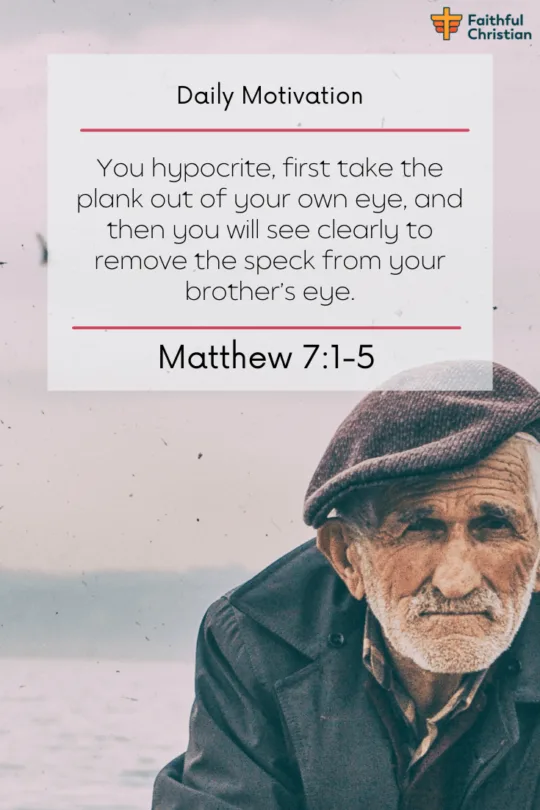 You hypocrite, first take the plank out of your own eye, and then you will see clearly to remove the speck from your brother's eye.
The Bottom line
In this blog, I have written about how we must keep examining ourselves as Christians.
We are all sinners, right from the first day we were born.
In fact, the scripture says, if you claim not to be a sinner, you are a liar.
Likewise, we must not judge others when we know we are not perfect.
Think about it for a second. If you are not a burglar, inevitably, there are other ways you are sinning before God.
It could be anything. Maybe lying or gossiping or even fornication.
The truth is, no one on earth does not sin.
The scriptures say, "Indeed, there is no one on earth who is righteous, no one who does what is right and never sins." (Ecclesiastes 7:20)
So, if we have wronged God in one way or another, why should we condemn or insult others who have sinned?
If we do, we are only hypocritical.
A perfect story of hypocrisy in the bible is the adulterous woman.
As Christ taught in the temple, an adulterous woman was brought before him.
According to the Jewish mosaic laws, she must be stoned to death.
But right there, Christ said to them, "All right, but let the one who has never sinned throw the first stone!" (John 8:7).
And surprisingly, none was able to punish the woman.
If we have all sinned, there is no reason to judge others or mock them.
We must pray for them and be kind to them.
Christ said to the adulterous woman, "Go and sin no more." (John 8:11).
Matthew 15:7-9
7 You hypocrites! Isaiah was right when he prophesied about you:8 "'These people honor me with their lips,but their hearts are far from me.9 They worship me in vain;their teachings are merely human rules.'
The Bottom line
If we have decided to serve God, we must fear him and keep his commandments.
We cannot serve God and be fornicating or committing adultery.
We must be focused and love him from the depth of our hearts.
The truth is when we pretend to be someone else; we are only deceiving ourselves.
The scripture says, "Would not God discover this? For he knows the secrets of the heart."
If God sees all the secrets things we do, it means that we have no hiding place.
We can only fool others but not God.
God detests when we sin grievously in secret and pretend to be righteous in the open.
Even worse are false prophets.
They go about deceiving the gullible and taking advantage of them.
In the end, we will all reap what we have sowed.
---
Recommended for you
---
More bible verses about hypocrites
Matthew 23:23
Woe unto you, scribes and Pharisees, hypocrites! for ye pay tithe of mint and anise and cummin, and have omitted the weightier matters of the law, judgment, mercy, and faith: these ought ye to have done, and not to leave the other undone.
Matthew 23:13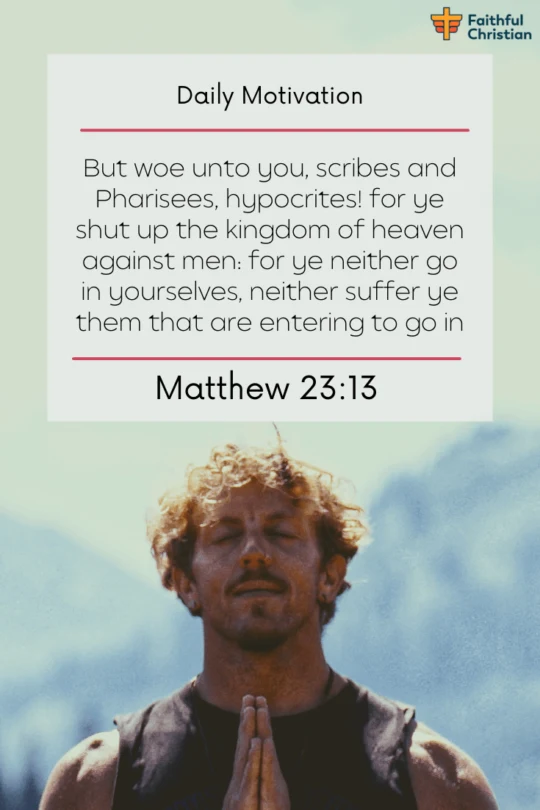 But woe unto you, scribes and Pharisees, hypocrites! for ye shut up the kingdom of heaven against men: for ye neither go in yourselves, neither suffer ye them that are entering to go in
Matthew 23:14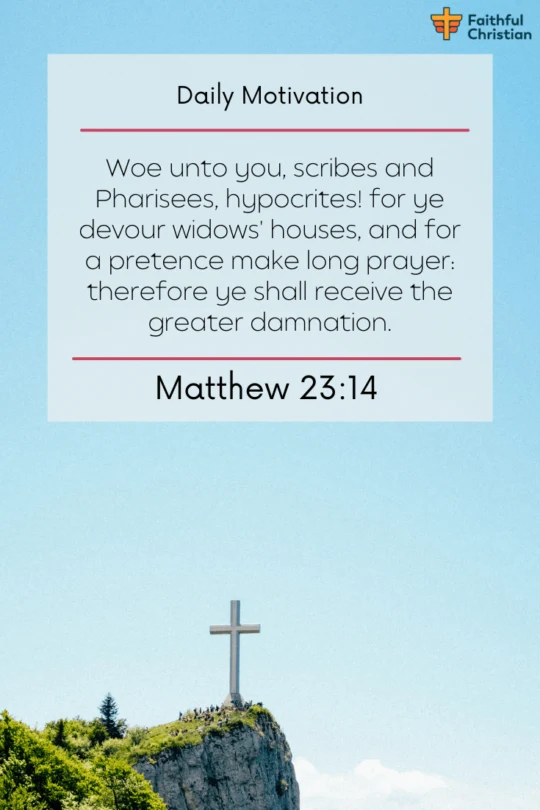 Woe unto you, scribes and Pharisees, hypocrites! for ye devour widows' houses, and for a pretence make long prayer: therefore ye shall receive the greater damnation.
Matthew 23:15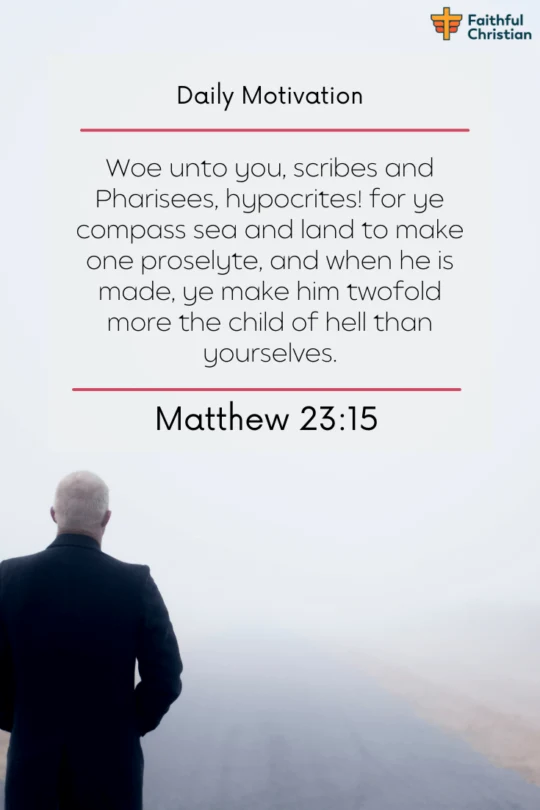 Woe unto you, scribes and Pharisees, hypocrites! for ye compass sea and land to make one proselyte, and when he is made, ye make him twofold more the child of hell than yourselves.
1 John 3:17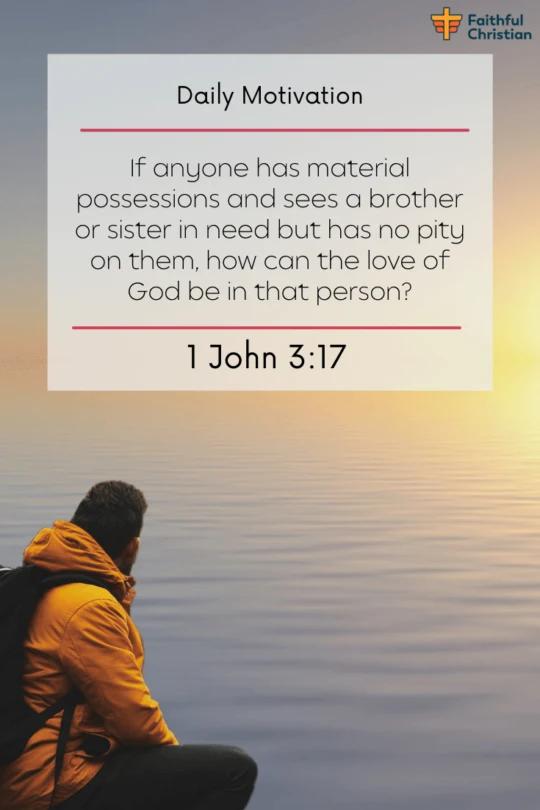 If anyone has material possessions and sees a brother or sister in need but has no pity on them, how can the love of God be in that person?
1 John 2:9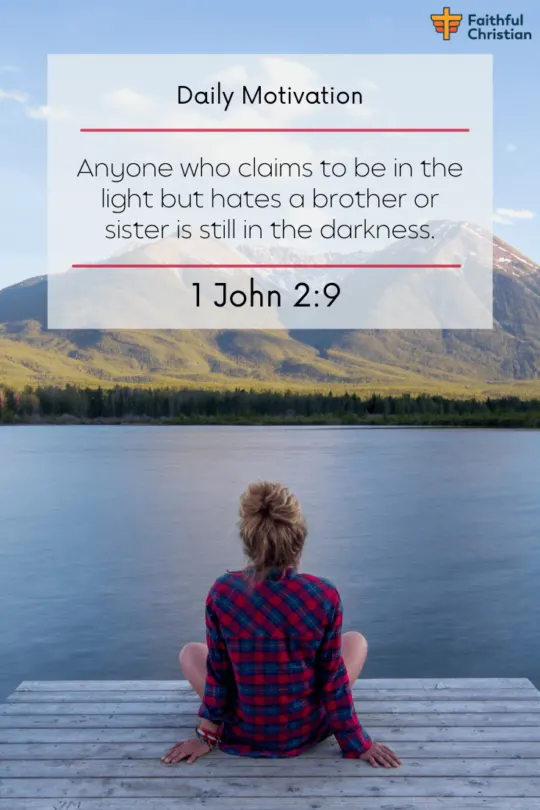 Anyone who claims to be in the light but hates a brother or sister[a] is still in the darkness.
Matthew 23:25-26
 "Woe to you, teachers of the law and Pharisees, you hypocrites! You clean the outside of the cup and dish, but inside they are full of greed and self-indulgence. 26 Blind Pharisee! First clean the inside of the cup and dish, and then the outside also will be clean.
Matthew 23:27-28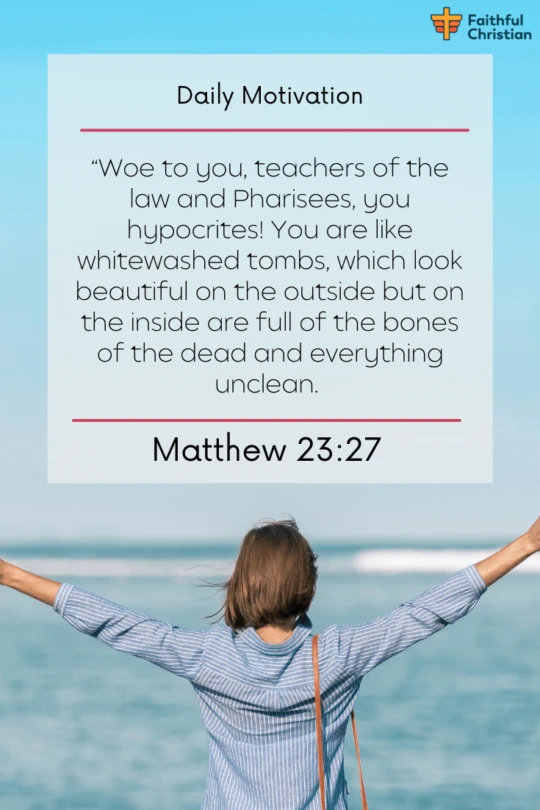 27 "Woe to you, teachers of the law and Pharisees, you hypocrites! You are like whitewashed tombs, which look beautiful on the outside but on the inside are full of the bones of the dead and everything unclean.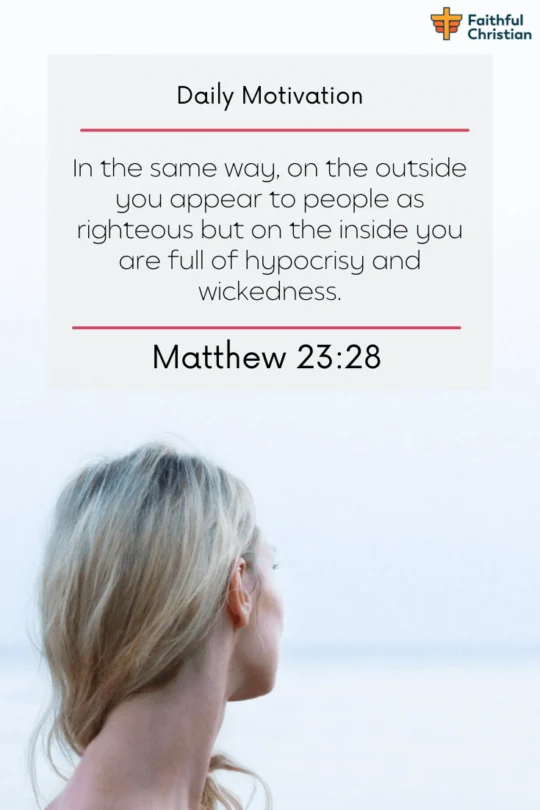 28 In the same way, on the outside you appear to people as righteous but on the inside you are full of hypocrisy and wickedness.
Matthew 23:29
29 "Woe to you, teachers of the law and Pharisees, you hypocrites! You build tombs for the prophets and decorate the graves of the righteous.
Romans 2:21-22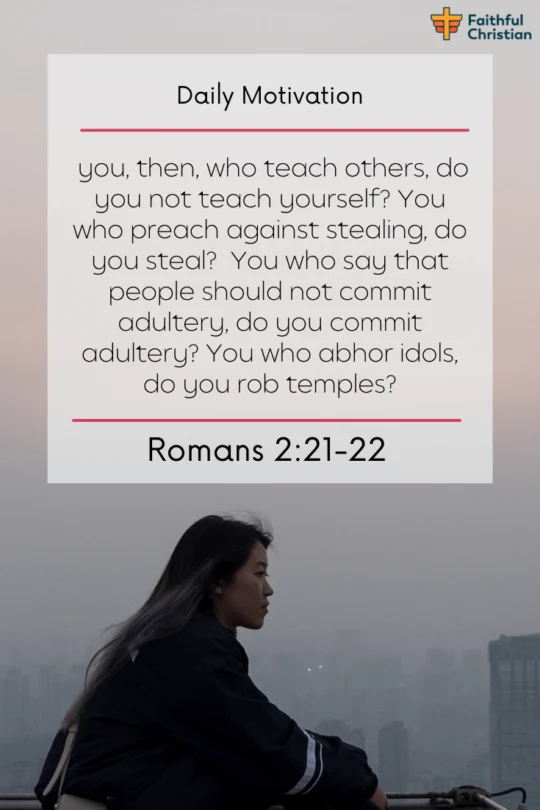 you, then, who teach others, do you not teach yourself? You who preach against stealing, do you steal? 22 You who say that people should not commit adultery, do you commit adultery? You who abhor idols, do you rob temples?
Matthew 23:3-4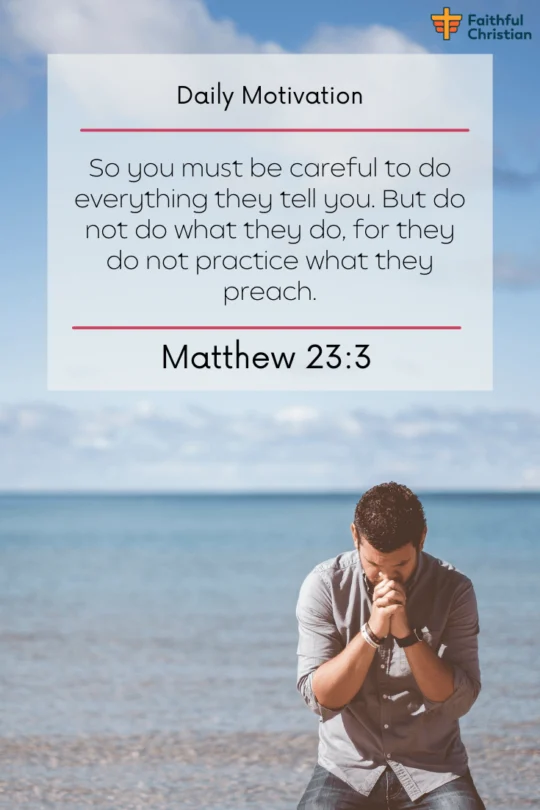 So you must be careful to do everything they tell you. But do not do what they do, for they do not practice what they preach.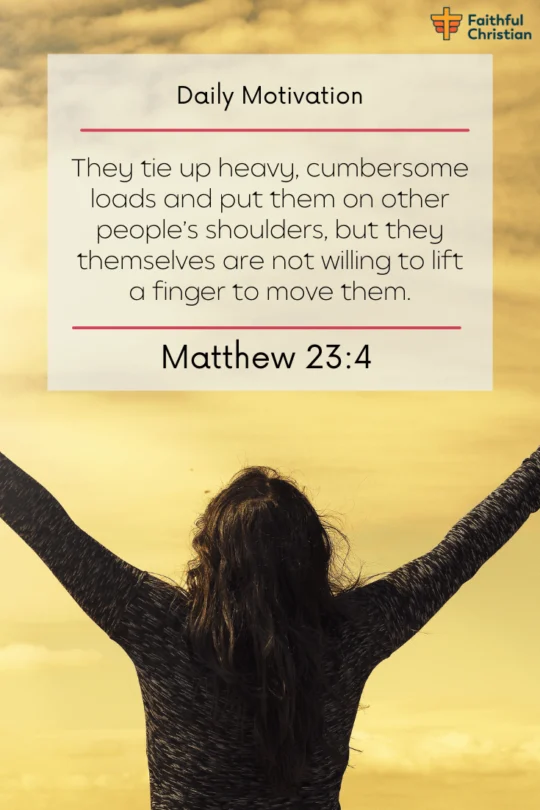 4 They tie up heavy, cumbersome loads and put them on other people's shoulders, but they themselves are not willing to lift a finger to move them.
Matthew 7:21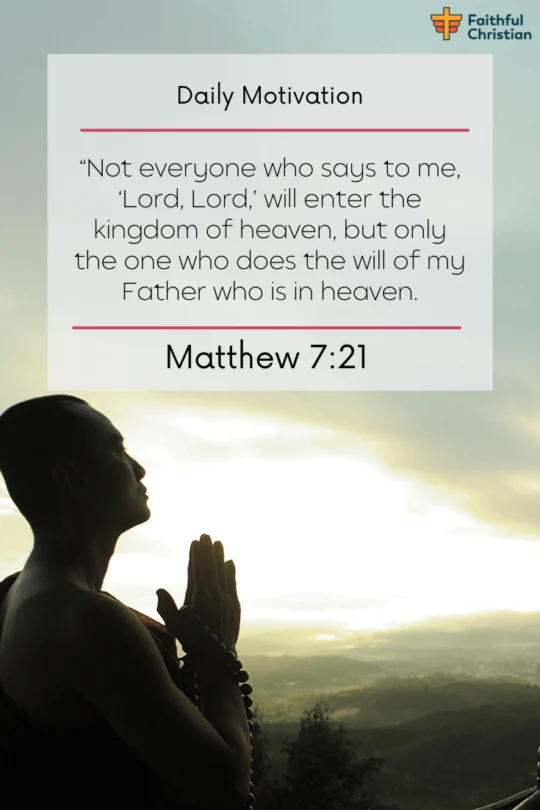 "Not everyone who says to me, 'Lord, Lord,' will enter the kingdom of heaven, but only the one who does the will of my Father who is in heaven.
Matthew 7:22-23
22 Many will say to me on that day, 'Lord, Lord, did we not prophesy in your name and in your name drive out demons and in your name perform many miracles?' 23 Then I will tell them plainly, 'I never knew you. Away from me, you evildoers!'
Romans 2:13
For it is not those who hear the law who are righteous in God's sight, but it is those who obey the law who will be declared righteous.
James 1:22
Do not merely listen to the word, and so deceive yourselves. Do what it says.
Luke 11:28
He replied, "Blessed rather are those who hear the word of God and obey it."
Philippians 3:9
and be found in him, not having a righteousness of my own that comes from the law, but that which is through faith in[a] Christ—the righteousness that comes from God on the basis of faith.
Luke 18:11-12
The Pharisee stood by himself and prayed: 'God, I thank you that I am not like other people—robbers, evildoers, adulterers—or even like this tax collector. 12 I fast twice a week and give a tenth of all I get.'
Matthew 6:5
"And when you pray, do not be like the hypocrites, for they love to pray standing in the synagogues and on the street corners to be seen by others. Truly I tell you, they have received their reward in full.
Romans 10:3
Since they did not know the righteousness of God and sought to establish their own, they did not submit to God's righteousness.
Luke 16:15 (New international version)
He said to them, "You are the ones who justify yourselves in the eyes of others, but God knows your hearts. What people value highly is detestable in God's sight.(NIV)
Matthew 24:51 (King James Version)
And shall cut him asunder, and appoint him his portion with the hypocrites: there shall be weeping and gnashing of teeth.(KJV)
---
---
Author: Akatakpo Dunn
Dr. Akatakpo Dunn is a dedicated follower of Christ, an active member and speaker, and an ongoing learner of the Scriptures. Passionate about his faith and serving others, he is committed to sharing his spiritual journey and insights to inspire and uplift fellow believers. He has been active in the church for more than 23 years. Through The
Faithful Christian Blog
,
Dr. Dunn
combines his love for God, philanthropy, and Scripture, providing a valuable resource for those seeking to grow in their faith.
Follow me: on Youtube, Facebook, Twitter, Instagram, and Pinterest.
Content Disclosure:
At The Faithful Christian Blog, I create authentic and inspiring content. Although I am the main author, I occasionally use AI for minor language enhancements. This minimal AI usage ensures high-quality, trustworthy articles without compromising originality or sincerity, ultimately supporting our shared faith journey.
Warmly,
Dr. Akatakpo Dunn
Was this article helpful?