It is bedtime again, and we must pray.
So, we will start by giving thanks to the Lord for all he has done for us.
He has kept us safe until now, so we must return with thanks.
We will pray for our friends (boyfriends or girlfriends) and loved ones.
We will ask God for protection as we sleep.
That's not all.
We must also pray for our family members, including your parents and your children.
I have put together this Goodnight prayer to lead you.
---
Recommended for you
---
Short goodnight prayers (bedtime prayer points)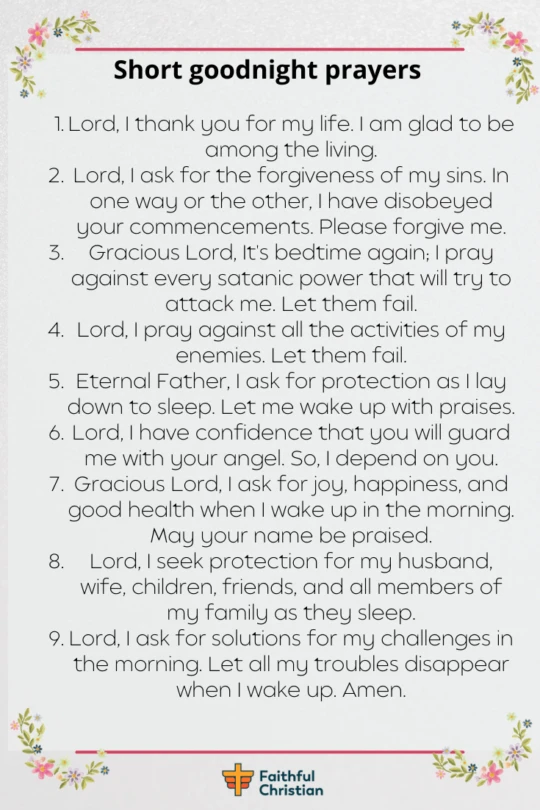 Bible verses for bedtime prayers
Proverbs 3:24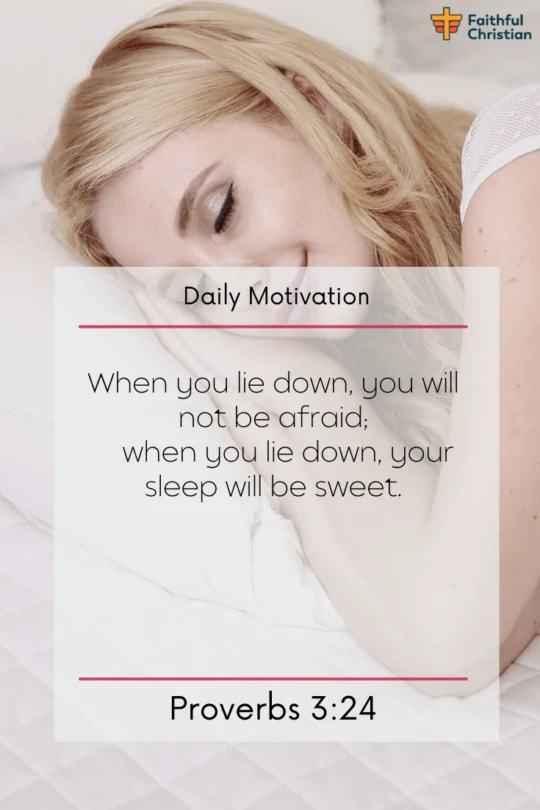 When you lie down, you will not be afraid;
    when you lie down, your sleep will be sweet.
Psalm 3:5 — Bedtime bible verse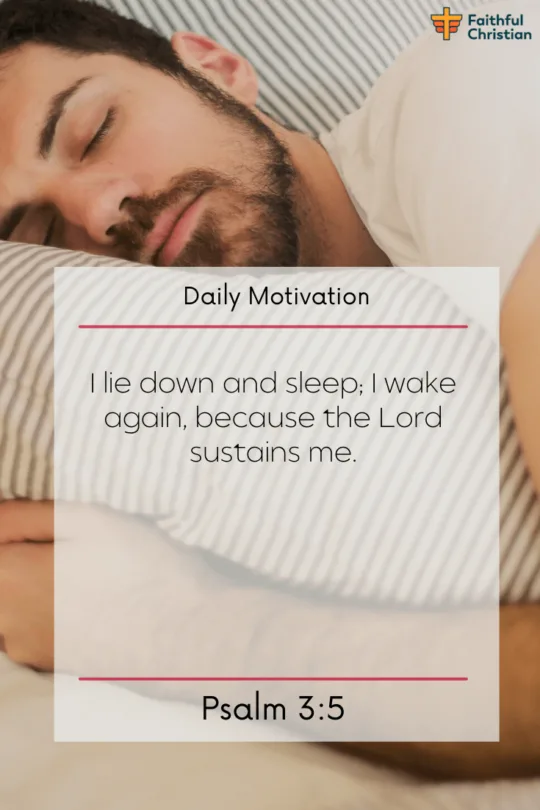 I lie down and sleep;
    I wake again, because the Lord sustains me.
Proverbs 6:22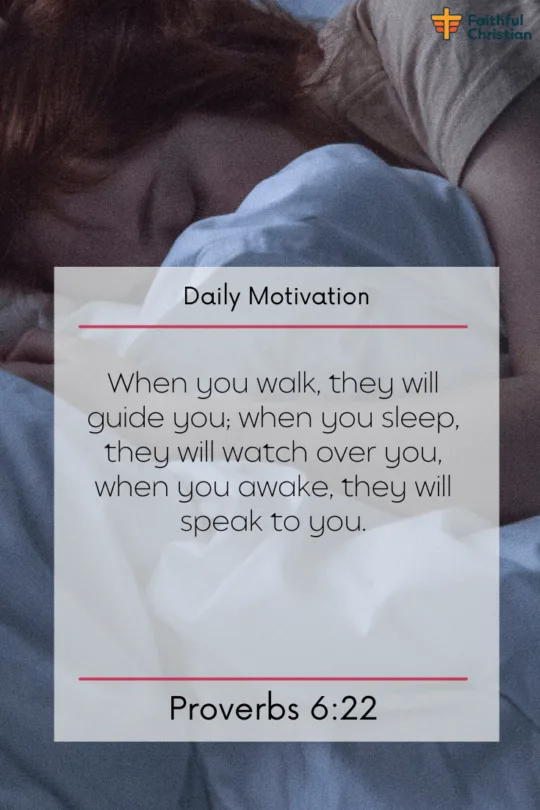 When you walk, they will guide you; when you sleep, they will watch over you, when you awake, they will speak to you.
Goodnight prayers: Powerful Bedtime Prayers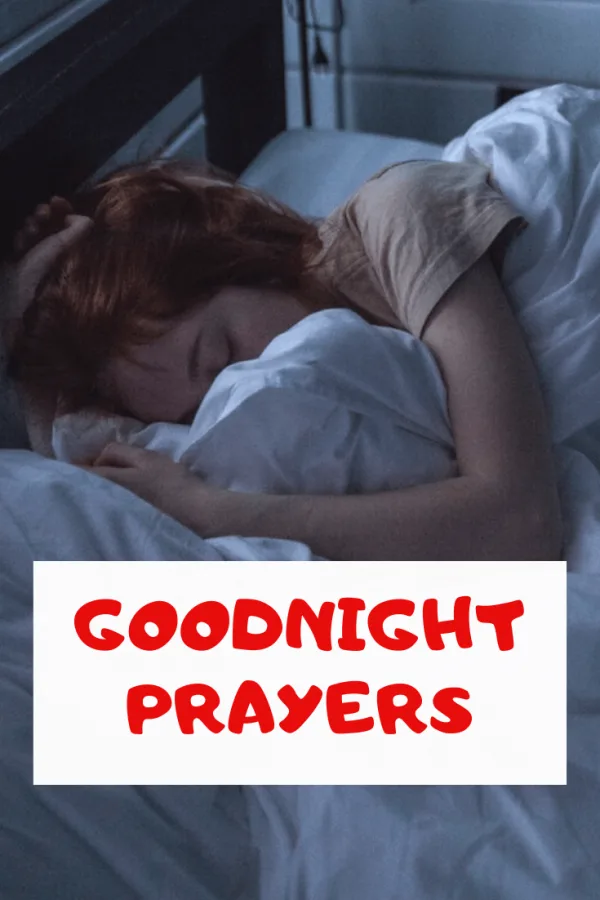 Let's give thanks to His name (let us pray)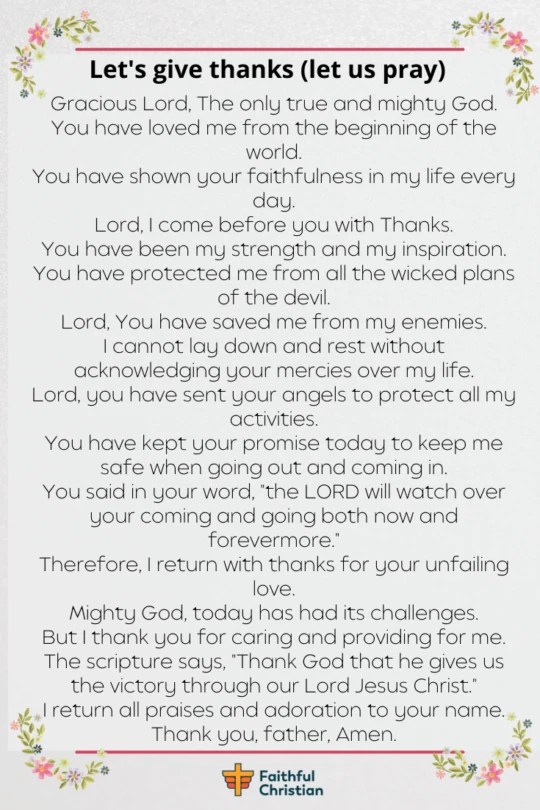 Our Great Maker, you stand alone as the Supreme Power. Like Moses said, "There's no God but You." You're the best, unbeatable. You're the ultimate superhero in the universe of divinity.
Your love? Eternal. It's like a never-ending river, flowing since the world's dawn. Everlasting love, they call it in Jeremiah 31:3. And it's true, Your love outlasts time itself.
Every sunrise is a fresh testament to Your faithfulness. It's like Lamentations 3:22-23: God's mercies are new each morning. Every dawn is a gift wrapped in the promise of Your unfailing support.
I stand before You, heart brimming with thanks. Reminds me of Psalm 100:4: "Thank God, praise Him." That's me right now. Your court is my home, a place to express my gratitude.
When I'm down, You lift me up. When I'm lost, You light the way. Just like in Psalm 18:2, You're my rock, my fortress. You're my North Star in life's unpredictable sea.
And when evil plots brew, You're my divine shield. Isaiah 54:17 says it best, "No weapon formed against us shall prosper." Against deceit, wickedness, You're my armor, my impenetrable shield.
Almighty, You're my haven from hate. Psalm 27:1 says, "Whom shall I fear?" Not a single soul. For in Your divine presence, enemies shrink, their ill-will evaporates.
Sleep? It's a gift from You. Psalm 4:8 promises peace and safety under Your watchful eye. Each night, as I close my eyes, I feel Your protective warmth, your mercies embracing me.
Angels? You send them my way, guardians in every step. Psalm 91:11 speaks of Your protective angels, and I feel them around. Every move, every step, under the divine watch.
Each day, You keep Your promise. Deuteronomy 28:6 says, "Blessed in, blessed out." Whether I'm home or away, Your protection is a constant, a reassuring cloak around me.
In the face of Your unfailing love, gratitude fills me. "His love endures forever," says Psalm 136:1. It's like a never-ending song, and I'm humming along in thanks.
Trials? Yes, they were here today. But James 1:2-3 talks of joy in trials, of growth in adversity. So, even amidst challenges, I find joy, I find gratitude.
Victory? It's Yours, Lord, given through Christ. Romans 8:37 says we're conquerors through His love. Here I stand, victorious, not by my might, but through Your grace.
A heart full of praises? That's what I have for You. "Great is the Lord, worthy of praise," Psalm 145:3 echoes within me. I'm here to celebrate You, to uplift Your holy name.
Thank You, Father. "Give thanks in all circumstances," 1 Thessalonians 5:18 advises. So, here I am, with a thankful heart, a soul singing Your praises. I'm forever grateful. Amen.
All-round rest for the night (let us pray)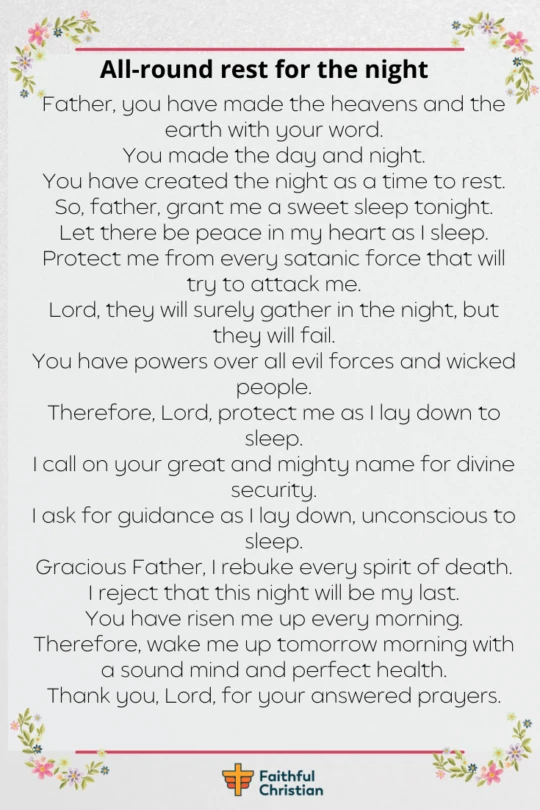 Dear Father, your words breathe life into all creation. You crafted the majestic heavens and earth with a simple utterance. The sun, our guiding light by day, and the soothing moon by night, are a testament to your creative genius. You've turned the night into a sanctuary for rest, as Psalms 4:8 reminds us, "In peace I will both lie down and sleep; for you alone, O Lord, make me dwell in safety."
As the stars appear, I ask for your gift of sweet slumber. May my heart find tranquility as I drift off, echoing the peace of the quiet night. Guard me, Father, from any dark force that wishes me harm. They gather, yes, but they will stumble, for in your light, no darkness can stand.
Your dominion is absolute, Lord, encompassing both good and evil. It's like Philippians 2:10-11 tells us – at Jesus' name, every knee bows, in heaven, on earth, and under the earth. Every tongue confesses Jesus Christ as Lord, bringing glory to you, our God.
And so, I lay down to sleep, secure under your divine protection. I call on your powerful name, seeking guidance even as I surrender to the world of dreams. As I rest, Lord, I reject the shadow of death. This night will not be my last.
Each morning, you've graced me with a new beginning. So I ask, Father, wake me up once more. Bless me with a sound mind and vibrant health, just as 3 John 1:2 says, "Beloved, I pray that all may go well with you and that you may be in good health, as it goes well with your soul."
Gratitude overwhelms me, Lord. Your answered prayers are my constant reminder of your love. Thank you for your divine protection and guidance. With a grateful heart, I cherish your kindness, and the promise of another dawn.
He gave to them pillar of fire at night (let us pray)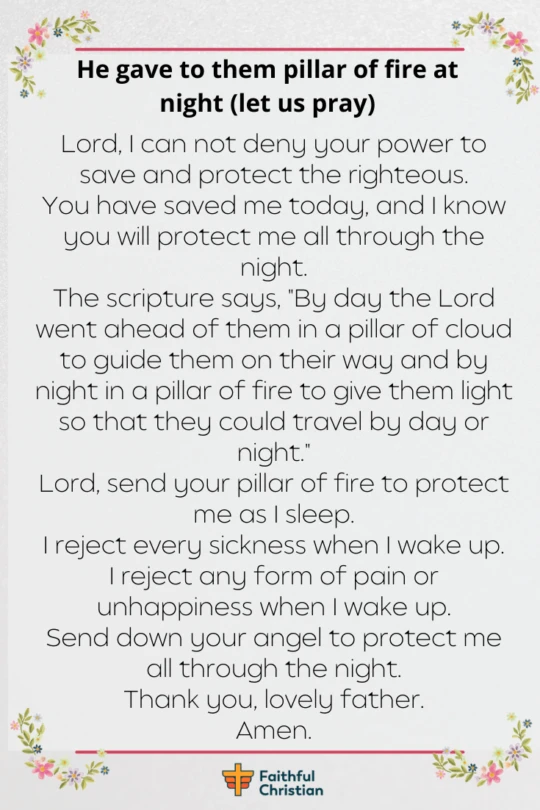 Oh, Lord, my Rock and Redeemer, it's tough to overlook Your mighty power. You're the champion who saves and the shield that defends those who love and serve You. Today, I've witnessed Your divine intervention. And tonight? I'm confident that Your watchful eyes won't blink.
You've got a track record, you know. In Exodus 13:21, You navigated Your people with a cloud pillar by day. At night? They marveled at a fiery pillar lighting their path. Day or night, they journeyed.
I need that, God. A fiery pillar – not literal, of course – just your fiery protection. As I close my eyes tonight, I need that promise. I need that warmth.
Tomorrow, when I rise, I won't accept sickness. Pain? Not on my watch. Any form of sorrow? I'll show it the door. Instead, I'll welcome joy and good health. That's my morning plan, inspired by Psalm 30:5. Joy does come with the morning, doesn't it?
And angels, Lord. Your scripture, in Psalm 91:11, tells me that you command angels concerning your faithful. So, dispatch your heavenly sentinels. Have them stand guard tonight, creating a bulwark around me. No harm shall pass.
Father, Your gifts are more than I can count. So, I say thank you, deeply, truly.
In Your powerful name, I offer this prayer. Amen.
Your night shall be sweet (let us pray)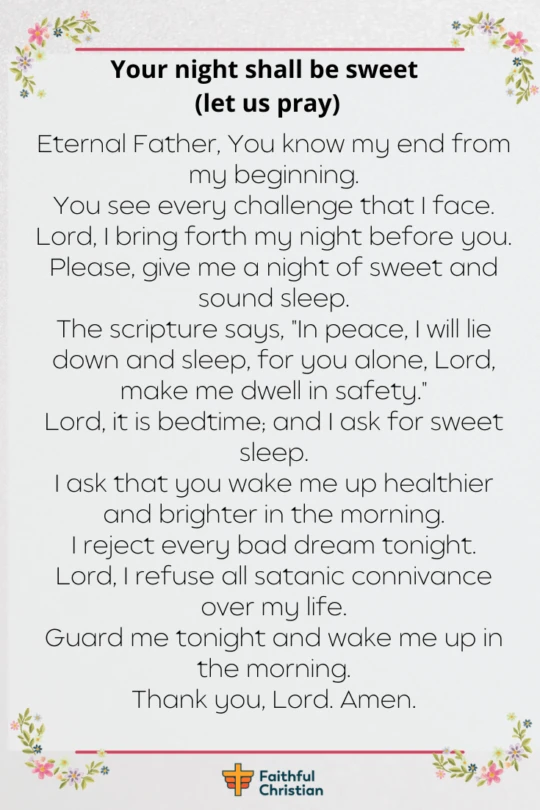 Our Father, the All-Knowing, the Ever-Present, You see our journey's arc in its entirety. From humble beginnings to the destination waiting ahead – nothing is unseen. You trace our paths just as the Psalmist said, "You have searched me, Lord, and you know me" (Psalm 139:1).
Every challenge we meet is within Your gaze. Our struggles? They're no secret to You. Just as God delivered the Israelites, we trust You, knowing that "The Lord will fight for you; you need only to be still" (Exodus 14:14).
Now, we stand at the edge of our day, peering into the hushed night. We bring this quiet before You, our Father. We seek Your guidance and seek the peace that comes from You, as in the tranquil waters in Psalm 23.
May we find a night of restful sleep in Your embrace. A sleep that refills our spirit, resets our senses. In surrendering to the night, we find solace in Your watchful care, reminiscent of David's peace in Psalm 4:8.
It's bedtime, Lord. As we close our eyes, let Your divine assurance cradle us. May we wake at dawn, healthier and brighter. Each night under Your guard, a balm of Gilead, healing and renewing us, like in Jeremiah 8:22.
Tonight, we turn away from nightmares and embrace peace. We reject any unsettling dreams, standing firm on the promise in James 4:7, "Submit yourselves, then, to God. Resist the devil, and he will flee from you."
Be our guard, Almighty. Watch over us through the darkness. Just as in Psalm 121:5, "The Lord watches over you—the Lord is your shade at your right hand."
As dawn breaks, may we wake in Your loving gaze. Thankful for Your protection, we echo the sentiments in 1 Chronicles 16:34, "Give thanks to the Lord, for he is good; his love endures forever." Amen.
---
Recommended for you
---
Angels of the Lord watch over you (let us pray)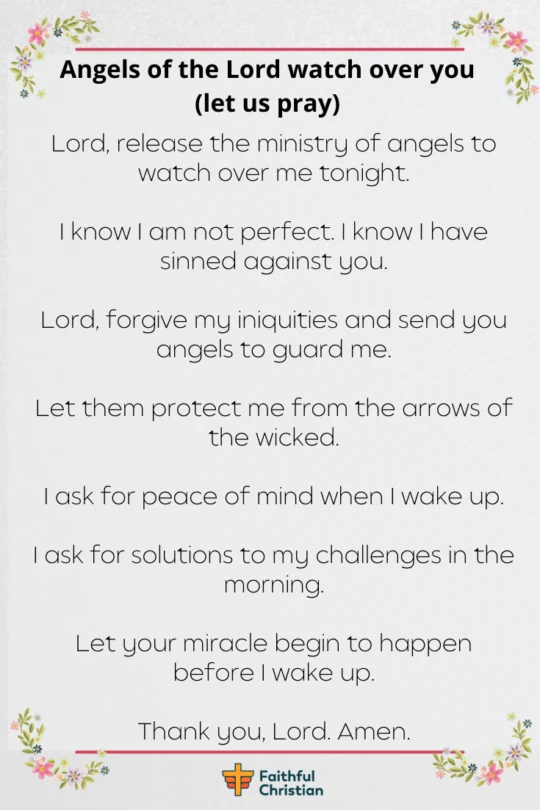 Heavenly Father, I approach Your throne of grace tonight. In the quiet of this evening, my heart seeks Your divine touch. The Psalmist writes, "He will command His angels concerning you to guard you in all your ways" (Psalm 91:11). Father, could I ask for that favor too?
I stand before You, Father, an imperfect child in a complex world. I've made mistakes. Paul writes, "for all have sinned and fall short of the glory of God" (Romans 3:23). I'm no exception, Lord. My sins, visible and hidden, are known to You.
Merciful God, I plead for Your forgiveness. Cleanse me from my sins as in Isaiah 1:18, where You promise to make us white as snow. Extend Your grace, dear Father. I need it. I ask You to unleash Your angels. Let them guard me.
Your angels, Father, are a shield around me. They deflect the fiery darts of the enemy. You are my fortress, my refuge, the one I trust. Father, wrap Your peace around my mind as I sleep. When I wake, gift me wisdom to solve life's puzzles.
I dream of a morning of peace, Lord. A morning where my challenges find solutions. King Solomon, in all his wisdom, recognized You as the source of discernment (1 Kings 3:9). Grant me such wisdom, Father. Let Your miracles start while I sleep, ready to bloom at dawn.
I thank You, my Rock and Redeemer. Your love is unfailing, Your mercy ever new. You keep me safe, Almighty God. Your son, Jesus Christ, taught us to have faith in our prayers (Mark 11:24). I have faith in mine. You hear me. You answer me.
With all my heart, I thank You, Lord. Amen.
Short bedtime prayer for couples
Dearest Father in Heaven, our hearts echo a thank you. We cherish the sacred knot of matrimony You've tied. Through the roughest storms, You are our lighthouse. Like Psalm 32:8, You guide us. We're never lost but found in You.
Our love, Father, is a blooming flower in Your garden. With each sunrise, it grows. It's stronger, brighter under Your nurturing gaze. We're grateful, eternally.
Tonight, we invite Your guardian angels. We seek Your divine blanket of safety. We yearn for the tranquility of the Psalmist's words in Psalm 4:8, "In peace, I will lie down and sleep." Our prayer? A peaceful slumber. A rejuvenation of body and soul.
As dawn breaks, we pray for a divine renewal. Inspired by Lamentations 3:22-23, each morning, Father, is a testament to Your unfailing love. It's fresh, it's new, a perfect start.
Joy, we seek. Strength, we desire. Father, let our day sing with the melody of Your blessings. We're reminded of Nehemiah 8:10: "The joy of the Lord is your strength." Your joy is our strength, our armor for each new day.
Father, we appreciate You. Our unity is a gift from You. Your love is our shelter. Your protection is our fortress. Like Psalm 28:7, You are our strength, our shield.
We are humbled, Lord, by Your grace. Our prayer ends here, but our conversation with You never does. Almighty, accept our gratitude. Today and every day. We bow to Your will. In Your majestic name, we pray. Amen.
Bedtime prayer for children
Oh Lord, how grateful I am! Your love and mercy shine upon my children. They are safe because of You, just as Psalm 91:4 declares, "He will cover you with his feathers, and under his wings, you will find refuge."
Tonight, Father, as the moon claims the sky, I beseech you. Extend that promise to their dreams. As they sleep, be their refuge.
Then, as dawn dances away the night, let a new day be born. You, Lord, are the artist. Paint it with happiness and joy, a testament to Lamentations 3:23, "His mercies are new every morning." Let it be a vibrant canvas, enticing my children towards exploration and growth.
And oh, what a day it could be! Filled with laughter, discoveries, and memories – precious gifts from You, Lord. Isn't that what John 10:10 means when it says, "I have come that they may have life, and have it to the full"?
Yet, we must remember, not all paths are easy. Challenges rise like mountains, but with You, Father, they become stepping stones. When my children face trials, remind them of James 1:2-4, where tribulations produce perseverance and maturity.
Oh, the Almighty, the guiding star, light their way. Let them make choices that honor You. Grant them wisdom, as in Proverbs 2:6, "For the Lord gives wisdom; from his mouth come knowledge and understanding."
So, here we are, Lord, leaning on Your promises, basking in Your love. We believe, as Romans 8:28 says, "And we know that in all things God works for the good of those who love him."
This prayer, dear Father, is filled with hope, faith, and a touch of vulnerability. In Jesus' name, I pray. For You are the Alpha and Omega, the beginning and the end, our ever-loving God. Amen.
Frequently Asked Questions
1. What is a powerful night prayer for family?
Embracing the night with a potent prayer for the family, one could say: "Dearest Lord, we gather our family in Your divine presence as we prepare for sleep. We extend our gratitude for the blessings of kinship and Your providence. Your protection through the dark hours is what we seek, guiding our actions, thoughts, and words. We pray for harmony and the power of forgiveness amongst us, echoing Your divine forgiveness. Grant us the strength and wisdom to meet the trials of the new day. We present this prayer in Jesus' name, our Savior. Amen." One can find solace in Psalm 4:8, affirming our safety under the Lord's care during sleep.
2. What is a short prayer before sleep?
For a brief bedtime invocation, consider: "Heavenly Father, we acknowledge this day's blessings and Your ceaseless grace. As we surrender to sleep, we request Your guidance in our dreams and a calming influence on our thoughts. Shield us during the nocturnal hours and awaken us at dawn, equipped for another day of service to You. Amen." Psalm 121:3-4 underscores God's vigilant watchfulness, ensuring our steadiness and His wakefulness even when we sleep.
3. What is a bedtime prayer for protection?
To invoke divine protection at bedtime, recite: "Beloved Lord, as I surrender to sleep, I seek Your protection. May Your celestial angels envelop me and my dwelling. Safeguard us from potential harm and malevolent forces. May Your peace inhabit our surroundings, and Your safeguard be our shield. I offer this prayer in Jesus' name. Amen." Psalm 91:11 assures us of God's directive to His angels to watch over our paths.
4. What is a bedtime prayer for adults?
A bedtime invocation tailored for adults can be: "Benevolent God, we extend gratitude for the day's blessings. As twilight approaches, tranquilize my thoughts and pacify my heart. Shield me from tomorrow's concerns and grant me a serene slumber. Refresh my spirit, enabling me to rise at dawn to serve You and others with rejuvenated vigor and grace. In Your sacred name, I pray. Amen." Matthew 11:28 provides a comforting message of rest and relief for those feeling overburdened.
5. What is a powerful night prayer for healing?
To appeal for divine healing during the night, one might pray: "Compassionate Father, as I submit to sleep, I place my worries in Your care. Mend my physique, pacify my mind, and restore my spirit. If any loved ones seek Your healing touch, Lord, I beseech You to bestow Your miraculous hand upon them. In Your promises and power, we trust. I present this plea in the name of Jesus Christ, our healer. Amen." Jeremiah 17:14 expresses our confidence in the Lord's capacity to heal and save.
6. What are some short good night prayers?
For concise bedtime prayers, consider: "Lord, accept our gratitude for today. As we settle into sleep, bless us with Your peace. Safeguard us through the night. Amen." or "God, as I rest tonight, I entrust my worries to You. Guide my dreams and awaken me to renewed optimism. Amen." Psalm 4:8 reiterates the Lord's assurance of peaceful sleep under His protective gaze.
7. What is a quick good night prayer?
A swift nocturnal prayer could be: "Father, I commit my spirit to Your care. Shield me during sleep and guide my path tomorrow. Amen." The words of Psalm 31:5 emphasize our trust in God's redemption and protective hand.
8. What is a prayer for sleep and anxiety?
A sleep-inducing prayer aimed at alleviating anxiety could be: "God of Serenity, as I resign to sleep, may You silence my heart and stabilize my mind. Dispel anxiety and infuse Your peace. Enable me to rest on Your promises and trust in Your faithfulness. May I awaken refreshed, ready to embrace a new day with Your confidence. Amen." Philippians 4:6-7 advises us to lay our anxieties before God, promising His peace to guard our hearts and minds.
9. What is the best goodnight prayer for her?
The optimal nocturnal blessing for her might be: "Loving Father, I pray for the exceptional woman in my life. As she descends into sleep, enfold her within Your protective wings. Imbue her dreams with hope and love, recharging her for the upcoming day. Bless her with Your grace, and allow her to encounter Your peace in a distinctive manner tonight. In Your esteemed name, I pray. Amen." Psalm 4:8 assures God's providence for peaceful sleep and safety.
10. What is a powerful Goodnight verse?
Psalm 121:3-4 serves as a potent Goodnight verse, validating God's unwavering vigilance and His presence during our sleep. This verse instills reassurance and tranquility.
11. What is 7 pm prayer called?
The 7 pm prayer, often referred to as the "evening prayer" or "vespers" in Christian traditions, finds its roots in the monastic ritual of praying at specific intervals throughout the day and night. The evening prayer signifies a moment to express gratitude for the day's blessings and seek divine protection throughout the night.
12. What are the 7 time prayer?
The seven prayer times in Christian practice, based on Psalms 119:164, include the following: upon waking (Lauds or Morning Prayer), mid-morning (Terce), noon (Sext), mid-afternoon (None), evening (Vespers or Evening Prayer), before bed (Compline or Night Prayer), and during the night (Vigils or Midnight Office).
13. What is the miracle evening prayer?
A miraculous evening prayer could be: "Lord, as I conclude this day, I place my needs and those of my loved ones before You. I hold faith in Your power to heal, transform, and bring about miracles. Tonight, as I sleep, I implore Your divine intervention in my life and in the lives of those I cherish. I rely on Your unfailing love and boundless mercy. Amen." Matthew 19:26 reaffirms that all things are possible with God.
14. What is the 6 o'clock evening prayer?
A suitable 6 o'clock evening prayer could be: "Omnipotent Father, as the sun recedes and tranquility pervades, I pause to recognize Your presence. I express gratitude for today's blessings. Please shield us through the night, guide our dreams, and awaken us refreshed and ready to serve You in the morrow. In Your hallowed name, I pray. Amen." Psalm 113:3 prompts us to praise the Lord from sunrise to sunset.
Author: Akatakpo Dunn
Dr. Akatakpo Dunn is a dedicated follower of Christ, an active member and speaker, and an ongoing learner of the Scriptures. Passionate about his faith and serving others, he is committed to sharing his spiritual journey and insights to inspire and uplift fellow believers. He has been active in the church for more than 23 years. Through The
Faithful Christian Blog
,
Dr. Dunn
combines his love for God, philanthropy, and Scripture, providing a valuable resource for those seeking to grow in their faith.
Follow me: on Youtube, Facebook, Twitter, Instagram, and Pinterest.
Content Disclosure:
At The Faithful Christian Blog, I create authentic and inspiring content. Although I am the main author, I occasionally use AI for minor language enhancements. This minimal AI usage ensures high-quality, trustworthy articles without compromising originality or sincerity, ultimately supporting our shared faith journey.
Warmly,
Dr. Akatakpo Dunn
Was this article helpful?