You cannot do it on your own.
You need God in every aspect of your life.
So, this afternoon, we will say a simple prayer for thanks and request.
We will thank God for our journey so far.
We will pray for our friends (boyfriends and girlfriends), and our loved ones.
I have put together this short afternoon prayer to guide you.
---
Recommended for you
---
Short afternoon prayer points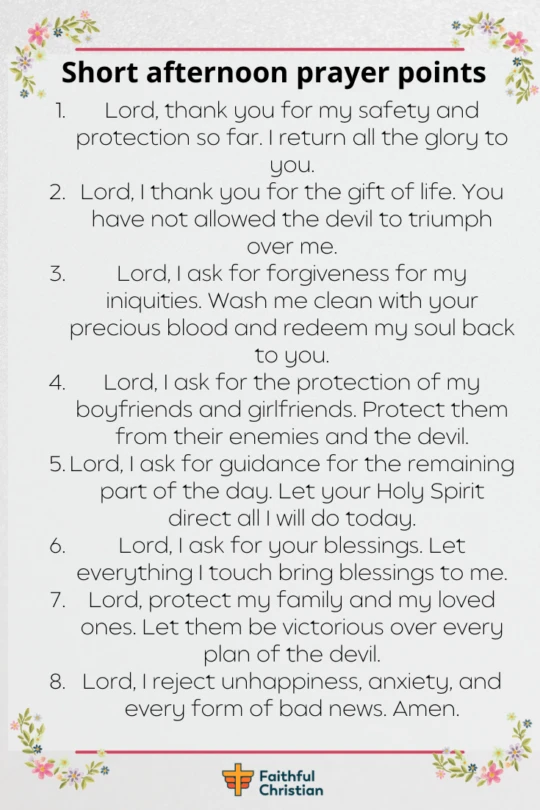 Lord, thank you for my safety and protection so far. I return all the glory to you.
Lord, I thank you for the gift of life. You have not allowed the devil to triumph over me.
Lord, I ask for forgiveness for my iniquities. Wash me clean with your precious blood and redeem my soul back to you.
Lord, I ask for the protection of my boyfriends and girlfriends. Protect them from their enemies and the devil.
Lord, I ask for guidance for the remaining part of the day. Let your Holy Spirit direct all I will do today.
Lord, I ask for your blessings. Let everything I touch bring blessings to me.
Lord, protect my family and my loved ones. Let them be victorious over every plan of the devil.
Lord, I reject unhappiness, anxiety, and every form of bad news. Amen.
Bible verses for afternoon prayer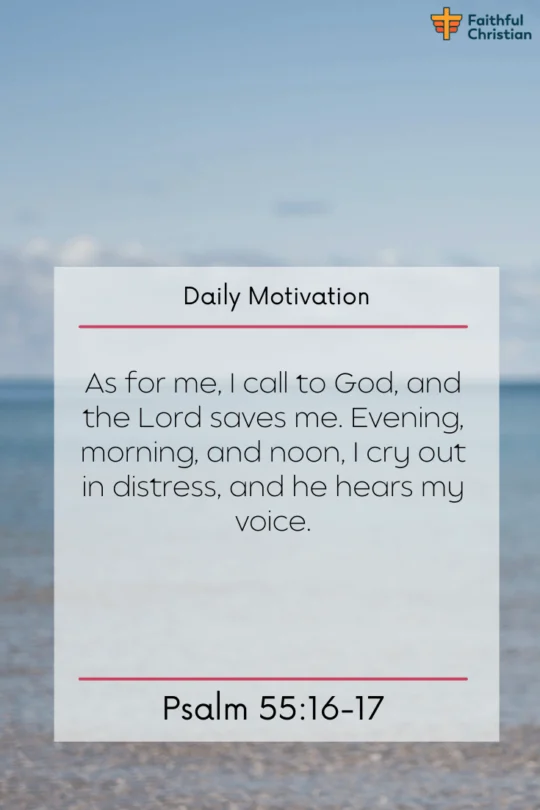 As for me, I call to God, and the Lord saves me. Evening, morning, and noon, I cry out in distress, and he hears my voice.
Psalm 73:28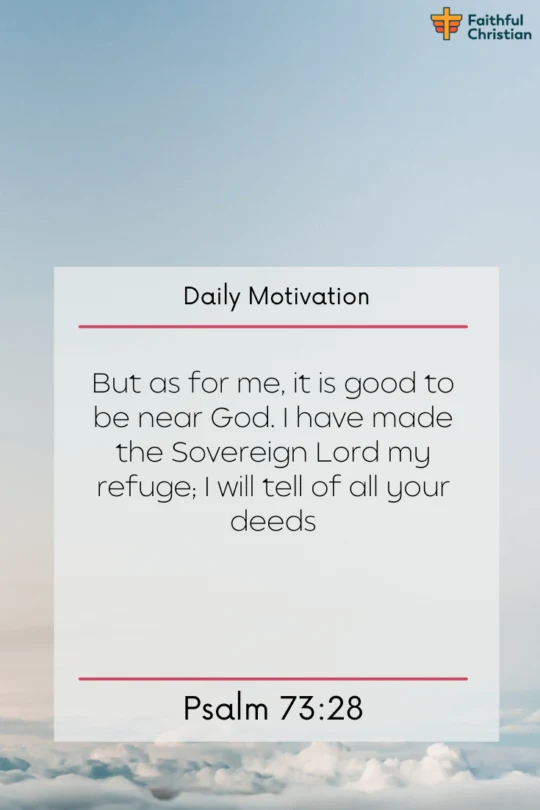 But as for me, it is good to be near God. I have made the Sovereign Lord my refuge; I will tell of all your deeds
Psalm 50:15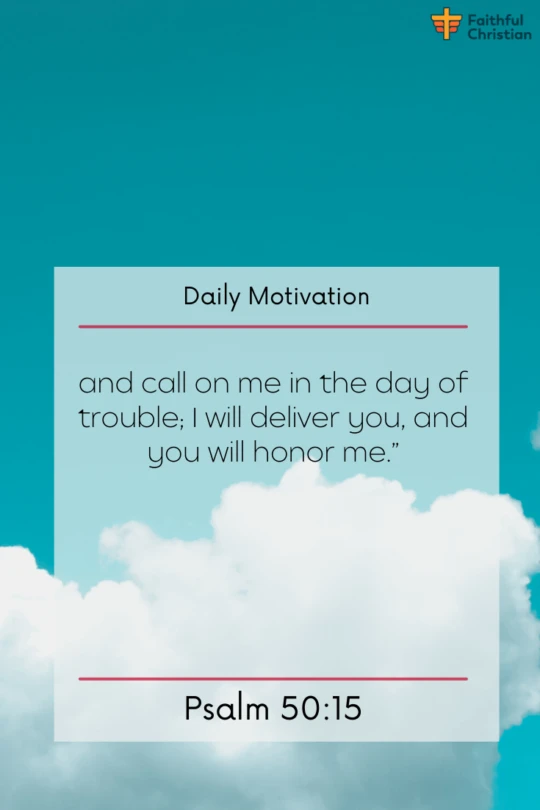 and call on me in the day of trouble; I will deliver you, and you will honor me."
Afternoon Prayers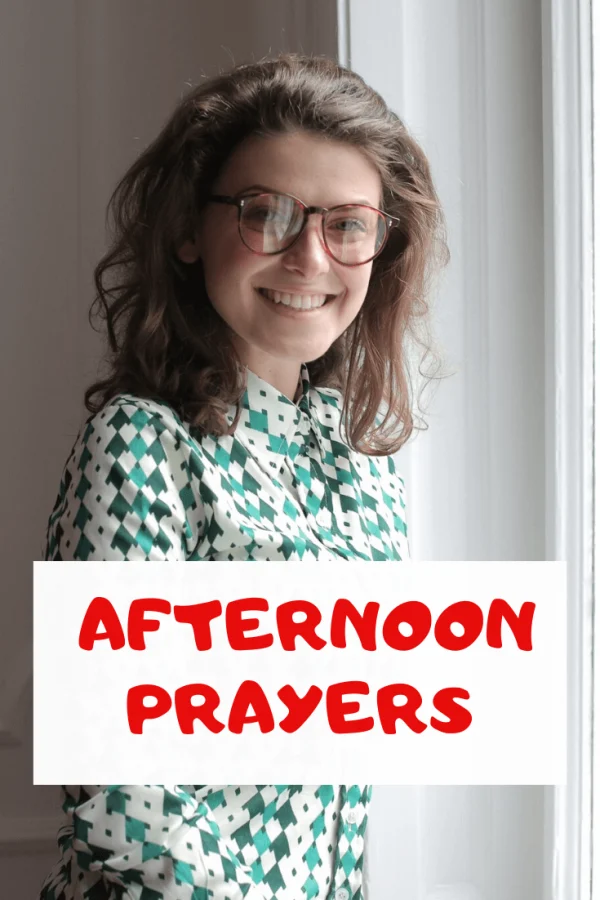 Words for thanksgiving (let us pray)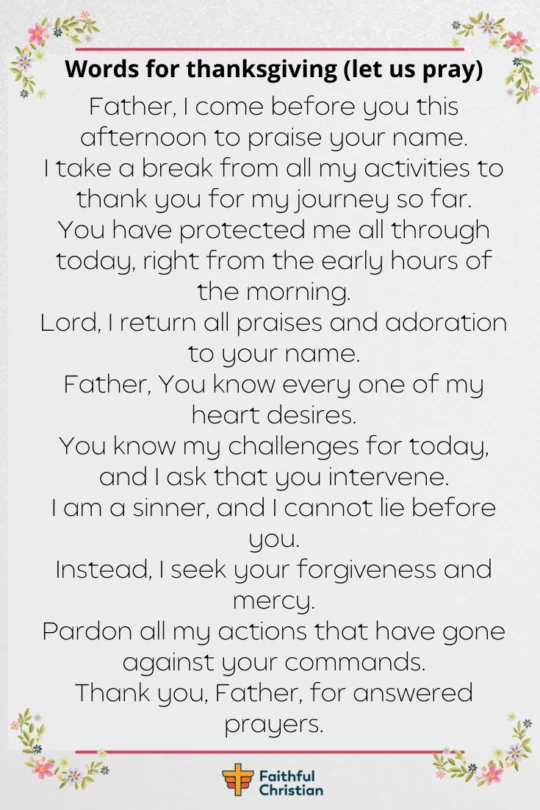 Father, I come before you this afternoon to praise your name.
I take a break from all my activities to thank you for my journey so far.
You have protected me all through today, right from the early hours of the morning.
Lord, I return all praises and adoration to your name.
Father, You know every one of my heart desires.
You know my challenges for today, and I ask that you intervene.
I am a sinner, and I cannot lie before you.
Instead, I seek your forgiveness and mercy.
Pardon all my actions that have gone against your commands.
Thank you, Father, for your answered prayers.
Hidden treasures await you (let us pray)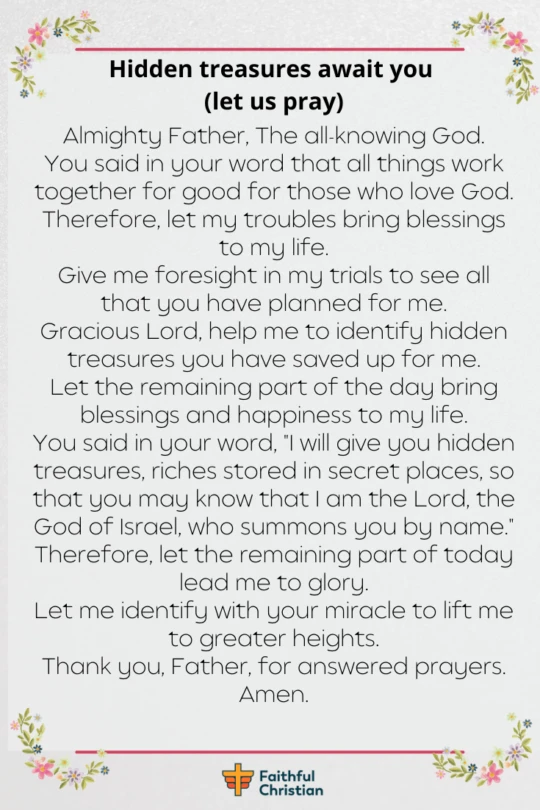 Almighty Father, The all-knowing God.
You said in your word that all things work together for good for those who love God.
Therefore, let my troubles bring blessings to my life.
Give me foresight in my trials to see all that you have planned for me.
Gracious Lord, help me to identify hidden treasures you have saved up for me.
Let the remaining part of the day bring blessings and happiness to my life.
You said in your word, "I will give you hidden treasures, riches stored in secret places, so that you may know that I am the Lord, the God of Israel, who summons you by name."
Therefore, let the remaining part of today lead me to glory.
Let me identify with your miracle to lift me to greater heights.
Thank you, Father, for your answered prayers.
Amen.
Seek God's direction today (let us pray)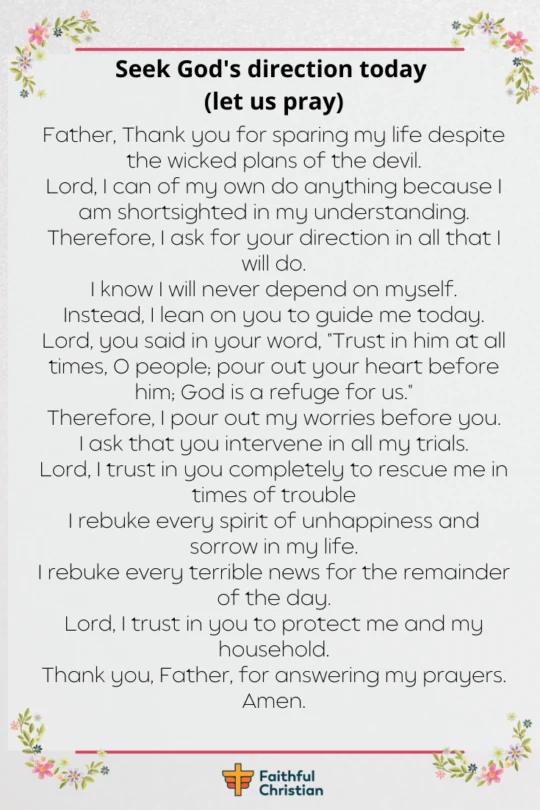 Father, Thank you for sparing my life despite the wicked plans of the devil.
Lord, I can of my own do anything because I am shortsighted in my understanding.
Therefore, I ask for your direction in all that I will do.
I know I will never depend on myself.
Instead, I lean on you to guide me today.
Lord, you said in your word, "Trust in him at all times, O people; pour out your heart before him; God is a refuge for us."
Therefore, I pour out my worries before you.
I ask that you intervene in all my trials.
Lord, I trust in you completely to rescue me in times of trouble
I rebuke every spirit of unhappiness and sorrow in my life.
I rebuke every terrible news for the remainder of the day.
Lord, I trust in you to protect me and my household.
Thank you, Father, for answering my prayers.
Amen.
---
Recommended for you
---
What you see is what you get (let us pray)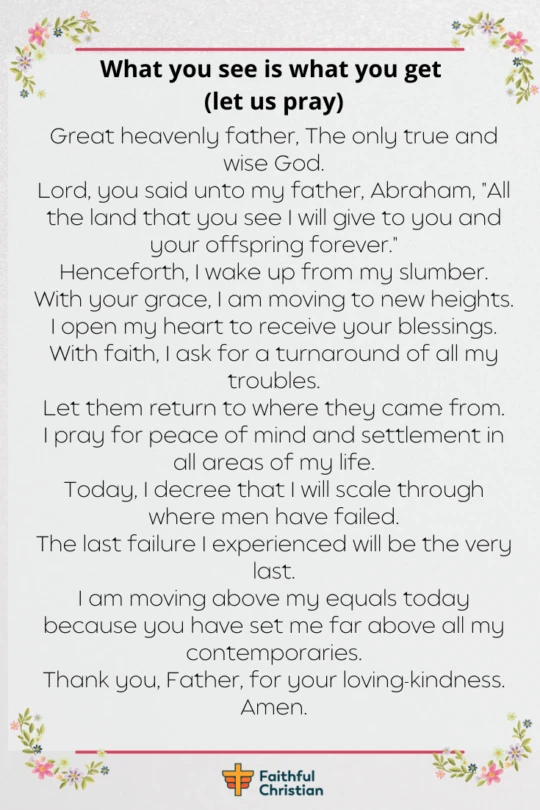 Great heavenly father, The only true and wise God.
Lord, you said unto my father, Abraham, "All the land that you see I will give to you and your offspring forever."
Henceforth, I wake up from my slumber.
With your grace, I am moving to new heights.
I open my heart to receive your blessings.
With faith, I ask for a turnaround of all my troubles.
Let them return to where they came from.
I pray for the peace of mind and settlement in all areas of my life.
Today, I decree that I will scale through where men have failed.
The last failure I experienced will be the very last.
I am moving above my equals today because you have set me far above all my contemporaries.
Thank you, Father, for your loving-kindness.
Amen.
Let your moderation be known (let us pray)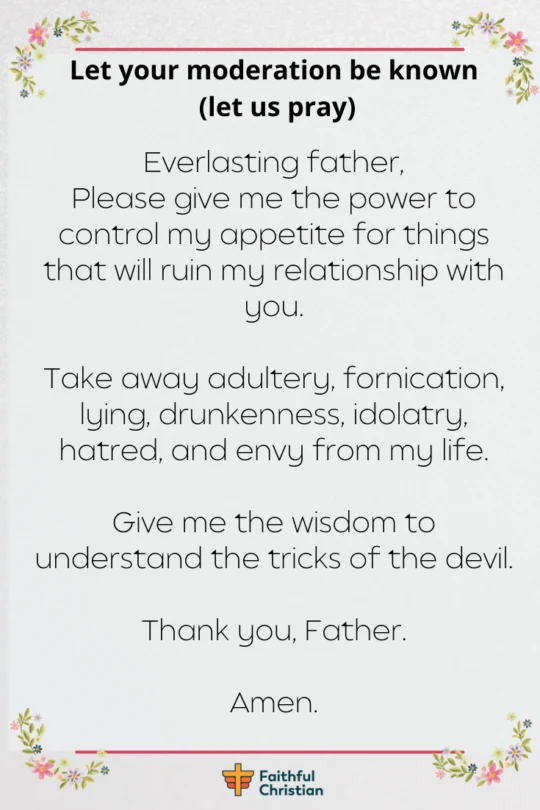 Everlasting father,
Please give me the power to control my appetite for things that will ruin my relationship with you.
Take away adultery, fornication, lying, drunkenness, idolatry, hatred, and envy from my life.
Give me the wisdom to understand the tricks of the devil.
Thank you, Father.
Amen.
READ MORE
Sunday prayer for myself.
Monday prayers for family and friends.
Tuesday prayer for boyfriend and girlfriend.
Wednesday prayer for Husband and wife.
Thursday prayer and blessings.
Powerful Short Friday prayer.
Saturday prayer message and quotes.
Author: Akatakpo Dunn
Dr. Akatakpo Dunn is a dedicated follower of Christ, an active member and speaker, and an ongoing learner of the Scriptures. Passionate about his faith and serving others, he is committed to sharing his spiritual journey and insights to inspire and uplift fellow believers. He has been active in the church for more than 23 years. Through The
Faithful Christian Blog
,
Dr. Dunn
combines his love for God, philanthropy, and Scripture, providing a valuable resource for those seeking to grow in their faith.
Follow me: on Youtube, Facebook, Twitter, Instagram, and Pinterest.
Content Disclosure:
At The Faithful Christian Blog, I create authentic and inspiring content. Although I am the main author, I occasionally use AI for minor language enhancements. This minimal AI usage ensures high-quality, trustworthy articles without compromising originality or sincerity, ultimately supporting our shared faith journey.
Warmly,
Dr. Akatakpo Dunn
Was this article helpful?