You cannot do it on your own.
You need God in every aspect of your life.
So, this afternoon, we will say a simple prayer for thanks and request.
We will thank God for our journey so far.
We will pray for our friends (boyfriends and girlfriends), and our loved ones.
I have put together this short afternoon prayer to guide you.
---
Recommended for you
---
Short afternoon prayer points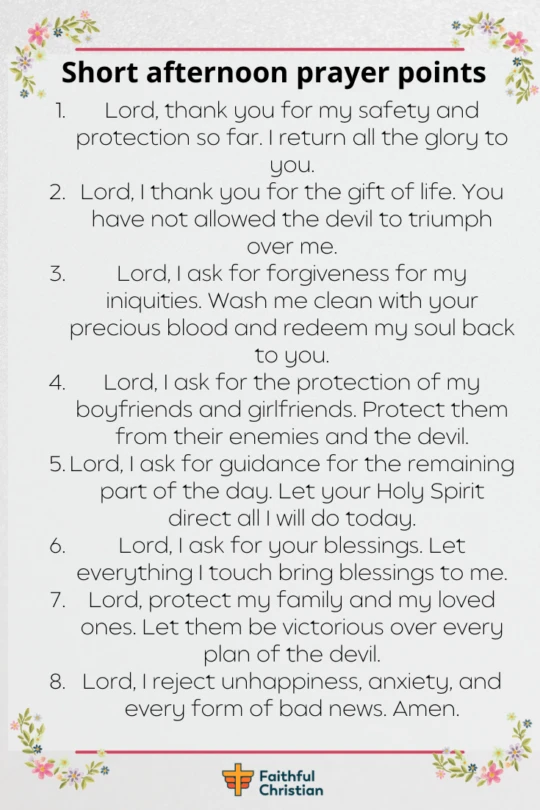 Bible verses for afternoon prayer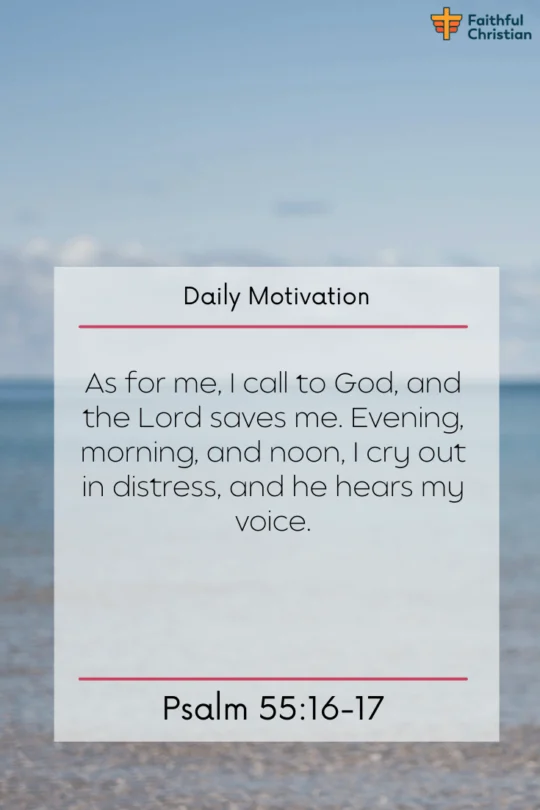 As for me, I call to God, and the Lord saves me. Evening, morning, and noon, I cry out in distress, and he hears my voice.
Psalm 73:28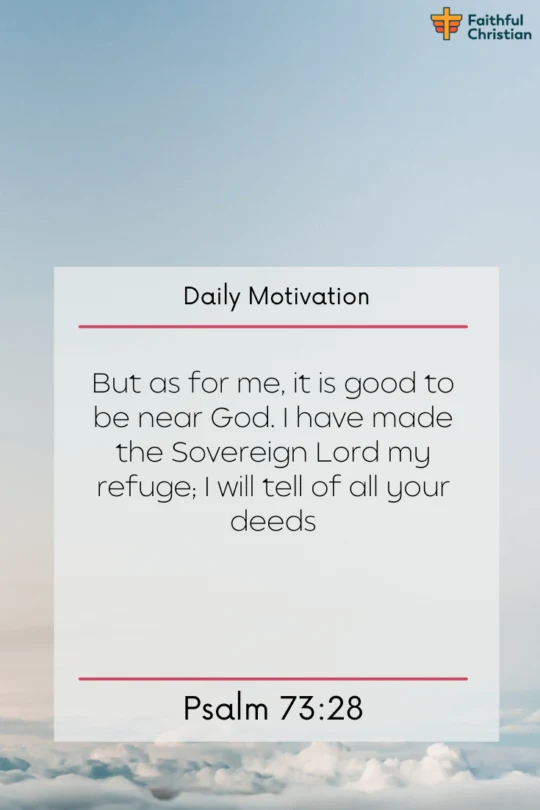 But as for me, it is good to be near God. I have made the Sovereign Lord my refuge; I will tell of all your deeds
Psalm 50:15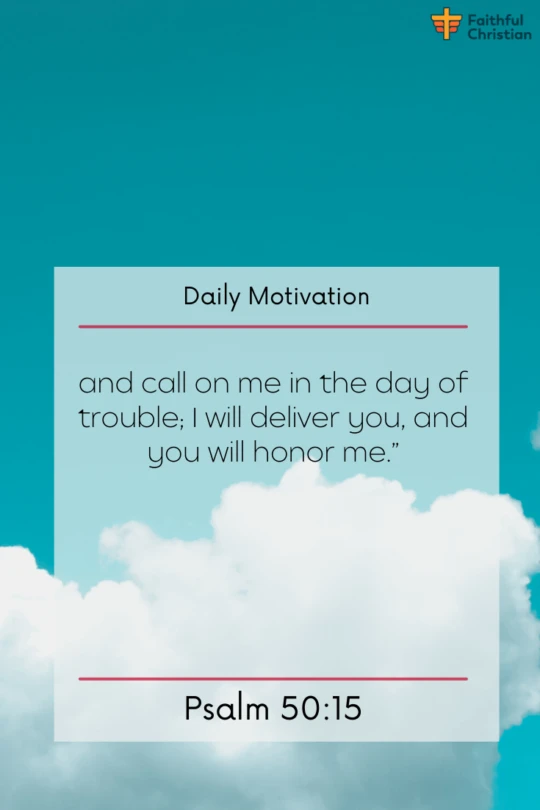 and call on me in the day of trouble; I will deliver you, and you will honor me."
Afternoon Prayers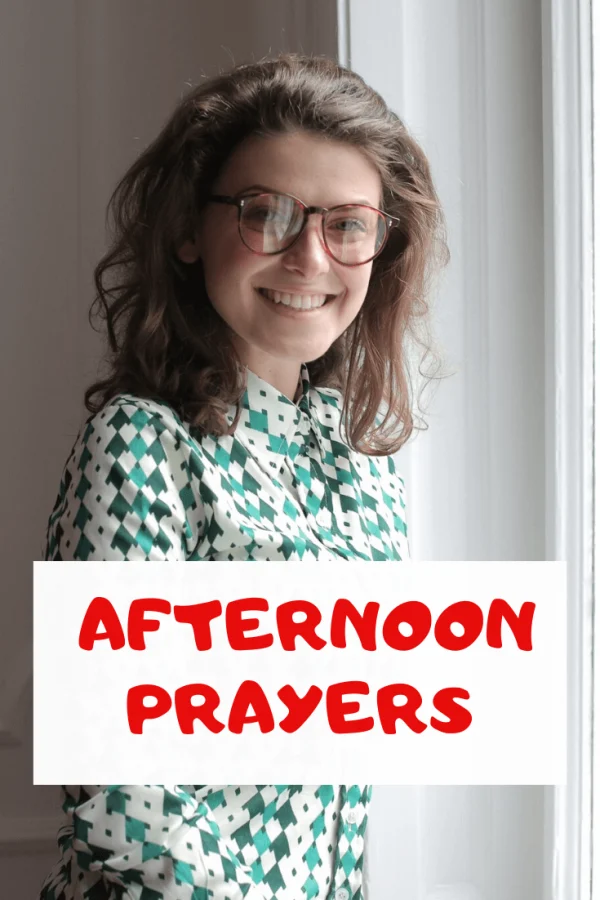 Words for thanksgiving (let us pray)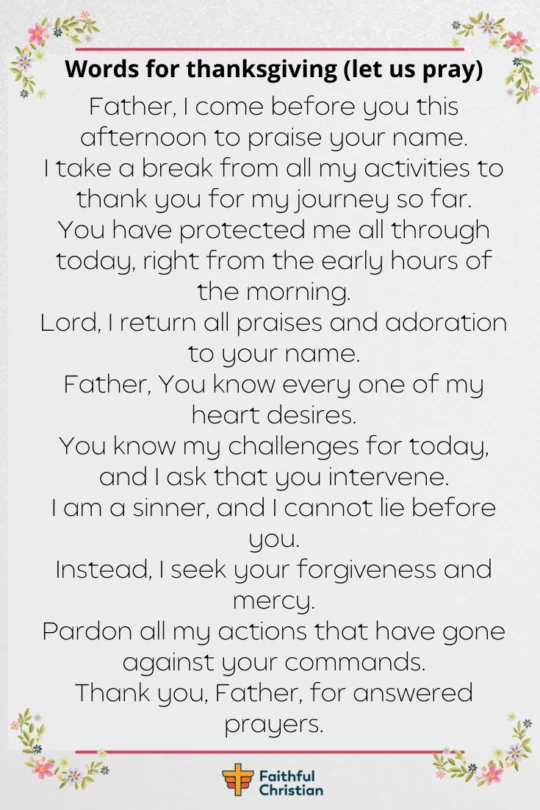 Dear Father, in the midst of life's hustle, I hit the pause button. This moment, right here, right now, is for you. It's all about lifting your name high, just as Psalm 29:2 nudges us to do. Your name, a beacon of strength, a sanctuary of peace, is my anchor.
Stepping away from the daily grind, I take a deep breath. I'm filled with gratitude. It's a nod to 1 Thessalonians 5:18, a call to be thankful, always. Each step, each stumble, each victory on my journey, it's all part of your grand design. And for that, I am thankful.
Daybreak to dusk, you've been my shield. Your protection, a promise kept, as Psalm 121:5-6 assures. No harm from the sun, no trouble from the moon. You've got me covered, and for that, I am safe.
Lord, you're mighty, deserving of all praise. Echoing Psalm 100:4, I enter your spiritual gates, my heart brimming with thanks. Your courts, a space for praise. Your majesty, your goodness, it leaves me in awe.
Father, you're all-knowing. You see my dreams, my desires. Psalm 139:1-2 says it all. You know me, inside and out. My thoughts, my actions, nothing is hidden. And in that, I find comfort.
You see my struggles, my trials. I ask for your help. Psalm 34:17 is my guide. You hear, you deliver. I trust in your promise to see me through.
Before you, I stand, a sinner. No masks, no pretense. 1 John 1:9 is my beacon. Confess, and you will forgive. I seek your mercy, your forgiveness.
I ask for cleansing, for absolution. Psalm 51:2 is my plea. Wash away my sins, make me pure. I yearn for your cleansing touch.
And finally, a heartfelt thank you. For answered prayers, for ceaseless blessings. Philippians 4:6 is my mantra. Pray, petition, and give thanks. Your faithfulness, your enduring love, it's a gift I cherish. Thank you, Father.
Hidden treasures await you (let us pray)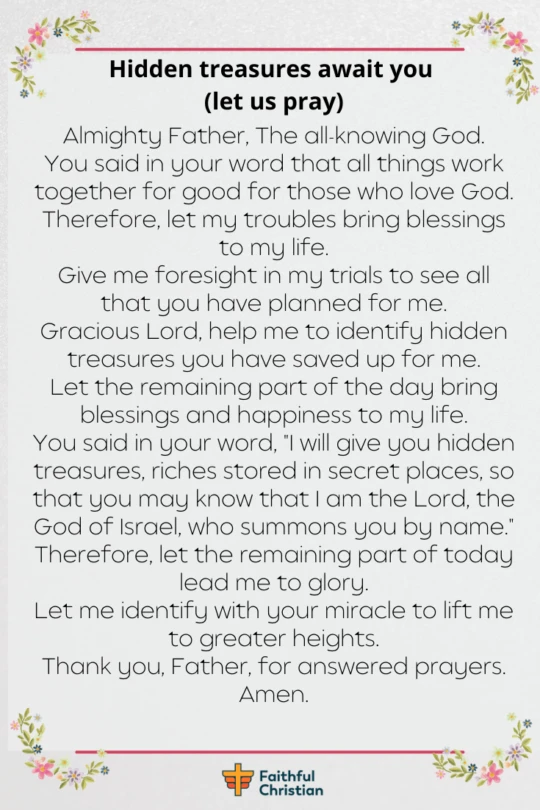 Our Creator, the One who knows all, sees all, and understands all. You are the Alpha and Omega, the first and the last. Your wisdom is like an ocean, vast and deep, beyond our understanding. As the Psalmist sings in Psalm 147:5, You are great, mighty in power, and Your understanding is limitless. Your plans? They're perfect.
Your Word, like a comforting blanket, assures us that every circumstance, no matter how tough, is part of a grand design. It's a promise found in Romans 8:28. It tells us that everything works together for our good if we love You. So, I pray that my challenges become stepping stones to blessings. I believe You're using every situation to shape me, to refine me, and to prepare me for Your divine purpose.
In the heart of my struggles, I ask for discernment. I want to see the bigger picture, the grand design you've crafted for me. James 1:5 tells us that if we lack wisdom, we should ask You. You give generously, without finding fault. So, I'm asking, Lord. Help me understand my trials and see the blessings hidden within them.
You are a benevolent Master, always looking out for us. You have blessings in store for me, hidden treasures waiting to be discovered. Jeremiah 29:11 echoes this sentiment. It says You have plans for me, plans to prosper me, to give me hope and a future. I trust in Your plans, Lord. Guide me to recognize the blessings You've prepared for me.
As the day unfolds, I pray for joy and blessings. Psalm 118:24 tells us that each day is a gift from You, a reason to rejoice. So, I'm choosing to find joy in each moment of this day. I'm choosing to see Your hand in every circumstance.
Your Word is filled with promises. One of them, found in Isaiah 45:3, talks about hidden treasures and secret riches. It's a promise of Your provision and care. So, as this day continues, I pray for guidance. Lead me to the path of glory. Show me the hidden treasures You've set aside for me.
I want to experience Your miracles, Lord. I want to grow spiritually, to develop personally. Ephesians 3:20 tells us that You can do immeasurably more than we can ask or imagine. So, I'm asking for faith. I want to believe in Your power at work within me. I want to reach greater heights, to accomplish more than I could ever imagine.
Finally, I want to say thank you. Thank you for hearing my prayers. 1 John 5:14 assures us that if we ask anything according to Your will, You hear us. So, thank you, Lord, for listening. Thank you for answering our prayers according to Your perfect will.
Amen.
Seek God's direction today (let us pray)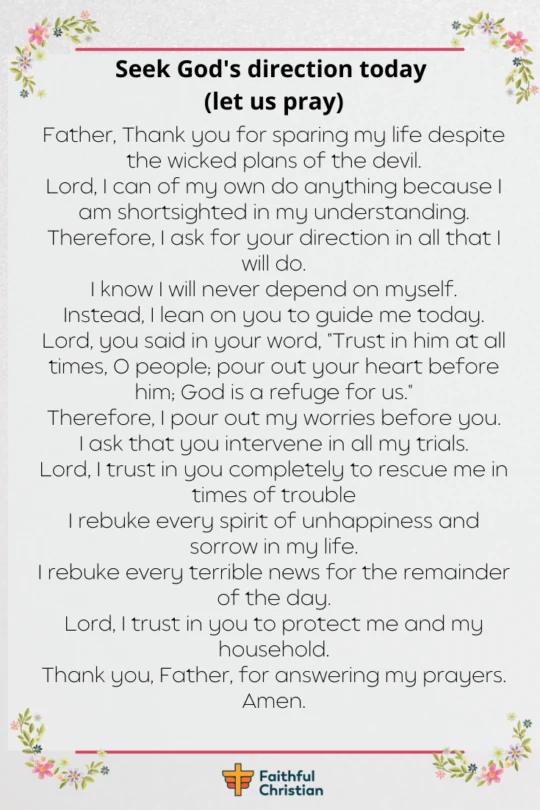 Dear Heavenly Father, my heart overflows with gratitude. You've been my shield, my fortress, standing between me and the adversary's wicked plans. Just like the Psalmist sang in Psalm 121:7, You've kept me safe from all harm. You've been my guardian, not just in the physical realm, but also in the spiritual battleground.
Lord, I stand before You, acknowledging my limitations. I'm like a sailor in the vast ocean without a compass. My understanding is shortsighted. I'm reminded of the wisdom in Proverbs 3:5-6. It tells us to trust in You, not in our limited understanding. You see the full picture. You know the past, present, and future.
So, I come to You, Lord. I seek Your guidance. I need it in every step I take, every decision I make. James 1:5 tells us to ask You for wisdom. You give it generously, without finding fault. I can't rely on my own strength or wisdom.
Instead, I lean on You. You're my rock, my guiding light. Psalm 46:1 says You're our refuge, our strength, our ever-present help. Your strength shines in our weakness. Your guidance lights up our path.
Your holy scriptures tell us to trust in You. To pour out our hearts before You. You're our refuge. This message is clear in Psalm 62:8. So, I lay my worries, my fears, my anxieties before You.
I call on You, Lord. I need You to step into my struggles. To provide solutions to my problems. To guide me through my trials. 1 Peter 5:7 tells us to cast our anxieties on You. You care for us. Your intervention is not just a possibility. It's a divine promise.
My trust in You, Lord, is unwavering. I'm confident in Your ability to deliver me from adversity. To provide comfort in times of distress. Nahum 1:7 assures us that You're good. You're our stronghold in times of trouble. You know those who trust in You.
I stand firm against any spirit of sadness. Any spirit of sorrow. Nehemiah 8:10 reminds us that Your joy is our strength. I reject any distressing news that may disrupt my day's peace.
Lord, I trust in You to protect me. To protect my family. Psalm 91:1-2 assures us that those who dwell in Your shelter will rest in Your shadow. I believe in Your promise of protection. Your promise of provision.
Thank you, Heavenly Father. You hear my prayers. You're always with me. Your love never fails. 1 John 5:14 assures us that You hear us when we ask according to Your will. Your love is unfailing. Your presence is constant. Your ear is always inclined to our prayers.
In Your holy name, I pray. Amen.
---
Recommended for you
---
What you see is what you get (let us pray)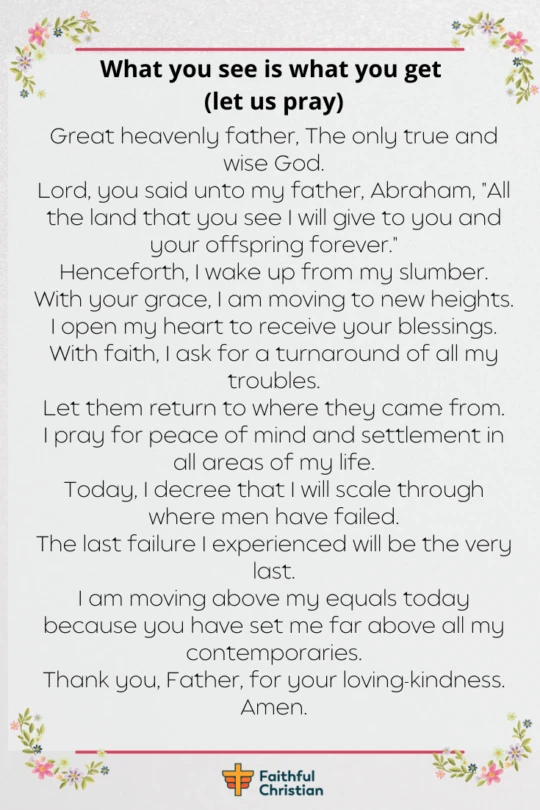 Our Father, the heavenly architect, you're the sole beacon of truth and wisdom. You're the divine entity, the one and only. You're the embodiment of the wisdom Proverbs 9:10 speaks about. You're the beginning of understanding, the source of all knowledge.
You made a promise to Abraham, our forefather. A promise of land, as far as the eyes could see. A promise of a legacy that would last for eternity. This echoes Genesis 13:15. A covenant of land, a promise of descendants as numerous as the dust.
I'm rising, Lord. Rising from my spiritual slumber. It's like Ephesians 5:14. I'm waking up, embracing the light of Christ. I'm leaving the darkness behind, stepping into your divine light.
Your favor, your mercy, they lift me. They propel me to greater heights. It's like Isaiah 40:31. I'm soaring on wings like eagles, reaching for the sky. I'm moving towards a higher plane, a new level of existence.
I'm opening my heart, Lord. Ready to accept your blessings. It's a reflection of Psalm 24:5. I'm ready for your blessings, ready for your vindication. My heart is open, ready to receive.
I'm asking for a turnaround, Lord. A reversal of my troubles. It's inspired by Psalm 34:17. I'm crying out for help, knowing you hear me. I'm confident you'll deliver me from my troubles.
I'm praying for peace, Lord. Peace of mind, stability in my life. It's like Philippians 4:7. I'm seeking your peace, the peace that transcends understanding. I'm praying for a guard for my heart, my mind, in Christ Jesus.
Today, I'm making a declaration. I will overcome obstacles. I won't stumble, I won't fall. It's reminiscent of Romans 8:37. I'm more than a conqueror, through your love.
My last setback, it will be the final one. I'm rising above it. It's in line with Proverbs 24:16. I may fall, but I will rise again. I'm determined, I'm resilient.
Today, I'm ascending. Ascending beyond my peers. You've elevated me, Lord. It's like Psalm 75:7. You're the judge, the one who exalts. You've set me on a pedestal, far above my contemporaries.
I'm grateful, Father. Grateful for your love, your kindness. It's inspired by Psalm 136:1. I'm giving thanks, acknowledging your goodness. Your love endures forever.
In your holy name, I pray. Amen. It's like John 14:13. I'm asking in Jesus' name, knowing you'll do it. I'm praying for your glory, for your honor. In your name, I pray. Amen.
Let your moderation be known (let us pray)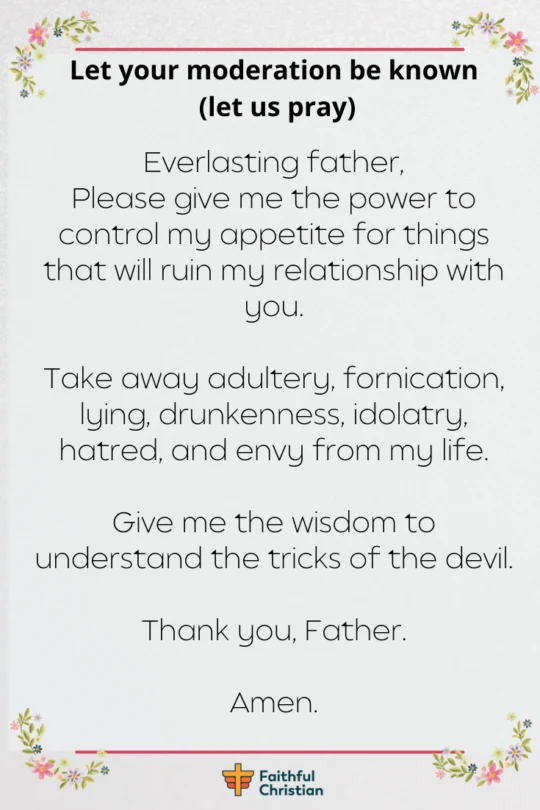 Dear Father, timeless and unchanging,
I come to you with a humble heart, seeking your divine strength. I yearn to master my desires, those that risk breaking our sacred bond. Temptations, as James 1:14 reminds us, can lead us astray. Yet, I trust in your promise. You won't let me face more than I can handle. You'll always show me a way out.
Father, I need your cleansing touch. My soul yearns to be free from sins that tarnish it. Adultery and fornication, they corrupt love and commitment. Hebrews 13:4 warns us of this. I seek your help to resist these.
Falsehoods and deceit, they erode trust. Proverbs 12:22 tells us you delight in honesty. I want to be honest, Father. Help me. And excessive drinking, it clouds judgment. Ephesians 5:18 advises against it. Guide me away from this pitfall, Father.
Idolatry, it's a shackle I want to break free from. Exodus 20:3-5 reminds us, you are the one true God. Help me keep my devotion for you alone. Hatred, it breeds discord. 1 John 2:9 says it keeps us in darkness. I want to be in your light, Father. Help me eliminate hatred.
And envy, it's a destructive emotion. Proverbs 14:30 warns us, it rots the bones. I want a heart at peace, Father. Help me rid myself of envy.
Father, I need your wisdom. The devil is cunning. 1 Peter 5:8 warns us, he prowls around, looking for someone to devour. Help me see through his tricks. Help me stand firm in my faith.
Father, I am grateful. Your guidance, your love, they are constant. I am forever thankful for your divine intervention. 1 Thessalonians 5:18 tells us to give thanks in every situation. And so, I thank you, Father.
In your holy name, I pray.
Amen.
Frequently Asked Questions
What is a nice prayer for the afternoon?
A fitting afternoon prayer might be: "Dear Lord, we pause at midday to express gratitude for the strength You've provided. We seek Your guidance in our work and interactions. May we reflect Your love and kindness. In Jesus' name, Amen."
This prayer aligns with Colossians 3:17, which encourages all actions to be done in Jesus' name with gratitude.
What is the simple noon prayer?
A simple noon prayer could be: "Heavenly Father, we thank You for today's blessings. As we pause at noon, we seek Your guidance and protection. In Jesus' name, Amen."
This prayer echoes 1 Thessalonians 5:18, which urges gratitude in all circumstances.
What is a short 12-noon prayer for the day?
A concise 12-noon prayer might be: "Lord, we thank You for the morning and Your guidance. In our busiest moments, remind us of Your presence. In Jesus' name, Amen."
This prayer is in line with Proverbs 3:5-6, which encourages trust in God.
What are some quick short midday prayers?
Quick midday prayers could be: "Lord, guide our thoughts and actions this afternoon. Amen." or "Father, thank You for today's blessings. May they glorify You. Amen."
These prayers align with Psalm 37:5, which encourages commitment to God's way.
What is a powerful afternoon prayer for the day?
A potent afternoon prayer might be: "Almighty God, we acknowledge Your sovereignty. We seek Your wisdom, strength, and love. May our actions glorify You. In Jesus' name, Amen."
This prayer resonates with James 1:5, which encourages asking God for wisdom.
What is a powerful afternoon prayer?
A powerful afternoon prayer could be: "Lord, guide us through this day. Help us reflect Your love in our interactions. In Jesus' name, Amen."
This prayer aligns with Galatians 5:22-23, which describes the fruits of the Spirit.
How can I offer my afternoon prayers to God Almighty?
To offer afternoon prayers, find a quiet place, close your eyes, and speak sincerely: "Dear God, I dedicate this time to You. Guide me to honor You in all I do. In Jesus' name, Amen."
This aligns with Matthew 6:6, which encourages private prayer.
What is a midday prayer for protection?
A midday prayer for protection might be: "Lord, protect us as we navigate this day. Help us trust in Your promises and rest in Your care. In Jesus' name, Amen."
This prayer aligns with Psalm 91:1-2, which describes God as a refuge and fortress.
Are there any specific Bible verses for afternoon prayer?
While no Bible verses are specifically for afternoon prayer, many can guide your prayers. Psalm 55:17, for instance, assures us that God hears our cries at all times. Similarly, 1 Thessalonians 5:17 encourages constant prayer.
What are some suggested afternoon prayer points?
Afternoon prayer points could include: gratitude for morning blessings (Psalm 118:24), seeking wisdom (James 1:5), strength to overcome challenges (Isaiah 40:29), praying for peace (Philippians 4:7), and seeking protection (Psalm 91:1-2).
These points align with biblical teachings and can be adapted to your needs.
READ MORE
Sunday prayer for myself.
Monday prayers for family and friends.
Tuesday prayer for boyfriend and girlfriend.
Wednesday prayer for Husband and wife.
Thursday prayer and blessings.
Powerful Short Friday prayer.
Saturday prayer message and quotes.
Author: Akatakpo Dunn
Dr. Akatakpo Dunn is a dedicated follower of Christ, an active member and speaker, and an ongoing learner of the Scriptures. Passionate about his faith and serving others, he is committed to sharing his spiritual journey and insights to inspire and uplift fellow believers. He has been active in the church for more than 23 years. Through The
Faithful Christian Blog
,
Dr. Dunn
combines his love for God, philanthropy, and Scripture, providing a valuable resource for those seeking to grow in their faith.
Follow me: on Youtube, Facebook, Twitter, Instagram, and Pinterest.
Content Disclosure:
At The Faithful Christian Blog, I create authentic and inspiring content. Although I am the main author, I occasionally use AI for minor language enhancements. This minimal AI usage ensures high-quality, trustworthy articles without compromising originality or sincerity, ultimately supporting our shared faith journey.
Warmly,
Dr. Akatakpo Dunn
Was this article helpful?