Struggling with tough choices? Don't worry, you're in good company.
Making the right decisions can feel like a Herculean task, especially for Christians who want to align their actions with their faith.
So, what's in store for you in this post? We've handpicked an array of Bible verses about making the right decision and choosing the right path, perfect for shining a light on your journey during challenging times.
The perks of turning to these verses are many: they bring wisdom, solace, and direction, empowering you to make wiser decisions and deepen your faith.
Ask yourself: are you ready to embrace God's wisdom in moments of uncertainty?
By delving into these verses, you're taking a stand and showing your dedication to making choices that align with your beliefs.
As you explore these Bible verses about making the right decision, always remember you're never alone. God is eager to help you sail through tricky decisions and guide you on the right path.
Soak up His wisdom, and let these verses be your beacon of inspiration and enlightenment, especially when life throws you a curveball.
Bible Verses about Making The Right Decision.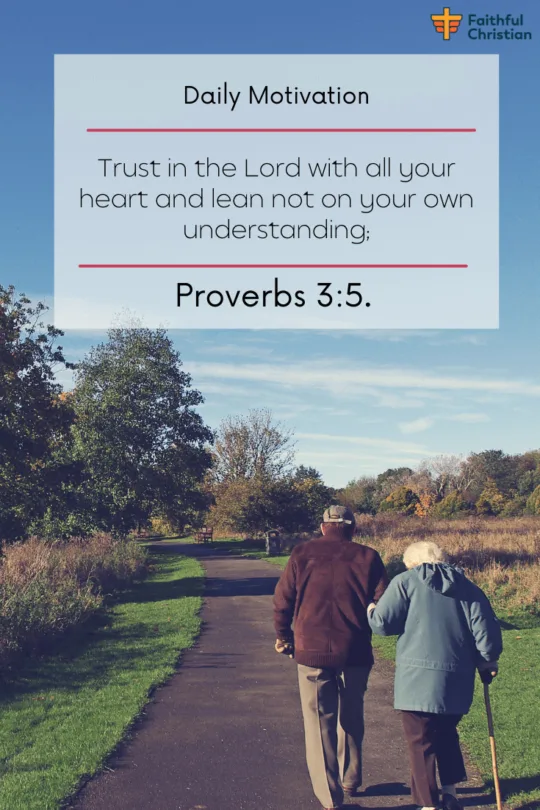 Trust in the Lord with all your heart and lean not on your own understanding;
The good news
In the journey of life, we are often confronted with situations where the right decision seems elusive.
In uncertain moments, rely on Proverbs 3:5, which encourages us to trust in God's infinite wisdom rather than our limited human perspective.
As we acknowledge our own limitations, we open ourselves to receive divine guidance.
This profound trust in God's wisdom is echoed in related scriptures such as Proverbs 16:3, which advises us to "commit to the Lord whatever you do, and he will establish your plans."
By submitting our plans and decisions to God, we invite His intervention, ensuring the best possible outcome for our lives.
Recently, in one of my businesses, I faced a tremendous challenge. In fact, i became confused and unsure of how to proceed.
Amidst my doubts and bewilderment, I sought divine guidance to help me determine the most appropriate decision. By the grace of God, ultimately, the outcome was marked by triumphs.
Another compelling biblical example that highlights the importance of trusting God's wisdom in decision-making is the story of Solomon.
Solomon, faced with the immense responsibility of governing God's people, serves as an example of seeking and trusting God's wisdom.
Recognizing his own inadequacy, he prayed for wisdom (1 Kings 3:5-14). God was pleased with Solomon's humble request, granting him unparalleled wisdom and understanding, which allowed him to rule justly and make wise decisions.
In conclusion, when we face crossroads in life and grapple with the uncertainty of decision-making, let us remember to depend on God and trust Him wholeheartedly.
By doing so, we welcome His divine intervention and guidance. As we embrace this trust, we can confidently navigate life's complexities, knowing that God will lead us in the best direction for our lives.
Let us continually seek His wisdom through prayer and reflection on His Word, fostering a deeper relationship with our Creator, who is more than willing to illuminate our path and help us make the right choices.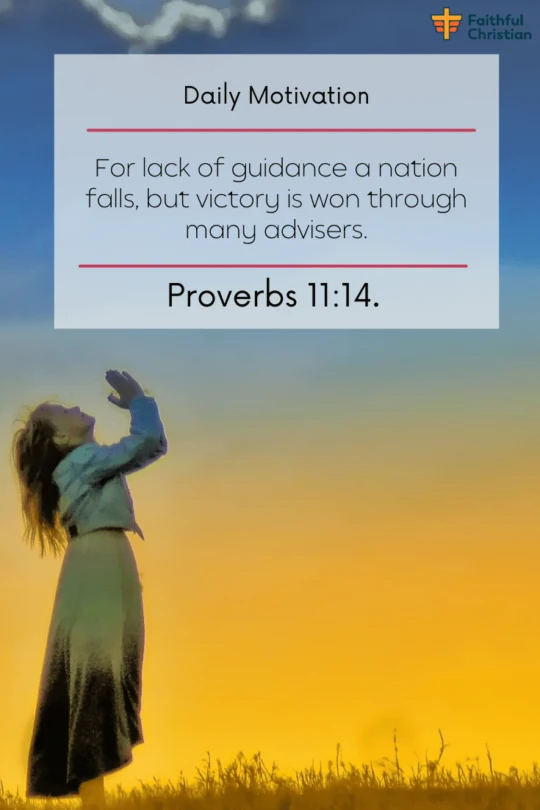 For lack of guidance a nation falls,but victory is won through many advisers.
The good news
If you're uncertain about choosing the best path in life, Then Proverbs 11:14 gives hope.
As humans with no foresight into the future, we depend on God to guide our paths. It's essential to turn to Him, seeking alignment with His plan for every step we take.
God's wisdom, as expressed in Proverbs 11:14, reminds us that "Where there is no counsel, the people fall; but in the multitude of counselors there is safety."
This verse highlights the importance of seeking wise counsel when making critical choices. By turning to God and trusted advisors, you can be confident that your plans will unfold as they should.
The Bible abounds with examples of people who leaned on God's wisdom and others' counsel. For example, Moses (In Exodus 18) sought Jethro's advice, leading to more effective governance through delegation.
James 1:5 encourages seeking divine guidance, enabling us to make informed decisions by trusting in God.
Remember, God can be your most valuable counselor.
Trust in His wisdom and surround yourself with wise advisors, and you will navigate the complexities of life with clarity and confidence.
Embrace the divine guidance available to you, and witness your life's path illuminated by God's unerring wisdom.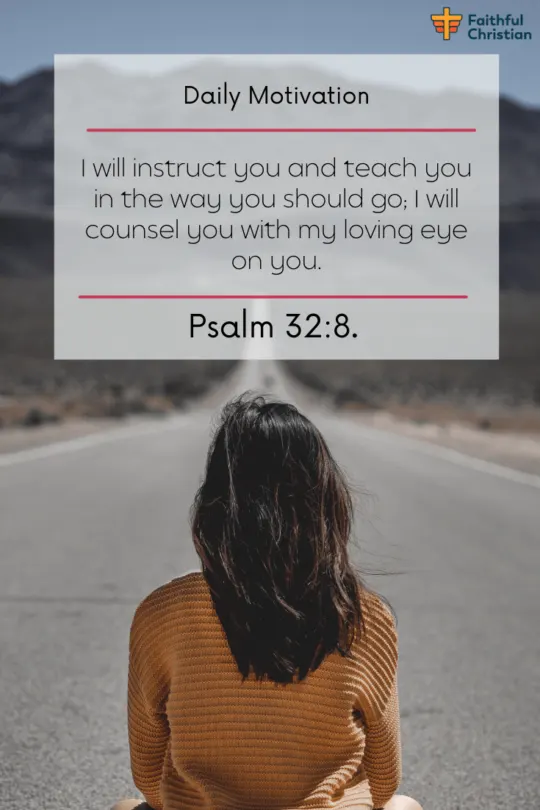 I will instruct you and teach you in the way you should go;I will counsel you with my loving eye on you.
The good news
Psalm 32:8 serves as a powerful reminder about the divine guidance available to us when making crucial decisions in life.
This verse reads, "I will instruct you and teach you in the way you should go." This assurance from God demonstrates His unwavering commitment to guide us along the right path.
The Apostle Paul's life demonstrates divine guidance in decision-making, as seen in Acts 16:6-10, where he and his companions were directed by the Holy Spirit to change their preaching plans.
They were then guided through a vision to go to Macedonia, instead of Asia and Bithynia, where they would spread the gospel. This instance highlights how trusting God's direction can lead to impactful outcomes.
We can draw inspiration from Paul's story and strive to incorporate its lessons into our lives. We frequently assume we are on the proper course, yet it may not be what God has in mind for us.
By praying and seeking God's guidance, we may be led along a different path that results in transformative experiences for us.
Therefore, instead of fretting over present uncertainties, remain receptive to God through prayer and trust Him to take the reins of your life.
In summary, Psalm 32:8, along with related scriptures, encourages us to seek God's guidance in our decision-making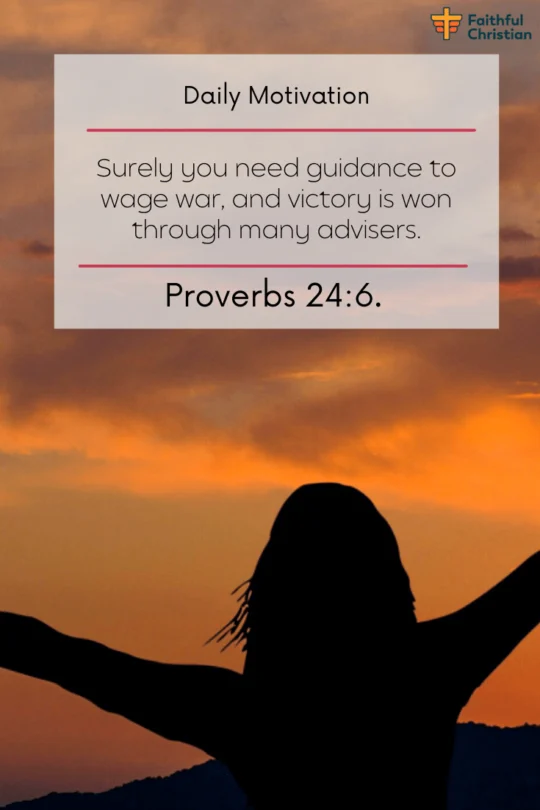 Surely you need guidance to wage war,and victory is won through many advisers.
The good news
Avoid overconfidence, as you may require the advice of friends and family.
As the Bible states in Proverbs 24:6, "victory is won through many advisers"
This verse emphasizes the importance of relying on the wisdom of others, as no one person can possess all the knowledge and understanding needed to navigate life's complexities.
Asking for advice and depending on the guidance of others is essential in making well-informed decisions. It's a humble acknowledgment of our limitations and a practical approach to gaining insights that may otherwise elude us.
The Bible also highlights the significance of seeking wise counsel in Proverbs 11:14, which says, "Where there is no guidance, a people falls, but in an abundance of counselors there is safety."
This scripture reinforces the idea that having multiple advisors can offer diverse perspectives and help us avoid potential pitfalls.
Throughout the Bible, we find numerous examples of individuals who sought counsel to make informed decisions.
King Jehoshaphat is another important biblical example who sought counsel.
In 2 Chronicles 20, when faced with an impending battle against a vast enemy, Jehoshaphat sought the Lord's guidance through prayer and fasting.
He also called upon the people of Judah to join him in seeking God's wisdom. In response, the Lord provided direction through a prophet named Jahaziel, ultimately leading Jehoshaphat and his people to victory.
In addition to seeking counsel from those around us, it is crucial to trust that God will lead us in the right direction.
Commit your way to the Lord;trust in him and he will do this: 6 He will make your righteous reward shine like the dawn,your vindication like the noonday sun.
The good news
At life's crossroads and difficult decision-making moments, seeking divine guidance, as emphasized in Psalm 37:5-6 is essential. It encourages us to commit our ways to the Lord and trust in Him.
Prayer, as a powerful connection to God, helps us seek His wisdom, transforming uncertainty into confidence in His guidance for the best decisions.
Indeed, God's readiness to help the righteous is a recurring theme throughout the scriptures.
Remember the scripture in Isaiah 58:11, where it states, "The Lord will guide you always; He will satisfy your needs."
This divine promise highlights God's unwavering guidance and support during challenging times. It serves as a reminder of His ever-present nature and His readiness to assist those who turn to Him.
As we navigate life's ever-changing landscape, it's important to keep faith in His divine wisdom and lean on His understanding.
In addition to prayer, immersing ourselves in the Word of God can offer invaluable insights for making the right decisions.
Scriptures like James 1:5 encourages us to seek God's wisdom. By seeking God's wisdom through prayer and scripture, we can gain the clarity and discernment needed to face life's challenges confidently.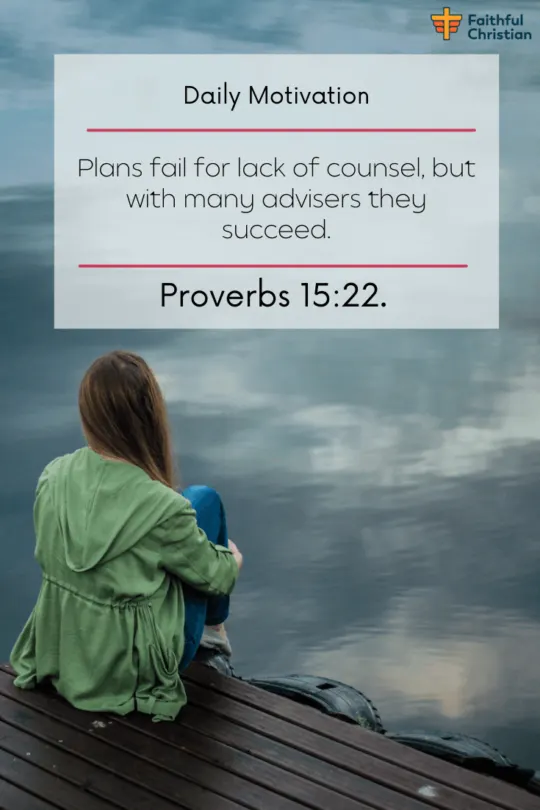 Plans fail for lack of counsel,but with many advisers they succeed.
The good news
Navigating life's intricate journey often requires making critical decisions that shape our destiny.
In such moments, seeking wise counsel can prove invaluable in choosing the right path.
Proverbs 15:22, a powerful biblical verse, reinforces this idea by stating, "Plans fail for lack of counsel."
In the context of making sound choices, this verse emphasizes the importance of surrounding ourselves with knowledgeable, trustworthy individuals who can provide insight and perspective when faced with pivotal decisions.
As previously explained, by tapping into the collective wisdom of others, we open ourselves to a wealth of experience to see angles we might have otherwise overlooked.
Moreover, it is essential to recognize that, alongside human advisors, we have access to the ultimate source of wisdom—God Himself.
As we seek guidance from others, we should also turn to prayer and scripture to gain divine insight into the decisions we face. Involving God in our decision-making process ensures that our choices align with His will, further enhancing our prospects for success and fulfillment.
I encountered a similar situation three years ago after losing my job.
I wasn't sure if I should stick with my profession or attempt something new.
Fortunately, a close friend's sound advice and God's divine guidance led to a remarkable transformation in my life, for which I am deeply grateful.
It's essential not to focus solely on the obstacles we face. Instead, trust in God's direction and embrace the journey ahead.
But the eyes of the Lord are on those who fear him,on those whose hope is in his unfailing love,
The good news
Psalm 33:18 imparts a compelling message about the significance of selecting the right course in life.
The statement, "The eye of the Lord is on those who fear Him," should already inspire and motivate you. This verse underscores the ceaseless love God bestows upon those who revere Him.
Fearing God does not mean being afraid of Him; instead, it involves abiding by His commandments.
Genuine reverence for God requires the determination to resist earthly temptations and to persist in a commitment to righteous living.
By embracing a life anchored in godliness, we exhibit our devotion to the Almighty and our allegiance to His principles.
As we endeavor to follow the path of righteousness, God pledges unwavering support, protection, and guidance.
His vigilant eye is ever attentive to those who esteem and honor Him, providing the insight needed to make the most prudent choices in life.
By remaining faithful to our beliefs and continuously seeking a divine life, we can rely on the Lord's nurturing presence to reveal the proper path for us.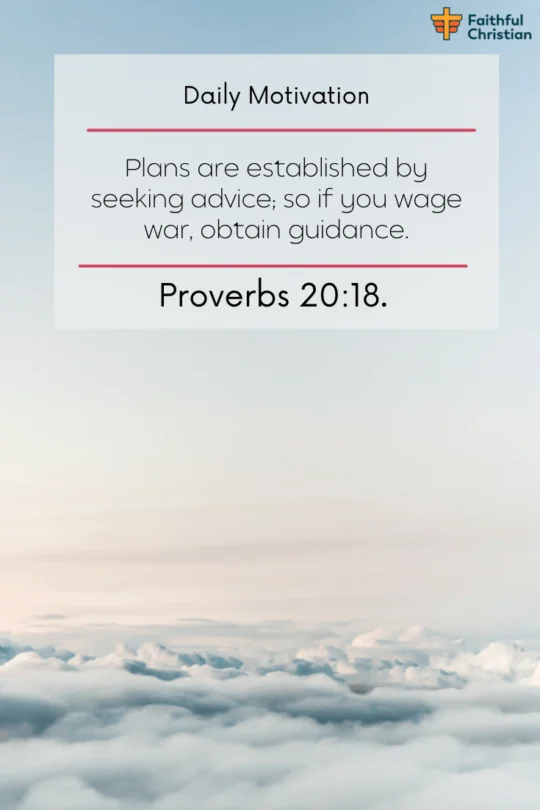 Plans are established by seeking advice;so if you wage war, obtain guidance.
The good news
Proverbs 20:18 highlights the need to seek God's guidance for choosing the right path in life
It is essential not to make significant decisions without first consulting God Himself.
In uncertain times, we should consult God, the ultimate advisor, instead of relying only on ourselves. He is intimately aware of our struggles and challenges, even before we bring them before Him in prayer.
Whether we face physical ailments or emotional turmoil, such as difficulties within our marriage, God sees our pain and is ready to offer comfort and guidance.
Trusting in God ensures that we receive both help in overcoming trials and wisdom for making consistently sound decisions.
Proverbs 20:18 serves as a potent reminder always to seek God's guidance in all our decision-making processes. By doing so, we can confidently navigate life's challenges, knowing that we are walking in alignment with His divine wisdom and plan for our lives.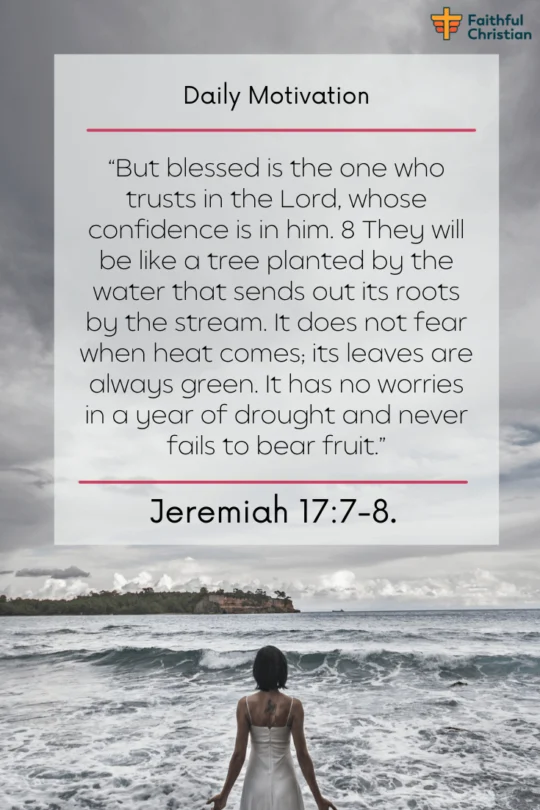 "But blessed is the one who trusts in the Lord,whose confidence is in him. 8 They will be like a tree planted by the waterthat sends out its roots by the stream. It does not fear when heat comes;its leaves are always green. It has no worries in a year of droughtand never fails to bear fruit."
The good news
Jeremiah 17:7-8 is a vital scripture to consider when faced with uncertainty in decision-making.
God is attentively watching over us in times of distress.
Placing our trust in Him is crucial for finding clarity and wisdom in our decisions, particularly when making life-altering choices or forging new paths.
This scripture emphasizes the inherent blessings that come with trusting in God.
By placing our faith in Him, we access divine wisdom and become fortified against future challenges.
Like a tree with deep roots, nourished by a life-giving stream, our trust in God enables us to remain strong and fruitful, even amidst adversity.
In conclusion, Jeremiah 17:7-8 serves as a powerful reminder to trust in God when making decisions.
By relying on His divine guidance, we can confidently navigate life's challenges, knowing that our choices align with His plan for our lives.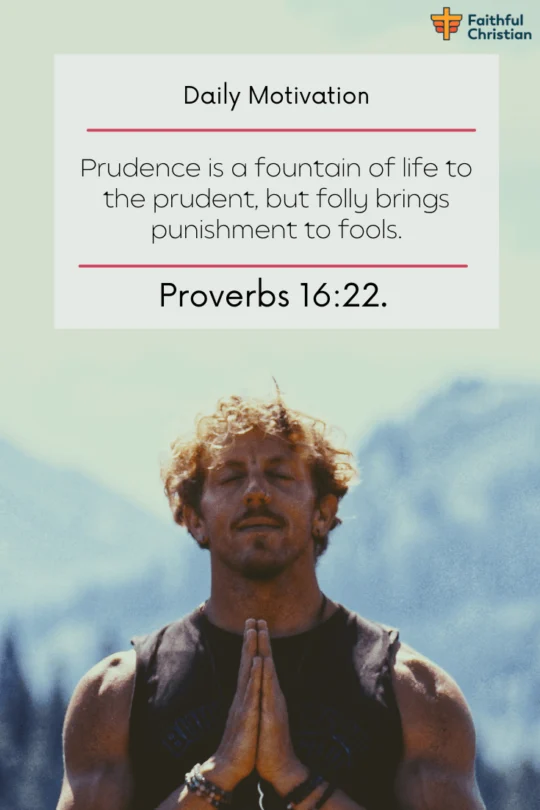 Prudence is a fountain of life to the prudent,but folly brings punishment to fools.
The good news
Prudence is an essential quality to cultivate, as it guides us in making discreet and cautious decisions.
Seeking God's help and praying for the Holy Spirit's guidance ensures we make the right choices.
Without good judgment, rash decisions may lead to suffering.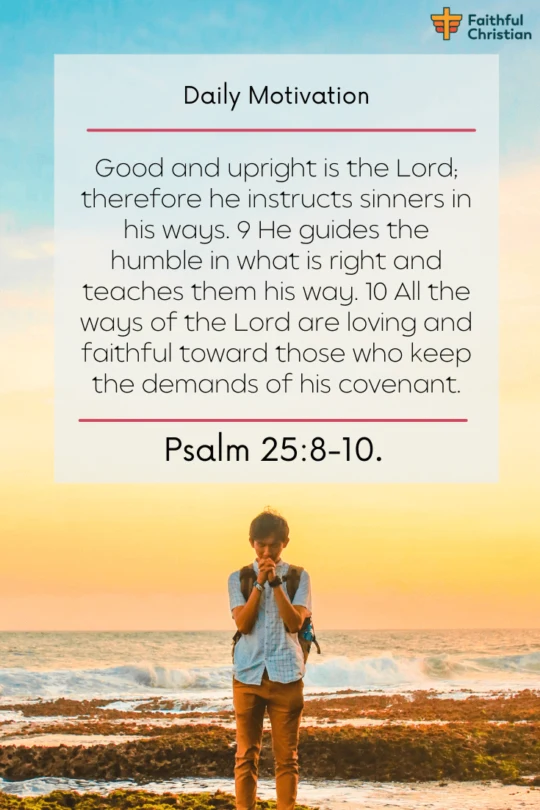 Good and upright is the Lord;therefore he instructs sinners in his ways. 9 He guides the humble in what is rightand teaches them his way. 10 All the ways of the Lord are loving and faithfultoward those who keep the demands of his covenant.
The good news
When facing a critical decision, it's crucial to acknowledge our need for God's guidance.
Trusting in Him provides confidence that our plans will succeed and work out for our good.
Embrace humility and rely on God, who will always teach the humble the best path to follow.
Those who trust in themselves are fools,but those who walk in wisdom are kept safe.
The good news
Scripture encourages us to rely on God's guidance when making choices in our lives.
Our current plans could lead to destruction, so we must be cautious and depend on God for the best decisions, setting aside pride.
The way of fools seems right to them, but the wise listen to advice.
The good news
Remember that "the wise listen to advice."
We are not alone in this world and should seek help from others when making crucial decisions.
Consult experienced individuals and, most importantly, pray for God's wisdom.
With His infinite understanding, we can trust in His guidance and avoid making decisions in isolation.
29 Take my yoke upon you and learn from me, for I am gentle and humble in heart, and you will find rest for your souls.
The good news
These Bible verses remind us of the importance of not facing life's battles alone. Allow God to lead you through every decision, bringing peace and happiness to your life.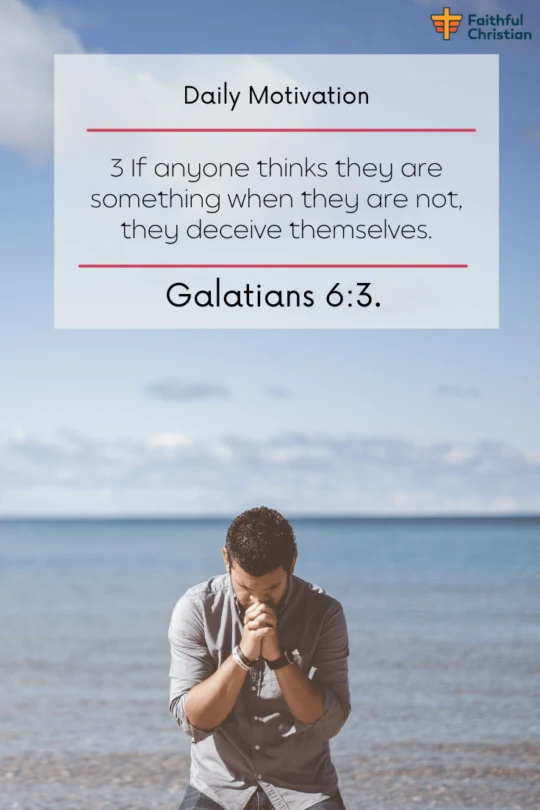 3 If anyone thinks they are something when they are not, they deceive themselves.
The good news
Embrace humility and seek help from others, avoiding pride and overconfidence. In every facet of life, seek God's support and wisdom to navigate your way.
Trust in the Lord and do good;dwell in the land and enjoy safe pasture.
The good news
Trusting in God helps you choose the right path and make better decisions. Rely on Him, and you'll be grateful for the divine guidance and support in your life.
FAQs
What does God say about making right decisions?
God's guidance for decision-making is rooted in wisdom. In James 1:5, we're urged to ask God for wisdom, as He generously provides it. Proverbs 3:5-6 teaches us to trust in the Lord wholeheartedly and submit to His direction, resulting in a straight path forward.
Which Psalm is for making right decisions?
Psalm 32:8 offers valuable guidance. This verse assures us that God will instruct and counsel us, providing the wisdom and direction we need in our decisions.
What does the Bible say about making wise decisions?
The Bible highlights the significance of wisdom and understanding in decision-making. Proverbs 2:6-7 reveals that the Lord grants wisdom and knowledge, and He protects those who are blameless. We're encouraged to rely on God's wisdom, seek advice, and use discernment in our choices.
How do you ask God for help in decision-making?
Prayer is the key to seeking God's help in decision-making. Share your concerns with Him, ask for wisdom, and be open to the Holy Spirit's guidance. Stay attentive to God's voice through Scripture, circumstances, or other people.
What does Proverbs say about good decisions?
Proverbs offers invaluable advice on good decision-making. Proverbs 15:22 emphasizes the importance of seeking counsel, while Proverbs 19:20-21 highlights listening to advice, accepting discipline, and aligning our decisions with God's purpose.
How do you seek God's guidance in decision-making?
To seek God's guidance, pray, study His Word, and consult trusted believers. Be open to the Holy Spirit's direction, practice patience, and surrender your plans to God's will.
How do you make the right decision spiritually?
Nurture a close relationship with God through prayer, Bible study, and meditation. Seek His guidance, listen to the Holy Spirit, and consult spiritual mentors. Trust God to direct you and be willing to follow His plan.
How do I know if my decision is right?
A right decision aligns with God's Word, prayer, wise counsel, and brings peace. Godly decisions foster spiritual growth, benefit others, and utilize your God-given talents.
How do you make the right decision every time?
Perfection isn't always attainable, but seeking God's guidance and wisdom consistently is crucial. Pray, study Scripture, and seek advice from trusted believers. Be open to the Holy Spirit and learn from any mistakes or setbacks.
Author: Akatakpo Dunn
Dr. Akatakpo Dunn is a dedicated follower of Christ, an active member and speaker, and an ongoing learner of the Scriptures. Passionate about his faith and serving others, he is committed to sharing his spiritual journey and insights to inspire and uplift fellow believers. He has been active in the church for more than 23 years. Through The
Faithful Christian Blog
,
Dr. Dunn
combines his love for God, philanthropy, and Scripture, providing a valuable resource for those seeking to grow in their faith.
Follow me: on Youtube, Facebook, Twitter, Instagram, and Pinterest.
Content Disclosure:
At The Faithful Christian Blog, I create authentic and inspiring content. Although I am the main author, I occasionally use AI for minor language enhancements. This minimal AI usage ensures high-quality, trustworthy articles without compromising originality or sincerity, ultimately supporting our shared faith journey.
Warmly,
Dr. Akatakpo Dunn
Was this article helpful?