Are you struggling to believe in yourself? You're not alone.
Many people grapple with self-doubt and lack of confidence. Thankfully, the Bible offers guidance to help you rediscover your self-worth and faith in your abilities.
In this post, we'll explore powerful Bible verses about believing in yourself. You can expect to find comfort, inspiration, and practical wisdom to build your self-assurance.
So, what benefits can you gain from these scriptures? The answer lies in unlocking your inner strength and realizing your true potential.
As Martin Luther King Jr. once said, "Take the first step in faith. You don't have to see the whole staircase, just take the first step."
Remember, you are capable and worthy. So, are you ready to delve into these empowering verses and embrace the best version of yourself? Let's take that first step together.
Bible verses about Believing in yourself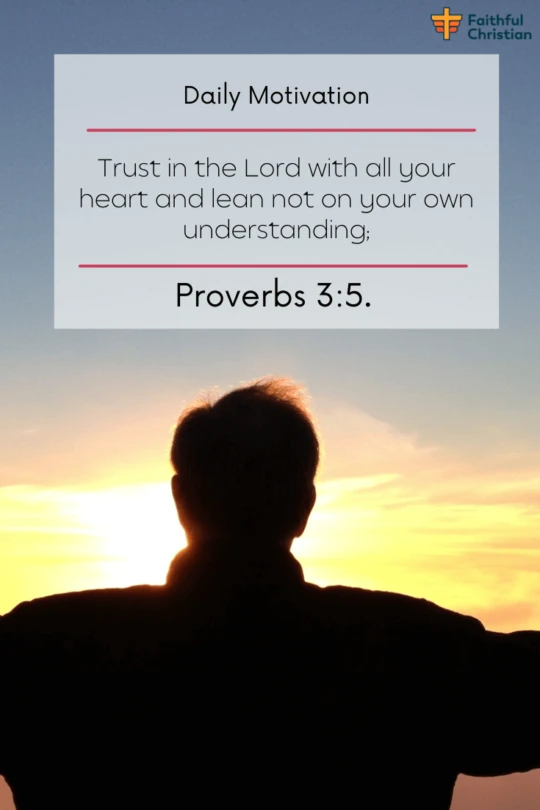 Trust in the Lord with all your heartand lean not on your own understanding;
The good news
Proverbs 3:5 emphasizes the importance of maintaining faith in ourselves and God's ability to support us through life's toughest challenges.
In the face of overwhelming obstacles, it is vital to stay determined and trust in ourselves while relying on God's supernatural assistance to help us triumph over life's challenges
Our strength and assistance come from God, but first, we must have confidence in His capacity to deliver us from our struggles.
I recently made a significant mistake in a business transaction, resulting in a negative outcome for a client. This error led me to doubt my ability to perform under pressure.
However, I recognized that personal growth and learning from mistakes are essential aspects of life, and we must never stop believing in ourselves as we face our fears.
Philippians 4:13 reveals that with Christ's help, we can achieve anything, as we receive divine strength and guidance to surmount challenges and follow the right course.
God is always with you; so don't be afraid or question your abilities. Isaiah 41:10 reinforces the importance of not letting fear rule our lives, as God promises to provide strength and support during trying times.
Fear can often control our emotions, leading us to question our abilities or qualifications. When experiencing self-doubt, recall 2 Timothy 1:7, which emphasizes that God has gifted us with a spirit of confidence and bravery, rather than fear and timidity.
By embracing these scriptures, we can draw encouragement and inspiration to believe in ourselves. We are continuously reminded of God's unwavering presence and His willingness to provide the strength and direction necessary to overcome life's challenges.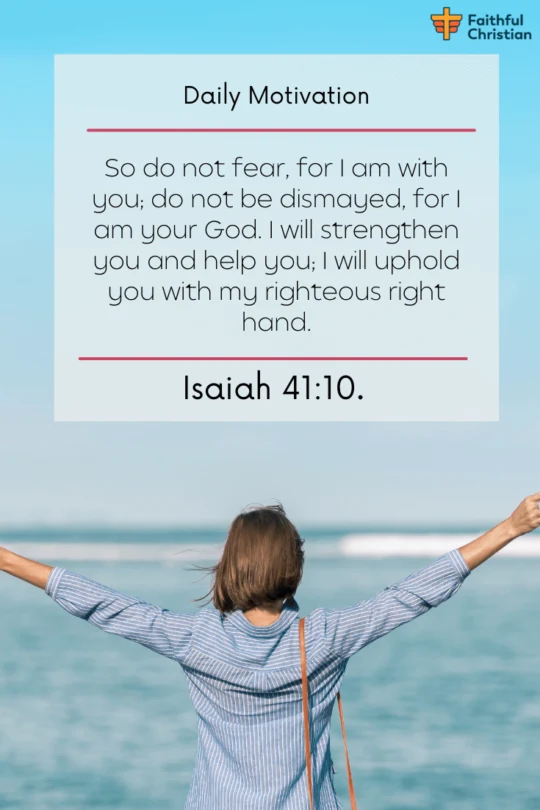 So do not fear, for I am with you;do not be dismayed, for I am your God. I will strengthen you and help you;I will uphold you with my righteous right hand.
The good news
Isaiah 41:10 emphasizes that God is our source of strength and reassurance.
This scripture highlights God's unwavering support, alleviating our fears, worries, and anxieties.
The truth is, when we depend on ourselves, we act with confidence, knowing that God is working through us.
Isaiah 41:10 reinforces the idea that our confidence and ability to overcome challenges come from our faith in God and His unwavering support.
A biblical example demonstrating the power of believing in yourself with God's help is the story of David and Goliath (1 Samuel 17).
David, a young shepherd, faced the giant warrior Goliath with unwavering faith in God. Despite his youth and inexperience, David believed in himself and trusted that God would guide and protect him.
With a single stone from his sling, David defeated Goliath, proving that, with God's help, we can overcome even the most daunting obstacles.
In summary, Isaiah 41:10 teaches us that we should not be paralyzed by fear or anxiety, as God is always with us, providing strength and guidance.
We get the confidence to face any challenge by believing in ourselves and trusting in God.
Have I not commanded you? Be strong and courageous. Do not be afraid; do not be discouraged, for the Lord your God will be with you wherever you go."
The good news
This verse inspires us to draw upon our inner strength and courage, with the reassurance that God accompanies us in every situation we encounter.
Regardless of the circumstance—be it a job interview, evaluating a business proposal, or tackling any other hurdle—God encourages you to rely on His wisdom and presence.
Nurturing self-confidence and relying on God's steadfast guidance enables you to overcome any obstacle life presents.
A powerful biblical example of someone who believed in themselves, aside from David, is Gideon.
In Judges 6, Gideon was initially uncertain of his ability to lead the Israelites against the Midianites, as he considered himself the weakest in his family and his clan the least in Manasseh.
However, God reassured Gideon, saying, "The LORD is with you, mighty warrior" (Judges 6:12).
Empowered by self-assurance and divine backing, Gideon triumphed over the formidable Midianites with a mere 300 soldiers.
This story exemplifies the transformative power of self-belief and trust in God's guidance, enabling us to achieve great things despite daunting odds.
It's undeniable that you've experienced significant growth in the past. Even when doubt initially clouded your mind, your perseverance and determination, coupled with God's guidance, led you to triumph.
Continue to believe in yourself, and the heavens will unfold, showering you with blessings beyond your wildest dreams.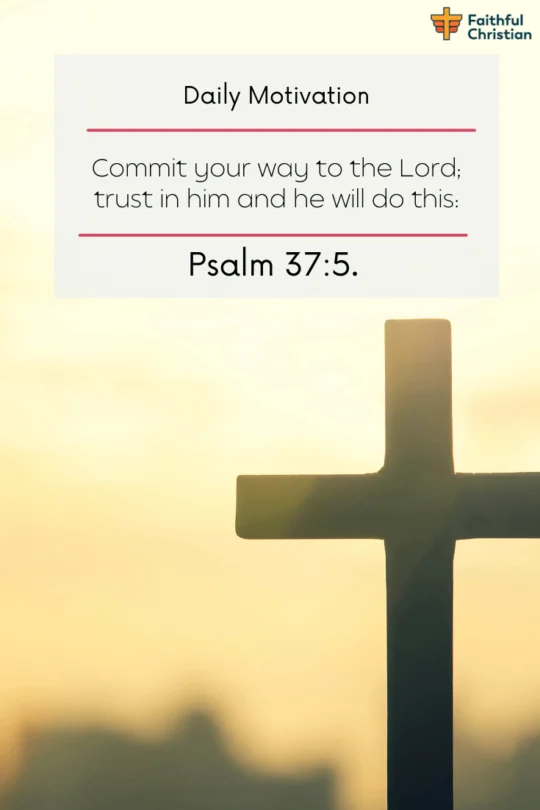 Commit your way to the Lord;trust in him and he will do this:
The good news
This verse inspires us to entrust our worries and difficulties to God. By doing so, we can alleviate anxiety and bolster our self-confidence, secure in the knowledge that He is constantly by our side.
Instead of letting fear govern our lives (Matthew 6:25-34), we should maintain faith in ourselves and stay focused on our objectives and plans.
Likewise, Philippians 4:6-7 urges us to substitute anxiety with prayer and thanksgiving, allowing the peace of God to safeguard our hearts and minds.
These scriptural passages underscore the importance of trusting in God and having self-belief, as we depend on His strength and guidance to navigate life's challenges.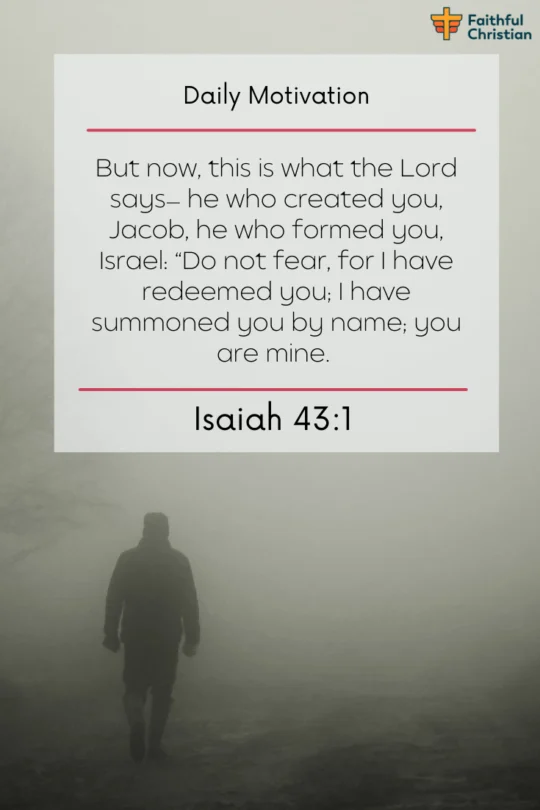 But now, this is what the Lord says—he who created you, Jacob,he who formed you, Israel: "Do not fear, for I have redeemed you;I have summoned you by name; you are mine.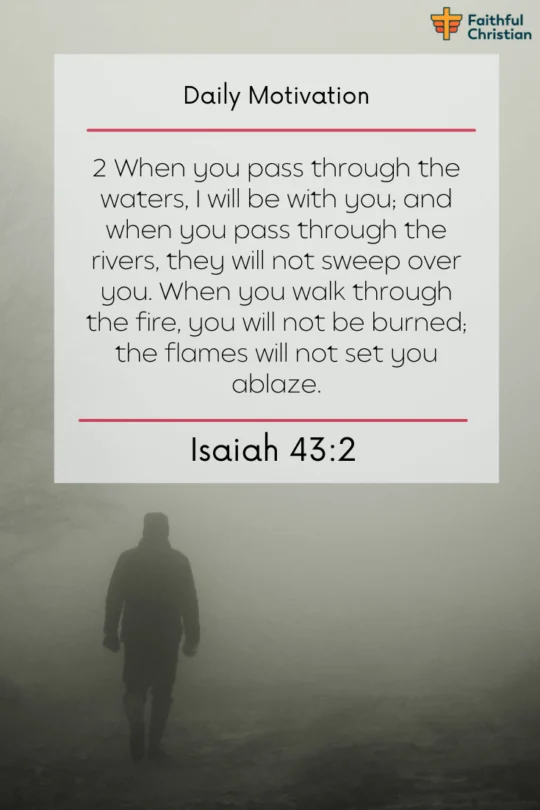 2 When you pass through the waters,I will be with you; and when you pass through the rivers,they will not sweep over you. When you walk through the fire,you will not be burned;the flames will not set you ablaze.
The good news
Isaiah 43:1-2 encourages us not to be controlled by fear, assuring that with God's assistance, we can confidently chase our dreams and overcome challenges.
A close friend, Sarah, who aspired to own a bakery, overcame her self-doubt after discovering the empowering phrase "do not fear" in Isaiah 43:1-2. This deeply connected with her and sparked newfound faith in herself and God's unwavering support.
Feeling empowered, Sarah took a leap of faith. So, She started working on turning her dream into a reality. She ran into many challenges along the way, including money troubles and other people's discouragement.
Still, whenever she felt disheartened or overwhelmed, Sarah turned to Isaiah 43:1-2. She drew strength from God's promise to always be by her side.
Through determination, self-belief, and divine assistance, Sarah achieved her goal. She turned her distant dream into a successful, thriving bakery. It allowed her to express her creativity and support her family.
This uplifting story highlights the incredible power of believing in oneself. It's made even stronger by the confidence that comes from knowing God's unwavering presence and guidance.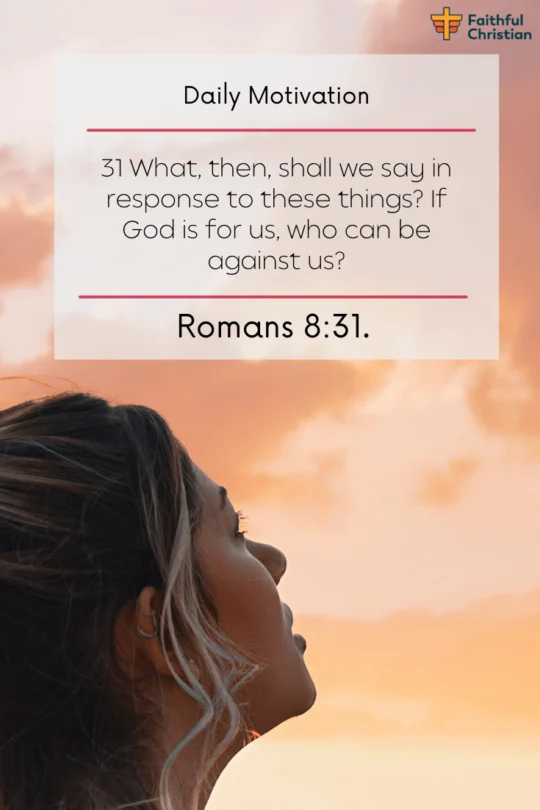 31 What, then, shall we say in response to these things? If God is for us, who can be against us?
The good news
When God chooses to support us, who can truly overcome His infinite power? Despite their efforts, adversaries will fail because we have God by our side.
This is why it's essential to maintain confidence that our desires will be fulfilled through divine guidance.
Romans 8:31 highlights the significance of self-belief and God's unwavering support.
This verse conveys that trusting in God and ourselves makes us unbeatable, given God's unparalleled power.
Nelson Mandela's journey serves as an inspiring example for young adults. Facing immense obstacles, he stayed resolute in his faith and ultimately made history as South Africa's first black president.
Mandela's unwavering self-belief and trust in God enabled him to achieve the impossible.
This story emphasizes the importance of confidence and faith in overcoming obstacles and realizing our dreams, knowing that with God, nothing is insurmountable.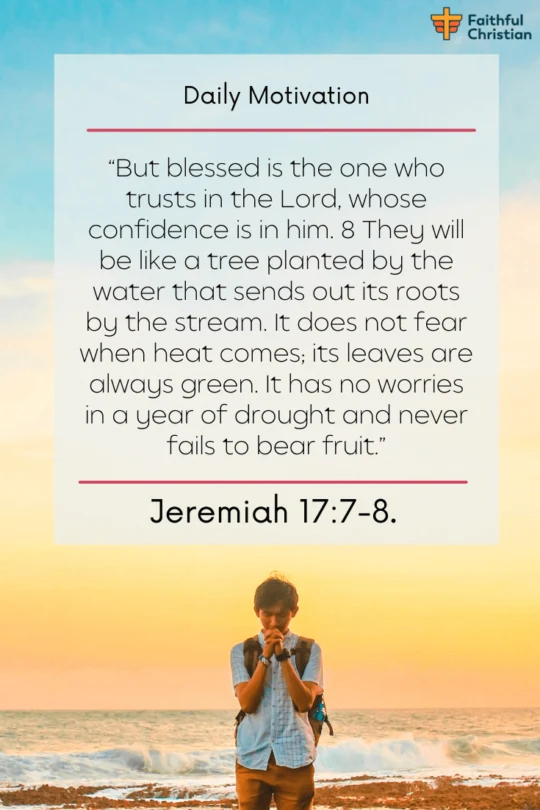 "But blessed is the one who trusts in the Lord,whose confidence is in him. 8 They will be like a tree planted by the waterthat sends out its roots by the stream. It does not fear when heat comes;its leaves are always green. It has no worries in a year of droughtand never fails to bear fruit."
The good news
Jeremiah 17:7-8 highlights the importance of depending on God during challenging times, stressing the value of faith and self-assurance.
This verse reminds us that by trusting in God's plan and our capabilities, we can become resilient, robust, and flourishing.
Embracing God's blessings and believing in ourselves paves the way for incredible achievements. Relying on God and sustaining self-belief empower us to conquer obstacles and reach our full potential.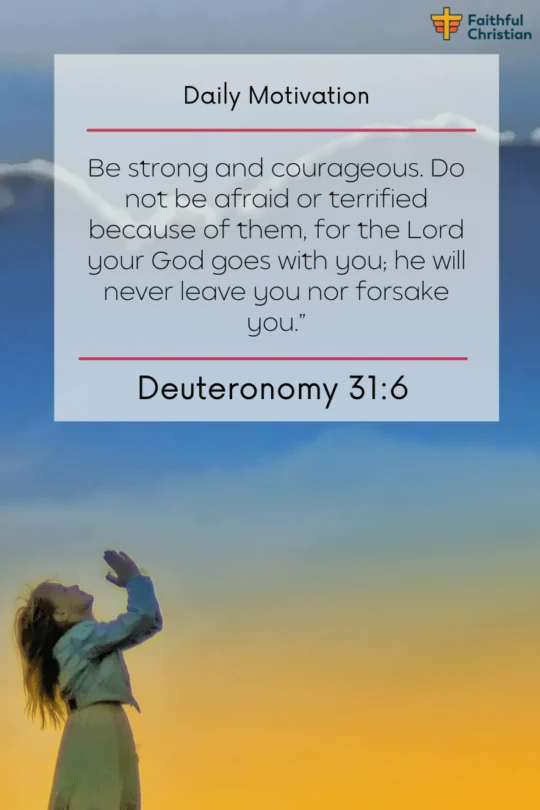 Be strong and courageous. Do not be afraid or terrified because of them, for the Lord your God goes with you; he will never leave you nor forsake you."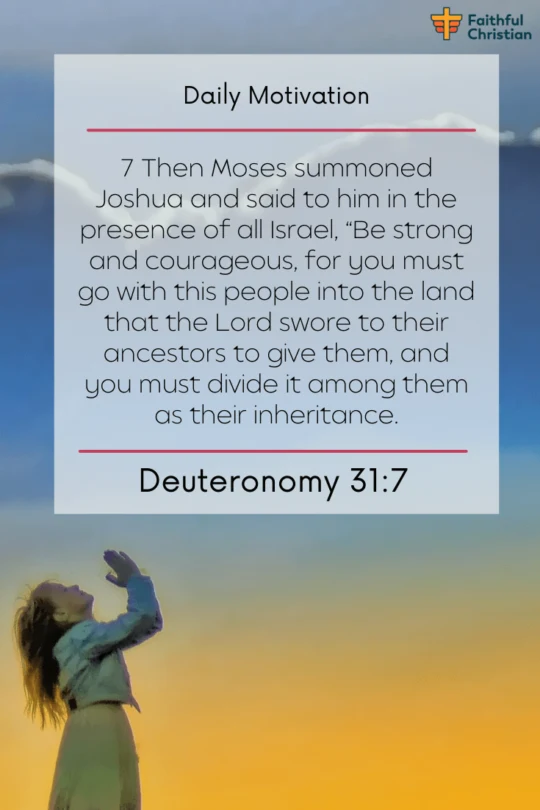 7 Then Moses summoned Joshua and said to him in the presence of all Israel, "Be strong and courageous, for you must go with this people into the land that the Lord swore to their ancestors to give them, and you must divide it among them as their inheritance.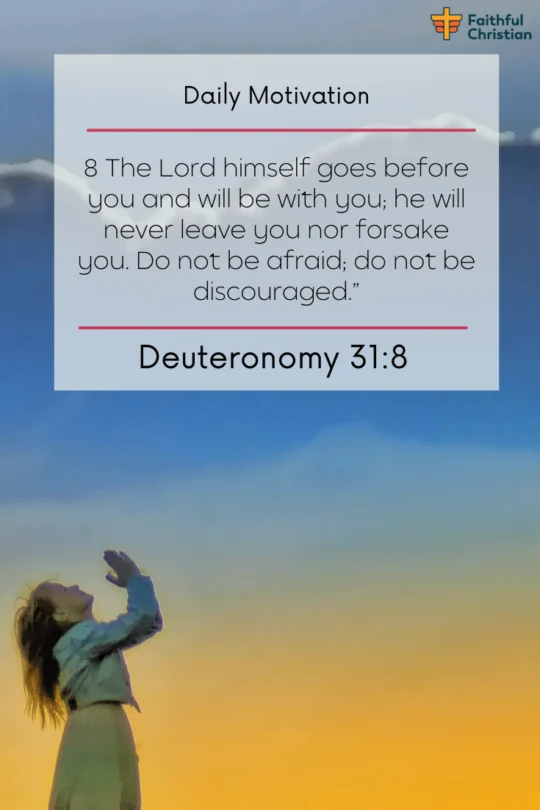 8 The Lord himself goes before you and will be with you; he will never leave you nor forsake you. Do not be afraid; do not be discouraged."
The good news
Deuteronomy 31:6-8, a powerful Bible verse about believing in yourself, encourages us to be steadfast and resolute in pursuing our goals and aspirations.
Whether you're contemplating launching a new business venture, facing uncertainties in your marriage or professional life, or confronting any other challenge, finding inner fortitude and relying on divine guidance is crucial.
This scripture encourages us to pursue divine patronage in all our endeavors, bolstering our fortitude and unwavering self-belief. When we call on Him, he will be there to assist us.
Therefore, maintain confidence and faith in yourself, knowing that no obstacle is too significant to overcome with God's support.
Embrace the divine assistance available, enabling you to realize even your loftiest goals.
We can achieve anything when we follow God's plan and trust ourselves.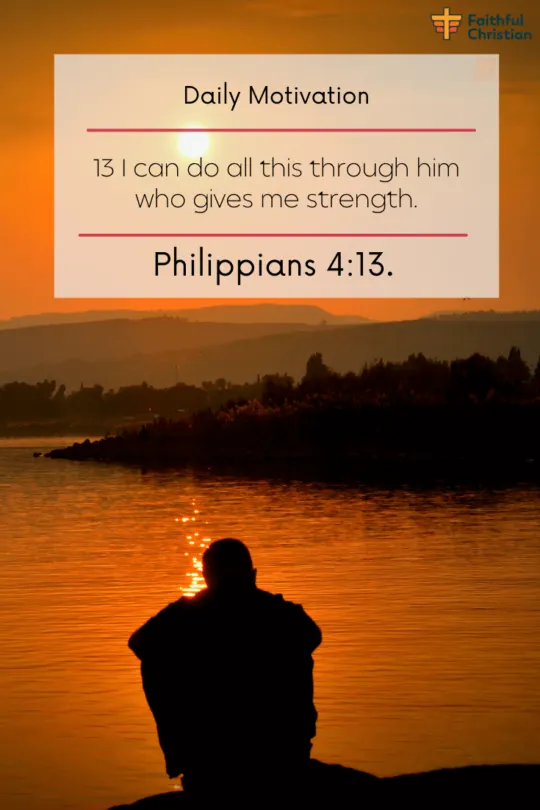 13 I can do all this through him who gives me strength.
The good news
When you're feeling vulnerable or scared, God is always willing to assist you to succeed.
However, before you can truly experience His guidance and support, you must first trust in your own abilities and maintain confidence in your potential to triumph.
Acknowledge your inherent ability to "do all things" and embrace your inner strength, as you are equipped to tackle any obstacle. In times of doubt or weakness, seek God's assistance without hesitation.
Ask Him to provide you with the strength and resilience needed to conquer life's challenges.
By cultivating faith and self-confidence, you'll discover that with God's steadfast support, you can accomplish extraordinary feats beyond your imagination.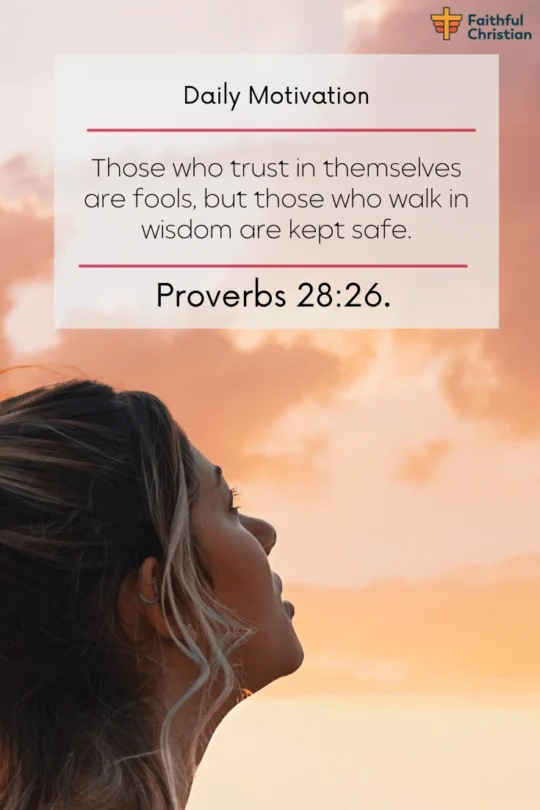 Those who trust in themselves are fools,but those who walk in wisdom are kept safe.
The good news
When reflecting on Bible verses about believing in yourself, it's essential to strike a balance between self-confidence and humility.
Balancing faith in your abilities with humility is essential; avoid over-reliance on personal achievements. Our true strength comes from God, and staying humble allows us to receive His blessings and guidance.
These verses serve as a reminder that we should not solely depend on ourselves but instead recognize the power and support that comes from God.
Cultivating a strong bond with our Creator and recognizing His influence fosters a humble yet confident self-belief.
This balanced approach enables us to grow spiritually, develop resilience, and achieve our goals while remaining open to the divine wisdom and support that God offers.
In turn, our faith in ourselves is not only strengthened but also enriched by our dependence on a higher power.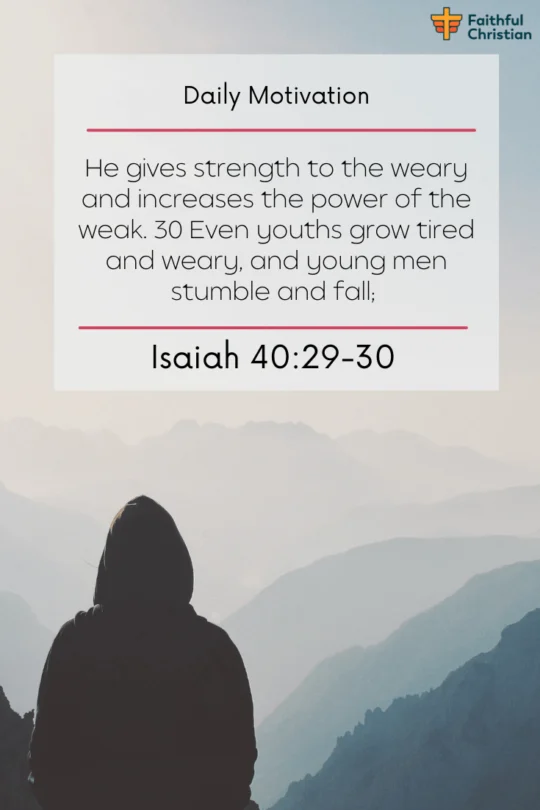 He gives strength to the wearyand increases the power of the weak. 30 Even youths grow tired and weary,and young men stumble and fall;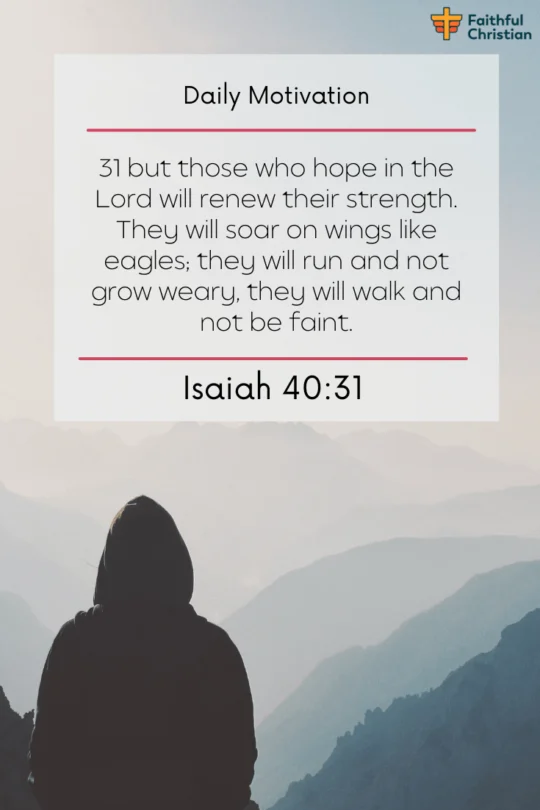 31 but those who hope in the Lordwill renew their strength. They will soar on wings like eagles;they will run and not grow weary,they will walk and not be faint.
The good news
It's not uncommon to lose confidence in oneself, feeling overwhelmed and anxious.
However, during moments of weakness and weariness, trust in God to provide the strength needed to overcome your challenges.
Seek His guidance to restore your confidence and help you navigate life's obstacles.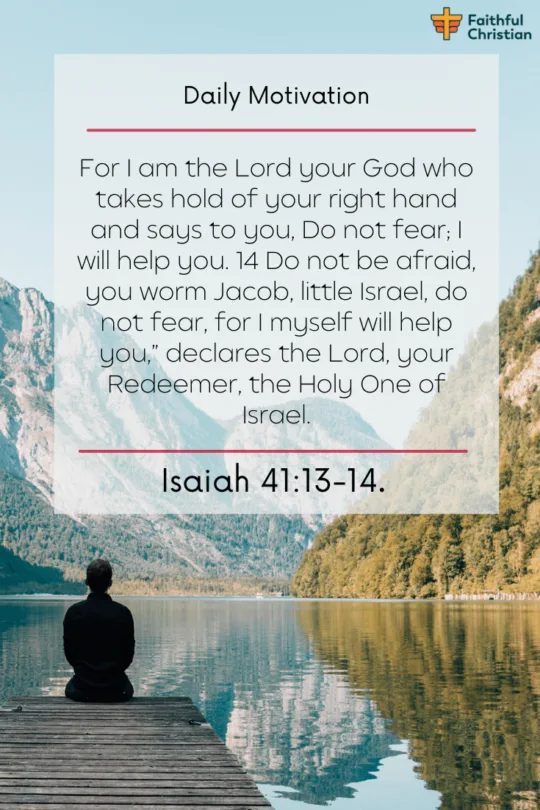 For I am the Lord your Godwho takes hold of your right hand and says to you, Do not fear;I will help you. 14 Do not be afraid, you worm Jacob,little Israel, do not fear, for I myself will help you," declares the Lord,your Redeemer, the Holy One of Israel.
The good news
God's reassurances of "do not fear" eliminate the need for panic or self-doubt.
He stands with us in our endeavors, prepared to guide us through any challenge.
Trust in His divine support, and you will triumph over your trials.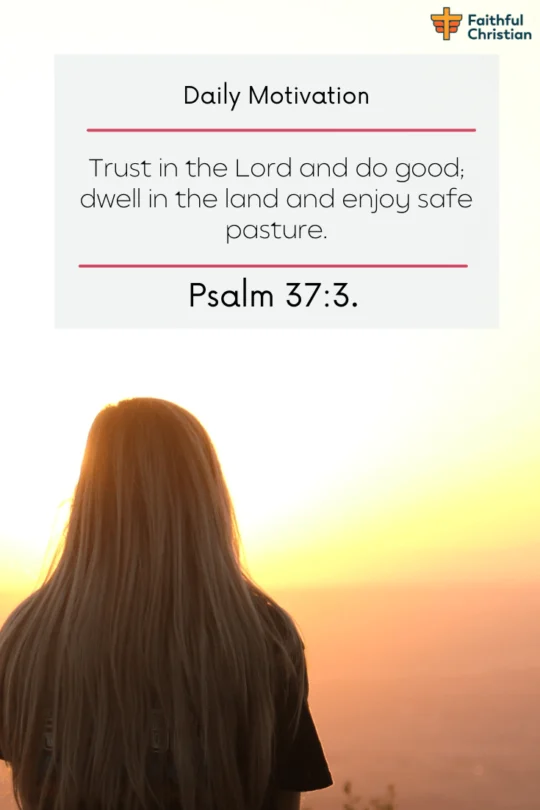 Trust in the Lord and do good;dwell in the land and enjoy safe pasture.
The good news
Trusting in God is our beacon of hope, for we cannot accomplish anything solely by our own efforts.
When we place our faith in Him, He draws us nearer to His presence and grants our heart's desires.
Trusting God means believing that He will forge a path forward even when we lack confidence in ourselves.
9 But he said to me, "My grace is sufficient for you, for my power is made perfect in weakness." Therefore I will boast all the more gladly about my weaknesses, so that Christ's power may rest on me.
The good news
In our weaknesses, God promises strength; amidst pain and hurt, He offers solace and joy.
To witness His goodness, we must believe in ourselves and recognize His unwavering presence.
We gain the strength to conquer the devil's temptations through God's grace. Stand firm and be confident in your God-given abilities.
The Lord is my light and my salvation—whom shall I fear? The Lord is the stronghold of my life—of whom shall I be afraid?
The good news
With God by our side, there is no need to fear. Sheltered by His steadfast protection, we need not be afraid of life's storms.
He asks us to trust our decisions, actions, and plans without worry or anxiety.
Have faith in your abilities, for God is always right beside you, guiding and supporting you in every step.
A person's steps are directed by the Lord.How then can anyone understand their own way?
The good news
When facing uncertainty, seek wisdom and rely on God's guidance to make the right choices.
During difficult times, persevere in prayer for wisdom and confidence to overcome every challenge, trusting in God's guidance to help you navigate life's obstacles.
Trust in him at all times, you people;pour out your hearts to him,for God is our refuge.
The good news
This Bible verse is especially relevant when things don't go as planned.
Even when you've given your all and nothing seems to work, continue trusting in God for a miracle.
He is eager to instill belief in your heart and provide the confidence you need. Trust in God wholeheartedly.
I cling to you;your right hand upholds me.
The good news
This scripture about self-belief is vital during life's challenging moments. God will not let us face temptations without offering an escape.
He understands our struggles and challenges; thus, rely on God to help you triumph. With faith in God, you have the strength to overcome any trial.
17 You will not have to fight this battle. Take up your positions; stand firm and see the deliverance the Lord will give you, Judah and Jerusalem. Do not be afraid; do not be discouraged. Go out to face them tomorrow, and the Lord will be with you.'"
The good news
This important Bible verse reminds us that we're not alone in our battles.
When faced with challenges, trust that God is fighting beside you.
Don't be fearful or anxious, and don't underestimate your abilities due to perceived limitations. When God's grace appears, all barriers will fall.
You will keep in perfect peace those whose minds are steadfast,because they trust in you. 4 Trust in the Lord forever,for the Lord, the Lord himself, is the Rock eternal.
The good news
When doubting God's support or worrying about His help in your endeavors, remember that His plans may differ from ours, but He knows what's best. Maintain confidence in yourself and God, keeping faith in both.
In their hearts humans plan their course,but the Lord establishes their steps.
The good news
Continuously reflect on your goals and aspirations as you progress through life.
King Solomon advises patience with God's plan, as genuine self-belief necessitates God's presence in our lives.
Seek His guidance, and He will lead you towards fulfillment and success.
FAQs
What does the Bible say about trusting yourself?
The Bible encourages relying on God's wisdom instead of just ourselves. In Proverbs 3:5-6, we're urged to trust the Lord wholeheartedly and acknowledge His guidance. While the Bible values personal growth and self-confidence, it primarily emphasizes seeking strength from God.
How do you fully trust yourself?
Build self-awareness to recognize your strengths and weaknesses. Embrace self-compassion and accept imperfections. Set achievable goals and celebrate your victories. Learn from past experiences, practice self-reflection, and grow personally. Surround yourself with supportive, uplifting people. Trusting yourself takes time and grows with self-confidence.
What are the benefits of trusting yourself?
Trust in yourself boosts self-confidence, decision-making, and resilience. Self-trust empowers you to take charge, recognize abilities, and face challenges while promoting well-being.
How do I gain trust in me again?
Reflect on past successes and areas where you've shown resilience. Practice self-compassion and forgive past mistakes. Set realistic goals, work towards them, and celebrate small victories. Surround yourself with positivity and seek support from loved ones or professionals as needed.
How do I get right with myself?
Practice self-awareness and self-forgiveness. Align your actions with your values. Cultivate habits that support well-being in all aspects of life. Take responsibility, learn from mistakes, seek help, and embrace personal growth.
What is the biblical meaning of believing in yourself?
Believing in yourself, from a biblical standpoint, means recognizing your God-given potential and trusting in His guidance. With faith in God, you can overcome obstacles and achieve goals. Believing in yourself means acknowledging God's role in equipping and empowering you.
What if you don't believe in yourself?
If you don't believe in yourself, it may result in low self-esteem and anxiety. It may hinder your potential, causing missed opportunities and underachievement. This lack of belief can negatively impact relationships, career, and personal life. Overcoming self-doubt and building self-belief is essential for personal growth and overall happiness.
Author: Akatakpo Dunn
Dr. Akatakpo Dunn is a dedicated follower of Christ, an active member and speaker, and an ongoing learner of the Scriptures. Passionate about his faith and serving others, he is committed to sharing his spiritual journey and insights to inspire and uplift fellow believers. He has been active in the church for more than 23 years. Through The
Faithful Christian Blog
,
Dr. Dunn
combines his love for God, philanthropy, and Scripture, providing a valuable resource for those seeking to grow in their faith.
Follow me: on Youtube, Facebook, Twitter, Instagram, and Pinterest.
Content Disclosure:
At The Faithful Christian Blog, I create authentic and inspiring content. Although I am the main author, I occasionally use AI for minor language enhancements. This minimal AI usage ensures high-quality, trustworthy articles without compromising originality or sincerity, ultimately supporting our shared faith journey.
Warmly,
Dr. Akatakpo Dunn
Was this article helpful?