Interestingly, the exact phrase "you reap what you sow" is not recorded in the Bible.
This is a generally accepted idiom that originated many years ago.
In essence, this phrase means that life has a universal principle: whatever you do today has consequences tomorrow.
This is the same principle the Bible teaches.
If we obey God's commandments, then we are sure of a reward –Eternal life.
However, if we choose to live in ways that are contrary to the will of God, then we've decided to choose death over life – Eternal destruction.
Be not deceived; God is not mocked: for whatsoever a man soweth, that shall he also reap
This message of Paul reminds us that whatever we do (sow) has consequences (reap).
Many people believe that they can do anything and get away with it.
They think they can commit murder, adultery, fornication, and drunkenness, and yet still inherit God's kingdom.
But Paul is talking to these kinds of people. So he said, "Be not deceived."
The devil is the father of lies. He tells you something contrary to the will of God.
Just like he deceived the woman, Eve, he keeps creating distrust in the hearts of God's people.
Paul is reminding us that we should not fall for the devil's tricks.
If we do, we will face the consequences. He continued and said, "God is not mocked."
No matter how you deceive others outwardly, you cannot deceive the almighty God.
He alone searches the heart of man. He knows everything you've done, or you're planning to do.
Through the prophet Jeremiah, God said;
I, the LORD, search the heart, I test the mind, Even to give to each man according to his ways, According to the results of his deeds
Therefore, as Christians, we must be cautious about every step we take.
God searches the hearts of man and will never let the works of the righteous go unrewarded.
---
Recommended for you
---
You reap what You sow bible verses.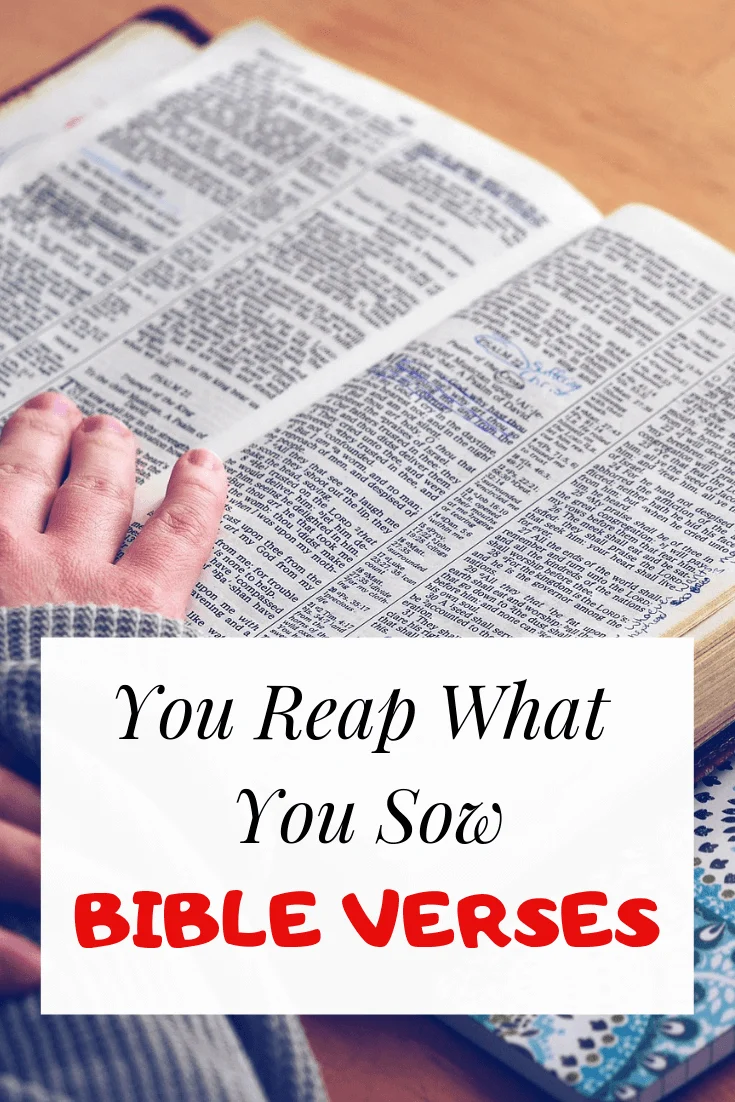 I have compiled other bible verses that show God will hold us accountable for our actions. If we choose to be righteous, God has promised us life eternal. However, if we decide to follow the devil's ways, then we will face the consequences in the end.
Read and be blessed.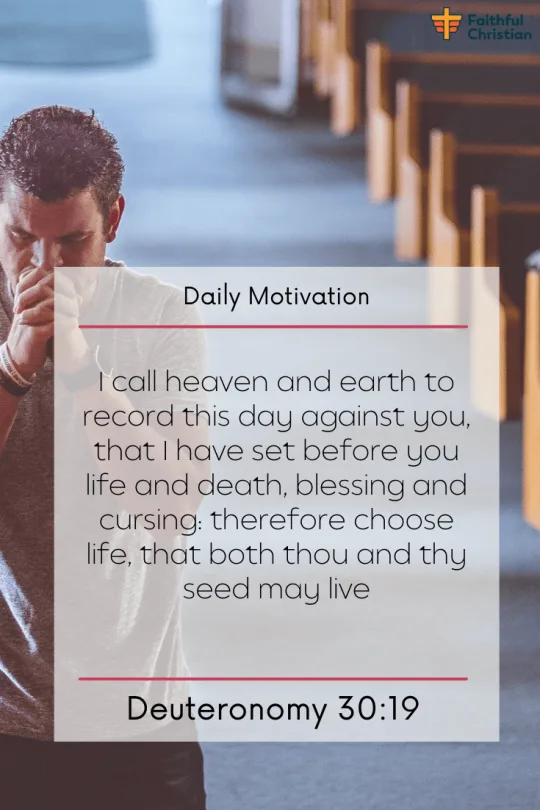 I call heaven and earth to record this day against you, that I have set before you life and death, blessing and cursing: therefore choose life, that both thou and thy seed may live
The principle "You Reap What You Sow" resonates in Deuteronomy 30:19. It's akin to a farmer's law – we harvest what we plant. This law permeates life, influencing our destiny through the choices we make.
This verse offers a vivid choice: life or death, blessing or curse. God, in His fatherly love, urges us to choose life and blessings. It mirrors a student's journey. If the student invests time in diligent study, the outcome is academic success and scholarship opportunities. Conversely, if they neglect their studies, academic struggles are inevitable.
Deuteronomy 11:26-28 amplifies this dichotomy. It lays out the consequences of our actions. Obedience results in blessings; disobedience leads to curses. Our actions set the stage for the outcomes we encounter.
Joshua 24:15 emphasizes personal responsibility in choosing our path. We hold the reins of our decisions. God, our witness, holds us accountable. It underlines the importance of wise decision-making.
For instance, take the example of Adam and Eve from the book of Genesis. Their choice to eat from the forbidden Tree of Knowledge, despite God's clear command, led to dire consequences.
They were expelled from Eden, sin entered the world, and death became a part of human existence. That one decision, that one seed sown, resulted in a harvest that continues to this day.
Our choices have a ripple effect. They impact not just us but those around us, including future generations. The verse underscores that our choices can shape our descendants' destiny. It calls for thoughtful consideration of our actions' long-term effects.
In conclusion, "You Reap What You Sow" highlights the weight of our decisions. It compels us to choose life, to align our actions with God's commandments. This way, we can expect to reap blessings, not curses. It's a timeless reminder that our today's decisions will shape our tomorrow's reality.
Reflecting on this principle, I find a vital guide for life. Today's decisions shape tomorrow's outcomes. As I sow, so shall I reap – a powerful reminder that each decision is a seed planted, destined to bring a harvest. Let's aim for a harvest of blessings and life. Each of us holds the power to make that choice.
2. 2 Corinthians 9:6-15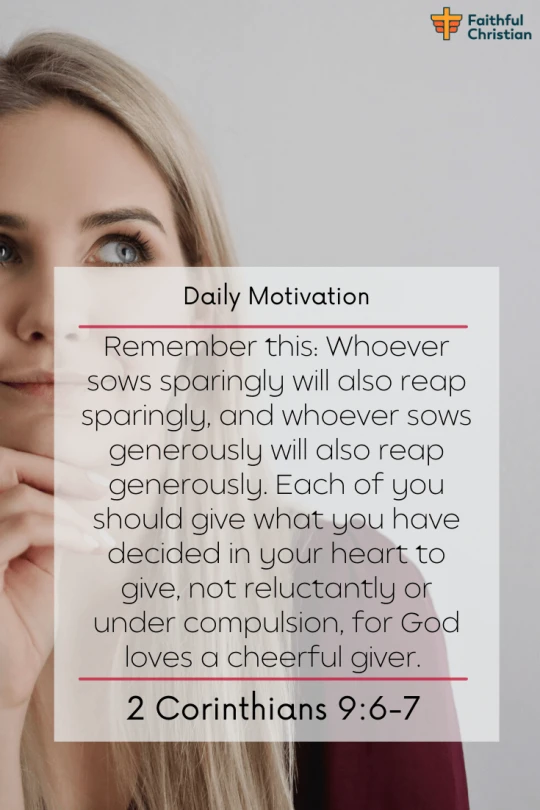 Remember this: Whoever sows sparingly will also reap sparingly, and whoever sows generously will also reap generously. Each of you should give what you have decided in your heart to give, not reluctantly or under compulsion, for God loves a cheerful giver.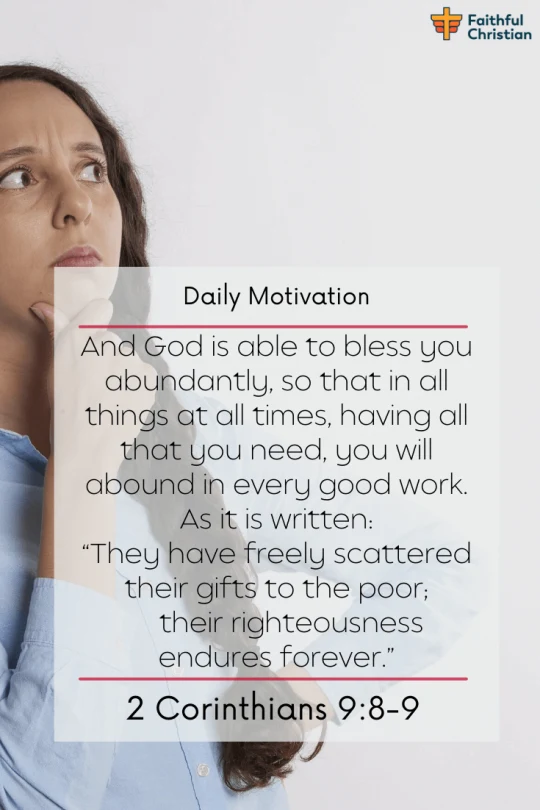 And God is able to bless you abundantly, so that in all things at all times, having all that you need, you will abound in every good work. 9 As it is written: "They have freely scattered their gifts to the poor; their righteousness endures forever."[a]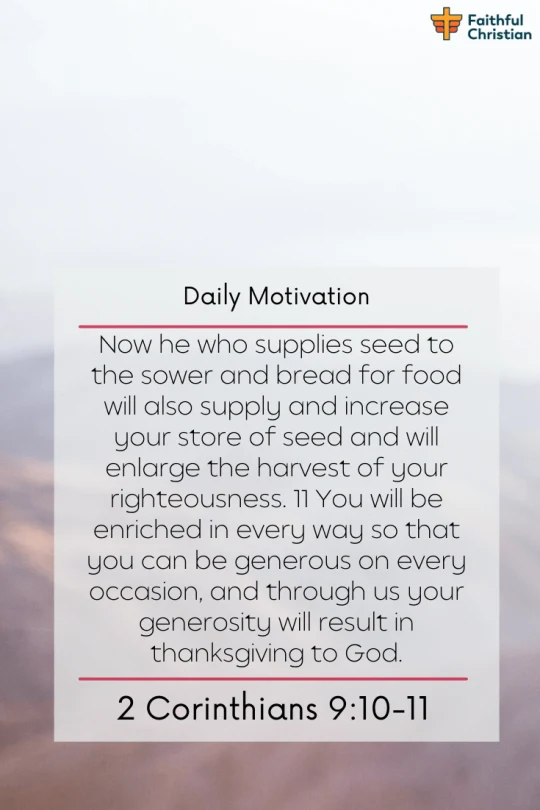 Now he who supplies seed to the sower and bread for food will also supply and increase your store of seed and will enlarge the harvest of your righteousness. 11 You will be enriched in every way so that you can be generous on every occasion, and through us your generosity will result in thanksgiving to God.
The principle, "you reap what you sow," is an enduring truth with profound implications. Consider 2 Corinthians 9:6-15. It reveals that abundant giving leads to abundant returns.
Take the widow of Zarephath (1 Kings 17:7-16) as an example. Amid a dire famine, she chose to give her last meal to Prophet Elijah. It seemed illogical, even self-destructive. But in faith's perspective, it was an act of copious sowing. And she reaped a miraculous harvest: a ceaseless supply of oil and flour throughout the famine.
God is undeniably the orchestrator of this principle. He provides both the seed and the harvest. This viewpoint aligns with Proverbs 19:17, which indicates that when we aid the poor, it's as if we are lending to God Himself. And He assures our repayment. I believe we are stewards, not owners, of God's provisions.
Generosity not only enriches us, but it also triggers joy and gratitude towards God in the lives we touch. Our giving reaches beyond the material realm, resonating with our spiritual nature. As Luke 6:38 propounds, the measure we give is the measure we receive.
In conclusion, the sowing and reaping principle takes on a unique dimension within a generosity context. As highlighted in 2 Corinthians 9:6-15, a heart that willingly sows into others' lives will reap an abundance of blessings.
In essence, sowing and reaping is a transformative practice. When we participate, we align ourselves with God's heart. He, in His infinite kindness, ensures we are replenished.
3. Hosea 10:12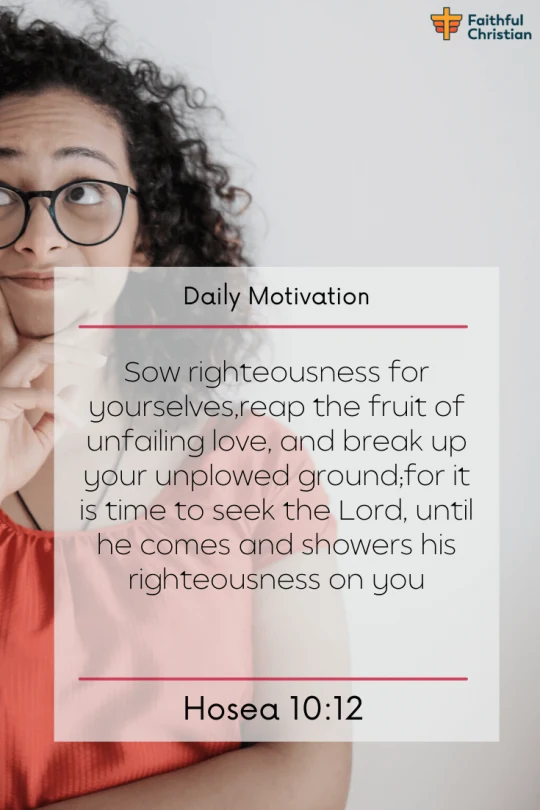 Sow righteousness for yourselves,reap the fruit of unfailing love, and break up your unplowed ground;for it is time to seek the Lord, until he comes and showers his righteousness on you
At the heart of Hosea 10:12 lies a profound principle: sow righteousness, reap steadfast love. Just as a seed grows into a bountiful tree, so does righteousness yield love.
Our journey begins with seeking righteousness. Jeremiah 4:3 complements this concept, urging us to prepare our hearts, our 'fertile ground,' to receive righteousness. The actions we choose are the seeds we plant.
However, harvesting righteousness demands patience. The insight in James 3:18 underlines this. It assures us that a peaceful harvest of righteousness will arrive in its due season. Immediate rewards may not be apparent, but they will manifest with time.
God's mercy plays a crucial role here. As per Hosea 10:12, sowing righteousness leads to divine blessings. It's a spiritual partnership with God, yielding a fulfilling cycle of sowing and reaping.
Every day, we face a choice – to sow righteousness or unrighteousness. Our actions become the seeds we plant. The Bible provides an inspiring example in King David. Known for his love of God's law, he reaped the rewards of righteousness, becoming a man after God's own heart (Acts 13:22).
However, walking the path of righteousness isn't always easy. At times, it can feel like sowing seeds in a desert. But Hosea 10:12 encourages perseverance. In due time, the seed sprouts, the harvest comes.
So, in the garden of life, remember: sow righteousness, reap steadfast love. It's not merely about the harvest, but about the growth, love, and impact that comes with it.
4. Romans 2:6-10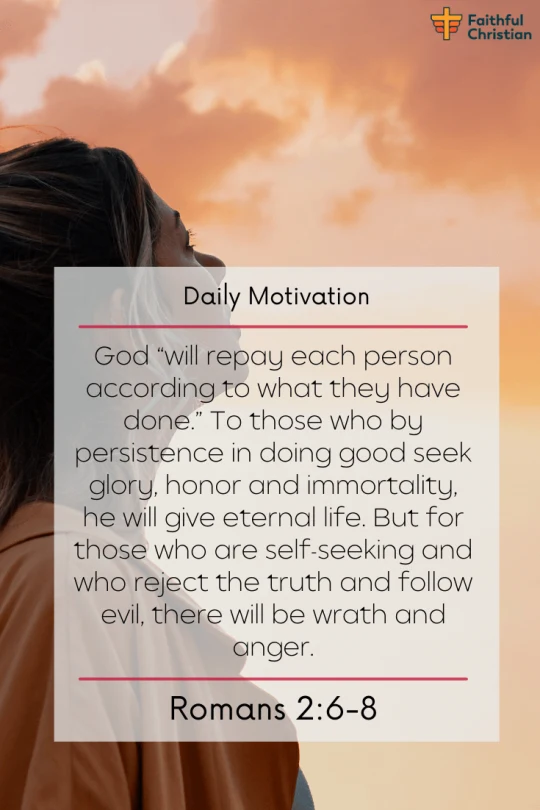 God "will repay each person according to what they have done.To those who by persistence in doing good seek glory, honor, and immortality, he will give eternal life. But for those who are self-seeking and who reject the truth and follow evil, there will be wrath and anger.
There will be trouble and distress for every human being who does evil:first for the Jew, then for the Gentile; but glory, honor and peace for everyone who does good: first for the Jew, then for the Gentile
Paul's letter to the Romans delivers a vital message. Romans 2:6-10 is the embodiment of the age-old principle: You Reap What You Sow.
Paul states, "God will repay each person according to what they have done." This line resonates with Psalm 62:12, underscoring God's righteous judgement. Our actions bear weight. They carry rewards or consequences. It's a divine balancing act.
In his letter, Paul contrasts two paths. One leads to eternal life through seeking glory, honor, and immortality by doing good. The other, marked by self-seeking and denial of truth, leads to wrath and fury. It forces us to reflect. What seeds do our actions plant?
God shows no favoritism, as these verses illuminate. This parallels Matthew 16:27, where Jesus speaks of rewarding each person according to their deeds. It's a universal truth, a divine law applying to all.
The fate of Haman in the book of Esther serves as a stark illustration. Haman's plot to annihilate Mordecai led him to construct gallows. Yet, the seeds of spite he sowed led to his own undoing. He himself was hanged on those gallows, a vivid example of reaping what one sows.
However, Romans 2:6-10 is not merely a warning. It's a promise. Good deeds, performed with patience, yield glory, honor, and peace. This divine favor is the reward for virtuous actions.
In conclusion, Romans 2:6-10 is a compass, directing us towards righteousness. It prompts us to be conscious of our actions. As I reflect, I invite you to consider: what seeds are we sowing today? For we will harvest what we have sown.
5. Proverbs 11:18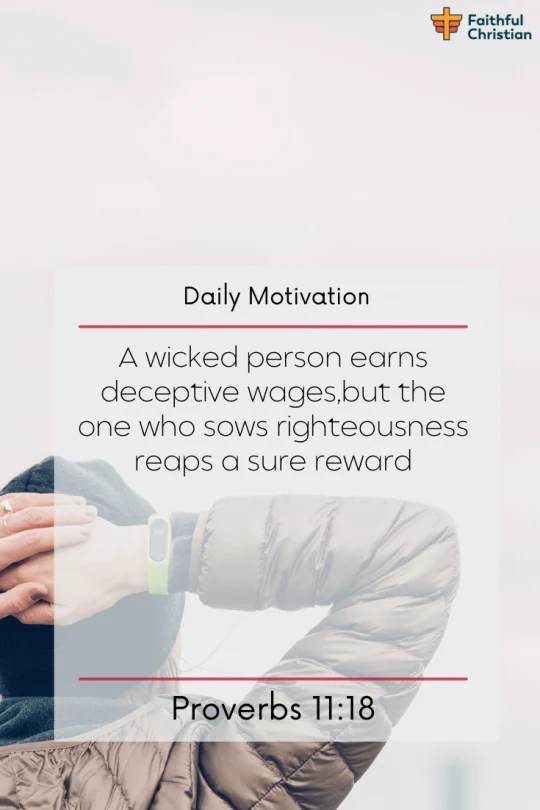 A wicked person earns deceptive wages,but the one who sows righteousness reaps a sure reward
In Proverbs 11:18, we find a key life principle: "You reap what you sow." This profound proverb contrasts the outcomes of wickedness and righteousness. Wickedness might offer immediate benefits but ultimately results in a deceptive reward. Righteousness, though it may demand more, promises an enduring reward.
At the heart of this message is the concept of choice. When we choose wickedness, it may seem beneficial initially. We might feel a momentary rush of power or success. But remember, this 'profit' is illusory. It's temporary, deceptive.
Conversely, sowing righteousness may seem challenging. It requires patience, self-sacrifice. Yet, the rewards of righteousness are sure, tangible. It's not an empty promise but a steadfast reality.
This distinction between wickedness and righteousness isn't merely a moral lesson. It's also about our wellbeing. Wickedness brings temporary gains, but at a significant cost. Fear, guilt, constant pressure – these are the real 'profits' of wickedness. Righteousness, despite its challenges, offers inner peace, satisfaction.
One biblical account perfectly encapsulates this concept. Achan, as we read in Joshua 7, allowed greed to lead him into deceit. He took spoils from Jericho, hiding them away, directly disobeying God's command.
While he may have thought his actions would lead to personal gain, the consequences were severe – not just for him, but for his entire family.
And you know what? This principle applies equally to our world today. Consider a business that takes unethical shortcuts to maximize profit. It might enjoy significant short-term gains, leading its stakeholders to believe they've hit the jackpot.
But over time, the truth inevitably comes out. Trust is broken. Reputations are shattered. Legal battles ensue. And the business, once seemingly prosperous, crumbles into bankruptcy.
Proverbs 22:8 reiterates this truth: "Whoever sows injustice will reap calamity." Wickedness might seem to win temporarily, but it's a fleeting victory. Righteousness has the final word.
In conclusion, we have a choice. We can choose wickedness and deception, with their fleeting and deceptive rewards. Or we can choose righteousness, with its enduring and sure rewards. The choice is ours. And as we sow, so shall we reap. Choose wisely.
6. Job 15:31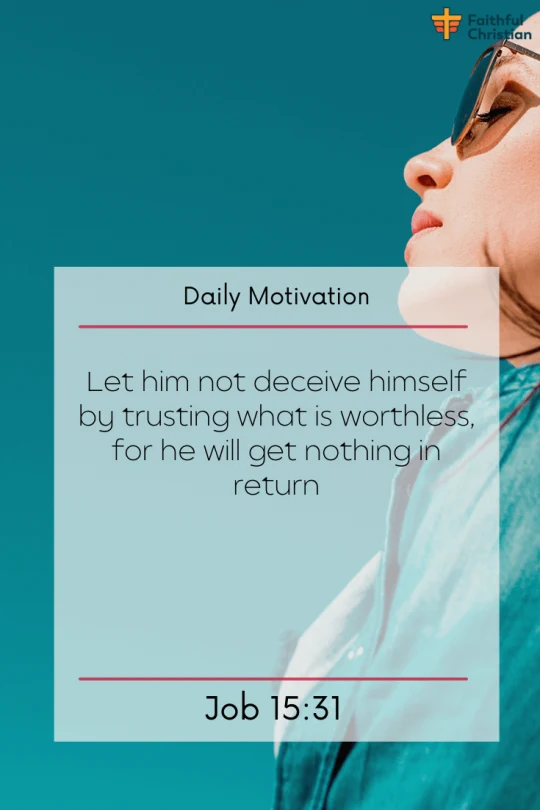 Let him not deceive himself by trusting what is worthless, for he will get nothing in return
Job 15:31, echoes a powerful principle: "You Reap What You Sow." The verse warns us, "Let him not deceive himself by trusting what is worthless, for he will get nothing in return." This simple yet profound message has layers of meaning. It speaks about the dangers of self-deception and the fallacy of false security.
Consider someone fixated on amassing wealth or engaging in wrongful deeds. They might feel secure, basking in their material gains or ill-gotten power. However, this sense of security is as unreliable as a house on quicksand. It may stand for a while, but it's destined to collapse.
Likewise, wickedness might offer short-lived gains, but its end result is nothingness. Think of Pharaoh in the book of Exodus. Despite multiple warnings from Moses, he refused to let the Israelites go. His stubbornness led to Egypt experiencing a series of devastating plagues.
From water turning into blood to painful boils, from thick darkness to the death of the firstborn, Egypt reaped the consequences of Pharaoh's obstinacy.
In our lives too, actions bear significant consequences. Take, for example, someone who persistently ignores health advice, favoring unhealthy habits. Momentary pleasure could lead to debilitating health problems. It's akin to indulging in sweets, knowing they'll cause tooth decay.
Job 15:31 strongly reinforces the principle of "You Reap What You Sow". Sowing wickedness yields a harvest of vanity. Job 4:8 aptly aligns with this idea, stating, "As I have observed, those who plow evil and those who sow trouble reap it." In essence, sowing wickedness and expecting to reap virtue is like planting thistles, hoping for grapes.
Finally, let's focus on the transitory nature of unjustly earned wealth. Job's verse emphasizes that such wealth offers no real security. It's as fleeting as a shadow at sunset. Our actions are seeds, with outcomes being the fruits we harvest. If we sow virtue, we reap virtue. Conversely, sowing wickedness yields vanity.
Therefore, the choice is ours. Choose wisely, sow seeds of kindness, honesty, and love, for a fruitful and fulfilling harvest.
7. Hosea 8:7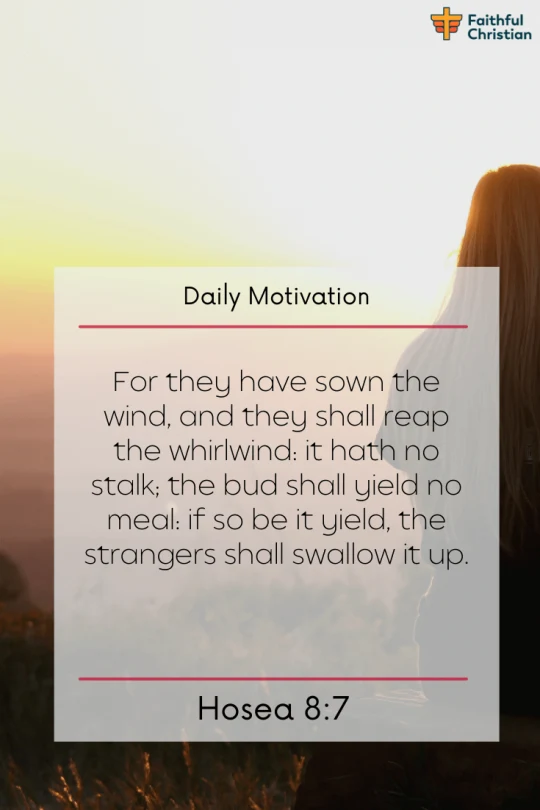 For they have sown the wind, and they shall reap the whirlwind: it hath no stalk; the bud shall yield no meal: if so be it yield, the strangers shall swallow it up.
Understanding the concept of "You Reap What You Sow" is made easy by the vivid metaphor in Hosea 8:7: "They sow the wind and reap the whirlwind." In life, just as in farming, what we plant determines what we harvest.
Hosea 8:7 alludes to destructive outcomes of wickedness. Like a wind evolving into a whirlwind, minor actions can amplify into severe consequences. If you plant wickedness, you will harvest chaos. This principle mirrors Galatians 6:7: "A man reaps what he sows."
Remember Noah from Genesis 6-9? Amid rampant wickedness, he chose righteousness. While society sowed wind — wickedness, Noah sowed a different wind — righteousness. What was reaped? Society faced the whirlwind of divine judgment, a flood. But Noah reaped a whirlwind of salvation. His righteousness saved his family and him.
Proverbs 22:8 paints a similar picture: "Whoever sows injustice reaps calamity." Small, unjust actions can snowball into calamity, a whirlwind indeed.
Hosea 8:7 captures the sow-reap principle using a natural metaphor. Each of our actions is a wind, a seed sown into life's soil. With time, the seed grows into a whirlwind, a harvest proportional to the seed sown. If we sow love, we will reap love. If we sow hate, we reap discord.
In conclusion, the Bible encourages us to sow righteousness. Like Noah, let's sow righteousness in our lives. We must understand that actions aren't inconsequential breezes but seeds with the potential to grow into whirlwinds. So, let's be mindful of our actions today, knowing that we will harvest our sown wind as a whirlwind in due time.
8.  1 John 3:7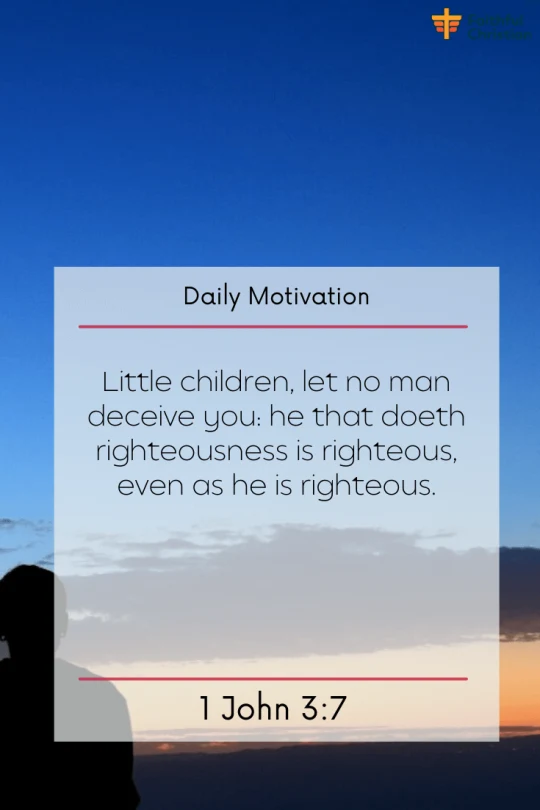 Little children, let no man deceive you: he that doeth righteousness is righteous, even as he is righteous.
1 John 3:7 offers a profound truth, "Whoever practices righteousness is righteous, as he is righteous." This scripture embodies the principle of "You Reap What You Sow." To decipher its meaning, let's explore five points anchored in the scriptures of James 1:22 and Romans 2:13.
First, righteousness is about doing right. James 1:22 advises, "be doers of the word, not hearers only." Righteousness demands action, not just words. This aligns with our theme: sowing acts of righteousness reaps a life reflecting God's divine character.
Second, the verse warns against deception. Deceit can misguide us to confuse appearances with reality. Romans 2:13 suggests that true righteousness transcends listening to the law; it involves practicing it. We can't reap righteousness by sowing insincerity.
Third, the verse reinforces Christ's righteousness. Knowing Him involves practicing righteousness in our lives. This practice helps us reap a deeper connection with Him, aligning ourselves with His divine essence.
Fourth, righteousness reflects Christ within us. When we do right, we mirror Christ's character. Doing so gives a face to our faith, signifying our association with Christ.
Finally, we understand that our actions reveal our character. If we examine the Biblical story of Daniel, we find a vivid illustration of this principle. Despite facing threats and adversity, Daniel refused to abandon his faith. His actions consistently reflected his commitment to righteousness.
And in the den of lions, his unwavering integrity protected him (Daniel 6). He sowed righteousness, and he reaped divine favor and protection.
In conclusion, the principle of reaping what we sow, as it relates to righteousness, is transformative. By sowing righteous deeds, we honor God and pave the way for a spiritually rich harvest.
It is essential to remember that living out faith is more powerful than talking about it. Embracing this principle on our faith journey will lead to a life that truly reflects Christ within us.
9.  1 Corinthians 6:9-11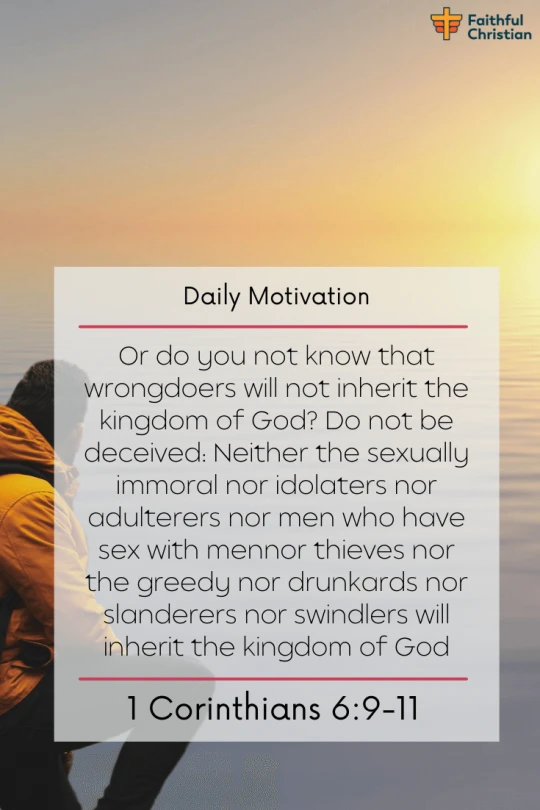 Or do you not know that wrongdoers will not inherit the kingdom of God? Do not be deceived: Neither the sexually immoral nor idolaters nor adulterers nor men who have sex with mennor thieves nor the greedy nor drunkards nor slanderers nor swindlers will inherit the kingdom of God
The principles in 1 Corinthians 6:9-11 reflect the profound concept of "You Reap What You Sow". Unrighteousness, the scripture warns, can obstruct our path to the Kingdom of God. It's an uncomfortable truth, isn't it? Galatians 5:19-21 and Ephesians 5:5 affirm this, vividly illustrating the negative impact of unrighteous deeds.
But here's the silver lining. Christ's sacrifice offers a transformative power that changes everything. Acknowledging our sinful past is the first step towards this transformation. Saul of Tarsus exemplifies this. A fierce persecutor turned devoted apostle, his story in Acts 9 paints a vivid picture of transformation through Christ.
This transformation births a new life, a clear contrast between past sins and a new, righteous walk with Christ. It's a call to embrace a different way, leaving behind unrighteous deeds for a life aligned with Christ. Today, as I reflect, this message seems as relevant as it was centuries ago.
But let's not forget. Our actions have spiritual consequences. The seeds we sow today, righteous or unrighteous, will determine our harvest tomorrow. Yet, it's heartening to know that we can lean on Christ's transformative power. It's a resource always available to us, irrespective of our past.
In sum, 1 Corinthians 6:9-11 delivers a timeless message. It's a cautionary tale, a beacon of hope, a story of transformation, and a testimony of divine love. As we strive for righteousness, we must remember to lean on Christ's transformative power.
After all, the seeds we sow greatly impact the harvest we reap, both in this life and in God's Kingdom.
10. Job 4:8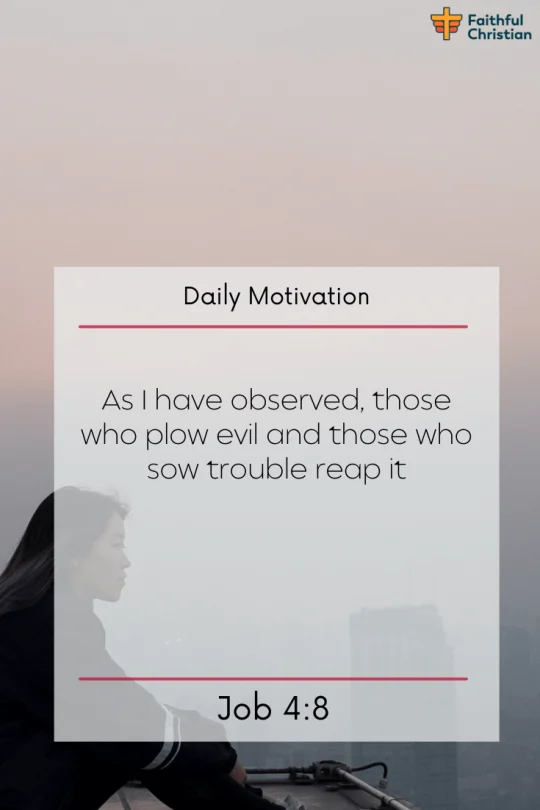 As I have observed, those who plow evil and those who sow trouble reap it
Job 4:8 presents a profound principle: "those who plow iniquity and sow trouble reap the same." This idea, echoed in Proverbs 1:31 and Galatians 6:7-8, drives home a universal truth – actions yield corresponding outcomes.
Take Jacob's story, who cunningly acquired Esau's birthright (Genesis 25:29-34). Initially successful, Jacob's deceit had repercussions. In a cruel twist of fate, Jacob was later tricked by his sons, who led him to believe his beloved Joseph was dead (Genesis 37).
Intriguing, isn't it? His own offspring deceived him, reflecting the deceit he once practiced. Jacob's season of sorrow is an apt illustration of the principle highlighted in Job 4:8.
This "sow-reap" rule applies universally. Whether king or commoner, the law remains consistent. Each action primes a reaction, reflecting the balance of divine justice.
Job 4:8 is a stark reminder to tread carefully. Mischievous actions, though seemingly thrilling, often yield a bitter harvest. It urges us towards righteousness, underscoring the long-lasting consequences of our actions.
Divine retribution is not about punishment but about the interplay of choices and outcomes. As we journey through life, we must remember that our decisions, the seeds we plant, will yield a corresponding harvest. What seeds are you planting today? Your harvest lies in your hands.
Author: Akatakpo Dunn
Dr. Akatakpo Dunn is a dedicated follower of Christ, an active member and speaker, and an ongoing learner of the Scriptures. Passionate about his faith and serving others, he is committed to sharing his spiritual journey and insights to inspire and uplift fellow believers. He has been active in the church for more than 23 years. Through The
Faithful Christian Blog
,
Dr. Dunn
combines his love for God, philanthropy, and Scripture, providing a valuable resource for those seeking to grow in their faith.
Follow me: on Youtube, Facebook, Twitter, Instagram, and Pinterest.
Content Disclosure:
At The Faithful Christian Blog, I create authentic and inspiring content. Although I am the main author, I occasionally use AI for minor language enhancements. This minimal AI usage ensures high-quality, trustworthy articles without compromising originality or sincerity, ultimately supporting our shared faith journey.
Warmly,
Dr. Akatakpo Dunn
Was this article helpful?