Overwhelmed by your emotions? Don't worry; you're in good company.
Many of us face emotional turmoil, but the Bible offers invaluable wisdom on managing emotions.
In this post, we'll uncover life-changing Bible Verses about Controlling mood and emotions, showing you how to find inner peace and stability.
So, what life-enhancing benefits can you expect from embracing these timeless teachings?
Consider this quote: "Do not be anxious about anything, but in every situation, by prayer and petition, with thanksgiving, present your requests to God." – Philippians 4:6
This scripture reminds us that faith can be a potent force for emotional well-being.
Are you ready to delve into the Bible and uncover its secrets to mastering your emotions?
Let's get started on this transformative journey together.
Bible Verses about Managing Emotions [Controlling mood].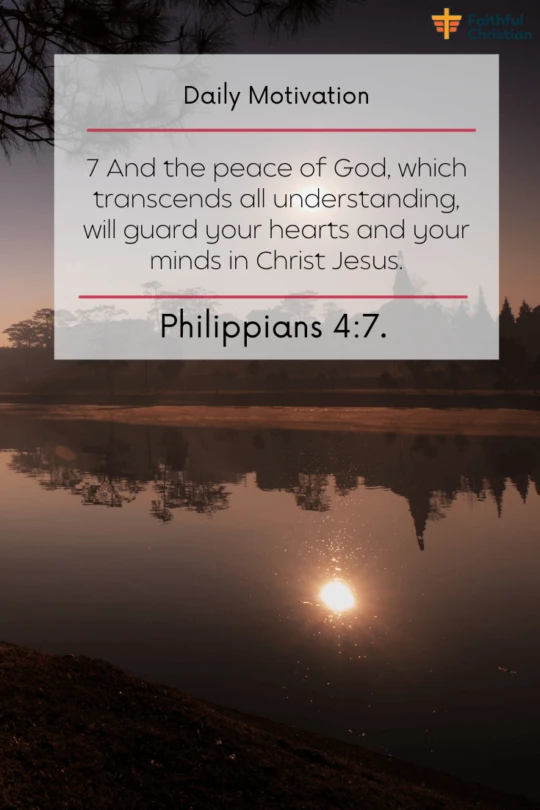 7 And the peace of God, which transcends all understanding, will guard your hearts and your minds in Christ Jesus.
Feeling overwhelmed by life's challenges?
You're not alone.
God knows your struggles and sees your emotions.
He's ready to help in times of trouble.
Some think Christians shouldn't feel stressed or emotional.
However, experiencing emotions is natural.
Even God, our Creator, feels emotions like anger and joy.
After creating the heavens and earth, He rested, so it's normal for us to feel emotional in response to life's situations.
The key is controlling emotions so they don't lead to sin.
Start by understanding your feelings and asking God for help.
Lean on Him for guidance through sadness, worry, or even misguided celebrations.
To serve God, call on Him for assistance and rely on His peace.
Philippians 4:7 reminds us that God can restore peace and happiness to troubled hearts.
He can turn tears into laughter and guard your heart when emotions run wild.
Pray to God for guidance and support.
Ask for wisdom when anger rises and seek peace and happiness when sadness takes hold.
God will be there as you call on Him.
Psalm 29:11 emphasizes God's role in providing strength and peace.
Rely on Him to manage emotions and find stability during emotional distress.
Romans 5:1 highlights peace with God through faith in Jesus.
This peace helps manage emotions, providing a solid foundation in our relationship with Him.
Trusting in God lets us face challenges with calmness and resilience.
Ephesians 3:19 urges us to experience Christ's love, surpassing all understanding.
Immersed in His love, we can manage emotions, knowing we're secure and supported.
Growing in understanding of Christ's love equips us to handle emotions in a healthy, God-centered way.
In Genesis 3, Adam and Eve were tempted with the forbidden fruit.
Their inability to control emotions and desires led to disobedience, sin, and separation from God.
Their story shows the importance of managing emotions.
Had they sought God's guidance and wisdom, they might have resisted temptation.
Learning from Adam and Eve and related scriptures emphasizes the importance of turning to God for help managing emotions.
By seeking His guidance, wisdom, and strength, we can navigate life's challenges and maintain control over our emotions.
In conclusion, managing emotions and controlling mood is essential for spiritual growth.
Studying the Bible and learning from biblical figures like Adam and Eve helps us understand the importance of seeking God's guidance and support in managing our emotional lives.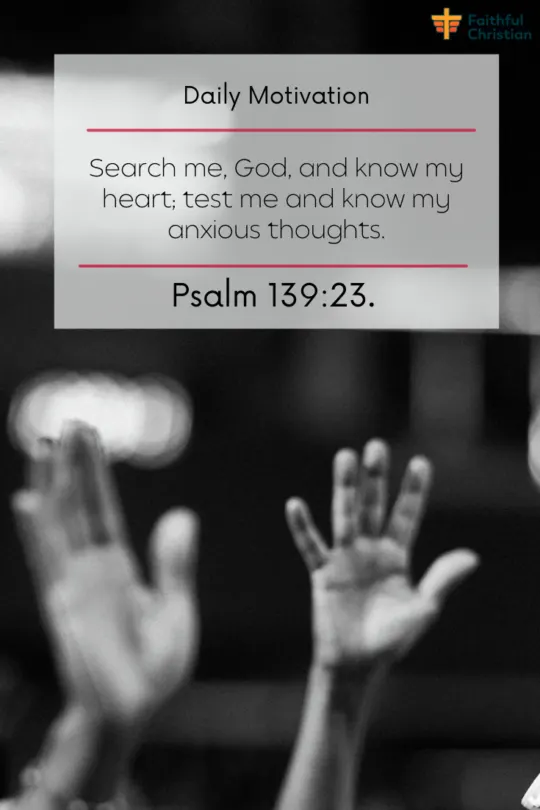 Search me, God, and know my heart;test me and know my anxious thoughts.
Why allow anxiety and worry to rule you?
Can these emotions genuinely restore hope or bring peace to your heart?
Dwelling on life's obstacles won't resolve issues, and fretting about financial hardships or a turbulent marriage won't mend them.
It's essential to manage our emotions wisely and seek God's help.
Turning to His guidance and protection can make a significant difference.
He knows our pain and is aware of our concerns.
By placing our trust in the Lord, rather than solely in our understanding, we acknowledge that God sees our journey and grasps our challenges more profoundly.
Can He not assist us?
Psalm 139:23 urges us to involve God in our emotional growth by asking Him to examine our hearts and minds.
Psalm 26:2 encourages openness to God's direction, as the psalmist requests the Lord to test and evaluate his heart and mind.
Recognizing that God's discernment exceeds our own, we can unveil any concealed emotions or thoughts that may be harmful.
By welcoming God's refining touch, we can better manage our emotions and live in harmony with His purpose.
Job 31:6 depicts Job confidently asserting his integrity and asking God to weigh him on honest scales.
This passage reminds us that only God can truly evaluate our hearts and motives.
Thus, we should aspire to live righteously and pursue God's wisdom in handling our emotions.
When facing challenges, we can rely on God's guidance, knowing He discerns the truth within our hearts.
1 Peter 1:7 likens faith to gold being tested and refined by fire.
This refining process purifies gold, making it more precious and valuable.
Similarly, our faith and emotional resilience can strengthen through trials as we lean on God and regulate our emotions.
As we persevere, our faith is refined, culminating in praise, glory, and honor when Jesus Christ is revealed.
Consider Cain's story in Genesis 4, where jealousy and anger led him to fatally lose control over his emotions and murder his brother Abel.
If Cain had sought God's guidance and strength, this heart-wrenching outcome could have been prevented.
During emotional turbulence, remember that tough times are temporary.
Remain resilient and strive to manage your emotions.
Entrust your feelings to God and allow Him to guide your healing journey.
By relying on Him, you'll gain the strength to push forward and better control your mood.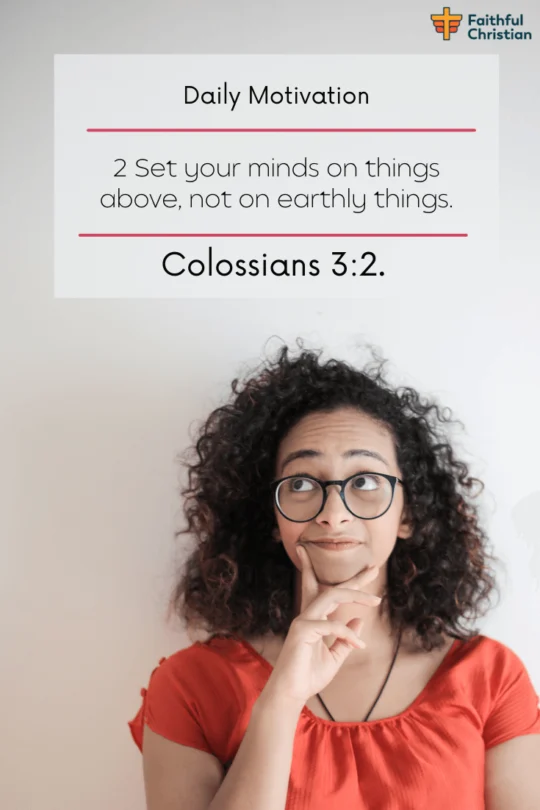 2 Set your minds on things above, not on earthly things.
Colossians 3:2 inspires us to focus on higher things rather than earthly matters, serving as a crucial reminder in managing emotions and controlling moods.
Life's challenges can consume us, making us question our relationships, careers, and personal struggles.
While natural, these thoughts can cause us to lose sight of our faith.
Instead of fixating on earthly issues, let's shift our focus to God and His heavenly promises.
Jesus promises eternal life with the Heavenly Father, free from stress and worry.
In that life, our problems dissolve, prayers find answers, and hearts fill with peace, happiness, and joy.
Concentrating on God's promises helps us avoid being overwhelmed by earthly trials, keeping us on our spiritual path.
Genesis 16 depicts Abraham and Sarah's impatience for a child, leading to family conflict.
Had they focused on God's promise, they could have prevented this strife.
1 Chronicles 22:19 urges us to dedicate our hearts and souls to seeking God's guidance and wisdom.
By centering our hearts and minds on Him, we navigate emotions and maintain balance during tough times.
Matthew 16:23 shows Jesus reprimanding Peter for prioritizing earthly concerns over divine plans.
This acts as a reminder to align our thoughts and emotions with God's will, not just human desires.
By doing so, we manage emotions and remain steadfast in faith.
1 John 2:15-17 warns against attachment to worldly desires and distractions, reminding us that earthly pursuits fade while God's promises endure.
Focusing on God's will helps us control emotions and retain inner peace.
These scriptures stress the importance of concentrating on God and His promises over earthly concerns.
By devoting our hearts and minds to the Lord, we manage emotions, stay grounded in faith, and find peace in a deep relationship with God.
So, amid life's trials, shift your focus to heavenly matters and seek God's guidance.
This mindset helps maintain emotional balance and endure life's challenges.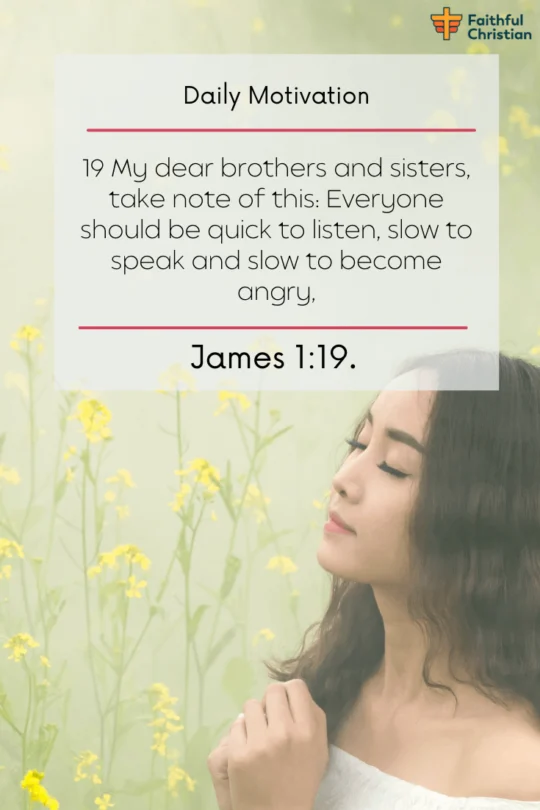 19 My dear brothers and sisters, take note of this: Everyone should be quick to listen, slow to speak and slow to become angry,
Ever felt swamped by anger or intense emotions?
James 1:19 advises self-control, patience, and letting God lead through tough times.
Managing emotions is crucial since losing control may result in sin.
Verses like Proverbs 17:27, Proverbs 21:23, and Proverbs 18:13 provide insights on mastering self-restraint, thoughtful speech, and careful listening.
Proverbs 17:27 highlights the wisdom in remaining calm and mindful of our words, even during emotional upheaval.
Proverbs 21:23 emphasizes the importance of choosing our words wisely to avoid conflict and maintain peace.
More so, Proverbs 18:13 stresses the significance of patience and active listening for better communication and deeper connections.
These scriptures aid us in navigating emotions and relationships.
By following their guidance, we can achieve emotional stability and forge stronger bonds with those around us.
Genesis 9 shares Noah's story, illustrating the consequences of poor emotional management.
Noah's intoxication and subsequent exposure resulted in shame and familial discord, underlining the importance of self-control in all situations.
Conversely, Joseph's story in Genesis 45 demonstrates the strength in controlling emotions.
Despite his brothers' betrayal, Joseph forgave them and offered aid during a famine, choosing empathy and understanding over anger and bitterness.
Let these stories inspire you to maintain emotional equilibrium.
Be as wise as a serpent and as gentle as a dove, discerning the devil's schemes and learning to overcome them.
By practicing self-control and trusting God, you can triumph over anger and other emotional hurdles in your life.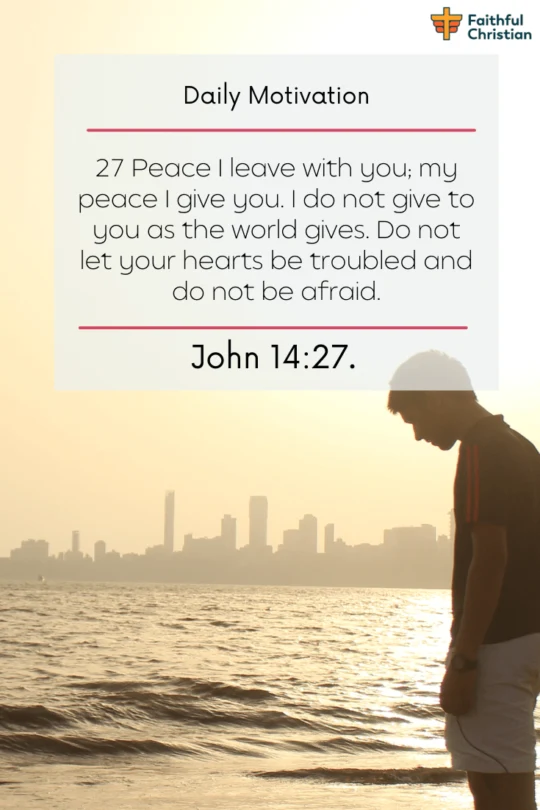 27 Peace I leave with you; my peace I give you. I do not give to you as the world gives. Do not let your hearts be troubled and do not be afraid.
What's weighing on your heart and mind?
Do feelings of despair or hopelessness consume you?
With God, thee is no reason to lose hope.
John 14:27 offers Jesus' assurance of the peace He bestows, a peace that transcends human understanding.
This divine serenity aids us in managing our emotions and stabilizing our mood, even during life's most trying times.
Other scriptures also convey messages of comfort and hope.
Isaiah 41:10 encourages us not to fear, as God stands by our side, providing strength, support, and solace.
Facing challenges or feeling overwhelmed, turning to God and trusting His presence equips us with the fortitude to persist.
2 Thessalonians 3:16 reveals Paul's view of the Lord as the wellspring of peace in every situation.
By embracing God's presence and His work in our lives, we can find inner tranquility amid emotional chaos.
Numbers 6:26, part of the priestly blessing, reminds us of God's favor, protection, and peace for His people.
When emotions threaten to overtake us, we can seek comfort knowing God's loving gaze provides peace and reassurance.
These scriptures highlight the significance of relying on God's presence and peace to guide our emotions and moods.
By seeking His wisdom and accepting His love, we can courageously face life's obstacles, secure in the knowledge of God's unwavering support.
Reflect on David's story in 2 Samuel 11-12.
Overcome by lust, he committed adultery with Bathsheba and plotted her husband's demise.
Despite his sins, David sought God's forgiveness and healing.
This tale illustrates that in our darkest moments, turning to God can provide guidance and emotional balance.
When life's challenges seem insurmountable, lean on God.
He understands your struggles, pain, and needs.
Let His peace soothe your fears and elevate your spirit.
Avoid letting emotions control you or allowing trials to govern your life.
Stand resolute against attempts to disrupt God's peace.
Remember, through prayer and faith, God will grant respite from hardships and fill your heart with His eternal peace.
Test me, Lord, and try me,examine my heart and my mind;
We all yearn for solace and hope at times.
In trying moments, staying resolute and trusting in brighter days is crucial.
Keep going and believe everything will work out for the best.
Banish fear and hold onto confidence.
Ask God to explore your heart and expose any weaknesses.
Seek His blessings as you persevere with patience and self-restraint.
Know that your steadfast faith in God will be recognized.
In terms of managing emotions, Psalm 26:2 urges us to let God examine and test our hearts.
This opens us to His guidance, assisting us in navigating emotional upheaval.
Psalm 139:23-24 echoes this idea, as the psalmist requests God to search their heart and guide them on the righteous path.
Job 13:23 also emphasizes the significance of acknowledging our missteps and seeking God's wisdom to manage emotions.
By inviting God to unveil our faults, we can learn and evolve, becoming better equipped to tackle emotional challenges.
Jonah's story (Jonah 4) illustrates a powerful struggle with emotions.
Overcome by anger and bitterness, Jonah questioned God's mercy for Nineveh's people.
Despite his emotional turmoil, Jonah ultimately learned to trust God's wisdom and discernment.
Conversely, Job (Job 1-42) exemplifies exceptional emotional mastery.
Enduring immense suffering, he stayed loyal to God throughout his ordeals.
Job's journey attests to the power of sustaining faith and self-control amid emotional hardships.
By turning to God's guidance and trusting His plan, we can more effectively manage our emotions, find resilience in adversity, and ultimately embrace the blessings that arise from unwavering faith.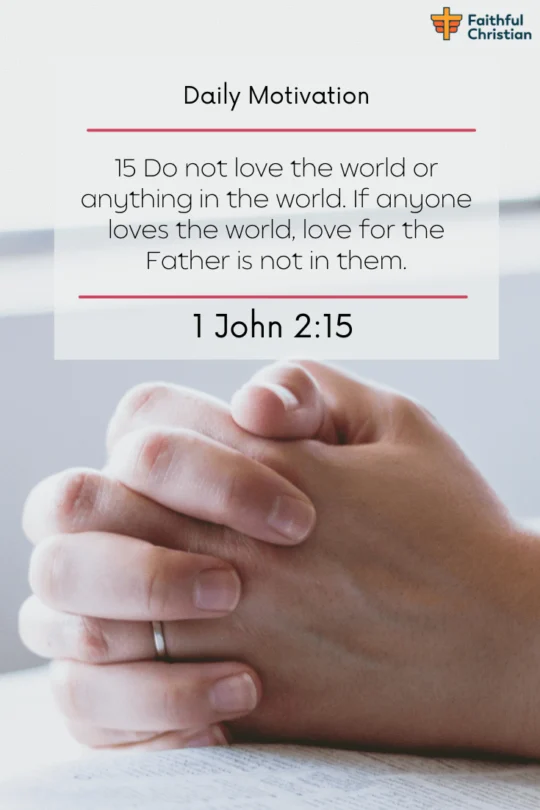 15 Do not love the world or anything in the world. If anyone loves the world, love for the Father[a] is not in them.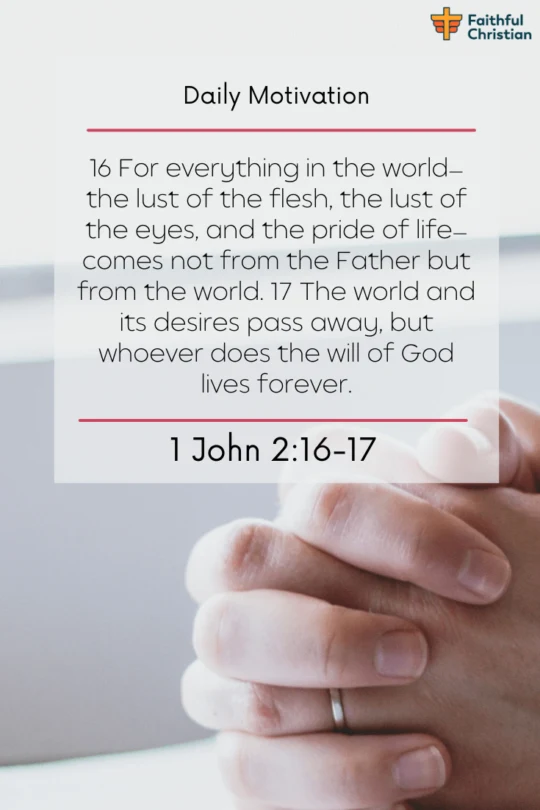 16 For everything in the world—the lust of the flesh, the lust of the eyes, and the pride of life—comes not from the Father but from the world. 17 The world and its desires pass away, but whoever does the will of God lives forever.
John 2:15-17 reveals that we often stress over the wrong issues, such as job loss or failing an exam.
However, our main focus should be our spiritual journey.
God has promised to be with us and support us during trials.
Instead of fixating on worldly concerns, we should concentrate on spiritual growth.
Earthly achievements won't bring eternal life.
It's our devotion to Jesus and doing His will that matters most.
Solomon's story (1 Kings 11) illustrates this, as his love for foreign women led him to worship other gods, disobeying God's commandments.
By prioritizing worldly desires over his relationship with God, Solomon lost sight of what was truly important.
2 Remember how the Lord your God led you all the way in the wilderness these forty years, to humble and test you in order to know what was in your heart, whether or not you would keep his commands.
Deuteronomy 8:2 teaches that God sometimes permits trials to test our faith.
Christ stated we'd all experience persecution, and the Bible underlines that we'll inherit God's kingdom through trials and hardships.
Peter's story (Matthew 26) demonstrates this, as he denied Jesus three times out of fear.
Peter's faith was tested, but he eventually emerged as a faithful servant, learning from his mistakes.
How we react to problems is what counts in the eyes of God.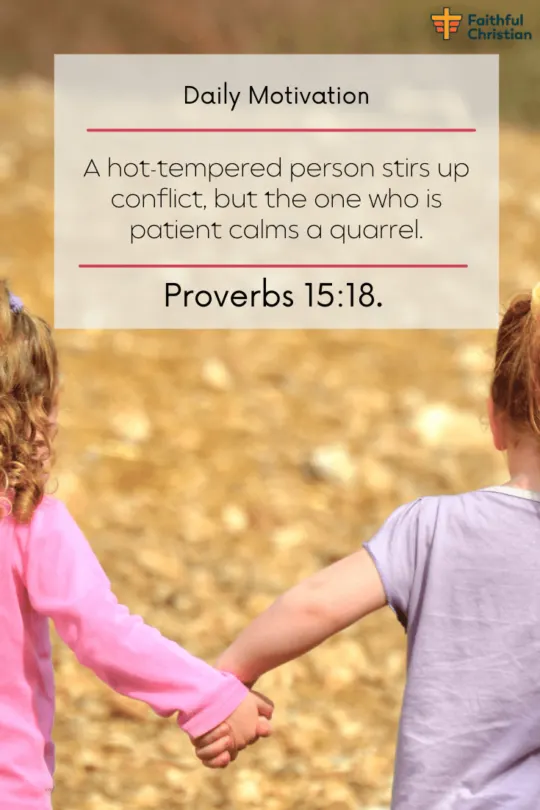 A hot-tempered person stirs up conflict,but the one who is patient calms a quarrel.
Proverbs 15:18 cautions against being hot-tempered and quick to anger.
Instead, we should learn to release pain and hurt.
Moses (Numbers 20) encountered this challenge when anger led him to disobey God's command, striking the rock rather than speaking to it.
By seeking God's wisdom, we can develop patience and resist the devil's temptations.
You will keep in perfect peacethose whose minds are steadfast,because they trust in you.
Isaiah 26:3 encourages trust in God to overcome worries.
He will meet our needs, bringing us peace and resolving our concerns.
Paul (Philippians 4) embodied this trust, as he learned contentment in all situations, even during persecution and hardship.
By waiting on the Lord and trusting in His perfect peace, we can rise above worries and anxieties.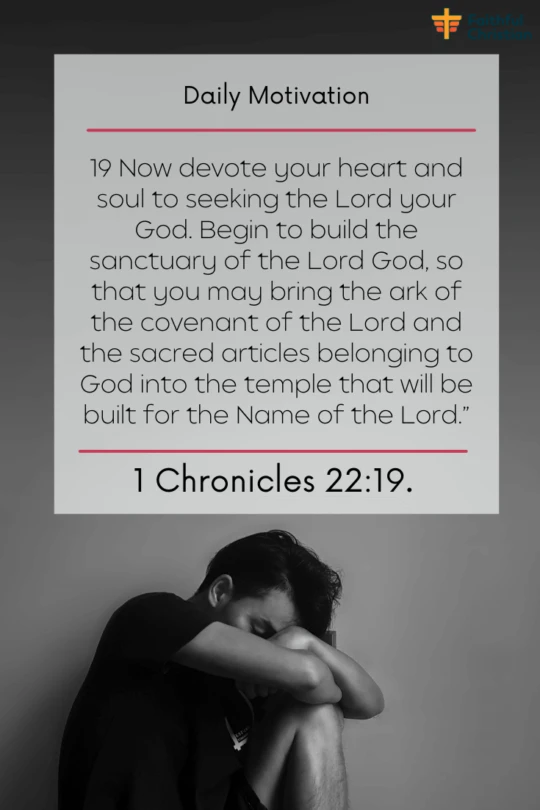 19 Now devote your heart and soul to seeking the Lord your God. Begin to build the sanctuary of the Lord God, so that you may bring the ark of the covenant of the Lord and the sacred articles belonging to God into the temple that will be built for the Name of the Lord."
1 Chronicles 22:19 implores us to seek God first amid worries and anxiety.
We must continue serving Him and doing His work, even in difficult times.
Jesus (Matthew 26, Luke 22) exemplified this mindset, controlling His emotions during His arrest and crucifixion and forgiving His persecutors.
The Bible assures us that when we seek God first, all our other needs and desires will be met.
Proverbs 16:32.
Colossians 3:15.
Colossians 3:1.
Romans 12:21.
Psalm 29:11.
Psalm 119:36-37.
Proverbs 19:11.
Galatians 5:22.
Romans 8:6.
Psalm 103:8.
Romans 15:13.
Ephesians 5:1.
John 16:33.
Frequently Asked Questions
What is a Bible verse to lift up mood?
Psalm 28:7 can lift your mood: "The Lord is my strength and my shield; my heart trusts in him, and he helps me.
My heart leaps for joy, and with my song I praise him." This verse celebrates God's strength, protection, and the joy we find in trusting Him.
How to control your emotions spiritually?
Strengthen your relationship with God via prayer, meditation, and Bible study.
Seek His guidance and wisdom for emotional balance.
Embrace mindfulness, forgiveness, and gratitude, and consider joining a faith community or finding a spiritual mentor.
What does the Bible say about making decisions based on emotions?
Use wisdom and discernment, as advised in Proverbs 3:5-6, instead of relying solely on emotions.
Seek God's guidance and keep His will in mind when making choices.
Pray and meditate on His Word to align your decisions with His plan.
How do I submit my emotions to God?
Submitting emotions to God starts with acknowledging and accepting your feelings.
Pray and share your emotions with Him, seeking His guidance and support.
Trust in His help to navigate emotions and find strength in tough times.
Meditate on His Word and remember His promises.
How can I balance my emotions naturally?
Balance your emotions naturally by practicing mindfulness, deep breathing, and relaxation techniques.
Stay active, eat well, and get enough sleep.
Maintain a support network of loved ones, seek professional help if needed, and develop healthy coping mechanisms like journaling or creative expression.
What is the prayer for managing emotions?
A prayer for managing emotions: "Heavenly Father, I bring my emotions before You. Guide me through these feelings with Your wisdom and strength. Teach me to submit my emotions to You and trust in Your perfect plan. Amen."
What is the psalm for lifting up?
Psalm 121 is a powerful choice.Psalm 121 reminds us of God's help, protection, and unwavering watchfulness.
What Psalm is high and lifted up?
Psalm 57:5 emphasizes God's sovereignty and majesty, inspiring us to praise His greatness.
Author: Akatakpo Dunn
Dr. Akatakpo Dunn is a dedicated follower of Christ, an active member and speaker, and an ongoing learner of the Scriptures. Passionate about his faith and serving others, he is committed to sharing his spiritual journey and insights to inspire and uplift fellow believers. He has been active in the church for more than 23 years. Through The
Faithful Christian Blog
,
Dr. Dunn
combines his love for God, philanthropy, and Scripture, providing a valuable resource for those seeking to grow in their faith.
Follow me: on Youtube, Facebook, Twitter, Instagram, and Pinterest.
Content Disclosure:
At The Faithful Christian Blog, I create authentic and inspiring content. Although I am the main author, I occasionally use AI for minor language enhancements. This minimal AI usage ensures high-quality, trustworthy articles without compromising originality or sincerity, ultimately supporting our shared faith journey.
Warmly,
Dr. Akatakpo Dunn
Was this article helpful?