There is power when you pray with tongues.
It is an exciting experience that I have encountered myself.
Should you speak in tongues?
The Bible is clear about the importance of speaking in tongues.
And not just that, it is an important, powerful way to communicate with God.
In simple terms, the Holy Spirit comes upon you, and suddenly, you are empowered to speak in a different language.
This language is new to you and cannot be discerned.
You speak as you are led by the Holy Spirit.
I was never a believer in speaking in tongues.
And that's because I grew up in a church where it is forbidden to speak in tongues.
But, one day, as I was praying with my wife, I felt a sudden surge of energy from within.
At this point, As I prayed, I noticed I was speaking a different language.
It was a very delightful experience for me.
If you really want to speak in tongues, you can start today.
Nevertheless, you must know it's a gift.
And there is nothing sinful if you don't pray with tongues.
My wife and I have compiled this prayer for speaking in tongues to guide you.
---
Recommended for you
---
Prayer speaking in tongues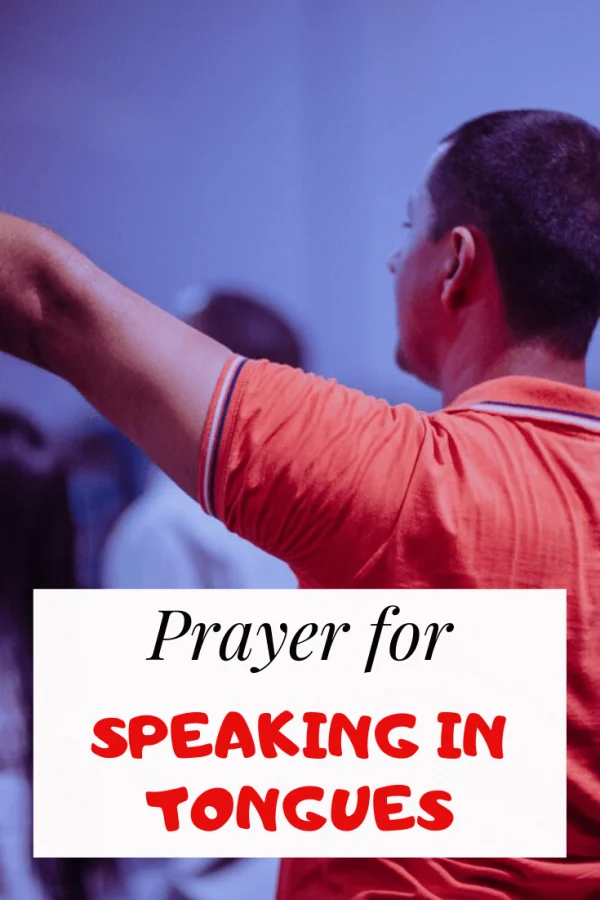 Prayer of faith and repentance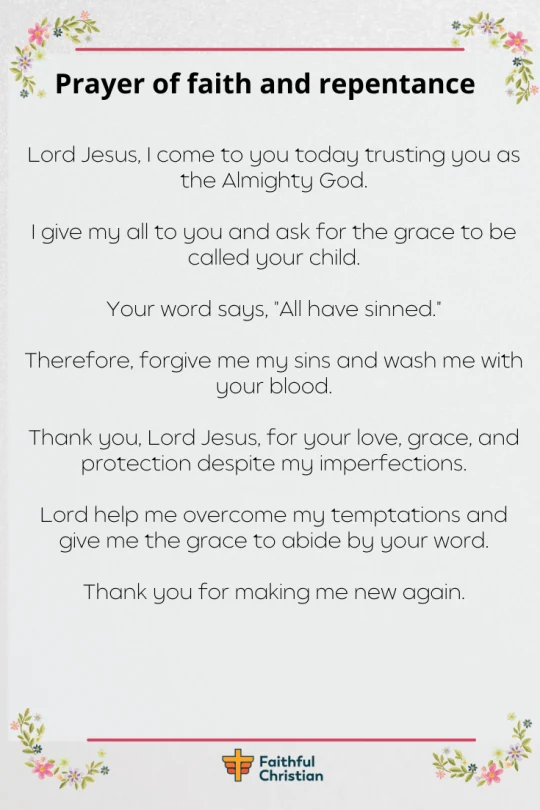 Lord Jesus, our Almighty Creator, I come to You with trust and faith. You spoke the universe into existence, showing Your unrivaled power. Today, I give myself to You, yearning to be Your cherished child. I'm inspired by John 1:12, which reminds us of our right to become children of God.
I admit my sins and imperfections, echoing Romans 3:23. As I seek Your forgiveness, I remember Your promise in Isaiah 1:18. Your sacrifice on the cross has made my redemption possible. Thank you for washing my sins away, making them white as snow.
Your endless love, boundless grace, and unwavering protection leave me forever grateful. Despite my flaws, You remain committed to my growth in faith. I'm comforted by Romans 8:38-39, which assures me that nothing can separate us from Your love.
Help me resist temptation and follow Your Word. Guide me to walk in the Spirit and be a reflection of Your light. James 4:7 teaches me to submit to You and drive the devil away. I want to embrace this wisdom.
Thank you for making me new again. With a fresh start, I walk hand in hand with You on this faith journey. Together, let's exalt Your name, as the Psalmist declares in Psalm 34:3. I praise You, Lord, for Your endless blessings. Amen.
Prayer to receive the Holy Spirit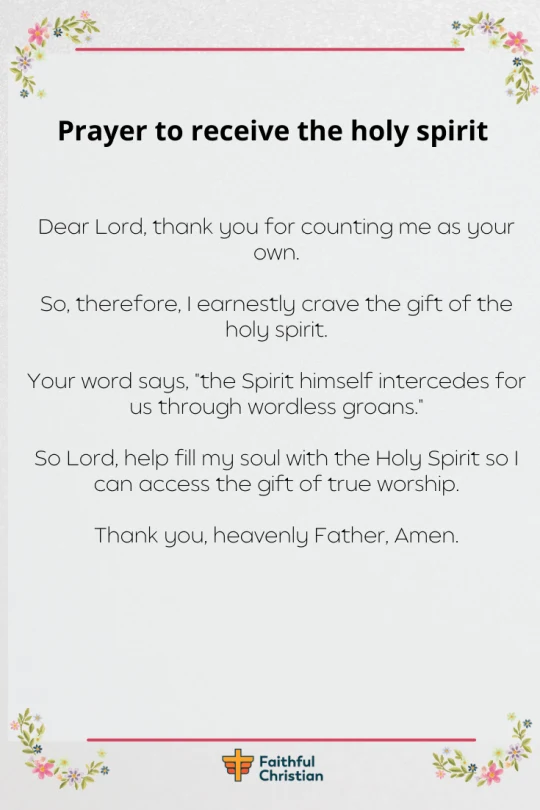 Beloved Lord, my heart overflows with gratitude, knowing You embrace me as Your cherished child. Your love, like the joyful shepherd in the Parable of the Lost Sheep (Luke 15:4-7), is boundless when even one lost soul returns to You. I'm humbled to be Yours, chosen before time began (Ephesians 1:4). Thank You for Your immeasurable grace and love.
I now seek the Holy Spirit's gift, desiring its presence to guide, comfort, and empower me. Your Word says the Holy Spirit is our Helper, teaching and reminding us (John 14:26). Please bestow this divine gift upon me. Let me be led by the Spirit (Romans 8:14) and grow in faith.
The Spirit intercedes for us in ways beyond words (Romans 8:26), connecting our human limitations with Your divine understanding. Lord, fill my heart and soul with the Holy Spirit. Help me unlock genuine worship and praise, worshiping You in spirit and truth (John 4:24).
Your love, guidance, and protection are constant. May the Holy Spirit strengthen my bond with You and transform my life. Just as 2 Corinthians 3:18 says, let the Spirit mold me in Your image. I pray for the fruit of the Spirit (Galatians 5:22-23) to manifest in my life—love, joy, peace, patience, kindness, goodness, faithfulness, gentleness, and self-control.
Heavenly Father, I am forever grateful for Your boundless love and grace. In Your holy name, I pray, Amen.
Prayer to speak in tongues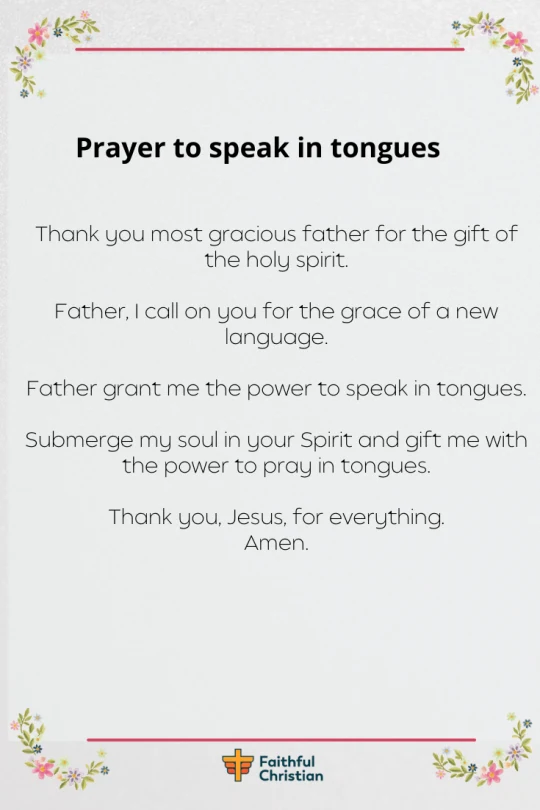 Heavenly Father, my heart overflows with gratitude for the Holy Spirit. Your love knows no bounds. You've sent the Spirit of Truth to guide us and remind us of Jesus' teachings. I'm in awe of this precious gift, helping me grow in faith.
Almighty Father, I ask for the grace of a new language, like the apostles on Pentecost (Acts 2:4). With your divine wisdom, may I communicate beyond human understanding. Like the apostles, let me share the Good News in many languages.
O Lord, grant me the ability to speak in tongues, as the Apostle Paul mentioned (1 Corinthians 14:5). This spiritual gift connects me to you and your creation. Through prayer and worship, I can inspire myself and others.
Submerge my soul in your Holy Spirit (Romans 8:26-27). Let me experience the power of praying in tongues. The Spirit intercedes, aligning our prayers with your will. This gift strengthens my bond with you, empowering me to serve better.
Thank you, Jesus, for your unwavering love (Philippians 4:13). I'm forever grateful for your presence and countless blessings. With you by my side, I can face any challenge and walk the path of righteousness.
In Jesus' name, I pray. Amen.
Let's pray for fresh grace.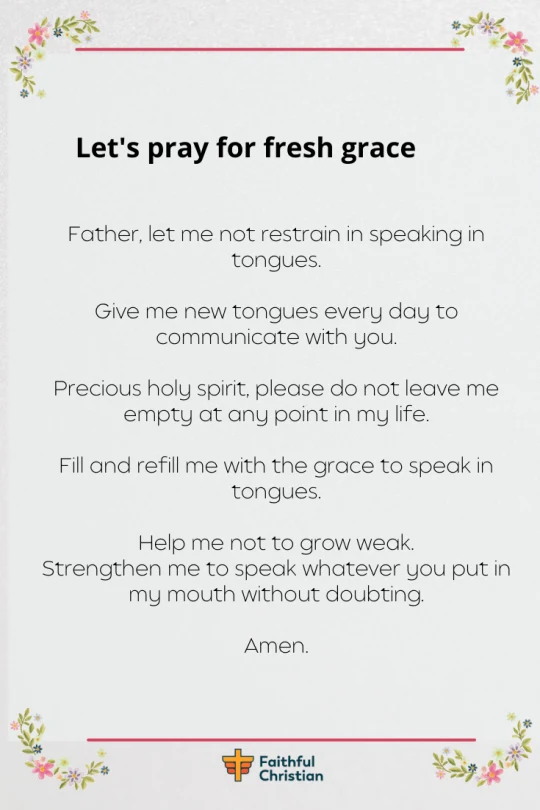 Heavenly Father, I come before You with a humble heart. I seek the freedom to express myself in spiritual languages, just as You encouraged in 1 Corinthians 14:5. Like the disciples at Pentecost, described in Acts 2:4, empower me with the Holy Spirit. Help me embrace this divine gift to strengthen my bond with You and uplift my fellow believers.
Please bless me with new tongues each day. Deepen my connection and communication with You, as You promised in Mark 16:17. Through faith in Your promise, Lord, grant me this miraculous gift. Let me be a more effective instrument of Your love and grace on my spiritual journey.
Father, I'm truly grateful for Your guidance and presence. I cherish the blessings and divine gifts You provide, bringing me closer to You. James 1:17 tells us that all good and perfect gifts come from You, the Father of lights. I'm grateful for Your abundant blessings and commit myself to glorify Your name while serving others in Your kingdom.
Amen.
Let the Holy Spirit refill you afresh.
Dearest Holy Spirit, I humbly ask that Your presence stays with me. Fill every moment of my life, so I never feel alone. Just as the Psalmist realized, I know You are always there, offering comfort and guidance when I need it most.
Please, Holy Spirit, fill me with Your abundant grace. Empower me to speak in tongues, connecting with You on a deeper level. As the apostles experienced during Pentecost (Acts 2:1-4), I seek this gift to strengthen our bond.
Help me stand strong and resilient in my faith. Inspired by Paul's message to the Ephesians (Ephesians 6:10), I strive to find my strength in You, drawing on Your divine power to stay true to my beliefs.
Boost my confidence and faith in Your words. Just as Jeremiah was reassured (Jeremiah 1:8), I trust that You will support and protect me as I share Your wisdom and love. Let me speak without fear or hesitation.
In You, I find solace and trust. As Paul wrote (Philippians 4:7), I seek Your peace, which transcends all understanding. I place my life and faith in Your caring, guiding hands. Amen.
---
Recommended for you
Frequently Asked Questions
How do you start praying in tongues?
To begin praying in tongues, first, open your heart to the Holy Spirit. Start with a prayer in your language, expressing your desire for this gift. As Ephesians 6:18 says, "pray in the Spirit" and trust in divine timing.
How do you receive the gift of tongues?
The gift of tongues comes from the Holy Spirit's grace. According to 1 Corinthians 12:4-11, these gifts are given as the Spirit wills. Pray earnestly, be receptive, and grow closer to God through prayer, worship, and Scripture.
What is the difference between praying in tongues and speaking in tongues?
Praying in tongues and speaking in tongues differ in purpose and audience. Praying in tongues is personal communication with God (1 Corinthians 14:2). Speaking in tongues is for others' benefit and often requires interpretation (1 Corinthians 14:5).
What happens when you pray in tongues?
When you pray in tongues, you have a spiritual conversation with God. As Romans 8:26-27 explains, the Spirit helps us pray according to God's will. This deepens our connection with God and strengthens our spirit.
What hinders speaking in tongues?
Doubt, fear, and a lack of openness can hinder speaking in tongues. Jesus emphasized faith in Mark 11:23. Overcome these obstacles by nurturing a strong relationship with God and being receptive to the Holy Spirit's guidance.
How do I know if I am really speaking in tongues?
To know if you're genuinely speaking in tongues, examine the results. True spiritual gifts, like tongues, deepen your relationship with God and build up the church (1 Corinthians 14:4,12). If your experience aligns with biblical teachings and bears positive spiritual fruit, it's likely a true manifestation of this gift.
---
READ MORE
Saturday prayer for myself.
Sunday prayers for family and friends.
Monday prayer for boyfriend and girlfriend.
Tuesday prayer for Husband and wife.
Wednesday prayer and blessings.
Powerful Short Thursday prayer.
Friday prayer message and quotes.
Author: Akatakpo Dunn
Dr. Akatakpo Dunn is a dedicated follower of Christ, an active member and speaker, and an ongoing learner of the Scriptures. Passionate about his faith and serving others, he is committed to sharing his spiritual journey and insights to inspire and uplift fellow believers. He has been active in the church for more than 23 years. Through The
Faithful Christian Blog
,
Dr. Dunn
combines his love for God, philanthropy, and Scripture, providing a valuable resource for those seeking to grow in their faith.
Follow me: on Youtube, Facebook, Twitter, Instagram, and Pinterest.
Content Disclosure:
At The Faithful Christian Blog, I create authentic and inspiring content. Although I am the main author, I occasionally use AI for minor language enhancements. This minimal AI usage ensures high-quality, trustworthy articles without compromising originality or sincerity, ultimately supporting our shared faith journey.
Warmly,
Dr. Akatakpo Dunn
Was this article helpful?