The world is not enough.
That's the simple truth about life.
We always want more and more and more.
But as Christians, we must learn to be content with what we have.
Discontent and dissatisfaction can lead to terrible sins.
There is hardly any sin today that is not driven by the lust for worldly things.
People steal because they want more.
Married people commit adultery because they are not satisfied with their wives or husbands.
In all things, even in difficult times, we must be content.
I have put together this powerful prayer for contentment to help you with your lust.
My God will deliver your thoughts and return peace and happiness to your life.
Amen.
---
Recommended for you
---
Prayer Bible verses for contentment & Happiness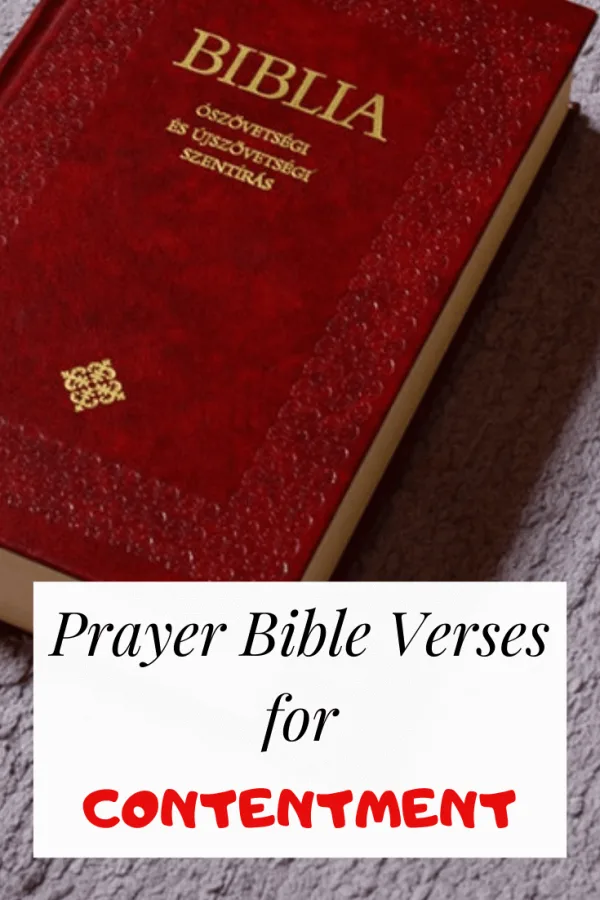 1 Timothy 6:7-8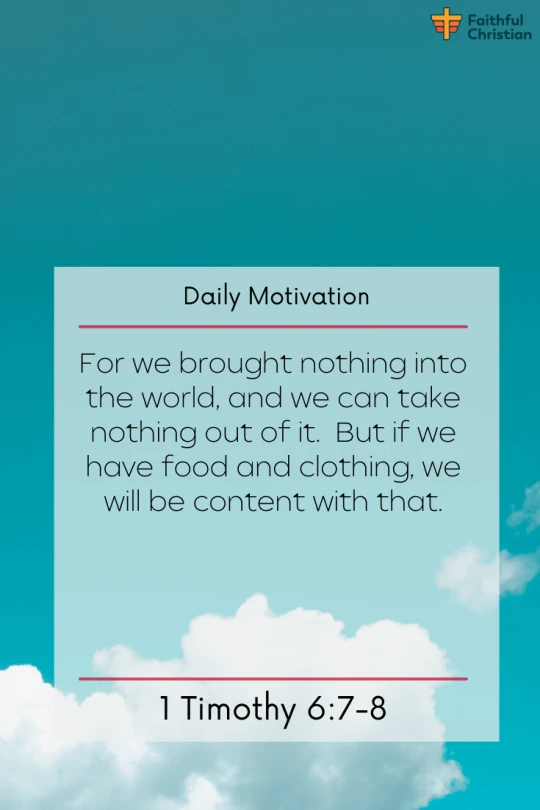 For we brought nothing into the world, and we can take nothing out of it. 8 But if we have food and clothing, we will be content with that.
Philippians 4:12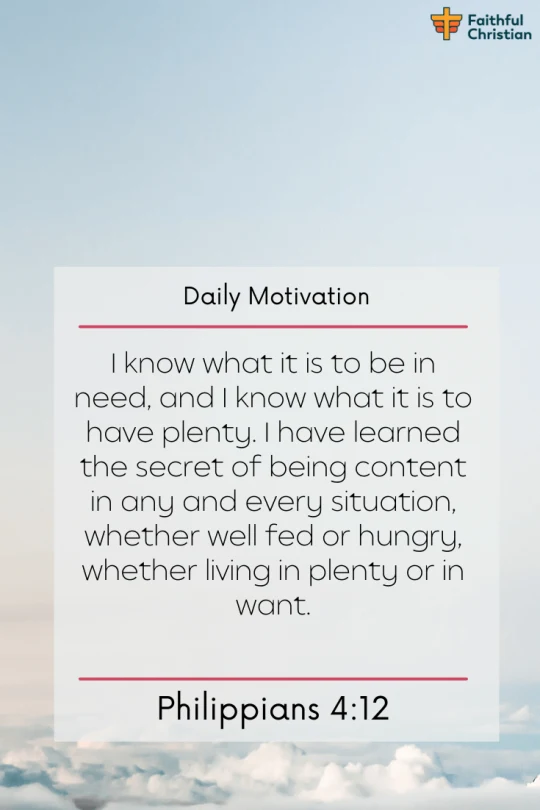 I know what it is to be in need, and I know what it is to have plenty. I have learned the secret of being content in any and every situation, whether well fed or hungry, whether living in plenty or in want.
1 Timothy 6:6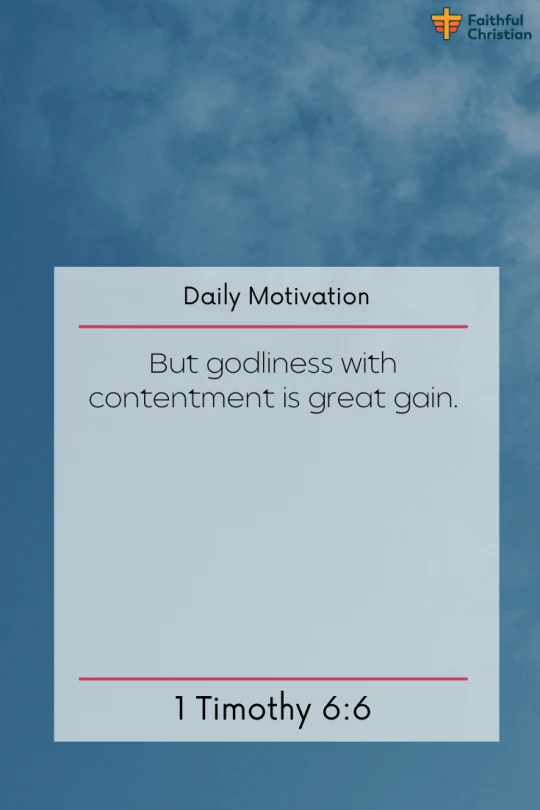 But godliness with contentment is great gain.
1 Timothy 6: 8-9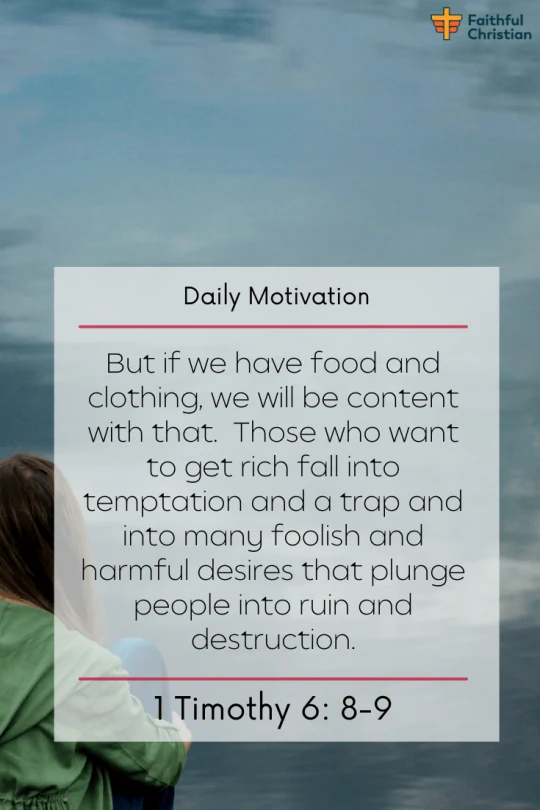 But if we have food and clothing, we will be content with that. 9 Those who want to get rich fall into temptation and a trap and into many foolish and harmful desires that plunge people into ruin and destruction.
Prayer For contentment with Who you are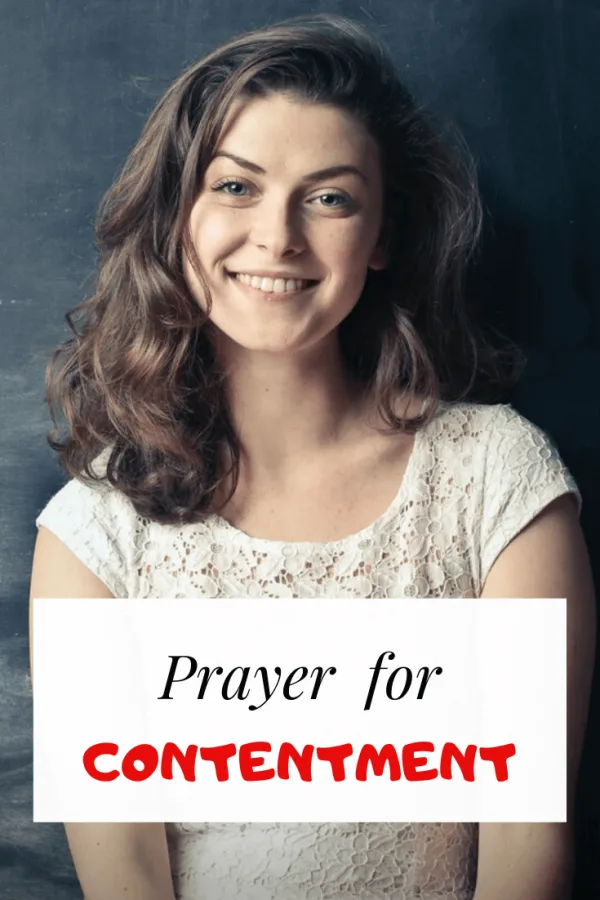 Godliness with contentment is a great gain (let us pray)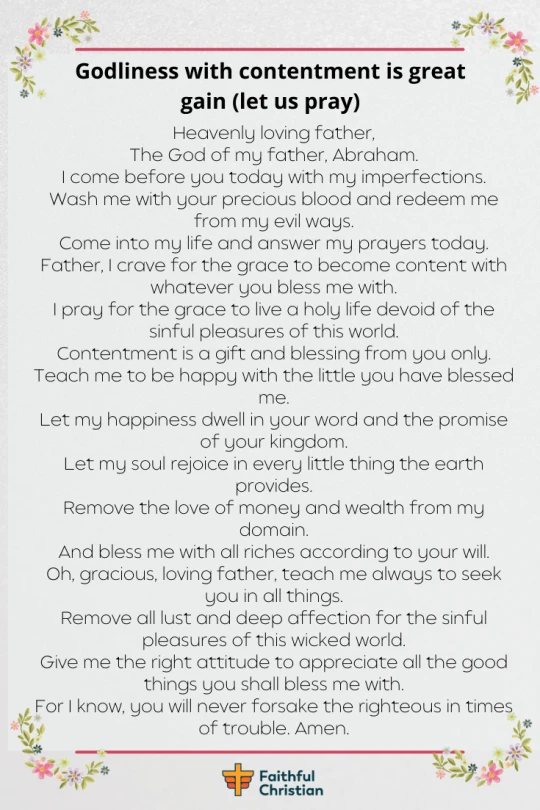 My loving Father in heaven, you're the same God who guided my forefather, Abraham.
Today, I'm before you. I know I'm not perfect. I'm aware of my mistakes, my frailties. I take solace in your words from Proverbs 15:29. You keep your distance from the wicked, but you're close to the righteous. You hear their prayers.
In my imperfection, I'm seeking you. I'm at the foot of your throne, asking for forgiveness. I need your cleansing, Father. With the power of your sacred blood, as mentioned in 1 John 1:7, I ask you to wash away my sins. I long to be free from the chains of wickedness.
Open my life to your divine presence, Father. I'm confident that you'll hear my prayers, as Psalm 102:17 reassures us. I trust you to answer according to your perfect wisdom and love.
Your blessings, Father, I crave them. I want to be content with whatever you give me. Worldly pleasures? I want to turn away from them. Your words in Titus 2:12 remind me to reject ungodliness. I yearn to live a controlled, upright life, Father.
Contentment. It's a precious gift from you. Teach me to find joy, Lord, in every little thing you bless me with. Psalm 37:4 tells me to find my joy in you. You'll give me my heart's desires.
The love of money. It's a trap. Ecclesiastes 5:10 warns about its deceitful nature. It's never enough. It doesn't satisfy. I seek your help, Lord, to rise above this. I want to appreciate every single blessing.
Remove from me the desire for wealth. Fill me instead with your bountiful blessings, according to your divine will. Philippians 4:19 assures me you'll meet all my needs. I trust in that promise.
Oh, Father, help me to seek you first, always. Matthew 6:33 reminds me to prioritize your kingdom. To prioritize righteousness. All else will follow. Cleanse me from lust and sinful desires. Let me live pure in this world.
Help me appreciate your gifts. Teach me to see your hand in every good thing. When troubles come, I know you won't abandon me. Psalm 34:17 promises your deliverance. I hold onto that promise, Lord.
In conclusion, Father, I'm before you. I'm crying out to you, confident that you hear me. That you'll respond. I trust in your goodness, your righteousness. You're the author of all good things.
Amen.
Set your affections on the things above (let us pray)
Dearest Jesus, in humility I approach your radiant throne of mercy. I yearn for the light of your wisdom to shine on me. I seek a deep understanding of true contentment. Show me, O Lord, the beauty of being satisfied.
Teach me to value the richness of what I have, where I am, and who I am. Let me recognize each blessing as a precious gift from you, reflecting the wisdom of Proverbs 3:5-6.
Our world, Lord, is a sea of shimmering temptations. Pleasures of the flesh and eye can easily distract and weaken us. I need your strength to keep my desires anchored in the eternal. Your counsel in 1 John 2:15-17 is my guiding light. It steers my heart away from worldly love.
Greed, Lord, is a potent snare. It threatens to bind us in chains of dissatisfaction and want. I pray for your divine intervention. Break these chains that I may freely serve you. I seek to emulate Matthew 6:24, where service to God and money is portrayed as impossible to achieve simultaneously.
I strive, Lord, to seek your kingdom in every facet of my life. In my choices and thoughts, let your righteousness be my guiding star. This aligns with your teaching in Matthew 6:33. Your promise is clear – seek your kingdom first, and all else will follow.
Lord, unlock the door to my heart. Let it revel in the splendor of your commandments. The joy of your teachings should surpass all earthly pleasures. Psalm 119:97 reverberates within me, expressing the psalmist's deep love for your law.
God, your grace is our daily bread. I pray for your divine provision to sustain me. Keep me safe from financial temptations that might rattle my faith. My trust rests in your perfect plan, reminiscent of the promise in Philippians 4:19.
Bless my endeavors, Lord. Let me prosper in a manner that pleases you, not the world. Each action I take should honor you and bring blessings to others. This is in sync with Colossians 3:23-24, urging us to work heartily for the Lord.
Your word, Lord, is a celestial compass. It points our affections towards the heavens and away from the earth. I seek your grace to keep my thoughts and desires heaven-bound, reflecting the essence of Colossians 3:2.
Lord, let your laws be the melody that my heart dances to. They are not burdensome but pathways to true freedom. Inspire within me an unwavering obedience, echoing 1 John 5:3's revelation of your commandments.
I thank you, Jesus. Your ears are always tuned to our prayers. The certainty of your promises brings joy to my heart. I am reminded of 1 John 5:14-15, assuring that our prayers aligning with your will are always heard.
Amen.
Flee from whatever may entice you (let us pray)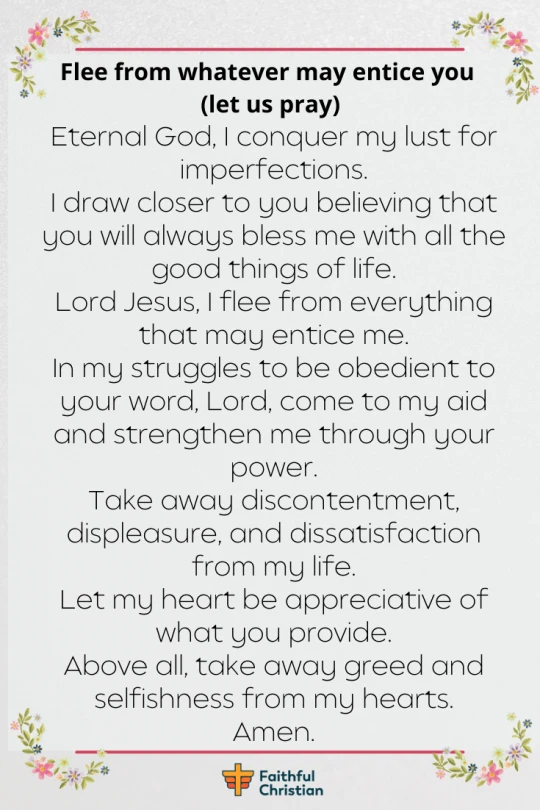 God, timeless and powerful, I'm reaching out to you. I need your help to conquer my longing for imperfections. The world is full of glittering distractions. Yet, nothing compares to your divine beauty. Apostle Paul felt the same. He realized the pursuit of earthly things was trivial compared to the joy of knowing you.
My heart is humble. I yearn to be closer to you. I trust in your unlimited love, ready to bless me with life's greatest gifts. As stated in the Book of James, "Draw near to God, and He'll draw near to you." I cherish this promise. It gives me the courage to step forward, knowing you'll step with me.
Jesus, I resist temptations. The world's allure can be captivating, but I'm not falling for it. I trust in your word. I rely on your promise to guide and protect me. No temptation is too great to overcome. 1 Corinthians reassures me that I have the strength, and you provide the exit plan.
My journey to obey your commandments is challenging. I seek your aid, Lord. Be my strength. Solidify my resolve. In Ephesians, we're advised to draw strength from you. Putting on your armor, I can withstand any storm. It's a lifeline that keeps me connected to you, especially during times of doubt.
Bring peace to my heart. Replace my discontentment and dissatisfaction with contentment and acceptance. In Philippians, Apostle Paul found joy in all circumstances. He relied on your strength. I yearn for the same spirit of contentment, recognizing every small or big blessing as a gift from you.
Teach me to appreciate your gifts, Lord. Encourage me to cherish them as signs of your enduring love. "Give thanks in all circumstances," we're urged in Thessalonians. This call to gratitude compels me to value your blessings, irrespective of their size or shape.
Selfishness and greed have no place in my heart, Lord. I want to value others over personal gains. As Proverbs teaches, "He who trusts in the Lord will prosper." It's a gentle reminder that wealth isn't in material things. True prosperity lies in your divine love.
Finally, Lord, I trust you with my life. The Psalmist encourages, "Commit your way to the Lord." This journey called life can be puzzling. Yet, knowing you're with me brings comfort. My faith in you lights up my path, leading me towards righteousness and eternal peace. Gratitude fills my heart as I offer this prayer. Amen.
Let us pray for God's blessings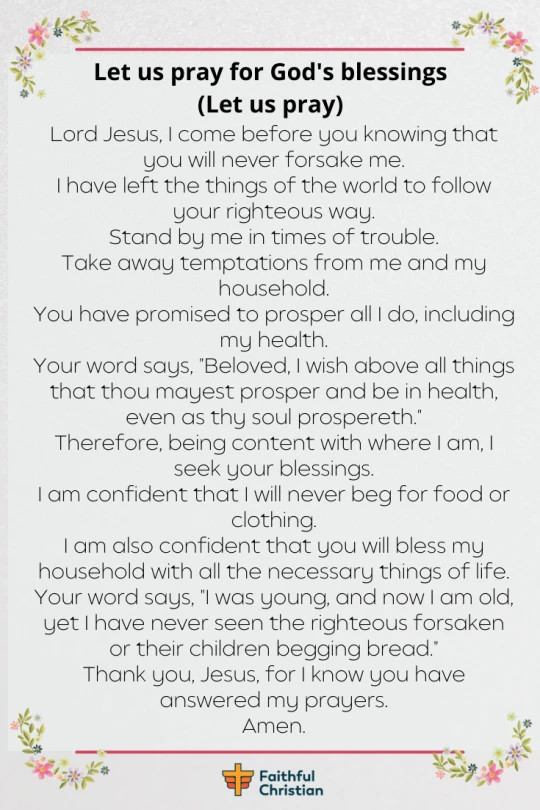 Lord Jesus, I approach you with a humble heart. Your unwavering presence wraps around me like a warm blanket. Just as the Bible reassures in Deuteronomy 31:6, you're always there. You'll never abandon us. Your love is our rock.
I'm saying goodbye to worldly distractions. With your teachings as my compass, I'm committed to your righteous path. Romans 12:2 echoes in my mind. It tells us to renew our minds, not to conform to worldly patterns. I'm all in, ready to understand your good, pleasing, and perfect will.
Times of trouble? Yes, they are inevitable. But you, my Lord, are my ever-present fortress. Psalm 46:1 paints a comforting image. It says you're our refuge, our strength, our help in trouble. I lean into this promise, praying for your strength during life's storms.
Temptations threaten to pull us away. But you, Lord, are our shield. Your promise, highlighted in 1 Corinthians 10:13, is our guiding star. It assures us that you won't let us be tempted beyond our ability. Plus, you provide a way out. An escape route. We're not alone in this battle.
Health is a blessing, a divine promise from you. Your word in 3 John 1:2 gives us a ray of hope. It wishes us good health and prosperity, as our souls prosper. This promise is a soothing balm, a token of hope and gratitude.
I find peace in my current state, inspired by your teachings to the Philippians. Contentment isn't situational; it's a state of mind. So, I seek your blessings, confident in your provision. I'm at peace, knowing you meet all my needs.
Food. Clothing. The essentials. Your words in Matthew 6:26-30 assure me of your care. The birds, the flowers, they don't sow or reap. Yet, you provide for them. How much more valuable we are to you! So, we need not worry.
Psalm 37:25 shines light on your divine assurance. It confirms the righteous and their offspring won't be forsaken. They won't be left begging for bread. This promise strengthens my faith. It fills me with peace and trust in your providence.
Finally, I offer you my gratitude, Jesus. 1 John 5:14 echoes in my heart. If we ask anything according to your will, you hear us. So, I trust you've heard my prayers. Amen.
Frequently Asked Questions
What is a prayer for contentment and peace?
Seeking contentment and peace often involves prayer.
One might say: "Heavenly Father, instill within me a heart that's content. Help me find serenity amidst chaos, trusting in your abundant provision. In moments of worry, let your promises be my solace. Amen." This aligns with Philippians 4:6-7, which encourages us to replace anxiety with prayer, requesting from God and thanking Him.
What is a prayer for happiness and contentment?
In seeking happiness, contentment is crucial.
A heartfelt prayer could be: "Lord, help me appreciate life's everyday blessings, fostering a heart that's content. May I find joy in your eternal love and daily grace. Teach me to be satisfied in all circumstances, with joy springing from You. Amen." This prayer, inspired by 1 Timothy 6:6, reminds us that godliness paired with contentment is great gain.
What is a prayer for contentment?
Contentment is highly valued. A prayer embodying this principle may be: "O Lord, grant me contentment after your word, a life in harmony with your guidance, satisfaction from your blessings, and peace from your command. Amen."
What is the prayer of contentment according to C.S. Lewis?
C.S. Lewis emphasized contentment and acceptance of God's will.
A prayer reflecting his philosophy could be: "Lord, empower me to accept graciously what cannot be changed, to discern my desires from your will, and to discover contentment in your divine plan. Amen."
Though not directly quoted from C.S. Lewis, it reflects his philosophical perspectives expressed in works like 'Mere Christianity.'
Which scripture provides guidance on contentment?
Philippians 4:11-13 provides guidance on contentment, centering on understanding and accepting all life situations.
Paul's discourse in these verses depicts his journey towards contentment, learning to find satisfaction in Christ, irrespective of circumstances.
What verses in Proverbs talk about contentment?
Proverbs 15:16 promotes contentment over material wealth, stating, "Better is a little with the fear of the LORD than great treasure and trouble therewith."
This verse emphasizes contentment when one harbors reverence for the Lord.
What verses from Paul talk about contentment?
Paul's reflections on contentment are evident in Philippians 4:11-12: "I have learned the secret of being content in any and every situation." His journey towards contentment spanned from times of plenty to periods of lack.
What is the Bible prayer for contentment?
While the Bible doesn't outline a specific "prayer for contentment," it guides believers to frame their prayers.
For instance, a prayer could be: "Lord, I appreciate Your provision. Teach me to be content, whether in abundance or want, knowing my strength lies in You. Amen."
Inspired by Philippians 4:11-13, this prayer promotes contentment in Christ.
What does the Bible say about being content in who you are?
Contentment in self springs from recognizing our uniqueness as God's creation. As Psalm 139:14 expresses, "I praise you, for I am fearfully and wonderfully made."
This verse prompts believers to celebrate their unique creation, fostering self-contentment.
What is the prayer for peace and contentment?
The pursuit of peace and contentment can be expressed through prayer: "Father, may Your peace fill my heart. Let me find contentment in Your love, trusting in Your divine plan. Amen."
John 14:27 echoes this sentiment, imparting Christ's peace and dismissing fear.
What is the secret to contentment?
The secret to contentment lies in finding satisfaction in God's will rather than in worldly possessions. As expressed in Philippians 4:12-13, contentment can be achieved in any situation through the strength Christ provides.
Which proverbs teach contentment with what you have?
The concept of contentment springs from recognizing the value of what we have. Proverbs 30:8-9 encourages satisfaction with basic necessities, cautioning against the potential pitfalls of both wealth and poverty.
How do you find contentment in the Lord?
Contentment in the Lord arises from acknowledging His sovereignty, trusting in His love, and finding solace in His promises.
As depicted in Philippians 4:12-13, contentment can be found in any situation by relying on the strength Christ provides.
---
Recommended for you
---
Author: Akatakpo Dunn
Dr. Akatakpo Dunn is a dedicated follower of Christ, an active member and speaker, and an ongoing learner of the Scriptures. Passionate about his faith and serving others, he is committed to sharing his spiritual journey and insights to inspire and uplift fellow believers. He has been active in the church for more than 23 years. Through The
Faithful Christian Blog
,
Dr. Dunn
combines his love for God, philanthropy, and Scripture, providing a valuable resource for those seeking to grow in their faith.
Follow me: on Youtube, Facebook, Twitter, Instagram, and Pinterest.
Content Disclosure:
At The Faithful Christian Blog, I create authentic and inspiring content. Although I am the main author, I occasionally use AI for minor language enhancements. This minimal AI usage ensures high-quality, trustworthy articles without compromising originality or sincerity, ultimately supporting our shared faith journey.
Warmly,
Dr. Akatakpo Dunn
Was this article helpful?