Facing challenges selling your home? You're not alone.
Many homeowners find it difficult to navigate the property market.
But a powerful prayer to sell a house, infused with Bible verses, can create a remarkable impact.
In this article, we'll unveil an inspiring prayer rooted in God's word, guiding you through this pivotal life event.
By embracing scripture and connecting with the Lord, you'll experience divine favor, wisdom, and protection throughout the journey.
So, are you eager to discover the benefits of this potent prayer to sell your home?
Let's begin with the verse, "I will have mercy on whom I have mercy" (Exodus 33:19).
Trusting in God paves the way to the right buyer, offering the support you need during this crucial period.
Short prayers to sell your house or Landed property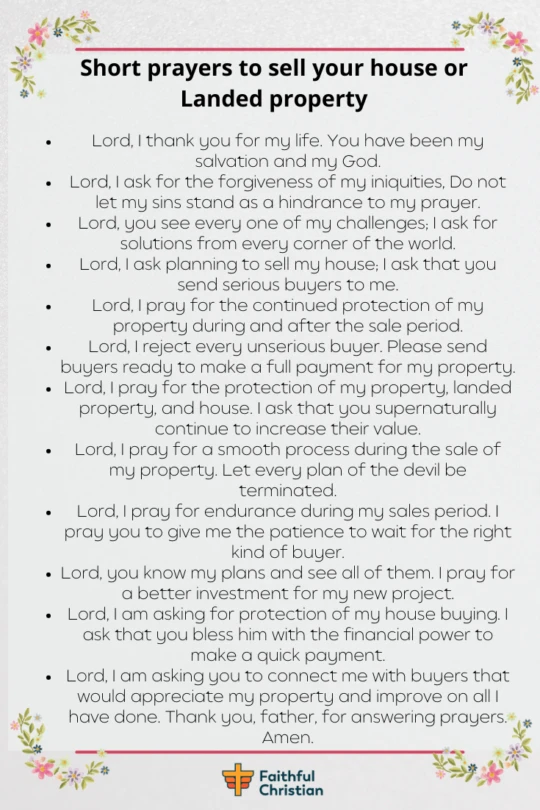 Bible verses to sell a house or landed property
Proverbs 31:16-18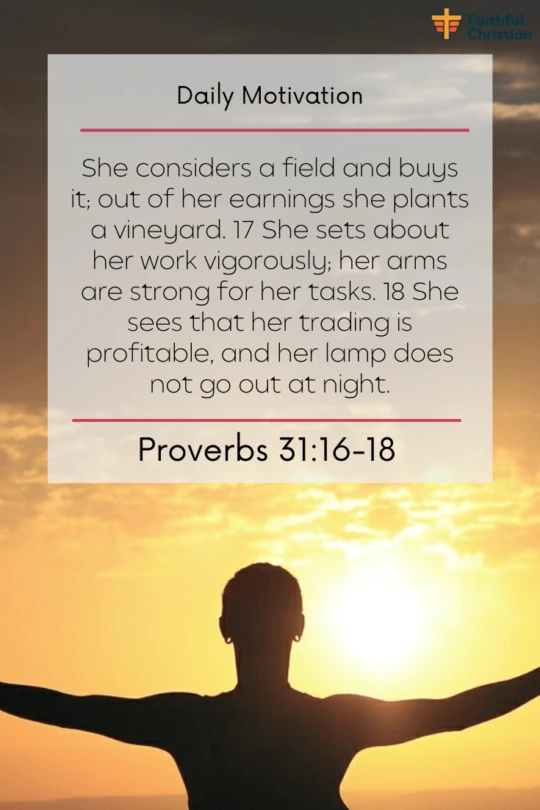 She considers a field and buys it;out of her earnings she plants a vineyard. 17 She sets about her work vigorously;her arms are strong for her tasks. 18 She sees that her trading is profitable,and her lamp does not go out at night.
Prayer to sell your house fast with Proverbs 31:16-18
Heavenly Father, we turn to you, seeking guidance and blessings in our quest to sell our house or property.
Inspired by Proverbs 31:16-18, we ask for wisdom and discernment in navigating the market, emulating the strength and determination shown by the Proverbs 31 woman.
Lord, help us recognize our property's value and trust its profitability. Send the right buyer our way, someone who appreciates its potential and is ready to make it their own.
Grant us patience and confidence while waiting for the perfect match, knowing your timing is always divine.
May your light shine upon us, guiding our path to a successful sale. We trust in your guidance and provision, giving you all the glory and praise for your abundant blessings.
In Jesus' name, we pray. Amen.
Joshua 1:9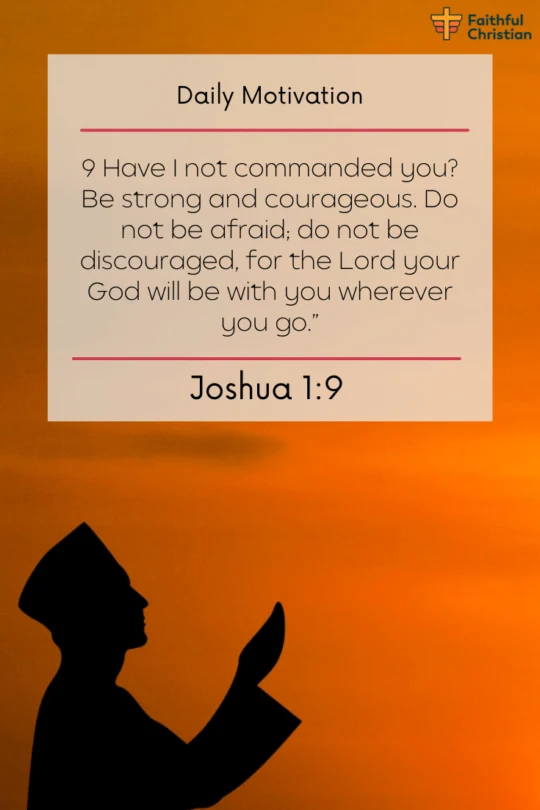 9 Have I not commanded you? Be strong and courageous. Do not be afraid; do not be discouraged, for the Lord your God will be with you wherever you go."
Prayer to sell your home with Joshua 1:9
Heavenly Father, we turn to you today as we strive to sell our house or landed property. We're grateful for your countless blessings and trust in your promises.
Drawing strength from Joshua 1:9, we know you're with us at every stage of this journey, filling us with hope and courage.
We ask you to send the perfect buyers our way, those who appreciate the value of our property. May they find peace and joy upon seeing our home or land, recognizing it as the ideal place for them.
Lord, guide and grant us wisdom throughout the sale process, ensuring fairness and alignment with your will. Let your divine favor help us sell our property swiftly and at a fair price.
We thank you, Father, for your unwavering support and guidance. In Jesus' name, we pray. Amen.
Prayer to sell a house or landed property.
Whatever you lay your hand on is blessed.
As you approach a pivotal decision in your life, remember the comforting words from Joshua 1:9. Trust in God's presence and guidance during times of change, as He will be with you wherever you go.
This faith is essential for navigating life's challenges.
God's promise in Deuteronomy 28:8, "The Lord will send a blessing on… everything you put your hand to," serves as an assurance that He will bless our endeavors with His divine grace and favor.
Trusting in this promise can help you remain focused and optimistic as you navigate challenges.
In the face of various obstacles, such as temptations or uncommitted buyers, take solace in Jeremiah 29:11: "For I know the plans I have for you… plans to give you hope and a future."
This passage encourages us to have faith that God has a grand plan for us, even in the midst of difficulties.
When selling your house or any property, it's crucial to seek God's guidance. Proverbs 3:5-6 implores us to "Trust in the Lord with all your heart… and he will make your paths straight."
By relying on His wisdom, you open yourself up to divine assistance and a smoother process.
Rely on Jesus' words in Matthew 7:7-8, trusting that God will connect you with the perfect buyer who will appreciate and value your property. Confidence in divine guidance will help ensure a favorable outcome.
With the knowledge that your hands and property are blessed, you can trust in a swift and favorable sale. Psalm 90:17 states, "May the favor of the Lord… establish the work of our hands."
Embrace His divine plan, and experience the blessings that unfold when you put your faith in the Lord.
Let us pray for you to sell your home.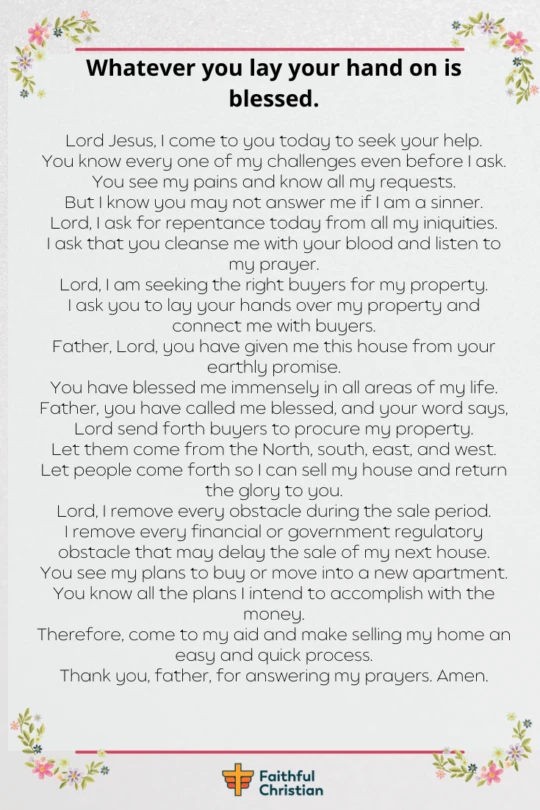 Lord Jesus, I approach you today, seeking help in my time of need. Your understanding of my struggles and desires runs deep, as Hebrews 4:16 reminds us to approach your throne of grace with confidence.
Aware that my sins may hinder my prayers, I ask for forgiveness and repentance. 1 John 1:9 offers reassurance that you will purify us when we confess our sins.
In search of the perfect buyer for my property, I rely on your guidance. Proverbs 3:5-6 encourages us to trust in you wholeheartedly, knowing you'll direct our paths.
Heavenly Father, you've provided this home as a testament to your blessings. Deuteronomy 30:9 declares me blessed, and I stand before you as a cherished child of God.
With unwavering faith, I believe you will answer my prayers. As Jesus promised in John 14:13-14, you will act in response to our requests made in his name.
Please send eager buyers from all corners of the earth, as Isaiah 43:5-6 tells us not to fear, for you will gather your children from all directions.
I seek a smooth transaction and the removal of any obstacles during the sale. Romans 8:31 reminds us that if God is for us, who can stand against us?
Knowing my intentions to buy or move, I ask for your assistance in ensuring a swift and easy process. Philippians 4:6-7 teaches us to make our requests known to you, and your peace will guard our hearts and minds.
Thank you for answering my prayers. Amen.
God will command blessings on you and the next buyer.
No obstacle is too immense for God, for He is the almighty architect of the universe. With faith, we can overcome even the most significant challenges in life.
Our prayers have the power to bring about transformative change, even when situations appear bleak. When we pour our hearts out to God and trust Him, His divine peace will envelop us, surpassing all human understanding.
It's crucial to recognize and appreciate the countless blessings God has graciously showered upon us. As His cherished children, He delights in fulfilling our deepest desires when we turn to Him.
Let us pray for the future homeowners of your house, that they may find a haven of peace and joy within its walls. A home built on wisdom and understanding is filled with precious treasures and happiness.
Your dwelling has been a sanctuary of serenity, love, and treasured memories, all thanks to the divine touch of God's hand. As we trust in His guidance, He ensures that our efforts to build a home are never in vain.
We fervently pray that the new residents experience an even greater measure of God's abundant blessings. May the Lord's favor be upon them, and His graciousness fill their lives with peace and contentment.
A swift and smooth sale of your property is essential, and we can trust that the Lord will make it happen at the right time. As we entrust the sales process to Him, He guides our steps and leads us to success.
During the home-selling journey, new information and preferences often emerge from potential buyers. We pray that your future homebuyer embraces these details, paving the way for a quick and satisfying transaction.
When we plan our course with God, He establishes our steps and brings our goals to fruition.
Prayer for selling a home fast- Let us pray.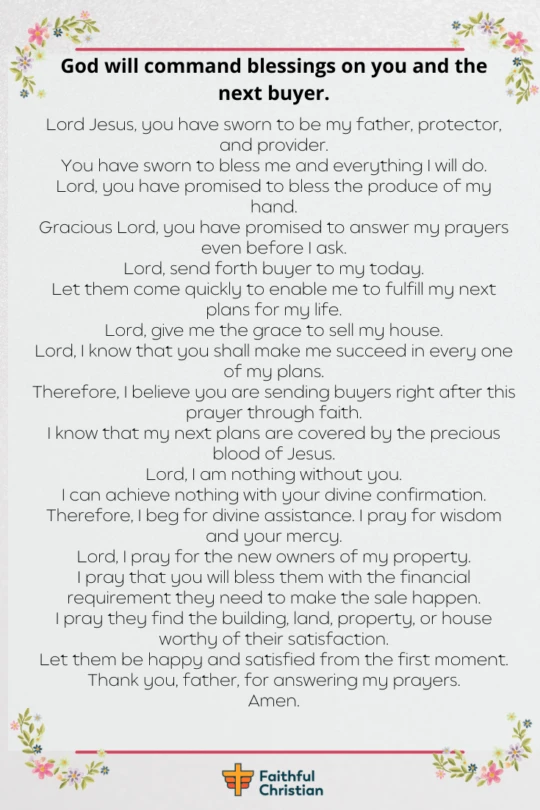 O Lord Jesus, my Everlasting Father and Prince of Peace (Isaiah 9:6), you have vowed to prosper me and give me a hope-filled future (Jeremiah 29:11).
You have committed to bless the work of my hands (Deuteronomy 28:12) and to hear my prayers before I even speak them (Isaiah 65:24).
Lord, I humbly request your favor and blessings in my pursuit to sell my home. Guide me as I move forward with my aspirations in life.
Grant me the grace to achieve this goal, knowing that you will meet all my needs according to the riches of your glory in Christ Jesus.
In your divine words, you promise abundance and prosperity (Deuteronomy 15:6). I trust in your ability to exceed my expectations and free me from debt (Proverbs 22:7).
I understand that you have made me a leader and not a follower (Deuteronomy 28:13). Lord, I trust in your guidance, as I pursue my heart's desires (Psalm 37:4).
With unwavering faith, I believe that you are sending potential buyers my way, knowing that when I pray and believe, it will be mine (Mark 11:24).
I am certain that my upcoming plans are safeguarded by the sacred blood of Jesus. Lord, as I place my trust in you and your promises. I know that your divine wisdom and mercy will guide me.
I ask for your blessings upon the future owners of my property, providing them with the necessary resources to complete the transaction (2 Corinthians 9:8).
May they find joy and contentment in their new home, as they experience the fullness of your love and provision (Romans 15:13). Thank you for answering my heartfelt prayers (1 John 5:14-15).
Amen.
Favor is all it takes.
God's favor is key to our success in all aspects of life. Psalm 90:17 emphasizes this, saying, "May the favor of the Lord… establish the work of our hands." It's clear we need His support to thrive.
Right now, you need God's favor to find the perfect buyers for your property. Proverbs 3:4-6 teaches us to trust in the Lord wholeheartedly. In doing so, He will direct our path, leading us to the right buyer.
Maximizing your property's potential demands God's favor. Psalm 5:12 assures us that the Lord blesses the righteous. He surrounds them with His favor, protecting their interests for the best outcome.
Waiting for the ideal buyer requires patience, and God's favor helps us persevere. Isaiah 40:31 shows that those who hope in the Lord will renew their strength. They won't grow weary or faint, even during trying times.
It's crucial to seek God's guidance for direction. Proverbs 16:9 explains that the Lord establishes our steps when we align our plans with His will.
In today's unpredictable financial markets, anxiety may arise due to government policies or fluctuating interest rates. Philippians 4:6-7 encourages us not to worry.
Instead, present your requests to God and find peace that transcends understanding.
By trusting in God, we see events unfold according to His divine plan. We may be astonished by what we achieve through His favor.
Ephesians 2:8-9 reminds us that our accomplishments come from God's grace, not our own efforts.
So, let's pray for God's favor to guide you in finding the best buyer for your property. James 4:2 highlights the importance of asking God for help.
Through prayer, we open ourselves to the blessings and guidance that only He can offer.
Let us pray for the quick sale of your landed property or house.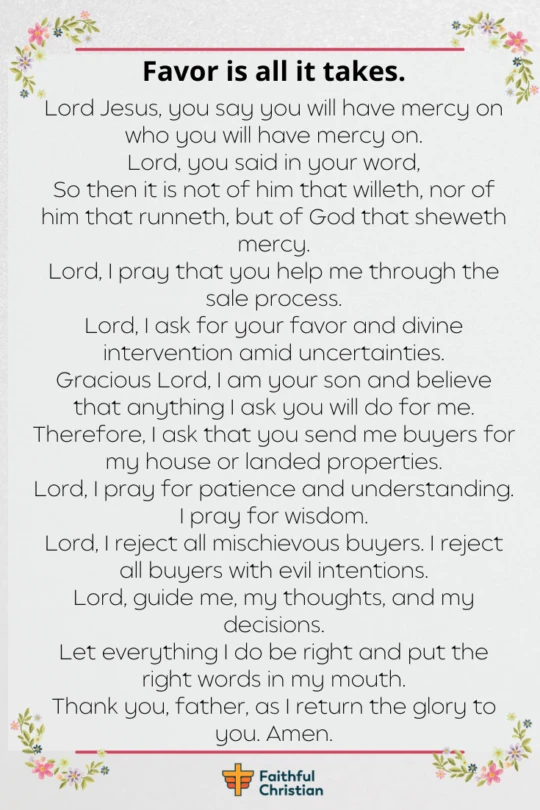 Lord Jesus, your teachings remind us that mercy is your choice, as Exodus 33:19 states, "I will have mercy on whom I have mercy."
Your divine words in Romans 9:16 emphasize that it's your mercy, not our actions, that shape our success.
Heavenly Father, I ask for your guidance during the property sale process. Proverbs 3:5-6 encourages us to trust in you, promising that you will make our paths straight.
Facing uncertainties, I seek your favor and divine intervention. Psalm 5:12 assures us that you bless the righteous and protect them with your favor.
Gracious Lord, as your child, I trust you will answer my requests. Matthew 7:7 teaches us to ask, seek, and knock for your help.
I humbly request that you send the right buyers for my property, fulfilling your promise in Philippians 4:19 to meet all our needs.
During this journey, I pray for patience, understanding, and wisdom. James 1:5 tells us that you generously give wisdom to those who ask.
I ask for your protection from deceitful buyers. 2 Thessalonians 3:3 promises that you will protect us from evil.
Guide my thoughts and actions to align with your will. Proverbs 16:3 says that if we commit our work to you, our plans will be established.
Grant me the right words and discernment. Ephesians 6:19-20 urges us to pray for the courage to share the gospel fearlessly.
Thank you, Father, for your unwavering support. Psalm 115:1 declares that we give all glory and praise to your name. Amen.
Frequently Asked Questions
What is the powerful prayer for selling a house?
The powerful prayer for selling a house is a sincere appeal to God, seeking His guidance, favor, and wisdom during the property sale.
Drawing strength from the Lord and His word, this prayer aims to attract the right buyer and facilitate a smooth transaction.
Proverbs 3:5-6 reminds us, "Trust in the Lord with all your heart… He will make your paths straight," emphasizing the importance of relying on God's guidance for successful outcomes.
What is the prayer before an auction?
Before an auction, a prayer for divine assistance, wisdom, and peace can help one navigate the bidding process.
By asking God for help in decision-making and staying calm under pressure, a favorable outcome can be achieved.
Philippians 4:6-7 encourages us, "Do not be anxious about anything… the peace of God… will guard your hearts and your minds in Christ Jesus."
This scripture reminds us that prayer can alleviate anxiety and offer God's peace to guide and protect us.
What is the short prayer for house blessing?
A short prayer for house blessing is an earnest request to God, inviting His protection, peace, and presence into the home.
This prayer seeks to welcome God's grace and love, creating an atmosphere of harmony and happiness.
Psalm 91:1 states, "Whoever dwells in the shelter of the Most High will rest in the shadow of the Almighty," highlighting the significance of dwelling in God's presence for comfort and security.
What does the Bible say about buyers and sellers?
While the Bible doesn't specifically discuss real estate transactions, it offers guidance on honesty, fairness, and integrity in various aspects of life.
Proverbs 11:1, "The Lord detests dishonest scales, but accurate weights find favor with him," can be applied to buyers and sellers.
This verse underscores the value of honest and fair practices, ensuring that all parties are treated justly and with respect.
Author: Akatakpo Dunn
Dr. Akatakpo Dunn is a dedicated follower of Christ, an active member and speaker, and an ongoing learner of the Scriptures. Passionate about his faith and serving others, he is committed to sharing his spiritual journey and insights to inspire and uplift fellow believers. He has been active in the church for more than 23 years. Through The
Faithful Christian Blog
,
Dr. Dunn
combines his love for God, philanthropy, and Scripture, providing a valuable resource for those seeking to grow in their faith.
Follow me: on Youtube, Facebook, Twitter, Instagram, and Pinterest.
Content Disclosure:
At The Faithful Christian Blog, I create authentic and inspiring content. Although I am the main author, I occasionally use AI for minor language enhancements. This minimal AI usage ensures high-quality, trustworthy articles without compromising originality or sincerity, ultimately supporting our shared faith journey.
Warmly,
Dr. Akatakpo Dunn
Was this article helpful?