As the day comes to an end, taking a moment to say a goodnight prayer for your boyfriend can have a profound impact on your relationship.
Prayer not only strengthens your spiritual bond but also serves as a meaningful way to express your love and support.
In this article, we will delve into the significance of goodnight prayers for your boyfriend, sharing heartfelt examples that will inspire you to nurture your connection through faith.
Discover how prayer can create a sense of security, foster gratitude, and help you both grow stronger in love.
Ready to enrich your relationship with the power of prayer?
1 Thessalonians 5:16-18 encourages us to "Rejoice always, pray continually, give thanks in all circumstances; for this is God's will for you in Christ Jesus."
Join us as we delve into this goodnight prayer for your boyfriend, empowering you to end each day with love, gratitude, and faith in your heart.
Short Goodnight prayer for my boyfriend.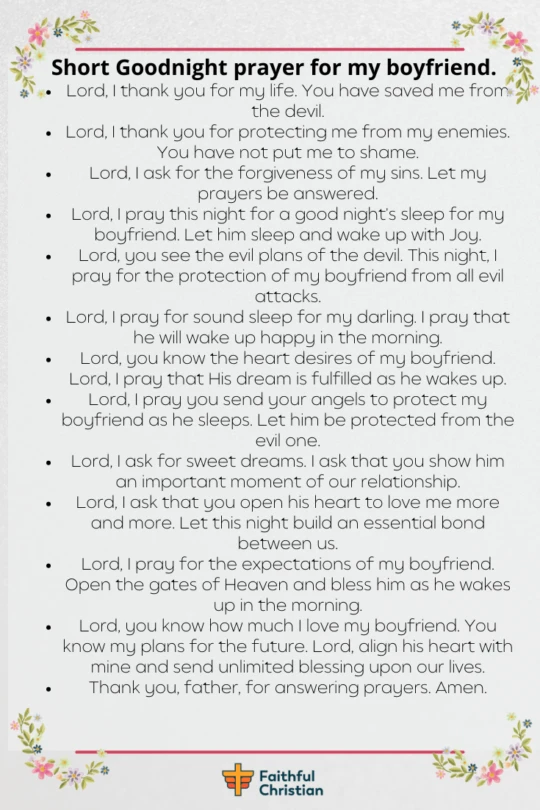 Almighty Creator, my gratitude knows no bounds for the precious gift of life and the protection you've bestowed upon me.
You have kept me safe from those who intend harm and have prevented my disgrace.
With humility, I seek your forgiveness and ask that you lend your ear to my prayers.
Tonight, I pray for a restful and joyful night's sleep for my boyfriend, that he may awaken with a heart full of happiness.
Please thwart any evil schemes aimed at him and keep him safe from all harm.
Grant my love a peaceful slumber, so he wakes up refreshed and in good spirits.
You know his deepest desires, and I pray that they may come to fruition as he arises.
Send your angels to watch over him while he sleeps, protecting him from darkness.
Bless him with sweet dreams, highlighting a cherished moment from our journey together.
Encourage his heart to grow fonder, strengthening the bond that connects us.
Please fulfill his aspirations, showering him with blessings from above as he greets a new day.
You know how much I love him and the dreams we share; align our hearts and bestow abundant blessings upon our future.
We express our deepest gratitude for your attentive ear, Lord, and for the answers to our heartfelt prayers. Amen.
Bible verses for bedtime prayers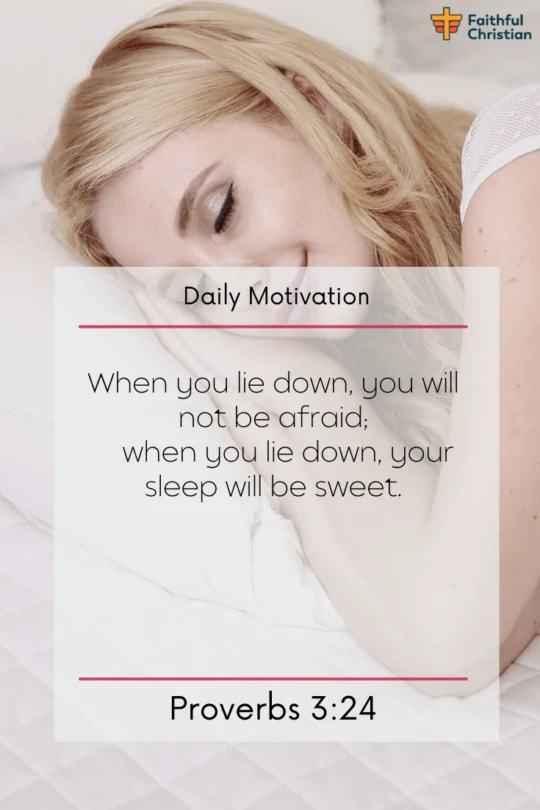 When you lie down, you will not be afraid; when you lie down, your sleep will be sweet.
Psalm 3:5 — Bedtime bible verse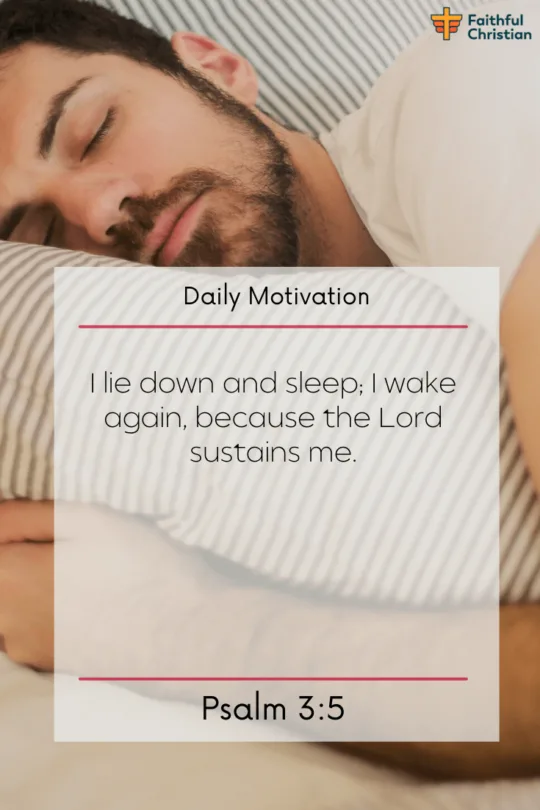 I lie down and sleep; I wake again, because the Lord sustains me.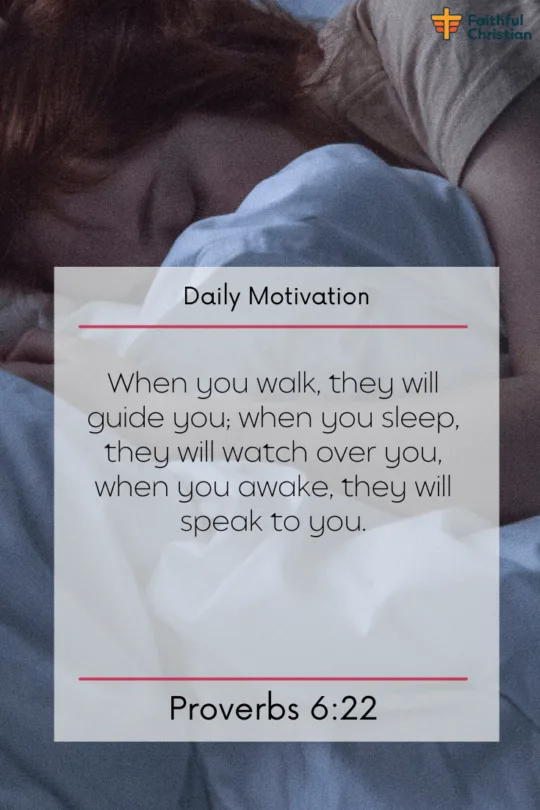 When you walk, they will guide you; when you sleep, they will watch over you, when you awake, they will speak to you.
Goodnight, prayer for your beloved.
Lord, please grant sweet sleep to your beloved
I'm delighted that you've turned to God to pray for your boyfriend, seeking to grant him a peaceful and sound sleep like never before.
Entrusting our concerns to the Lord means He takes them to heart and handles them with great care.
God is ready and able to shield your boyfriend from every sinister scheme the enemy might devise.
Have faith that your prayers will be heard and answered, ultimately leading to a wonderful love-filled night for both of you.
The darkness of night often harbors malevolence.
Evil forces roam from dwelling to dwelling, attempting to inflict suffering upon unsuspecting individuals.
However, through the divine power of God, your boyfriend will remain safe from the wicked intentions of his adversaries.
Upon waking, his thoughts will be filled with you and the love you share.
No harm will come his way tonight.
He will drift off to sleep and awaken in excellent health and high spirits.
So, as we prepare to pray this evening, let us ask the Almighty to dispatch His angels to watch over your boyfriend while he rests.
We beseech the divine to shield his thoughts and dreams, safeguarding his mind from any negativity.
And finally, we implore God to nurture the love between you both, allowing it to flourish and deepen with each passing day.
Always remember the significance of praying for your partner. These prayers can serve as a vital support system for him, particularly if he is not as prayerful as you.
Countless times, when I'm not around, my wife keeps praying for me . And the truth is, her prayers have consistently guided and enhanced my life in every aspect.
Today, we will lift up your boyfriend in prayer and ask that all his dreams become a reality.
Goodnight, prayer for your boyfriend- let us pray.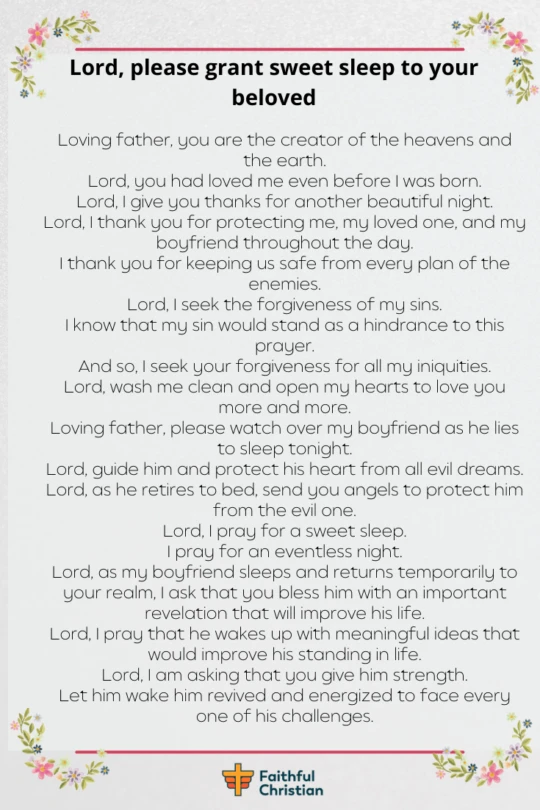 Heavenly Father, Creator of the heavens and earth, Your love has surrounded me even before my existence.
I offer my gratitude for this serene night and for the protection You've provided me, my loved ones, and my boyfriend throughout the day.
Thank You for shielding us from the schemes of our adversaries.
Lord, I seek Your forgiveness for my transgressions, as I understand they could obstruct the efficacy of my prayers.
I ask for Your mercy to cleanse my soul and open my heart to love You increasingly.
Loving Father, please watch over my boyfriend as he rests tonight, guiding his heart away from any harmful dreams.
As he lays down, dispatch Your angels to guard him from any malevolent forces.
I pray for a peaceful sleep and a night free from turmoil.
Lord, as my boyfriend drifts into slumber and temporarily returns to Your domain, bless him with a profound insight that will enrich his life.
May he awaken with inspiring thoughts that elevate his position in life.
I implore You to grant him strength, allowing him to rise refreshed and invigorated, ready to tackle all challenges before him.
Your scripture states, "When you lie down, you will not be afraid; when you lie down, your sleep will be sweet."
I trust in Your Word to manifest in the life of my beloved.
I pray that this night is not his final one and that he experiences an unparalleled, restful sleep tonight.
Thank You, Lord, for heeding my prayers.
Amen.
If the Lord does not watch over, those that watch, they watch in vain.
To guarantee divine protection for ourselves and loved ones, constant pursuit of God's guidance is essential.
God is always there, poised to offer comfort and protection during times of distress and uncertainty.
Placing our trust in His unwavering support allows us to believe that He will keep a watchful eye over both you and your boyfriend tonight.
Additionally, we must acknowledge that our own efforts alone are insufficient.
With God by our side, we can have confidence that our aspirations and desires for the night will be upheld and nurtured.
So, this night, we beseech God to extend His watchful care over your boyfriend.
Regardless of the challenges he may face, we ask for God's divine intervention and guidance to navigate through them.
The Scripture reminds us, "Unless the Lord builds the house, the builders labor in vain. Unless the Lord watches over the city, the guards stand watch in vain."
This verse underscores the vital significance of relying on God's protection and direction in every facet of our existence.
Let us pray for sound sleep for your boyfriend tonight.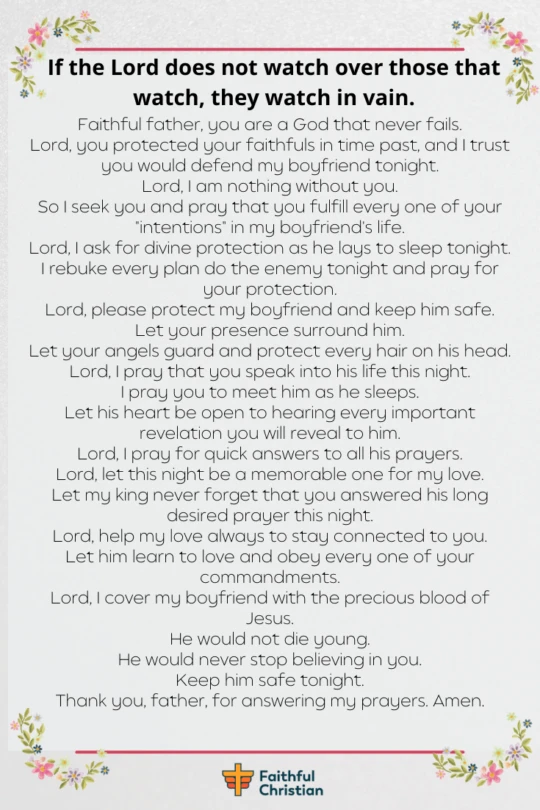 Everlasting Father, You are a God whose promises never fail.
Throughout history, You have protected Your faithful, and I trust that You will safeguard my boyfriend tonight as well.
Without You, Lord, I am incomplete.
So I come before You, asking that Your divine purpose is fulfilled in my boyfriend's life.
Heavenly Father, please grant him protection as he rests this evening.
I rebuke every evil scheme tonight, praying for Your sheltering embrace.
Lord, watch over my boyfriend, ensuring his safety and security.
May Your presence envelop him, and may Your angels stand guard, defending even the smallest details of his being.
I ask that You speak into his life tonight, Lord.
Encounter him during his slumber and open his heart to receive the profound truths You wish to impart.
I pray for swift responses to his prayers and supplications.
May this night become a cherished memory for my love, as he recalls how You granted his long-awaited prayer.
Help him stay connected to You always, Lord, learning to cherish and adhere to Your every command.
I cover my boyfriend with the redeeming blood of Jesus.
He will have a long and fruitful life and never lose confidence in You.
Protect him throughout this night, Lord.
Thank you for answering my prayers. Amen.
He shall give you rest roundabout.
While your boyfriend has surely enjoyed countless nights of rest before, tonight we wish to present a unique prayer, invoking God's divine intervention to inspire a transformative experience within his life.
Through our earnest appeals, we aspire to make this night exceptional, imbued with divine rest and the potential to positively impact his life. We will request that God blesses him with tranquil sleep and attentive consideration of his every prayer.
Our entreaties will also encompass his overall well-being, as we seek healing for any physical or emotional burdens he may carry. By doing so, we aim to offer comfort and support as he rests.
As daybreak arrives and a new day unfolds, our hope is that he awakens to a world brimming with joy and happiness. May our heartfelt prayers assist in resolving any lingering issues, enabling him to rise with renewed vigor and hopefulness.
Ultimately, our prayers for your boyfriend are intended to surround him with love and safeguard him, guiding him on a path towards a more gratifying and joyful existence.
Goodnight prayer for your boyfriend. Let us pray.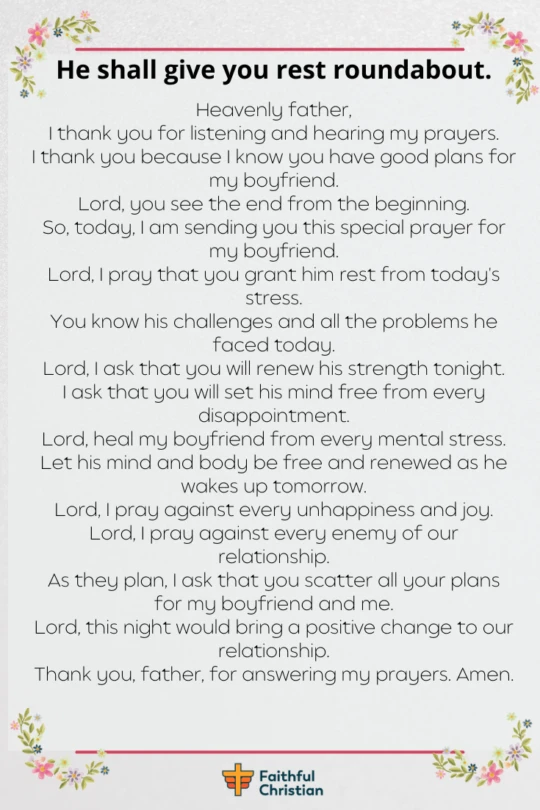 Heavenly Father,
I am deeply grateful for your ever-present ear, always ready to listen and hear my prayers.
I believe you genuinely care about my boyfriend's wellbeing.
You, O Lord, see the bigger picture, knowing the end from the very beginning.
With this in mind, I offer this heartfelt prayer for my boyfriend.
I ask that you bless him with rest, easing the burdens and stress he has faced today.
You are aware of his challenges and the obstacles he has encountered.
Please, Father, replenish his strength during the night and invigorate his spirit.
Allow him to release any disappointment and provide healing for his mental and emotional stress.
As he awakens tomorrow, may his mind and body feel refreshed and rejuvenated.
I pray against all sadness, despair, and anything that may steal our joy.
I stand against any adversaries seeking to undermine our relationship.
As they devise schemes against us, I ask that you dismantle their plans, keeping my boyfriend and me protected.
May this night usher in a positive transformation for our relationship, strengthening our bond.
Thank you for answering my prayers. Amen.
Author: Akatakpo Dunn
Dr. Akatakpo Dunn is a dedicated follower of Christ, an active member and speaker, and an ongoing learner of the Scriptures. Passionate about his faith and serving others, he is committed to sharing his spiritual journey and insights to inspire and uplift fellow believers. He has been active in the church for more than 23 years. Through The
Faithful Christian Blog
,
Dr. Dunn
combines his love for God, philanthropy, and Scripture, providing a valuable resource for those seeking to grow in their faith.
Follow me: on Youtube, Facebook, Twitter, Instagram, and Pinterest.
Content Disclosure:
At The Faithful Christian Blog, I create authentic and inspiring content. Although I am the main author, I occasionally use AI for minor language enhancements. This minimal AI usage ensures high-quality, trustworthy articles without compromising originality or sincerity, ultimately supporting our shared faith journey.
Warmly,
Dr. Akatakpo Dunn
Was this article helpful?