Is it a sin to make money?
Is there anything wrong with trying to make money to take care of your needs?
As Christians, we must understand that God wants us to be hardworking and make money.
Without money, it may be hard to promote the gospel.
Thankfully, there are many bible verses about making many.
These scriptures are a reminder that everything we do should be done moderately.
Contentment is vital; we should not steal from others while trying to make money.
We must be content and make money the right way.
There are many dubious ways to make money on earth.
People's greed and selfishness only engineer these ways of making money.
But we must not be carried away by the love of money.
Instead, we must make the right deals and be satisfied with God's blessing.
I have put together bible verses about making money.
Read and be blessed.
Bible verses about making money.
Proverbs 13:11.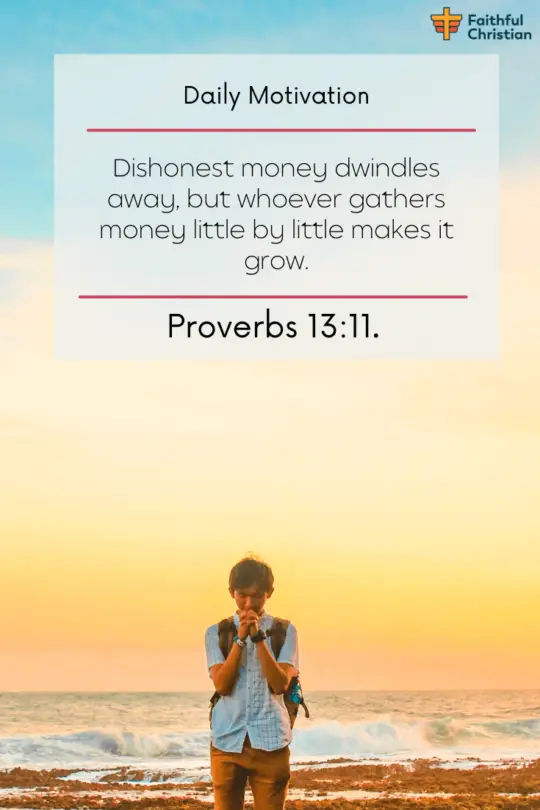 Dishonest money dwindles away,but whoever gathers money little by little makes it grow.
Should Christians work to make money?
Why should we bother to find money that doesn't guarantee salvation?
These are some common questions asked by Christians about money.
But the truth is, there is nothing wrong with Christians making money.
We all have our daily needs.
We need to eat, put on good clothes, wear good shoes and take care of our family.
We can not do this without money.
We can not solve our problems without making enough money to do so.
There is also nothing wrong with being rich.
God isn't against rich people, per see, but he is against not sacrificing our wealth for His kingdom's work.
This is why this bible verse about making money is essential.
We should not forget our main goal on earth.
Which is to serve God and love our neighbors as ourselves.
We should not be too concerned about how much money we have or how much we have made for the day.
We must set our minds on the things above.
God will never be happy if we become dubious and make money through evil ways.
Being desperate and making money illegally will not guarantee riches.
Such wealth will quickly vanish away with a quick return to poverty.
However, if we work hard and little by little increase our wealth, We will become wealthy in no time.
Don't make money in dubious ways; ask God to bless the works of your hands.
James 4:13.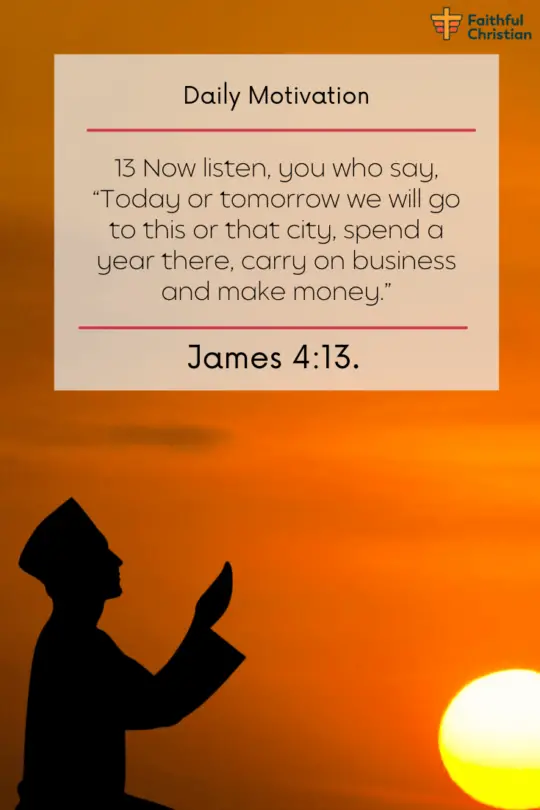 13 Now listen, you who say, "Today or tomorrow we will go to this or that city, spend a year there, carry on business and make money."
This is another crucial bible verse about making money.
There is nothing wrong with having a business of your own.
You can have a good business plan and make a profit for your sustenance.
God isn't interested in our suffering.
He blesses us with riches to overcome poverty.
Being a Christian doesn't mean you have to be poor.
It doesn't mean you have to suffer and beg around for your daily upkeep.
But God wants us to think of business ideas and implement them to make money.
This is exactly what this bible verse is teaching here.
We must remain hardworking and not lazy.
We must always have a plan in mind to succeed.
We must work hard and sell our goods and services to make enough profit.
And in all, we must never be greedy and get involved in criminal activities.
So, don't stay idle. Instead, keep working hard to make enough money for yourself and your family.
2 Thessalonians 3:10.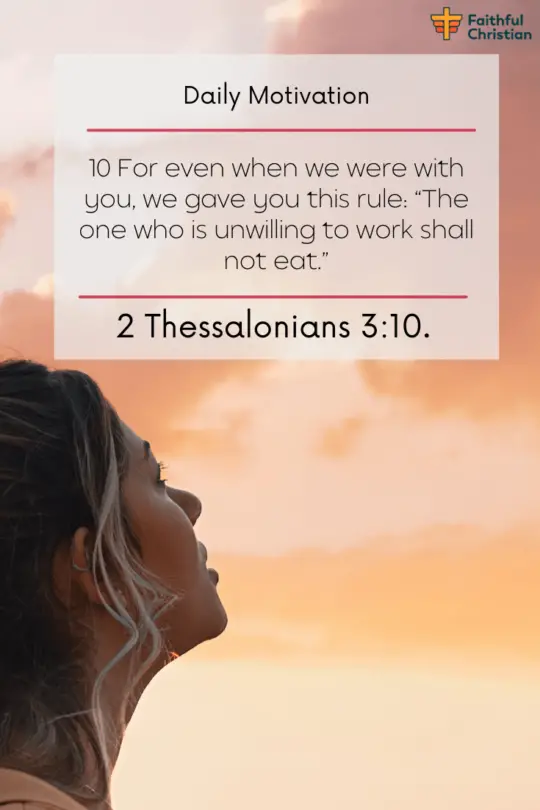 10 For even when we were with you, we gave you this rule: "The one who is unwilling to work shall not eat."
Take a look at this bible verse, and you will see how God hates lazy people.
He is not ready to accommodate people who are lazy without a plan for their future.
How can we serve God when we don't work hard?
How can we serve God faithfully when we have no money?
We need money to help the poor.
We need money to help spread the word of God.
So, staying idle and doing nothing will not help us.
We will only get poor and beg around for our daily bread.
God is never happy when we beg.
He is never happy when we have chosen the path of poverty.
This is why this bible verse encourages us to make money.
We need to work hard to earn enough money for ourselves.
We need to work hard to overcome poverty.
If you do not work hard, you will suffer and be poor.
God has no pleasure in lazy people.
So, think positive and set your mindset on healthy ways to make money.
If you put in the effort, God will bless the works of your hands and enlarge your coast.
Proverbs 27:1.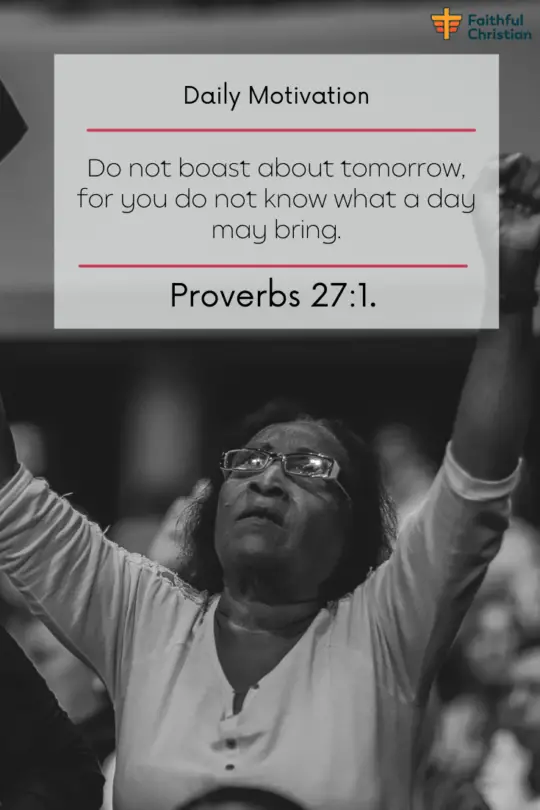 Do not boast about tomorrow,for you do not know what a day may bring.
Money always has a way of misleading people.
As you earn more and more money, it is natural that pride will set sin.
You may become boastful and arrogant.
You may easily forget that God is the owner of all your wealth.
This bible verse is crucial as we strive to make money.
We must never let riches get the best of us.
We must be humble and never look down on others struggling to make a living.
God is the owner of our wealth.
He is the only one who blesses man with riches and prosperity.
Without Him, you could never have been rich.
The Bible says, "A man can receive nothing, except it be given him from heaven."
If God had not approved, you would not have become so successful today.
So, don't let your wealth get into you.
And this is because no one knows tomorrow.
Only God knows the future, So don't boast but keep working hard.
Genesis 3:19.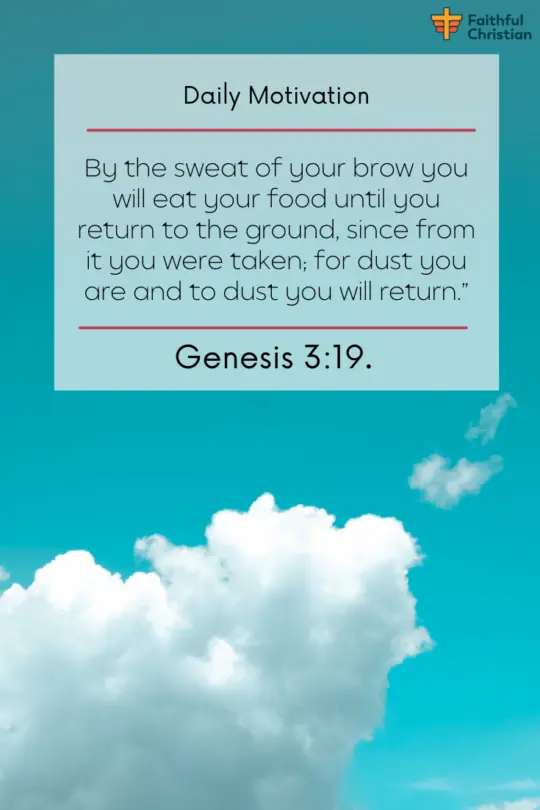 By the sweat of your browyou will eat your food until you return to the ground,since from it you were taken; for dust you areand to dust you will return."
The sins of our forefathers have left us with a curse.
And being a Christian will not exempt us from the consequences of sin.
God has said we must work to eat.
And not just work for a few months or years; we must work to eat until we die.
So, start thinking of what to do to earn money for your life.
Don't stay idle because God expects you to make money.
When we put in the hard work, God will supernaturally bless us.
However, if we stay idle and do nothing, we will suffer, and poverty will rest on us.
This bible verse about making money is important to inspire you to work hard.
While God has placed a curse on us, we know as Christians that Christ has redeemed us from the curse of the law.
He has set us free from bondage and has given us hope for eternal life.
In God's kingdom, we will not suffer.
We will not have to work to eat or look for our daily bread.
Before we get thirsty, we will have water to drink.
And before we get hungry, we will have food to eat.
But right now, while we set our mind on God's perfect kingdom, we must work hard, earn money and take care of ourselves.
Proverbs 20:21.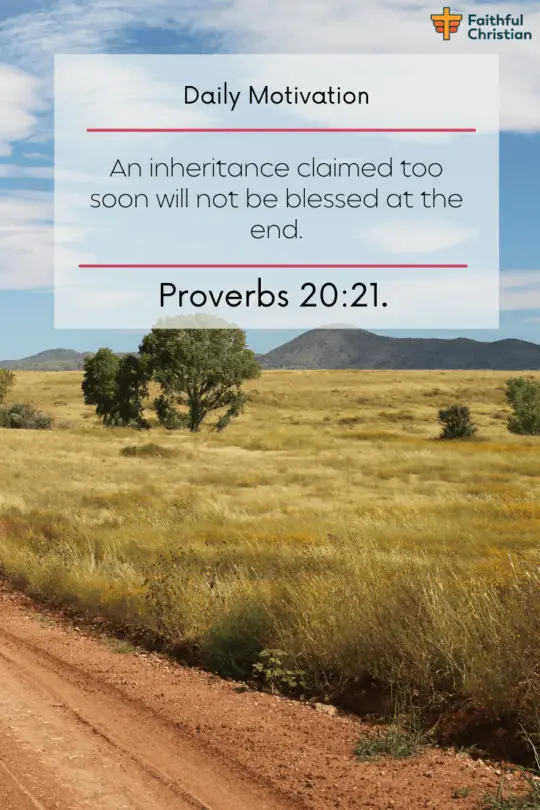 An inheritance claimed too soonwill not be blessed at the end.
Don't be in haste to make money.
Because when you do, you may end up doing evil things.
So many young people do not desire to work hard anymore.
They just think of an easy way to defraud people of their hard-earned money.
Some are into fraudulent activities and have no remorse for their actions.
This bible verse about making dubious money should inspire you to repent.
Making quick money will not get you rich; it will never be blessed.
God will not bless money earned from defrauding people.
He will not bless money gotten from fraudulent ways.
If we must make money, we must pray and ask God to bless the work of our hands.
And provided we keep working hard, God will keep opening doors for us.
God has promised that we will never beg for bread as long as we serve him.
We will not suffer to the extent that we have nothing to eat.
But we must be content and not let greed get hold of our life.
So don't make quick and dubious wealth because God will never bless your ill-gotten riches.
Proverbs 20:4.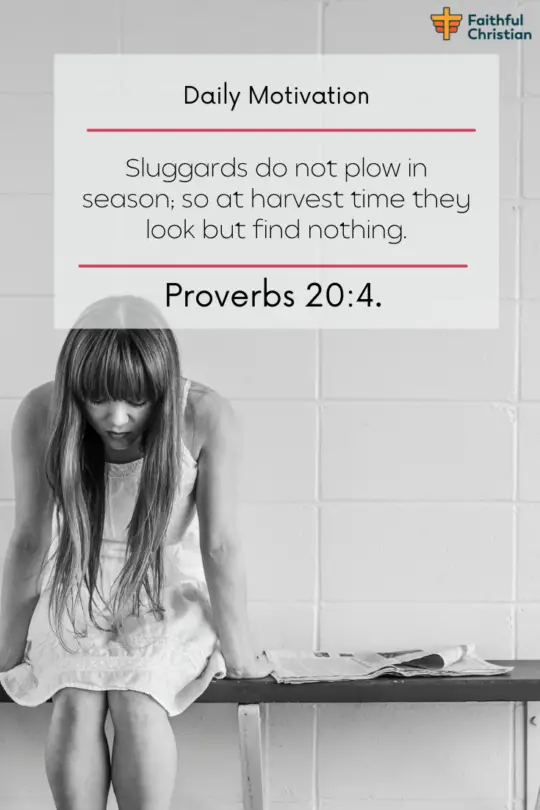 Sluggards do not plow in season;so at harvest time they look but find nothing.
Isn't this bible verse encouraging enough?
This scripture goes straight to the point: If you don't work, you will not eat.
God has promised to increase the wealth of hardworking people.
He also encourages us to keep working hard to earn money.
If we keep striving and working hard, we will make huge profits and become wealthy.
You will not reap where you did not sow.
So, if you are lazy, at harvest time, you will have nothing at all.
You will keep begging and hoping for other people to assist you.
So, start thinking of your next business idea.
Start looking for a job.
If you must succeed, you must work hard to overcome poverty.
Proverbs 11:24.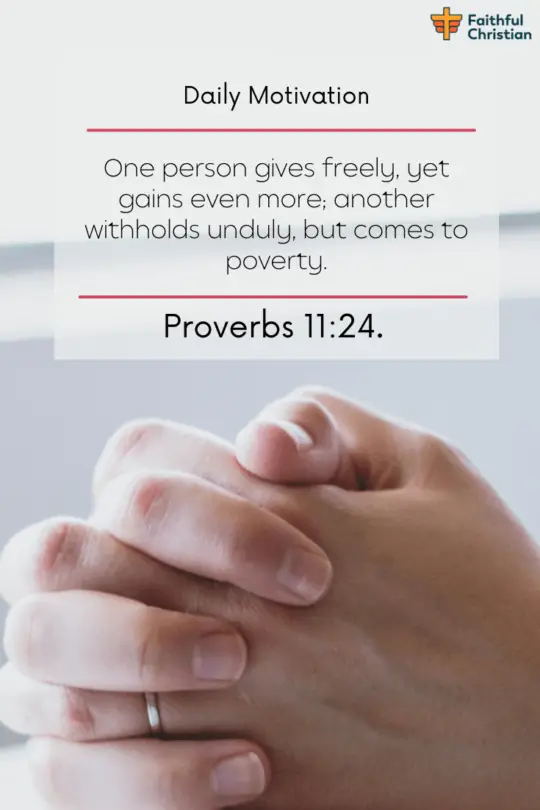 One person gives freely, yet gains even more;another withholds unduly, but comes to poverty.
There are many mysteries to making money.
And giving cheerfully is one of them.
How can you give and still get rich?
And how can you withhold wealth and become poor?
These are some mysteries in life, and for givers, it is always a mystery to us.
God keeps opening doors for us and blessing us with everything we need.
So, don't be selfish with your wealth.
Do not make money for yourself alone.
We must think of the poor and needy.
We must help those that are in need.
When you give freely, God will not take your generosity for granted.
He will bless you for putting smiles on other people's faces.
So, make money and be cheerfully generous to others.
Proverbs 13:4.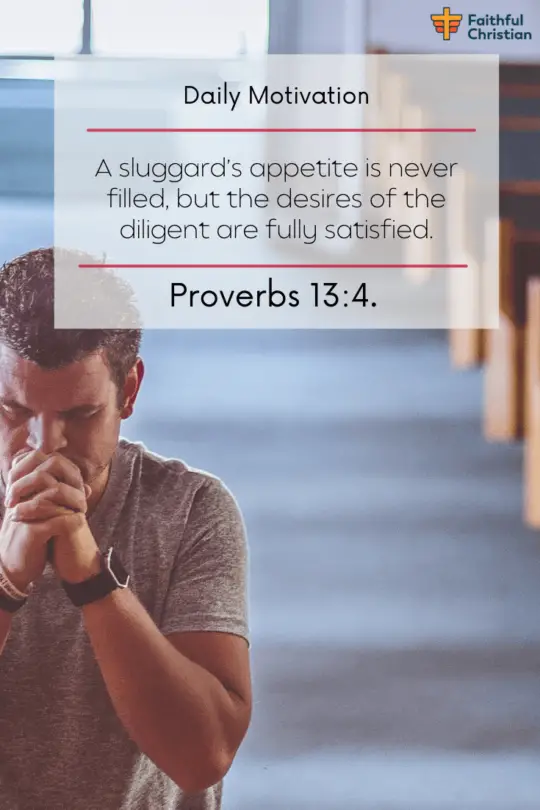 A sluggard's appetite is never filled,but the desires of the diligent are fully satisfied.
When we work hard, God gives us the satisfaction we need.
He helps us succeed in every one of our endeavors.
He gifts us the grace to obtain wealth.
But lazy people are never satisfied.
Because they don't work, they never appreciate what it takes to make money.
Don't be lazy and idle. Instead, work hard to obtain wealth from God.
Proverbs 19:17.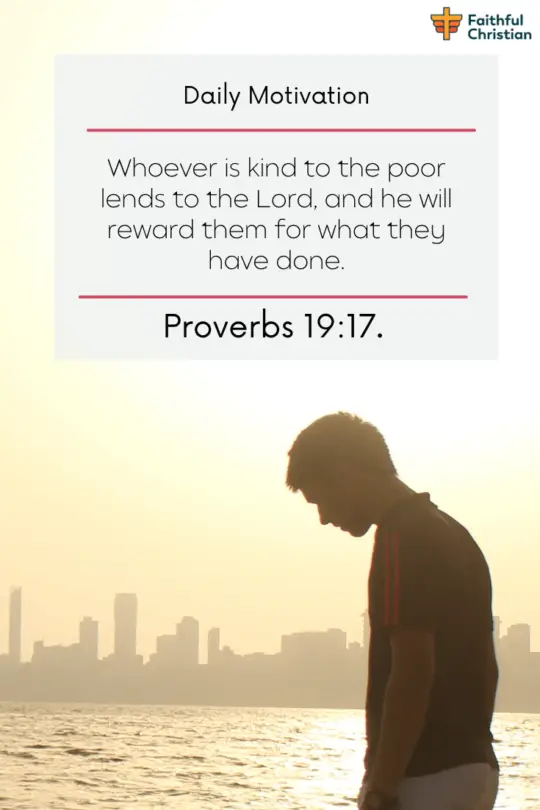 Whoever is kind to the poor lends to the Lord,and he will reward them for what they have done.
When we make money, we must have plans for the poor.
We must think of ways to help those in need.
Jesus said, "The poor you will always have with you."
And we should strive to help them in the best way we can.
God will bless and expand your wealth if you are kind to the poor.
Proverbs 10:2.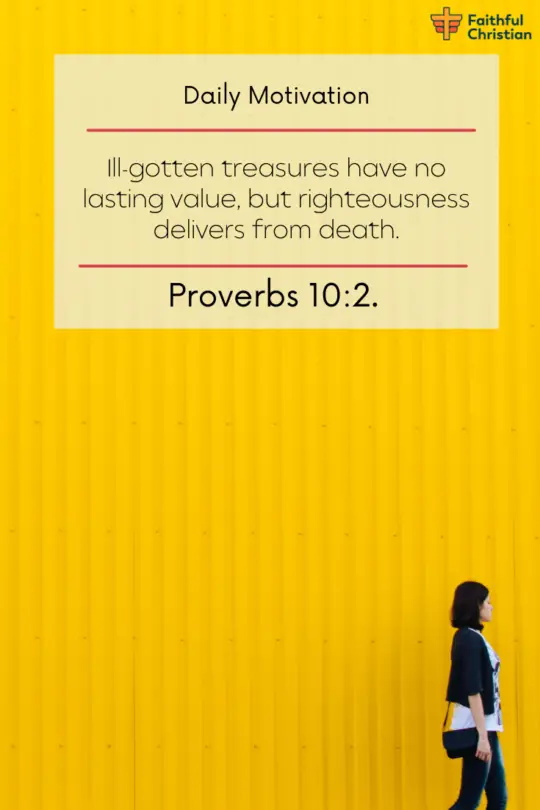 Ill-gotten treasures have no lasting value,but righteousness delivers from death.
How long can we satisfy our selfish desires?
How far can ill-gotten wealth sustain us?
If we must make long-lasting wealth, we also must live righteous lives.
Our riches will not guarantee eternal life.
Our wealth will not save us from our sins.
Only a strong relationship with God will save and deliver us from death.
So, don't focus on making money alone. Instead, seek God first, who will provide everything you need.
1 Thessalonians 4:11.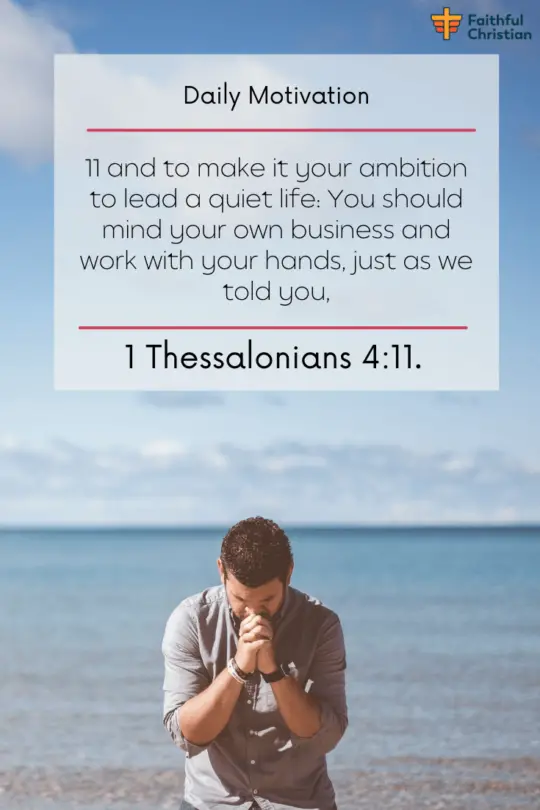 11 and to make it your ambition to lead a quiet life: You should mind your own business and work with your hands, just as we told you,
Making money needs a good plan and strategy.
We need to have quiet time to think about the best plans for the future.
We need to meet with people who can help us refine our business strategy.
We must mind our business to get rich.
So remain focused and don't waste your time with irrelevant things.
Proverbs 28:8.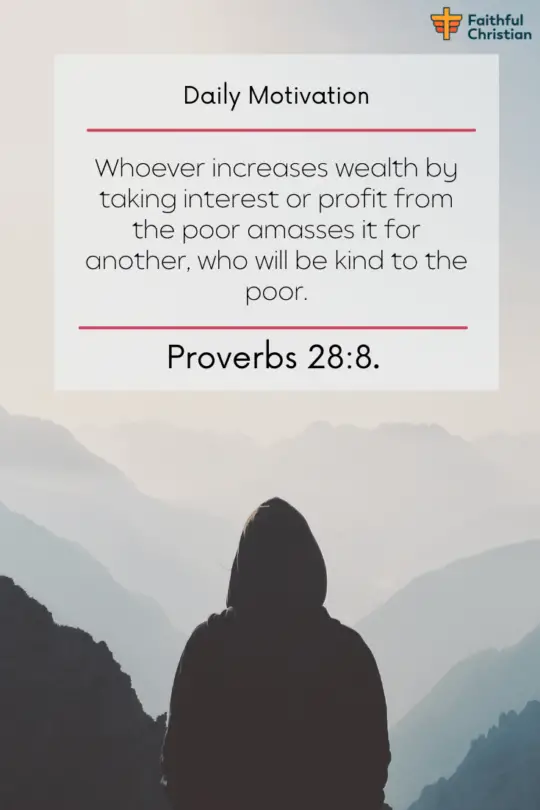 Whoever increases wealth by taking interest or profit from the pooramasses it for another, who will be kind to the poor.
Many corrupt people take pleasure in stealing.
They steal from the masses because they are lucky to be in power.
Some political leaders are so corrupt that they don't care about the poor.
But that ill-gotten wealth will never last.
Those that steal from the poor will only gather it for others.
Proverbs 21:25.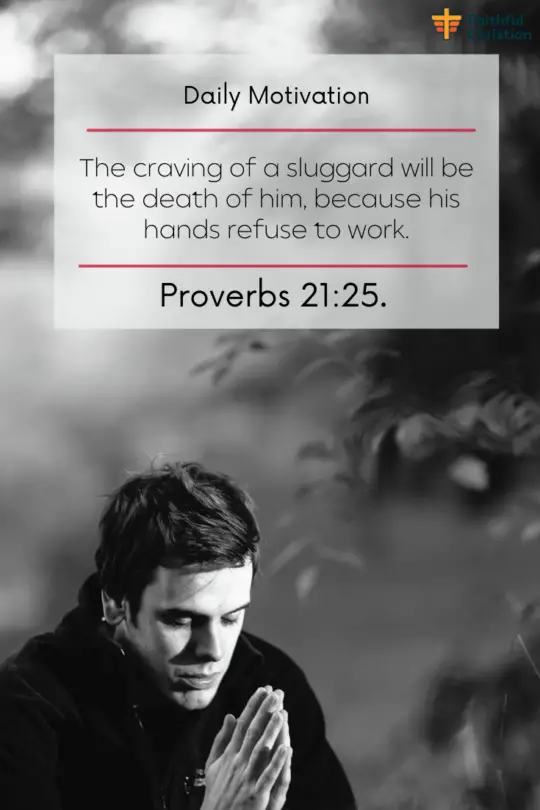 The craving of a sluggard will be the death of him,because his hands refuse to work.
If you must have cravings, you must work hard to make money.
Only with money can you ease your cravings.
Only with money can you buy what you desire to eat.
If you need a new house, you must work hard to earn them.
However, if you remain lazy, your cravings will only lead to death.
Ecclesiastes 11:6.
Romans 13:7.
Proverbs 28:22.
1 Timothy 5:8.
Matthew 6:31-33.
Proverbs 13:22-23.
1 Timothy 6:10.
Job 27:16-17.
Proverbs 28:20.
Jeremiah 17:11.
Author: Akatakpo Dunn
Dunn is a firm believer and a teacher of God's word. Suffering for Jesus is an attribute of a faithful Christian, and I hope to win new souls to Christ with every chance that I get. Articles are well-researched and backed by the scriptures.
Follow me: on Youtube, Facebook, Twitter, Instagram, and Pinterest.