It is never sensible to make fun of other people.
And that is because no one knows tomorrow.
God is loving and caring. He is compassionate and understanding of everyone on earth.
This is why we need to act like our father in heaven.
God hates the proud and uplifts the humble.
Thankfully, there are bible verses about making fun of others that we can learn from.
These scriptures are a reminder that mocking others is a sin.
And at all times, we must control our tongues and say the right things.
And not just that, we must do the right things to even our enemies.
There is no point laughing at your enemies or being happy for the misfortune of others.
God wants us to love others unconditionally [Not humiliate them], not minding their hate against us.
I have put together bible verses about mocking other people. Read and be blessed.
Bible verses about making fun of other people
Ephesians 5:4.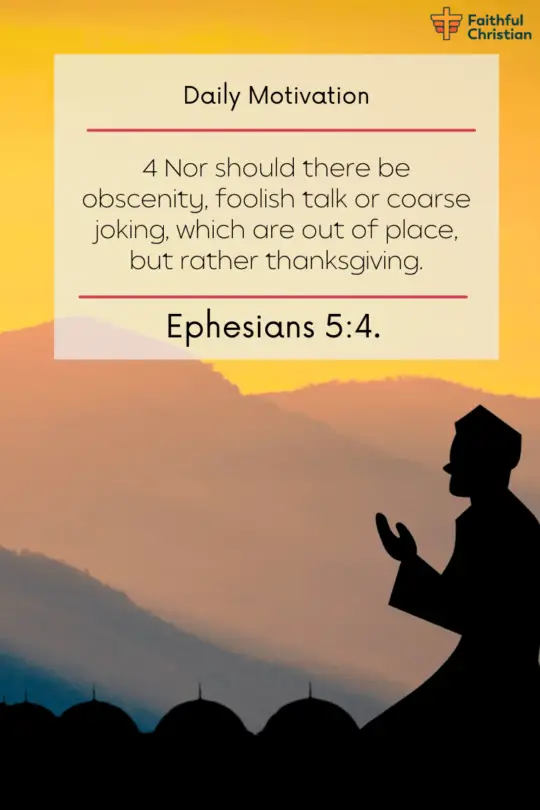 4 Nor should there be obscenity, foolish talk or coarse joking, which are out of place, but rather thanksgiving.
This is one of the most relevant bible verses about making fun of people.
Why should we laugh at others?
Why should we mock others going through a tough time?
As Christians, we must put on the qualities of Christ.
Christ was loving and forgiving.
He was caring to everyone around him.
He didn't just care about His disciples but also cared for the sick and the needy.
There are many scriptures in the bible where Christ healed people of their infirmities.
He didn't make fun of them or laughed at them.
He felt the pain they were dealing with and delivered them from their misery.
In the same way, we must learn never to mock people, no matter the circumstances.
We must be caring and loving and be supportive of those who even hate us.
We must not laugh at people when they go through difficulties.
And even more important, we can pray for them and ask that God help them overcome their trials.
This bible verse is a must-read if you are in the habit of making fun of other people.
God wants us to choose our words and ensure we only say the right things.
God is unhappy if we keep using foolish words that may hurt others beyond what we actually mean.
Instead, we must always give room for thanksgiving and praise God no matter the circumstances.
So stop mocking others, but instead, pray and give thanks to God.
Colossians 3:8.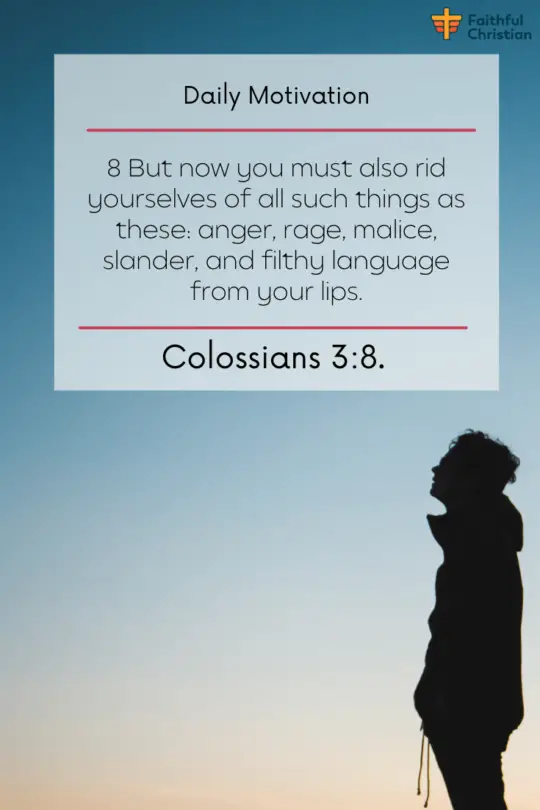 8 But now you must also rid yourselves of all such things as these: anger, rage, malice, slander, and filthy language from your lips.
I have been in situations in the past where I had no choice but to make fun of others.
And my actions were borne out of ignorance without considering how they felt.
I followed the tide and laughed at them because others were doing so.
But I was wrong, and I kept asking God to forgive me for my iniquities.
You can never be sure of what people are going through.
You can not see the deep secrets in people's hearts.
Some people have no hope for food, clothing, or shelter over their heads.
They are struggling to even meet up with their daily needs.
So, when we make fun of them, we are only acting foolishly.
God will never support us if we do so.
The fact that God has made us better is proof of his grace over our lives.
We shouldn't mock others because of God's grace over our lives.
We shouldn't mock others because of the trials that they are facing.
Remember that we will be persecuted, and we will all face hardships too.
So, don't mock anyone. Instead, pray for them to overcome what they are dealing with.
This bible verse encourages us to remove all filthy language from our mouths.
We must clean our hearts of dirty words and actions that make fun of others.
If we must serve God, we must act Like him.
We must be considerate and understand the pains of our neighbors.
We must be supportive of those dealing with one problem or the other.
So, beware of what you say because it could hurt others beyond what you initially intended.
Ephesians 4:29.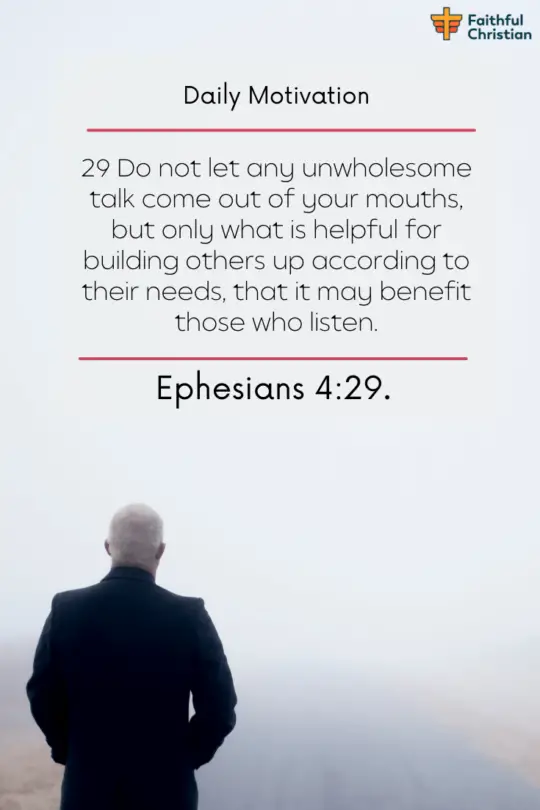 29 Do not let any unwholesome talk come out of your mouths, but only what is helpful for building others up according to their needs, that it may benefit those who listen.
When we receive Christ, we change into a new being.
Our old life is destroyed and we a given a new spirit.
Through the holy spirit, we discern what's right and wrong, and each day we must always strive to do what is exemplary.
Because we have repented from our old selves, we must put on qualities deserving of a Christian.
We must be meek, understanding, prayerful, and get rid of unwholesome talk.
We must not mock or laugh at the poor.
We must also not laugh at our enemies.
If God wanted us to laugh at others, wouldn't he be happy if we kept mocking our enemies?
But God says we must love our enemies and be good to them.
We must pray for them and ask That God helps them in trying times.
This bible verse teaches us also to be supportive of those in pain.
We must not laugh at them or say demoralizing words.
Instead, we must pray for them and give thanks on their behalf.
No one is free from trouble.
No one is exempted from trials and hardship.
So, when we see people going through tough times, we must pray for them and help them in the little way we can.
1 Thessalonians 5:18.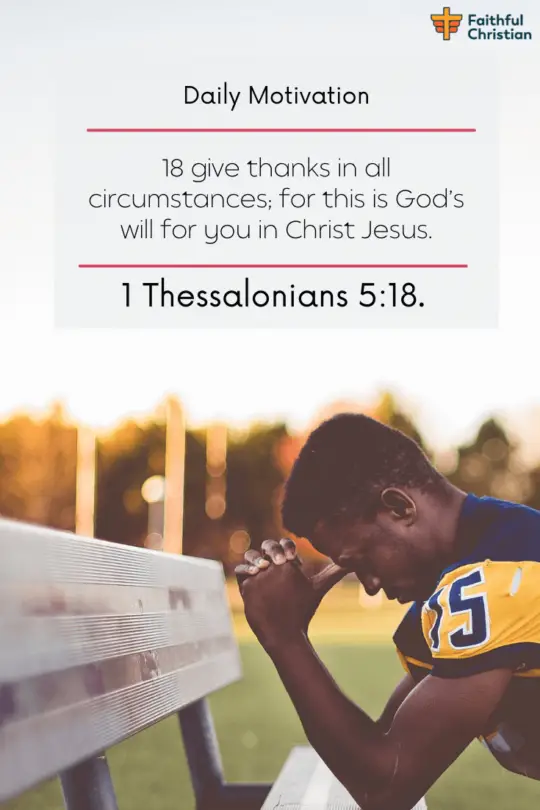 18 give thanks in all circumstances; for this is God's will for you in Christ Jesus.
This is another crucial bible verse about mocking people.
God does not show favoritism.
He is not partial and unjust to people all over the world.
If God has spared you or made you better, it isn't because of His grace over your life.
So why make fun of people because of God's blessing over your life?
Why hurt people and shame them because you are lucky to be better?
Why be happy when those you hate go through pain and hurt?
Shouldn't we be prayerful to assist them in overcoming their trial?
This bible verse is a reminder that we must always give thanks.
We must give thanks to God for all he has done for us.
When we see people struggling, we must understand that God has blessed us.
He has taken shame and humiliation from our lives.
God has spared us from trials that would make us a laughingstock in our community.
So why not praise God for His blessings?
Also, we must pray and give thanks is for those struggling.
We must never leave them in their trials but be a source of strength.
We must assist the weak and help them through their trial.
If we keep thanking God and praying, God will open the heavens and release His blessing on our lives and those going through pain and disappointment.
Proverbs 15:2.
The tongue of the wise adorns knowledge,but the mouth of the fool gushes folly.
We must learn to control every word we say.
We must ask for wisdom to teach us the right words to say.
We must never mock people struggling with challenges.
If we use our tongues wisely, we can strengthen the people around us.
However, God will judge and punish us if we act like fools.
God detests the proud and blesses the humble.
So, please don't act like a fool who mocks everyone around him, but be wise and supportive of people in their difficulties.
Matthew 12:34-37.
34 You brood of vipers, how can you who are evil say anything good? For the mouth speaks what the heart is full of. 35 A good man brings good things out of the good stored up in him, and an evil man brings evil things out of the evil stored up in him.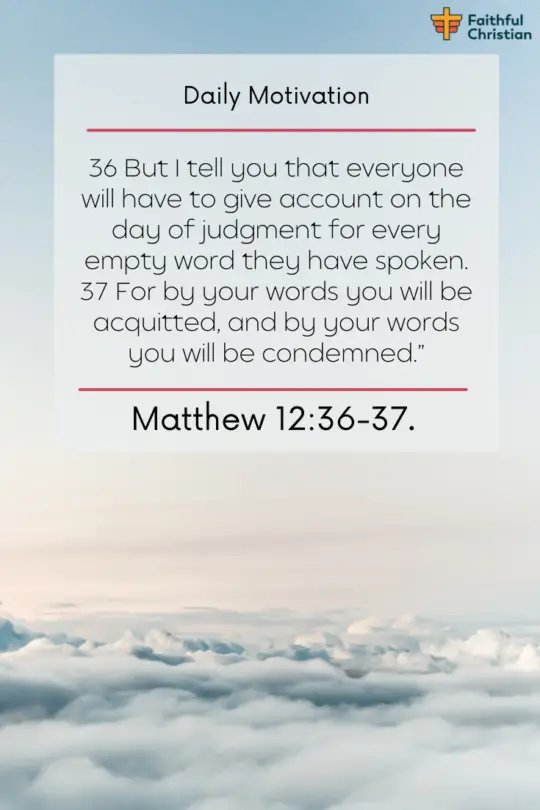 36 But I tell you that everyone will have to give account on the day of judgment for every empty word they have spoken. 37 For by your words you will be acquitted, and by your words you will be condemned."
Please take a look at this scripture and learn from it.
God will not let the evil actions of the wicked go unpunished.
He will not spare those who mock others because they are better.
He will not spare those that laugh at their enemies.
God has promised to judge every one of our actions and words.
Everything we say or do are written down for the day of judgment.
If we are found guilty, we will be punished.
But if we are loving, caring, and compassionate, God will bless us.
This bible verse also reminds us that what we say comes from the deepest parts of our hearts.
It is what comes out of us that defiles us.
So, we must be careful of our thought and the kind of friends we keep.
We must be vigilant and never get deceived by the devil or bad friends.
Instead, we must cleanse our hearts of evil thoughts and be watchful of what we say.
A good heart will always bring inspiring words to assist those in need.
So, be good to everyone around you.
Colossians 3:15-17.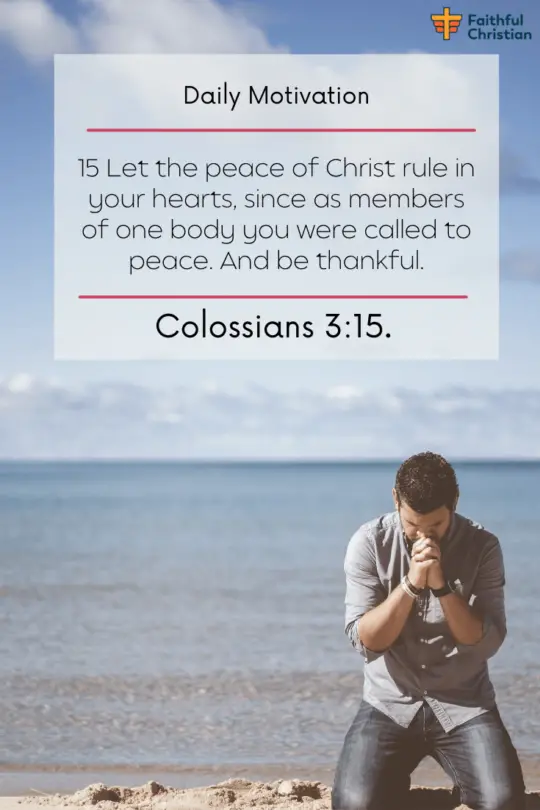 15 Let the peace of Christ rule in your hearts, since as members of one body you were called to peace. And be thankful.
16 Let the message of Christ dwell among you richly as you teach and admonish one another with all wisdom through psalms, hymns, and songs from the Spirit, singing to God with gratitude in your hearts.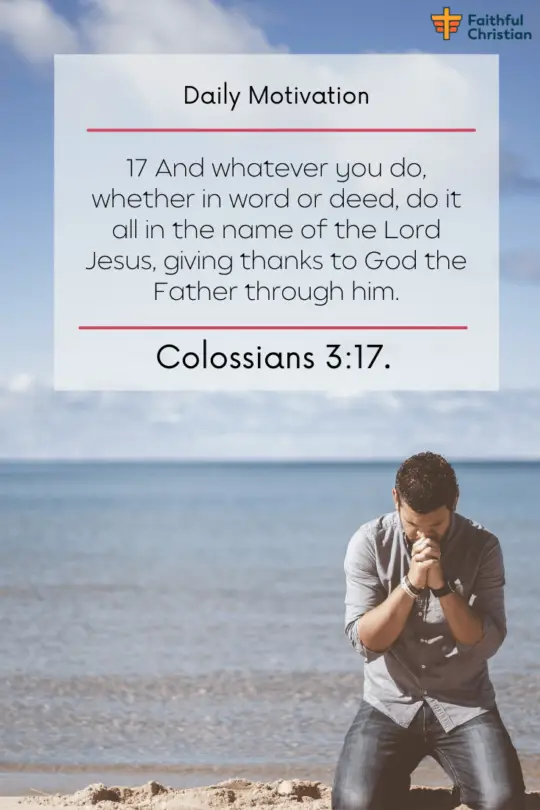 17 And whatever you do, whether in word or deed, do it all in the name of the Lord Jesus, giving thanks to God the Father through him.
This is an essential bible verse about mocking others we must learn from.
We must pray for wisdom to guide everything we say or do.
We must be thankful for what God has done.
We must be humble and never let pride get hold of our life.
We must be supportive of those around us.
And most importantly, we must not look down on others because of their problems.
Remember that no one knows the future, and things can change quickly.
Those you mock today can be of assistance to you in the future.
Since we don't know each man's future, we must treat everyone with respect and love.
Ecclesiastes 10:13.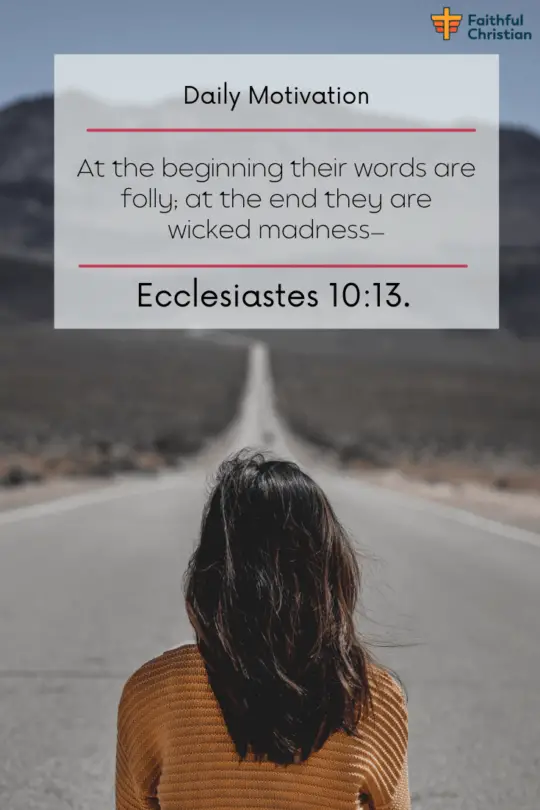 At the beginning their words are folly;at the end they are wicked madness—
Don't act ignorantly, and never mock those struggling.
Always pray for them and ask that God supplies their need.
When we make fun of others, we act like the devil.
The devil is never interested in our successes and happiness.
He misleads us to sin and then turns around to laugh at our foolishness.
This bible verse encourages us to choose our words carefully.
The kind of words we say determines who we are.
As good Christians, the beginning of our words must be inspiring and helpful to those in need.
Romans 2:3.
3 So when you, a mere human being, pass judgment on them and yet do the same things, do you think you will escape God's judgment?
Why should we judge others when we are mere mortals?
Why should we mock others when we cannot do anything on our own?
Everything we own is given to us from above.
The clothes we wear are given to us by God.
The house we live in is gifted to us by God.
We cannot receive anything except it is given from heaven.
So, stop being proud because you are rich or better.
Stop mocking people because you think you are more intelligent.
If we keep mocking people, we will never escape the judgment of God.
Colossians 4:6.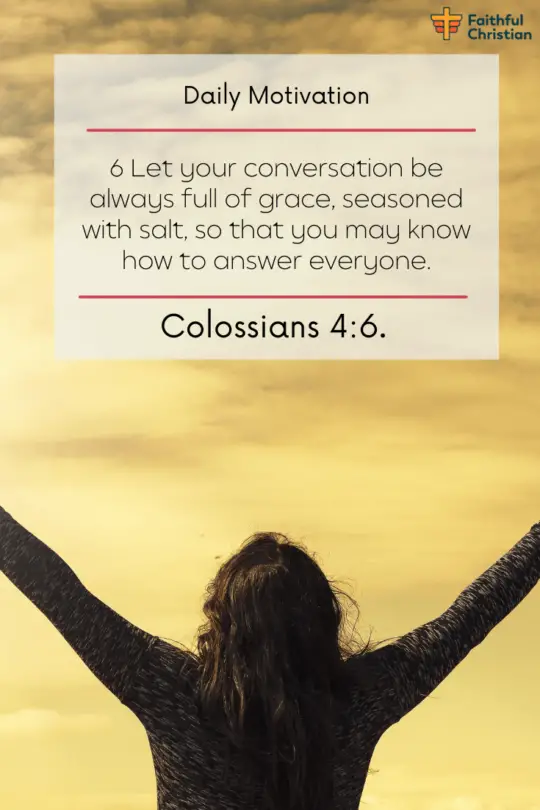 6 Let your conversation be always full of grace, seasoned with salt, so that you may know how to answer everyone.
Always let your conversation show that you are a son of God.
Because the words you say define who you truly are.
You cannot be a Christina and mock others.
You cannot be a Christian and be insulting.
So, always let your words be a source of strength to the weak.
1 Thessalonians 5:11.
Ecclesiastes 10:12.
Proverbs 15:7.
2 Kings 2:23-24.
2 Chronicles 36:16.
Job 30:1.
Job 19:18.
Hebrews 11:36.
Galatians 4:29.
Proverbs 3:34.
James 4:6.
1 Peter 5:5.
Proverbs 9:12.
Psalm 138:6.
Matthew 7:12.
Luke 6:31.
Galatians 5:13-14.
Author: Akatakpo Dunn
Dunn is a firm believer and a teacher of God's word. Suffering for Jesus is an attribute of a faithful Christian, and I hope to win new souls to Christ with every chance that I get. Articles are well-researched and backed by the scriptures.
Follow me: on Youtube, Facebook, Twitter, Instagram, and Pinterest.