Ever stood at life's crossroads, unsure which path to take?
Remember, life is a series of choices. Each decision can shape our destiny, for better or worse. But what if we told you that you're not alone in making these choices, and that God is ready to guide your steps?
In this post, we'll dive into Bible verses about making choices. We'll uncover the wisdom God offers to help us navigate life's uncertainties.
Delve into these scriptures as they reveal the importance of seeking divine guidance, rather than relying solely on our limited understanding.
So, what benefits await those who embrace these teachings? How can they shed light on the rewards of wise decisions and the lessons from our missteps?
Let's start by asking: Are we prepared to trust His wisdom and open our hearts to His loving guidance?
Benjamin Franklin once said, "An investment in knowledge pays the best interest."
By delving into these Bible verses, you'll find comfort knowing that no situation is too big or too small for God's guidance to shine as a beacon of hope.
Bible verses about making choices [Good or Bad decisions]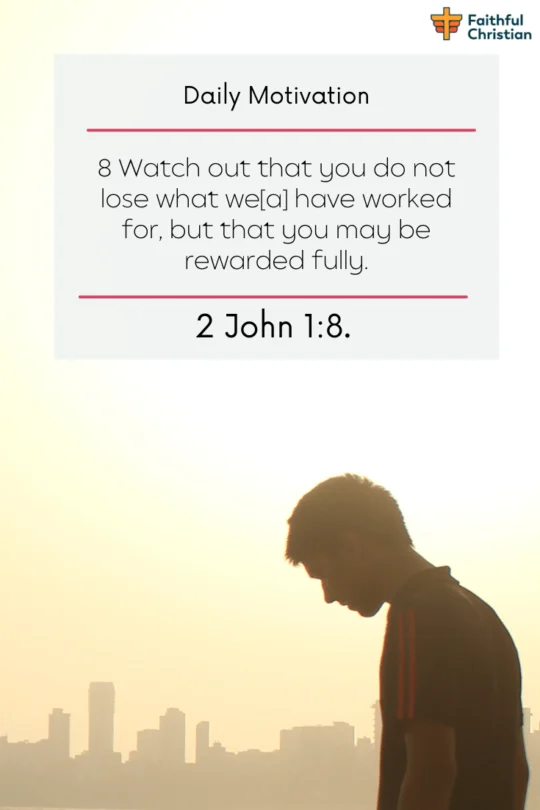 8 Watch out that you do not lose what we[a] have worked for, but that you may be rewarded fully.
The Goodnews
One essential decision we must make is to reaffirm our commitment to Jesus Christ continually.
Owing to Christ's selfless act of sacrifice, a pathway has been opened for us to achieve eternal life.
Nonetheless, making unwise decisions can put at risk the invaluable gifts He has lovingly granted us.
As we journey through life, it is essential to remain aware of the repercussions of our choices and work diligently to maintain our worthiness for the divine blessings we have received.
Every day, it is vital to exercise caution when making choices, always aligning our actions with God's will and teachings.
By diligently examining our decisions and ensuring they are in harmony with God's commandments, we can stay on the righteous path.
The Bible verse 2 John 1:8, along with other related scriptures, serves as a reminder to persevere in our faith and resist the temptations of sin.
By persistently making the right choices and following Christ's teachings, we can anticipate the ultimate reward of eternal life.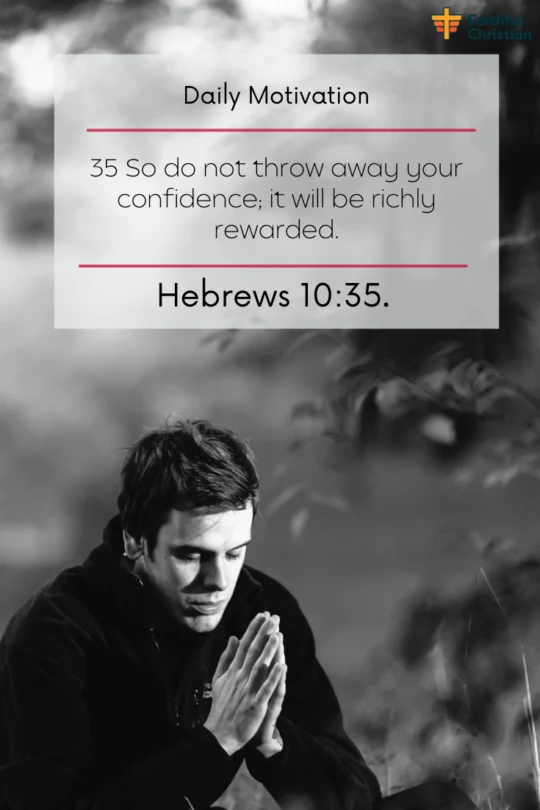 35 So do not throw away your confidence; it will be richly rewarded.
The Goodnews
It's normal to experience self-doubt when making major choices concerning your marriage, career, or relationships.
However, it's essential to believe in your heavenly father trusting that the right path will become clear. Don't just rely on other people's opinions, but use prayer to seek guidance and boost your confidence.
I've learned from my own mistakes that making decisions by myself can lead to errors. In hindsight, I realize that seeking God's guidance through prayer could have helped me make better choices.
That's why you should talk to God more frequently. We shouldn't let fear control us, because when we trust in God, He guides us towards achieving our dreams.
So, believe in yourself and always ask for God's guidance before taking any action.
Hebrews 10:35 encourages us to stay strong and not let fear control our lives. The message, "do not throw away your confidence," shows that God can help us with our decisions.
Trust God completely (Proverbs 3:5-6), because even when life seems uncertain, He knows the future and will help us reach our desired outcomes.
It's normal to feel uncertain when making tough career choices. During these times, rely on God and seek His guidance through prayer. This will help you face challenges with clarity and peace of mind.
Hence, when making crucial choices, resist the need to second-guess yourself. Trust in God to lead you towards the best outcomes in your life.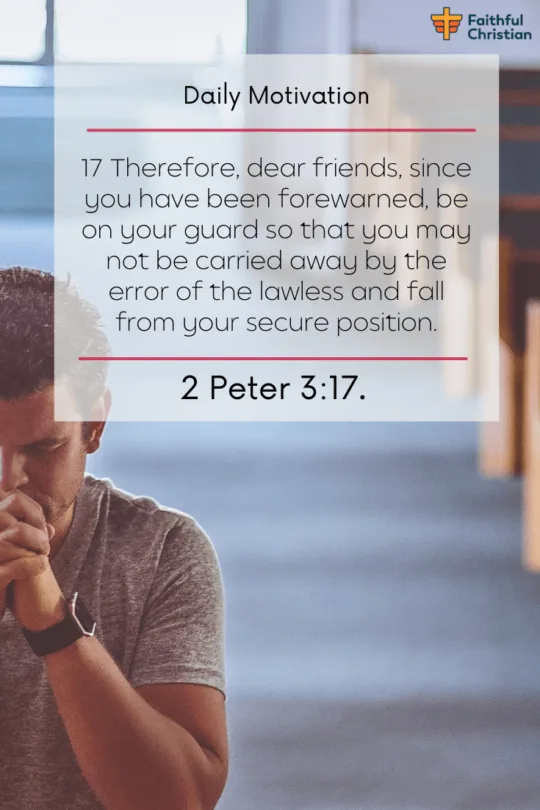 17 Therefore, dear friends, since you have been forewarned, be on your guard so that you may not be carried away by the error of the lawless and fall from your secure position.
The Goodnews
Temptations will undoubtedly present themselves in various forms throughout our lives.
It's essential to resist the temptation when the devil attempts to steer you off course.
Instead, seek God's strength and wisdom to help you choose the right path.
Each of us faces unique trials orchestrated by the devil.
Some may struggle with challenges in their marriage, while others grapple with illness.
It's essential that we never forget that God knows our future and has a loving and well-intentioned plan for everyone of us in every situation.
Therefore, we must continually pray for the conviction to make the right choices in our lives.
Passages like James 1:5, which inspire us to seek God's wisdom during uncertain moments, and 1 Corinthians 10:13, which reminds us that God will not allow us to be tempted beyond what we can bear, can provide strength and guidance.
Consider the story of Joseph (Genesis 39:1-23), who faced the temptation of Potipar's wife. He chose to honor God and resist temptation, even when it led to unjust imprisonment. His faithfulness eventually resulted in a higher purpose and a significant role in the Egyptian kingdom.
2 Peter 3:17 emphasizes our secure position in eternal salvation.
We must hold tight to the invaluable and flawless gift from God, never allowing ourselves to be swayed from the path of salvation.
As we make choices in our lives, let us always prioritize good decisions that align with our eternal salvation.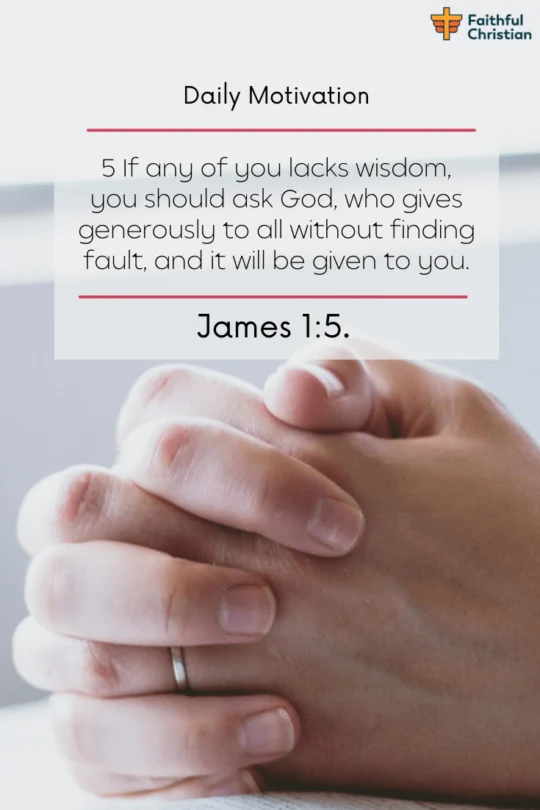 5 If any of you lacks wisdom, you should ask God, who gives generously to all without finding fault, and it will be given to you.
James 1:5 offers essential guidance for making critical decisions in our lives, emphasizing the importance of seeking God's wisdom in times of uncertainty.
Are you contemplating whether to proceed with a marriage, or wondering if you should accept a new job offer?
Life presents us with many crossroads, and in moments of doubt, it is crucial to turn to God for help.
In prayer, we can humbly request His guidance to grant us the discernment needed to make the most advantageous decisions for our lives.
God's unwavering support ensures that we never have to face our battles alone.
With His infinite knowledge and understanding of our struggles, God is uniquely positioned to provide the perfect solutions to every challenge we encounter.
Reflect on the tale of Solomon, as recounted in 1 Kings 3:5-14, where he sought God's wisdom.
In response, God endowed him with exceptional wisdom, establishing Solomon as one of the most sagacious kings in history.
Similar to this, when faced with life's difficulties and uncertainties, turn to prayer and God to gain the insight and comprehension you require.
Rest assured that God will never forsake or abandon you in times of need.
By turning to Him in prayer, He will generously bestow upon you the wisdom required to make the most beneficial choices for your life.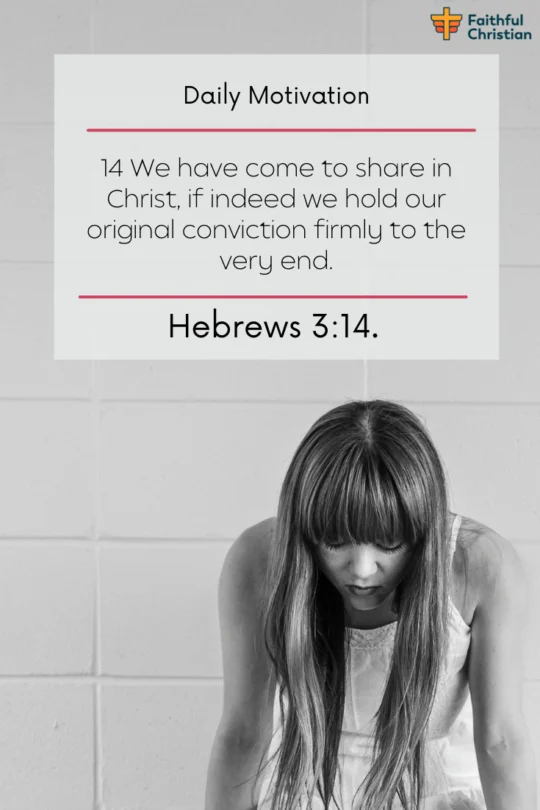 14 We have come to share in Christ, if indeed we hold our original conviction firmly to the very end.
What happens when we find ourselves drawn to the world's temptations and begin living a sinful life?
What if we persistently make unwise choices?
As followers of Christ, we have a duty to continuously seek righteousness in our decisions.
We are called to actively combat evil and to demonstrate love towards our neighbors as we do for ourselves.
However, if we waver in making virtuous choices and succumb to the devil's deception, our salvation may be threatened.
Hebrews 3:14 serves as a subtle reminder, encouraging us to maintain our steadfast dedication to God. This encouragement is especially important when facing challenges and temptations that may arise in our lives.
By anchoring our hope in Jesus Christ, we can anticipate the fulfillment of His promise of eternal life.
In this journey of faith, let us always aspire to make God-honoring decisions and rely on His grace to overcome the world's allurements and snares.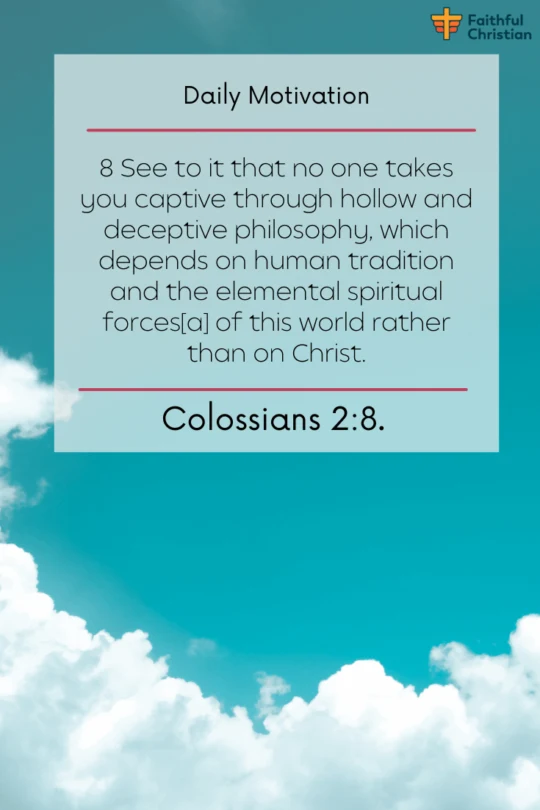 8 See to it that no one takes you captive through hollow and deceptive philosophy, which depends on human tradition and the elemental spiritual forces[a] of this world rather than on Christ.
Colossians 2:8 serves as a crucial reminder when making choices amidst confusion and uncertainty. It teaches us to be vigilant against deception, even from friends and loved ones. Their influence may lead us to make wrong decisions, but it's essential to keep our faith rooted in God's wisdom.
In the face of confusion, it is vital to seek refuge in God and pray for the wisdom to make the right choices. By turning to Him, we can receive guidance and direction in our lives.
For example, imagine you're offered two job opportunities – one with a higher salary but questionable ethics and another with a lower salary but a more aligned moral compass. You might feel torn between the two, with friends and family members offering conflicting advice.
In this situation, praying to God for wisdom can aid you in discerning the right path to follow. This presents a chance for you to make choices that align with your principles and values.
During difficult moments, lean on the Lord and seek His guidance. He will offer the wisdom necessary for making the most suitable decisions in your life.
Trust in God to face life's challenges with confidence. You can be certain He will guide you in the right direction.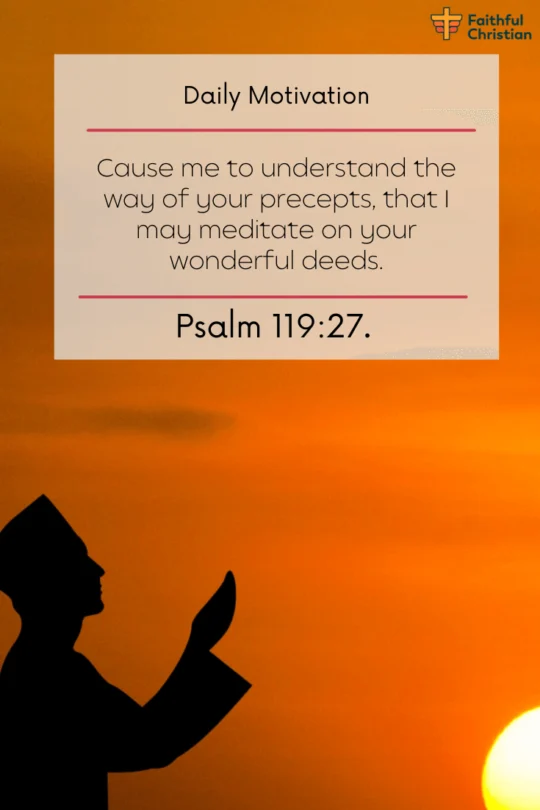 Cause me to understand the way of your precepts,that I may meditate on your wonderful deeds.
How often do we reflect on God's laws?
Do we regularly let His commandments direct our actions and choices?
To genuinely serve God, we must contemplate His laws and determine the best way to honor Him.
We should avoid devising our own misguided rules or letting sin control our lives.
God's teachings are elegantly simple and easily applicable, with love as their core message. The Bible commands us to love one another.
By consciously choosing to follow this central commandment, we embrace God's most significant directive.
For example, when faced with a choice that could harm someone else, it's crucial to remember God's core teaching and opt for a path that exemplifies love and empathy for others.
In doing so, we allow His commandments to shape our lives and bring us closer to Him.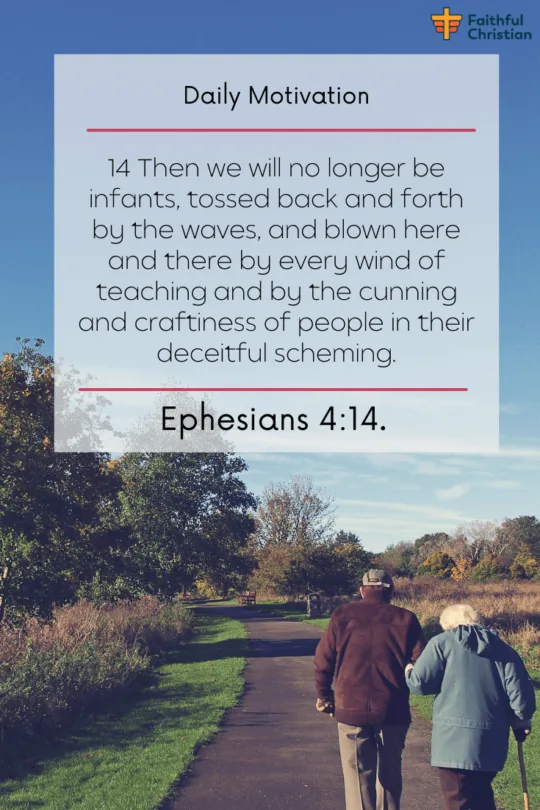 14 Then we will no longer be infants, tossed back and forth by the waves, and blown here and there by every wind of teaching and by the cunning and craftiness of people in their deceitful scheming.
No one is perfect. We've all erred in the past.
Some might have been lucky enough to make minor mistakes without significant consequences.
However, others have made grave missteps and continue to grapple with the repercussions even today.
Bible verses serve as a reminder that every decision we make carries consequences.
Consequently, it's vital to consistently pray and reflect upon the wisdom of God's Word.
God's Word alone can provide us with the assurance we require when confronted with a challenging situation.
Don't be misled by those who lack wisdom or understanding.
Instead, seek God's guidance to help you discern the most suitable choice for your life, ensuring that your decisions align with His will and wisdom.
Remember that with God by your side, you can navigate the complexities of life while minimizing the potential for regrettable choices.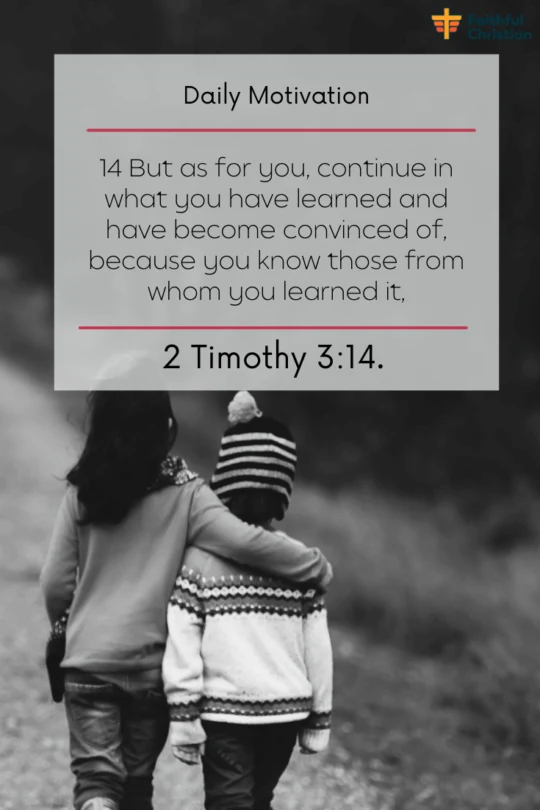 14 But as for you, continue in what you have learned and have become convinced of, because you know those from whom you learned it,
How often have you followed a course of action because you witnessed your parents do the same?
How frequently have you made a decision influenced by a friend's similar experience?
Although there are deceivers in the world, there are also wise mentors; it's crucial not to disregard their advice.
A particular Bible verse highlights a warning from Paul to Timothy.
Paul has devotedly served God and grasped the gospel's truth.
He was chosen by God and had personally witnessed Jesus.
As such, he is well-equipped to guide Timothy in making the best choices for his life.
In essence, we must continue learning from those who possess greater experience than ourselves.
We should remain humble and allow those who have navigated similar situations to offer us their insights.
During times of uncertainty about the future, seeking assistance is not a sign of weakness.
Rather, it's a proactive step in making informed decisions that positively impact our lives.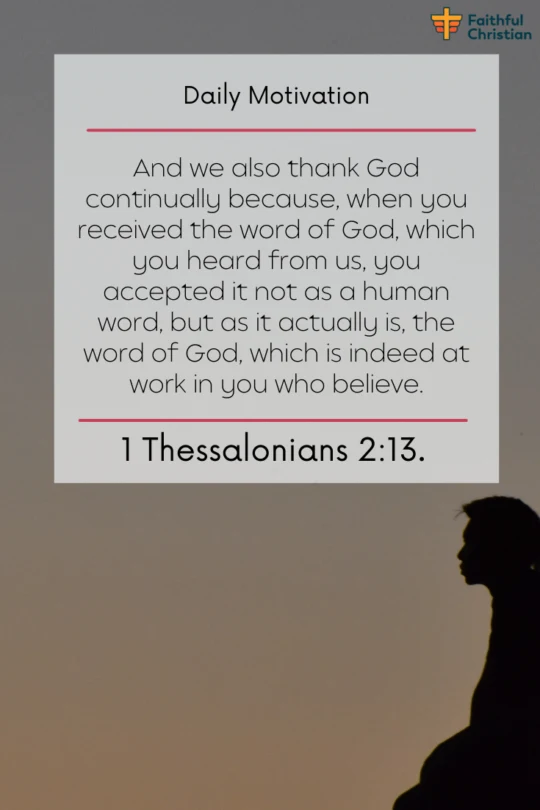 And we also thank God continually because, when you received the word of God, which you heard from us, you accepted it not as a human word, but as it actually is, the word of God, which is indeed at work in you who believe.
What steps must we take to attain eternal life?
For Christians, the most vital decision is to wholeheartedly accept and believe in Jesus.
Indeed, without faith in Christ, there is no prospect of salvation.
Jesus represents the way, the truth, and the life, embodying our sole route to redemption.
He is our exclusive path towards salvation.
The scriptures encourage us to embrace God's Word consistently and strive to uphold His commandments.
By doing so, God assures us of a brighter future, characterized by hope and everlasting life.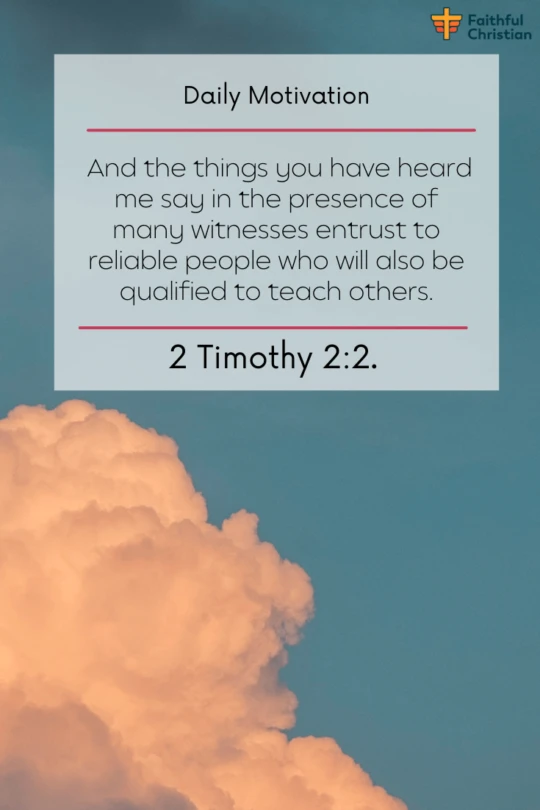 And the things you have heard me say in the presence of many witnesses entrust to reliable people who will also be qualified to teach others.
2 Timothy 2:2 is a vital Bible verse to examine when contemplating choices related to your faith journey.
Deciding where to serve God or which church to attend can be difficult. Navigating these choices independently can prove challenging.
In these situations, it is crucial to seek God's guidance and ensure that our chosen place of worship aligns with scriptural teachings.
When faced with questions about our faith, studying verses like 2 Timothy 2:2 can provide valuable insights into the principles and values that should inform our decisions.
It is crucial to seek a church that both upholds biblical truths and cultivates an authentic relationship with God.
As we navigate these significant choices, we mustn't forget to ask God for guidance and wisdom.
We can trust that He will steer us towards a community that fosters our spiritual growth and nurtures our faith.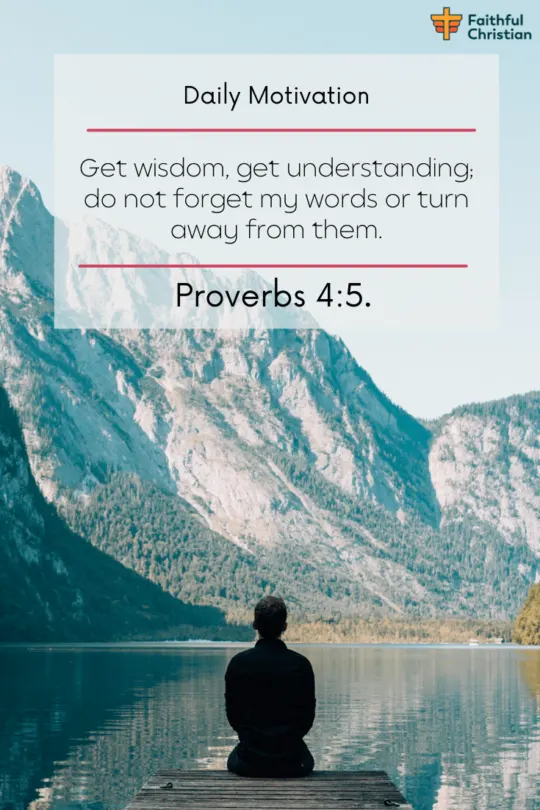 Get wisdom, get understanding;do not forget my words or turn away from them.
In challenging times, it's essential to seek God's wisdom to direct us.
Rather than relying solely on our own understanding during life's difficult moments, we should entrust ourselves to His divine direction.
By allowing God to assume control and steer our lives, we may be astonished by how He navigates us toward our destiny.
Always remember to pray for wisdom, exercise patience, and approach each decision with a spirit of discernment and trust in the Lord.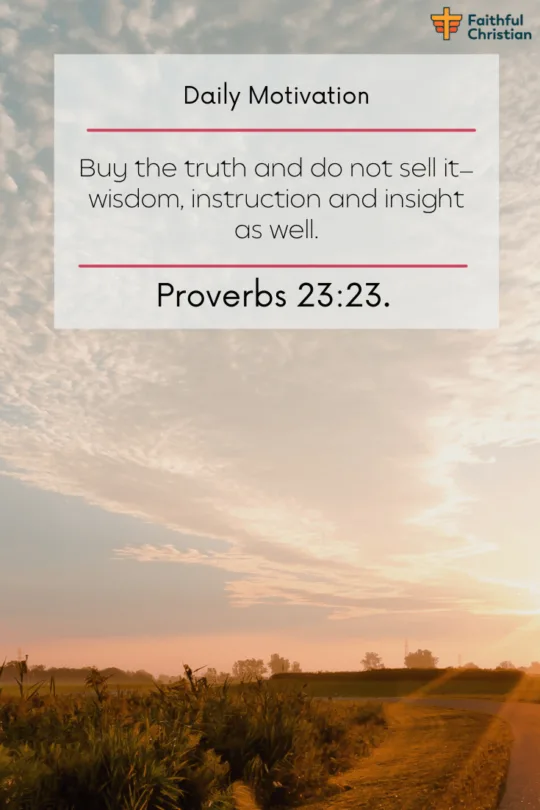 Buy the truth and do not sell it—wisdom, instruction and insight as well.
How can we achieve success without making the best choices?
Consistently making poor decisions will undoubtedly obstruct our advancement and personal development.
It is vital to pursue God's truth, wisdom, and understanding in every facet of our existence.
By requesting the grace to select the appropriate course, we can align our lives with His divine direction.
Rely on God's guidance for life's decisions, confident that He cares for you and seeks your well-being.
In this way, we can grow and prosper under His guidance and protection.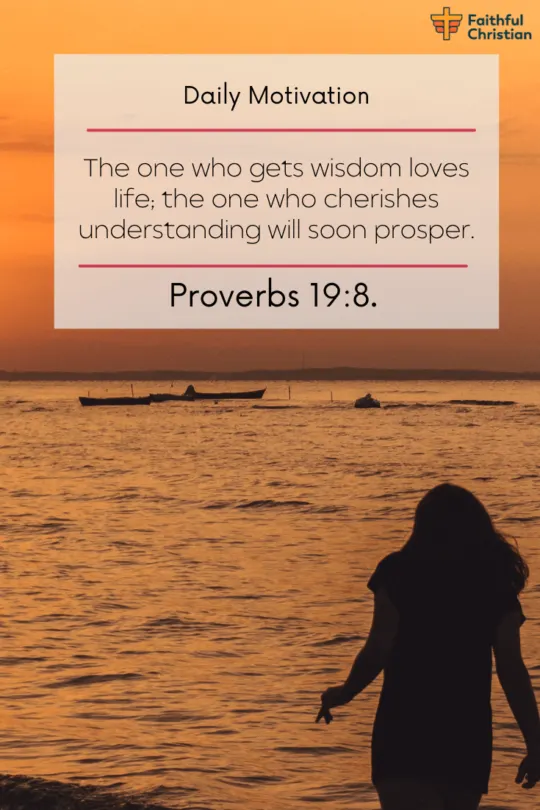 The one who gets wisdom loves life;the one who cherishes understanding will soon prosper.
Attaining success is closely tied to drawing upon the wisdom and guidance of God.
As an eternal being with no beginning or end, God has witnessed the struggles and challenges faced by countless individuals across the globe.
He possesses a deep understanding of your difficulties, as they are not unfamiliar to Him.
Therefore, it is crucial to actively seek God's wisdom and assistance in our lives.
By earnestly praying for wisdom and receiving it, we can experience prosperity and fulfillment in every aspect of our existence.
Proverbs 8:5.
Psalm 25:4.
Psalm 86:11.
Psalm 27:11.
Psalm 143:8.
Psalm 5:8.
Philippians 4:6.
Proverbs 3:5-6.
1 Peter 5:7.
Matthew 6:8.
FAQs
What does the Bible teach about decision-making?
The Bible underscores the significance of making prudent choices while seeking divine guidance throughout the decision-making process. Proverbs 3:5-6 urges us to trust wholeheartedly in the Lord and not rely on our understanding. Similarly, Joshua 24:15 encourages us to choose to serve God. Both verses highlight the importance of turning to God when making life choices.
What wisdom do Proverbs impart for good decisions?
Proverbs share essential insights for making informed decisions. Proverbs 16:3 recommends committing all our actions to God, while Proverbs 2:6-7 explains that wisdom is a gift from Him. Both passages stress the importance of seeking God's guidance to make wise choices.
Which verse offers us a choice from God?
Deuteronomy 30:19-20 presents a choice between life and death, blessings and curses. This verse emphasizes the importance of following God's commandments to experience a blessed life.
Why are we allowed to make choices by God?
God grants us the freedom to make choices because He has endowed us with free will. This gift allows us to love and serve Him genuinely. Our choices offer opportunities for personal growth, character development, and a closer relationship with God.
How can I find divine guidance for decision-making?
To find divine guidance, begin with prayer, asking for wisdom and direction. Engage with the Bible, searching for relevant Scriptures. Listen to the Holy Spirit and seek advice from trusted Christian friends or mentors. Stay open to God's guidance and be prepared to prioritize His will.
Which Psalm pertains to decision-making?
Psalm 32:8 offers reassurance of God's guidance and direction. This verse reminds us that God is invested in our lives and will guide us when we seek Him.
What constitutes a decision-making prayer?
A decision-making prayer is a heartfelt plea to God for wisdom, guidance, and discernment in making choices. It involves asking God to unveil His will, aligning our desires with His, and seeking the peace and confidence that stem from trusting His guidance.
What should I pray when I'm undecided?
When facing indecision, pray for God's wisdom and guidance. Request clarity, and seek the Holy Spirit's direction and discernment. Stay open to signs or promptings, and ask for peace and trust in God's timing.
Author: Akatakpo Dunn
Dr. Akatakpo Dunn is a dedicated follower of Christ, an active member and speaker, and an ongoing learner of the Scriptures. Passionate about his faith and serving others, he is committed to sharing his spiritual journey and insights to inspire and uplift fellow believers. He has been active in the church for more than 23 years. Through The
Faithful Christian Blog
,
Dr. Dunn
combines his love for God, philanthropy, and Scripture, providing a valuable resource for those seeking to grow in their faith.
Follow me: on Youtube, Facebook, Twitter, Instagram, and Pinterest.
Content Disclosure:
At The Faithful Christian Blog, I create authentic and inspiring content. Although I am the main author, I occasionally use AI for minor language enhancements. This minimal AI usage ensures high-quality, trustworthy articles without compromising originality or sincerity, ultimately supporting our shared faith journey.
Warmly,
Dr. Akatakpo Dunn
Was this article helpful?