Are you seeking inspiration to make a meaningful impact in the world? Look no further.
In this short post, we will delve into the transformative power of Bible verses about making a difference.
Why should you care? These profound passages not only ignite the desire for change but also guide us on the righteous path.
"Be the change you wish to see in the world," said Mahatma Gandhi. This quote reminds us that taking a stand is vital in creating a better tomorrow.
So, what can you expect from this article? We'll explore various Bible verses that emphasize our potential to make a difference, offering you a source of motivation and wisdom.
Ready to begin? Let's dive in and uncover the profound insights within these sacred texts.
Bible verses about making a difference.
16 In the same way, let your light shine before others, that they may see your good deeds and glorify your Father in heaven.
Matthew 5:16, an important bible verse about making a difference, calls us to positively impact our communities and the world by living a life that reflects God's love and grace.
It's true; we have all fallen short and sinned before God.
Everyone has sinned, but genuine repentance grants a second chance from God, allowing us to live righteously and face life's challenges as transformed individuals.
More importantly, we become instruments of change in the world, shining the light of Christ wherever we go.
Ephesians 5:8 further elaborates on this concept: "For you were once darkness, but now you are light in the Lord. Live as children of light."
Everybody has in the past taken decisions they later regretted. Many of us have been entangled in various regrettable sins.
However, because of God's call and His unwavering love for us, we've managed to overcome our previous ways and step into His glorious light.
Our dark past serves as a testament to the enemy's schemes, which aimed to render our futures worthless, humiliate us, and even make us adversaries of God.
God has redeemed us from our darkest moments, guiding us towards righteousness. As lights in the world, we are transforming it and making it a better place for everyone.
Similarly, Titus 3:14 urges us to "devote ourselves to doing what is good, in order to provide for urgent needs and not live unproductive lives."
These related scriptures emphasize the importance of living a life that exemplifies God's goodness, ultimately inspiring others to seek Him.
To make a positive impact, we must first exemplify the change we seek. Christ's perfection and selfless sacrifice on the cross allowed him to transform our lives.
Our faith in Jesus demonstrates our acceptance of His lifestyle and belief in Him as the path to salvation.
By focusing on kindness and goodness towards all, including adversaries and strangers, we can genuinely help make the world a better place.
Moses' life (Exodus 3-14) exemplifies making a difference in the world. Moses, once a fugitive and a shepherd, was chosen by God to lead the Israelites out of Egyptian slavery.
Despite his initial hesitation, Moses accepted God's call and confronted the powerful Pharaoh with courage and faith.
Through his obedience and perseverance, Moses helped free an entire nation from oppression, changing the course of history and impacting countless lives.
In the same way, if we persist in living a sinful life after claiming repentance, our ability to positively influence others will be hindered.
How can we genuinely inspire those around us if our own lives do not reflect the transformative power of God's love?
By living righteously and upholding God's commandments, our actions testify to His grace, inspiring others to pursue salvation.
So let us shine brightly as lights in the world, embracing our calling to make a difference and glorifying God through our actions and deeds.
12 Live such good lives among the pagans that, though they accuse you of doing wrong, they may see your good deeds and glorify God on the day he visits us.
1 Peter 2:12 highlights the crucial role our actions play in shaping the world for the better.
The verse instructs us to "live such good lives among the pagans that, though they accuse you of doing wrong, they may see your good deeds and glorify God on the day he visits us."
Our words and deeds have a profound impact on Earth, and by embracing personal transformation, we can create lasting change.
Embracing change and adopting a Christ-centered mindset is essential for anyone determined to make a difference.
By adhering to the highest ideals of Christianity, we avoid sinful behaviors and maintain a lifestyle that reflects our beliefs.
1 Peter 3:16 further emphasizes the significance of our conduct, asserting that maintaining a clear conscience will lead our detractors to feel ashamed of their slander.
Our steadfast commitment to living godly lives can sway even the most ardent critics and leave a lasting impression on unbelievers.
2 Corinthians 8:21 also stresses the importance of integrity in all aspects of life, illustrating that with God's presence, we can accomplish extraordinary things.
Paul the Apostle's life is a testament to the transformative power of faith in action. Once a zealous persecutor of Christians, Paul's life was dramatically altered following his conversion on the road to Damascus (Acts 9).
Paul's life transformation led him to become a highly influential figure in the early Christian church, illustrating the power of faith in action.
Through his missionary journeys (Acts 13-28) and various New Testament epistles, Paul fervently shared the Gospel, exemplifying how living in accordance with Christ's teachings can generate waves of positive change.
In summary, our actions and words wield considerable power to shape the world.
As disciples of Christ, we must set an example by ardently exhibiting the godly attributes of a born-again believer. Through our transformed lives, we can inspire others to find joy and ultimately bring glory to God.
8 This is to my Father's glory, that you bear much fruit, showing yourselves to be my disciples.
John 15:8 calls us to embrace a higher purpose, to make a real difference in the world around us. By wholeheartedly accepting our roles as followers of Christ, we can create a ripple effect of lasting change.
With every action and word, we have the opportunity to touch lives, and in doing so, bear fruit that echoes into eternity.
For a truly transformative impact, we must stand courageously in our faith in Christ. Sharing the Gospel becomes not only our calling but our passion.
Born-again Christians experience a renewed purpose, guided by the Holy Spirit. With newfound confidence, they spread God's message, touching hearts and minds everywhere.
Throughout history, God has chosen remarkable individuals to carry out His divine plans.
Daniel exemplifies how a single person, with unwavering faith, can make a significant difference in the world.
Undeterred by his captivity in Babylon, Daniel's unshakable faith in God and unwavering principles set him apart.
His rise to powerful positions laid the groundwork for incredible transformations.
Daniel's wisdom and integrity became a living testament to God's greatness, ultimately uplifting and empowering his fellow Jewish captives.
In a similar vein, John 13:35 reminds us that our actions serve as a beacon of our faith. When we radiate love and kindness, we embody Christ's teachings and draw others into the warm embrace of God's kingdom.
In conclusion, as followers of Christ, let us fully commit to our divine responsibilities. With open hearts and open minds, we can seize opportunities to be instruments of God's love.
Through living virtuous lives, bearing fruit, and guiding others to the life-changing power of God's love, we can embrace our calling as Christ's followers.
Collaborating with divine power, we can leave a lasting impact, fostering transformation and hope across the globe.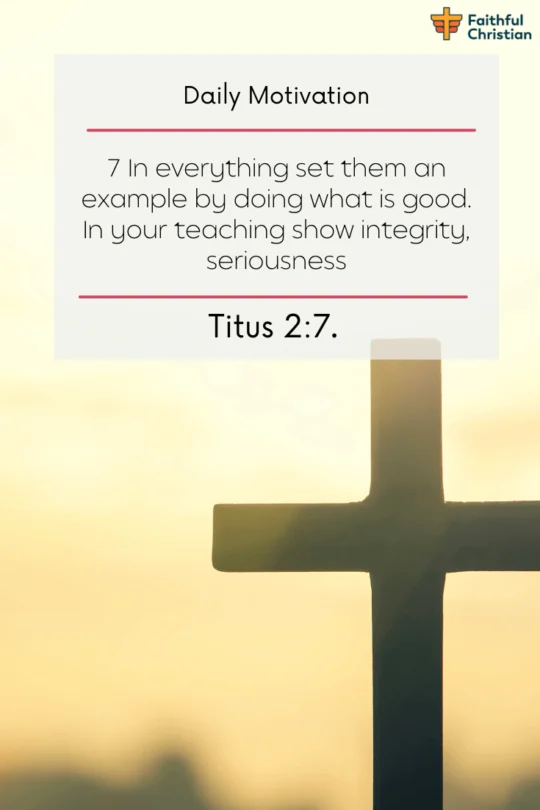 7 In everything set them an example by doing what is good. In your teaching show integrity, seriousness
Titus 2:7 emphasizes the importance of integrity and leading by example in making a difference in the world.
This verse emphasizes the need to be genuine and committed in our efforts to serve God and others.
Our influence as Christians comes from our actions, as supported by related scriptures 1 Peter 5:3 and 1 Timothy 4:12.
In 1 Peter 5:3, leaders are called to be examples to their followers, not lording their authority over them but instead inspiring them through their own actions.
Similarly, 1 Timothy 4:12 encourages young believers to be role models in their speech, conduct, love, faith, and purity, thereby setting a powerful example for others to follow.
One remarkable biblical figure who exemplified this principle is Abraham, the father of the Israelite nation (Genesis 12-22).
When God called Abraham to leave his homeland and journey to a new land, he demonstrated unwavering faith and obedience.
Abraham's life demonstrates the power of steadfast faith and commitment to God in creating a significant impact on the world, as seen in his willingness to sacrifice Isaac (Genesis 22).
His legacy not only established the foundation for a great nation but also demonstrated the transformative power of obedience, trust, and faithfulness.
To make a difference, we must follow the examples of Abraham and other biblical figures, committing to a life of integrity and service, inspiring others, and promoting lasting change.
By being a light in the darkness, we can lead others to Christ and the transformative message of the Gospel.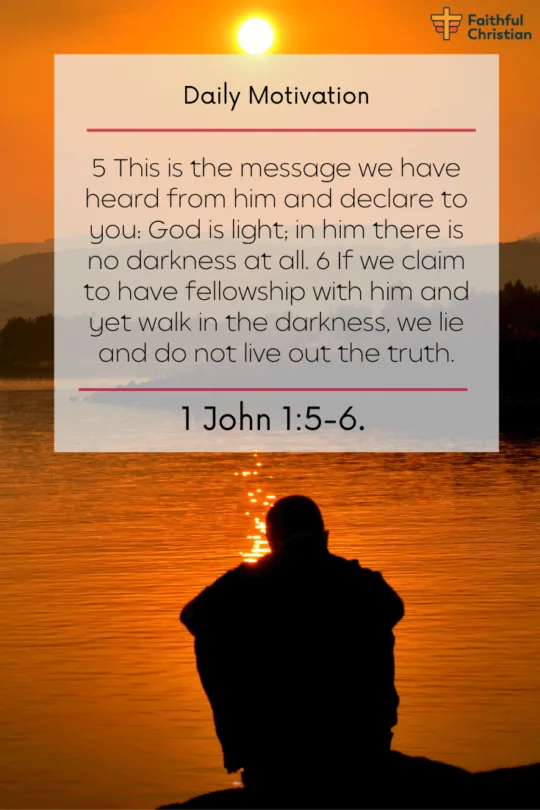 5 This is the message we have heard from him and declare to you: God is light; in him there is no darkness at all. 6 If we claim to have fellowship with him and yet walk in the darkness, we lie and do not live out the truth.
7 But if we walk in the light, as he is in the light, we have fellowship with one another, and the blood of Jesus, his Son, purifies us from all[a] sin.
In the radiant words of 1 John 1:5-7, we discover that loving God means living a life free from the shadows of sin.
Embracing this divine light enables us to positively influence the world and spread love.
Ephesians 1:7 and Revelation 7:14 inspire us with their powerful message of redemption and cleansing.
Not a single person is free from sin. We all entered a world steeped in sin at birth. Despite our attempts to resist, we sometimes yield to the devil's deceptions.
However, as true Christians, we must strive to follow the example of the Bible's faithful servants, who recognized their sins and swiftly sought forgiveness.
Christ's sacrifice provides forgiveness, and His blood washes away our sins.
Accepting God's boundless mercy calls us to reflect His light and love in every aspect of our lives.
Noah's story exemplifies making a difference in a dark world.
Amidst widespread wickedness, Noah stood as a beacon of righteousness, finding favor in the eyes of the Lord.
Obeying God's command to build an ark, he saved not only his family but also an abundance of animals from the Great Flood.
Noah's unwavering faith preserved life and initiated a renewed covenant with God.
Emulating Christ's example is the key to becoming catalysts of change in a world that desperately needs hope and healing.
Steering clear of hypocrisy, we should concentrate on eternal salvation and commit to creating a positive impact on the world by harnessing the transformative power of the Holy Spirit.
To fulfill this calling, we must walk as Christ did: sinless and always striving for perfection.
When we stumble, let us quickly recognize our missteps and humbly seek God's forgiveness.
In doing so, we can become luminous beacons of hope, guiding a world longing for love and direction towards the warm embrace of our Heavenly Father.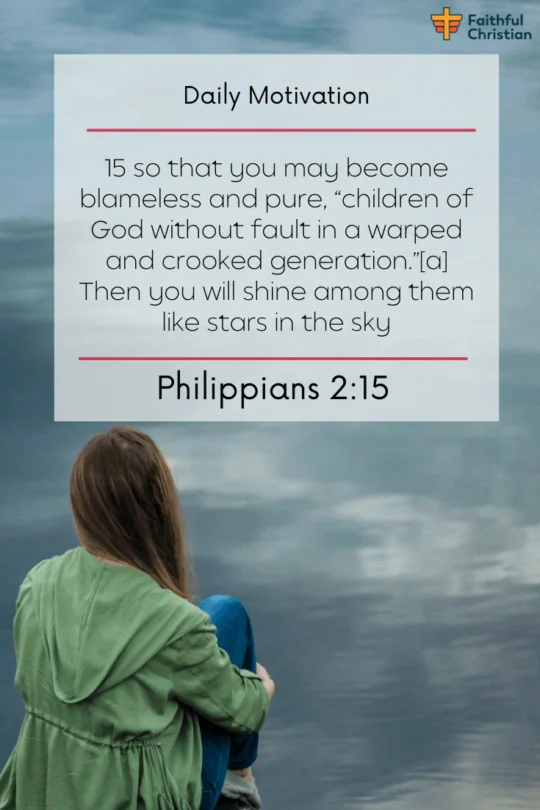 15 so that you may become blameless and pure, "children of God without fault in a warped and crooked generation."[a] Then you will shine among them like stars in the sky
16 as you hold firmly to the word of life. And then I will be able to boast on the day of Christ that I did not run or labor in vain.
In today's world, we often witness a myriad of ungodly behaviors and attitudes, as people brazenly disregard moral values and principles.
Actions such as engaging in premarital intimacy, infidelity, and excessive indulgence in vices have become all too common, leaving a generation detached from the fear and reverence of God.
But, our duty as God's children is to shine a light in an otherwise gloomy world.
Philippians 2:15 encourages us to "shine like stars in the sky," setting ourselves apart by living lives that reflect Christ's love and righteousness.
Holding onto faith and God's word, we live according to His principles, shining as beacons of light, positively impacting the world, and inspiring others to experience Christ's transformative love.
Moses' story (Exodus 3-14) exemplifies the impact one person can make. As a humble shepherd chosen by God, Moses demonstrated unwavering faith and obedience, leading the Israelites out of their bondage in Egypt.
Despite facing overwhelming challenges, Moses trusted in God's plan and guidance, ultimately delivering his people to the Promised Land.
We must always live according to God's principles, shining as beacons of light, positively impacting the world, and inspiring others to experience Christ's transformative love.
8 For you were once darkness, but now you are light in the Lord. Live as children of light
Ephesians 5:8 highlights the hope of redemption through repentance, allowing our inner light to shine and make a profound impact on the world.
As living examples of God's grace, we inspire others to seek His forgiveness and follow our path towards a life dedicated to Christ, transforming lives one person at a time.
"Arise, shine, for your light has come,and the glory of the Lord rises upon you. 2 See, darkness covers the earthand thick darkness is over the peoples, but the Lord rises upon youand his glory appears over you. 3 Nations will come to your light,and kings to the brightness of your dawn.
Isaiah 60:1-3 underlines "love" as a guiding principle in our new covenant with Christ.
By embodying love for God and our neighbors, we can reject darkness and resist sin, becoming agents of change that influence the lives of others, drawing them closer to the light of Christ.
As we pursue righteousness and cultivate love in our hearts, we create a ripple effect, transforming the world for God's glory and reflecting His love to all those we encounter.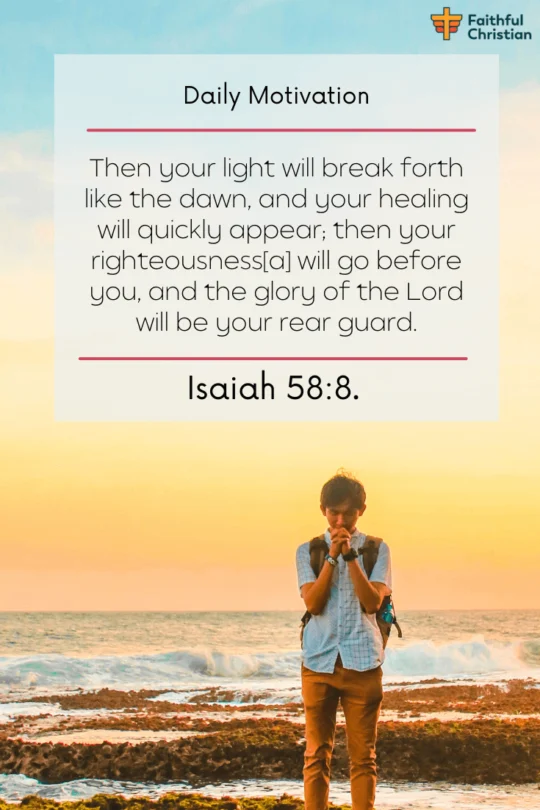 Then your light will break forth like the dawn,and your healing will quickly appear; then your righteousness[a] will go before you,and the glory of the Lord will be your rear guard.
Isaiah 58:8 unveils the incredible power and grace God has given us to positively impact those around us.
As we embrace our roles as ambassadors for Christ, we can lead sinners to repentance by shining our light in the world.
Our loving actions and righteous living not only create a more compassionate and caring world but also expand God's kingdom, drawing more people to the life-changing message of the Gospel.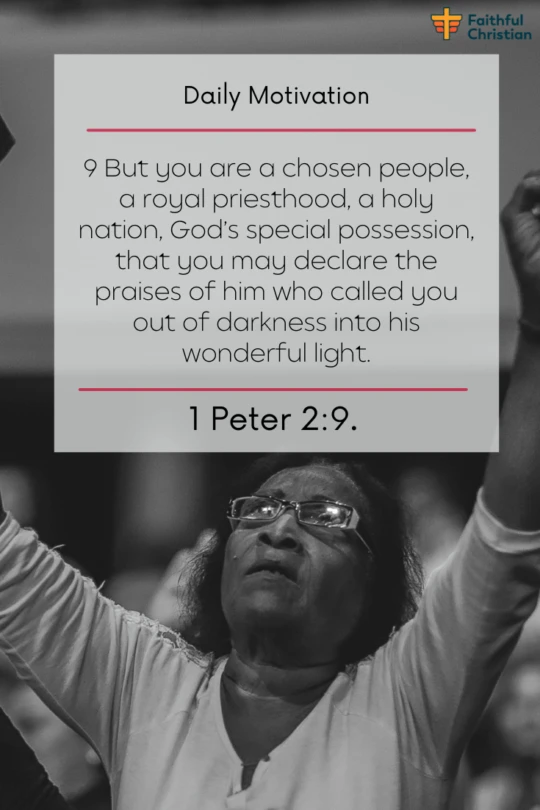 9 But you are a chosen people, a royal priesthood, a holy nation, God's special possession, that you may declare the praises of him who called you out of darkness into his wonderful light.
1 Peter 2:9 declares that God has called us into His glorious light, having redeemed us from sin and granting us the gift of eternal life.
As we embrace this extraordinary blessing, we have the responsibility to make an impact by living lives that mirror our transformed nature.
By exemplifying God's love and grace, we inspire others to seek redemption and embrace a life dedicated to Christ.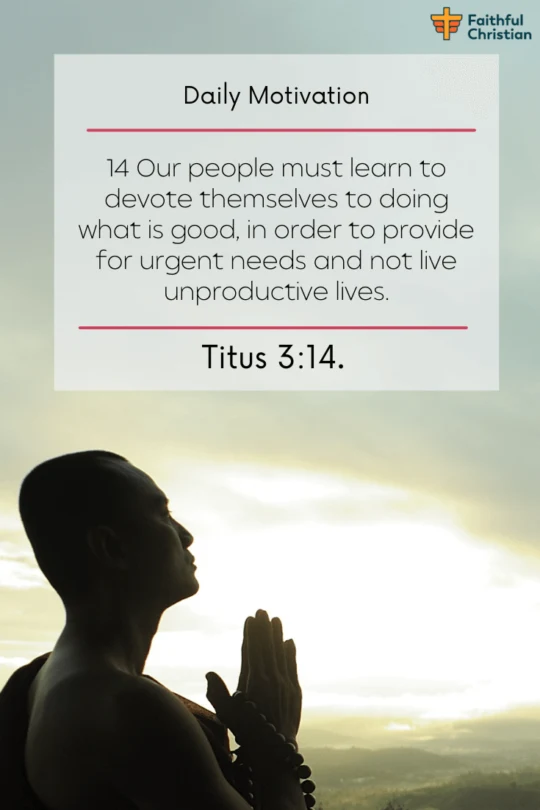 14 Our people must learn to devote themselves to doing what is good, in order to provide for urgent needs and not live unproductive lives.
Titus 3:14 teaches that repentance bears great responsibility.
As God's people, we must lead purpose-driven lives, devoted to doing what is good.
By being an inspiration and living according to God's principles, we contribute to positive change, one step at a time.
Living with intention, we can change the world by embodying Christ's love and compassion, challenging others to reevaluate their priorities and join us in our pursuit of righteousness.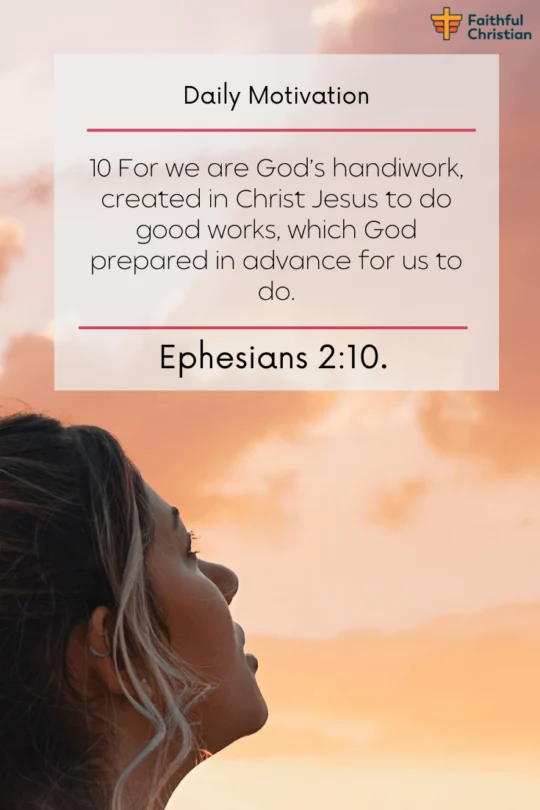 10 For we are God's handiwork, created in Christ Jesus to do good works, which God prepared in advance for us to do.
Ephesians 2:10 highlights that when we accept Christ, we become instruments for His kingdom work.
We must strive to do good, care for the less privileged, help those in need, and encourage sinners to embrace Christ.
By reflecting God's eternal love, we fulfill our purpose and create a ripple effect of kindness and compassion that positively impacts countless lives.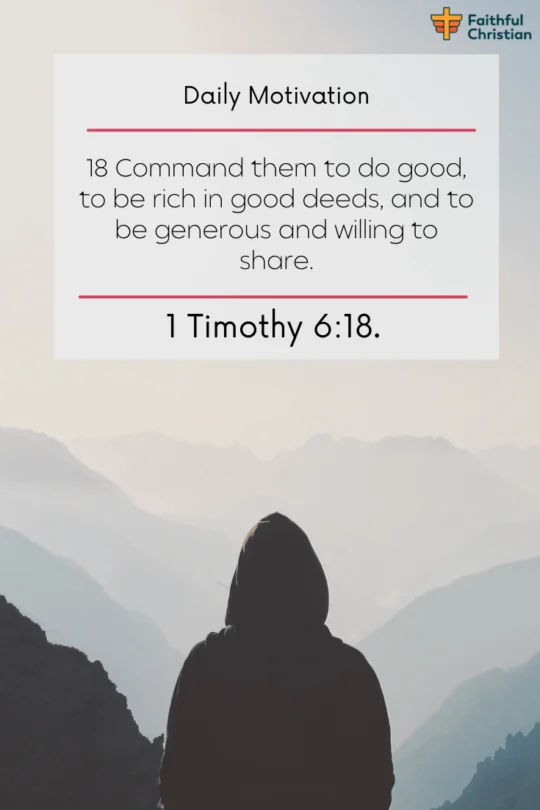 18 Command them to do good, to be rich in good deeds, and to be generous and willing to share.
1 Timothy 6:18 states that serving Christ involves engaging in good works, helping the poor, living righteously, and fleeing from sin.
By generously sharing our earthly possessions, we make a difference in the world. Our actions and attitudes are transformative catalysts. They showcase God's love and inspire others.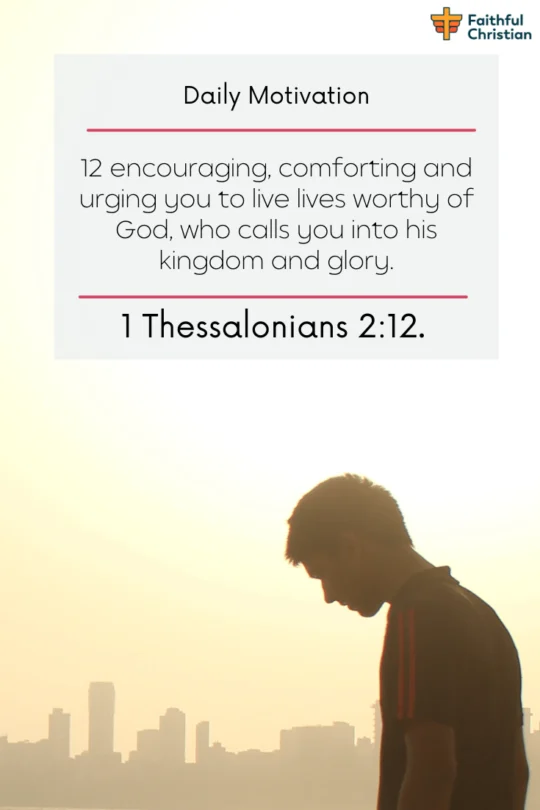 12 encouraging, comforting and urging you to live lives worthy of God, who calls you into his kingdom and glory.
1 Thessalonians 2:12 calls us to live lives that inspire unbelievers and encourage them to repent.
As soldiers of God, our faith should manifest in our words and actions.
By showcasing the transformative power of Christ, we become beacons of hope for those yet to experience His love.
1 Peter 4:11.
Mark 16:15.
Matthew 28:19.
John 15:16.
1 Timothy 6:17-19.
Romans 12:2.
1 Peter 1:14.
Ephesians 4:22-24.
2 Corinthians 5:17.
Ezekiel 36:26.
Frequently Asked Questions
Where in the Bible does it say there is no difference?
Romans 3:22-23 states that everyone, regardless of background, has sinned and needs salvation through faith in Jesus.
What is a difference maker for God?
These individuals positively impact others by sharing God's love, grace, and truth.
They actively spread the Gospel, serve others, and strive to be Christ-like, leaving a lasting impression on the world.
How do you become a difference-maker?
Building a strong relationship with God involves prayer, Bible study, and worship. Listen to the Holy Spirit, serve others, and share the Gospel.
Embrace Christ-like love and compassion, personal growth, and spiritual development by stepping out of your comfort zone.
Who is a difference maker in the Bible?
Many biblical figures stand out, such as the Apostle Paul, who transformed from a Christian persecutor into a fervent missionary.
Moses, who led the Israelites out of Egypt, and Esther, who courageously saved her people, are other notable examples.
What does the Bible say about little things making a big difference?
Passages like the parable of the mustard seed (Matthew 13:31-32) demonstrate that even small acts of faith and kindness can have a significant effect.
The seed grows into a large tree, offering shelter to birds.
What does the Bible say about making a difference?
Believers are encouraged to be salt and light (Matthew 5:13-16), positively influencing society by living their faith, showing love and compassion, and sharing the message of salvation through Jesus Christ.
What does the Bible say about making an impact?
The Bible encourages making an impact through the Great Commission and acts of service, love, and kindness. (Galatians 6:9-10).
What does the Bible say about little things making a big difference?
In addition to the parable of the mustard seed, the story of the widow's offering (Mark 12:41-44) shows how even small acts of generosity can be significant when given sincerely.
These examples remind us that small gestures and acts of faith can set off a chain reaction of positive change.
Author: Akatakpo Dunn
Dr. Akatakpo Dunn is a dedicated follower of Christ, an active member and speaker, and an ongoing learner of the Scriptures. Passionate about his faith and serving others, he is committed to sharing his spiritual journey and insights to inspire and uplift fellow believers. He has been active in the church for more than 23 years. Through The
Faithful Christian Blog
,
Dr. Dunn
combines his love for God, philanthropy, and Scripture, providing a valuable resource for those seeking to grow in their faith.
Follow me: on Youtube, Facebook, Twitter, Instagram, and Pinterest.
Content Disclosure:
At The Faithful Christian Blog, I create authentic and inspiring content. Although I am the main author, I occasionally use AI for minor language enhancements. This minimal AI usage ensures high-quality, trustworthy articles without compromising originality or sincerity, ultimately supporting our shared faith journey.
Warmly,
Dr. Akatakpo Dunn
Was this article helpful?