Are you grappling with negative thoughts and actions? Yearning for a transformative change in your life? Rest assured, you're not the only one.
Numerous individuals face the challenge of turning their lives around and embracing positivity.
In this article, we'll delve into Bible verses about changing from bad to good, offering valuable insights on this essential journey towards righteous living.
By learning to let go of detrimental habits, accepting God's grace, and aligning with your new identity in Christ, you can initiate genuine transformation.
As 2 Corinthians 5:17 states, "Therefore, if anyone is in Christ, he is a new creation. The old has passed away; behold, the new has come."
So, how can you harness the wisdom of these Holy Scriptures to initiate a genuine transformation in your life?
Let's dive in and find the answers together.
---
Recommended for you
---
Bible Verses about Changing from Bad to Good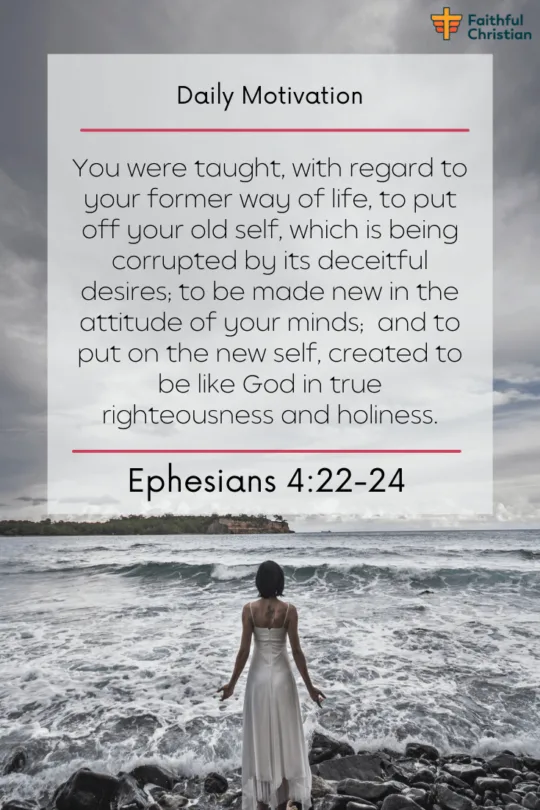 You were taught, with regard to your former way of life, to put off your old self, which is being corrupted by its deceitful desires; 23 to be made new in the attitude of your minds; 24 and to put on the new self, created to be like God in true righteousness and holiness.
Ephesians 4:22-24 shines a light on the journey from negativity to positivity. It offers vital guidance for those on a quest for spiritual growth.
The Apostle Paul urges us to leave behind our old selves and step into a new life with Christ.
Understanding the concept of "putting off the old self" is crucial. The passage tells us to discard our previous lives tainted by sin.
In its place, we adopt a new self, reflecting God's righteousness and holiness. This transformation is a continuous process, requiring conscious effort.
Refreshing our minds and thought patterns is a key part of this transformation. As believers, we must let go of harmful thoughts, habits, and behaviors.
By embracing Christ's teachings and the Holy Spirit's guidance, we develop positive thinking patterns.
The process of spiritual change involves being created anew in God's image. As we welcome our new lives in Christ, we grow more like Him.
This reflects His love, righteousness, and holiness. This change demands ongoing growth and learning.
Personal effort is vital for spiritual growth. While God's grace and the Holy Spirit's guidance are crucial, we must actively seek God's wisdom.
We should apply His teachings and live a life that pleases Him. This dedication deepens our understanding of God's will and purpose.
The Apostle Paul's life demonstrates the transformative power of the Holy Spirit. Once known as Saul of Tarsus, he persecuted Christians.
Then, he encountered Christ and was radically transformed. Paul became a powerful force for good, spreading the Gospel and writing much of the New Testament.
In modern times, Chuck Colson is an inspiring example of spiritual change. As a former Nixon aide, he was part of the Watergate scandal and imprisoned.
During his time behind bars, he met Christ and founded the Prison Fellowship organization. Through his ministry, he helped countless individuals find hope and redemption.
Ephesians 4:22-24, 2 Corinthians 5:17, and Galatians 5:24-25 highlight the impact of spiritual transformation.
By shedding our old selves, renewing our minds, and embracing our new lives, we can experience positivity, righteousness, and holiness.
In conclusion, moving from negativity to positivity is a lifelong journey. It demands dedication and perseverance.
With God's guidance and the teachings in these Scriptures, we can achieve spiritual growth and live joyfully in God's image.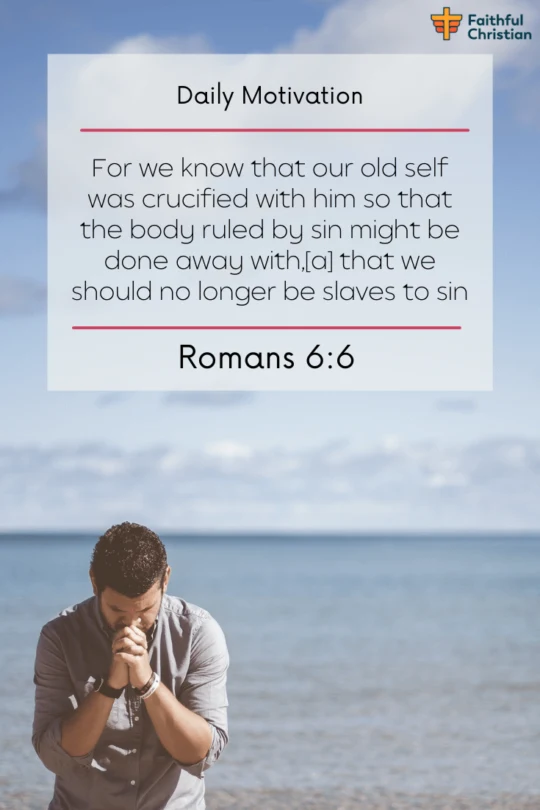 For we know that our old self was crucified with him so that the body ruled by sin might be done away with,[a] that we should no longer be slaves to sin—
The Bible offers invaluable wisdom for those seeking to change from bad to good. A key passage, Romans 6:6, talks about our old self being crucified with Christ.
Let's delve deeper into this verse and discover its significance for our journey towards righteousness.
In Romans 6:6, we learn that our old self was crucified with Jesus, enabling us to break free from sin's grasp.
Romans 6:6 demonstrates the transformative power of faith in Christ, enabling us to abandon our old sinful nature and adopt a new life in Him.
Baptism symbolizes our union with Christ's death, burial, and resurrection. Romans 6:4 explains that through baptism, we declare our commitment to forsaking our sinful past and pursuing a righteous life in Christ.
The process of transformation is continuous and requires consistent effort, rather than being a singular occurrence. Romans 12:2 encourages us to continually renew our minds and resist conforming to worldly patterns.
The Holy Spirit enables this renewal, empowering us to live in a way that honors God.
Galatians 2:20 reveals that through faith in Christ, our old sinful self is crucified, allowing Christ to live within us and guide us towards righteousness.
Embracing our new identity in Christ, we find freedom from sin and can truly live as children of God. This freedom allows us to joyfully serve God and others, knowing we've been set free to lead a righteous life.
Understanding our identity in Christ is essential for our transformation. We must acknowledge that our old sinful self has been crucified, and we now have a new identity as followers of Jesus.
This realization equips us to live according to our new nature, striving for righteousness and holiness.
Zacchaeus, a corrupt tax collector, exemplifies a life transformed by Christ (Luke 19:1-10). Upon encountering Jesus, he changed his ways, making amends for his wrongdoings.
In more recent times, John Newton, a former slave trader, underwent a profound conversion and penned the cherished hymn "Amazing Grace."
Both stories illustrate Christ's ability to effect lasting change in those who seek Him.
In summary, the journey from bad to good is attainable through the transformative power of Jesus Christ.
By recognizing the importance of our old self being crucified with Christ and understanding our new identity in Christ, we can embark on a life-changing journey towards righteousness.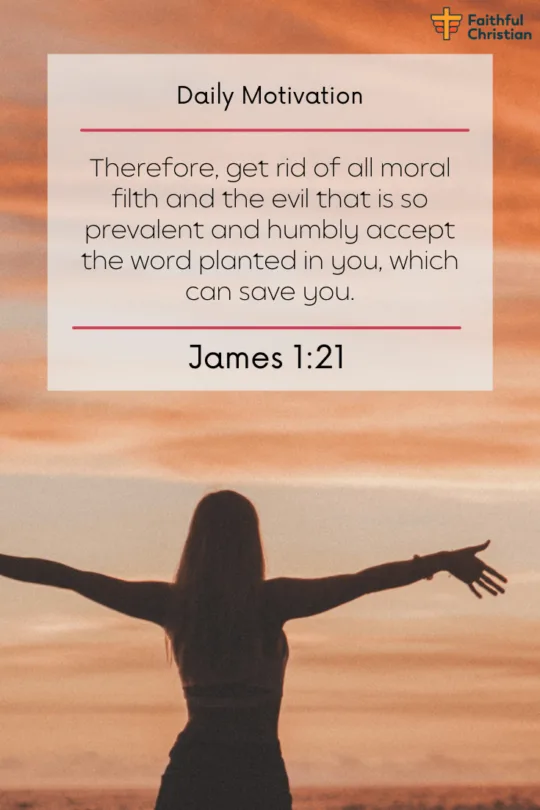 Therefore, get rid of all moral filth and the evil that is so prevalent and humbly accept the word planted in you, which can save you.
James 1:21 is a potent verse. It calls on believers to accept God's Word and transform their lives. It tells us to abandon sinful ways and embrace the Bible's life-changing impact.
The Bible has a unique ability to change lives. Throughout history, many people have transformed their character, values, and actions after encountering the Word.
King David, for instance, found forgiveness and renewal through faith in God despite his grave sins. We too can experience a change from bad to good by delving into Scripture.
Humility is crucial for transformation. It helps us recognize our shortcomings and need for divine guidance. When we approach the Bible with a humble heart, we become receptive to God's life-giving message.
The parable of the sower in Matthew 13:23 shows that an open heart brings an abundant harvest of righteousness.
Faith is essential for embracing the Bible's teachings. We need to trust in the truth of God's Word and its transformative power.
1 Peter 1:22-23 highlights that obedience to the truth purifies us, allowing us to love deeply. We are born again, not from perishable seed, but through God's living and enduring Word.
Our faith enables genuine spiritual growth and change.
Reading the Bible or listening to sermons isn't enough. Genuine transformation requires putting what we learn into action. James 1:22 advises us to be doers of the Word, not just listeners.
Applying Scripture to our daily lives allows us to become living testimonies of God's power to change us from bad to good.
Inspirational figures like King David and C.S. Lewis showcase the Bible's incredible impact. Lewis, once an atheist, became a fervent Christian after immersing himself in Scripture.
His writings continue to inspire countless people worldwide, motivating them to seek a deeper relationship with God.
By embracing God's Word and applying it to our lives, we can experience a true transformation from wickedness to virtue.
Humbly accepting the divine message, exercising faith in its power, and putting its teachings into action sets us on a journey from bad to good, becoming more like Christ each day.
Therefore, rid yourselves of all malice and all deceit, hypocrisy, envy, and slander of every kind. 2 Like newborn babies, crave pure spiritual milk, so that by it you may grow up in your salvation,
Embarking on a spiritual journey from bad to good can be both challenging and rewarding.
1 Peter 2:1-2 beautifully captures this transformation, urging us to abandon negative traits and seek God's Word for nourishment and growth.
To shift from evil to godliness, we must first recognize and eliminate destructive behaviors. 1 Peter 2:1 highlights the need to rid ourselves of malice, deceit, hypocrisy, envy, and slander.
These attitudes obstruct our spiritual growth and harm relationships. Tackling these issues head-on propels us towards becoming better individuals in Christ.
Spiritual nourishment is the next vital step in this transformative journey. 1 Peter 2:2 encourages us to crave God's Word like infants crave milk.
This powerful analogy underlines the importance of desiring spiritual sustenance for our souls. Embracing God's teachings reminds us to hunger for righteousness (Matthew 5:6), equipping us to change from bad to good.
Understanding that spiritual growth is an ongoing process and lifelong journey is crucial. Peter the Apostle, one of Jesus' closest disciples, exemplifies this concept.
Despite his initial impulsiveness and denial of Jesus, Peter eventually became a cornerstone of the early Christian church. His story teaches us that change requires time, effort, and the Holy Spirit's guidance.
Developing a love for Scripture is essential in our shift from evil to godliness. Psalm 34:8 invites us to "taste and see that the Lord is good."
Immersing ourselves in God's Word helps us understand His character and promises. By cultivating a passion for Scripture, we gain wisdom and guidance for positive life changes.
Recognizing the value of a supportive community for spiritual growth is also vital. Corrie ten Boom, a Holocaust survivor and Christian speaker, exemplifies the impact of community on faith.
Despite facing unspeakable horrors, ten Boom's unwavering faith and the support of her family and fellow believers led her to become a symbol of hope, forgiveness, and love.
Her story showcases the transformative power of community in our journey from bad to good.
In conclusion, the journey from bad to good is both demanding and fulfilling. By heeding the guidance in 1 Peter 2:1-2 and other Scriptures, we can undergo spiritual growth and transformation.
Eliminating harmful behaviors, seeking spiritual nourishment, acknowledging the ongoing nature of our journey, developing a love for God's Word, and embracing a supportive community enables us to shift from evil to godliness, becoming better versions of ourselves in Christ.
But encourage one another daily, as long as it is called "Today," so that none of you may be hardened by sin's deceitfulness.
Hebrews 3:13 emphasizes the value of mutual encouragement in our spiritual journey. It urges us to support each other daily to avoid being hardened by sin's deceitfulness.
This supportive Christian community is vital for changing from bad to good. Let's explore this concept and its modern-day relevance.
Surrounding ourselves with uplifting people is crucial for positive change. The Bible encourages believers to help one another stay strong on the path of righteousness.
For instance, Galatians 6:1-2 teaches us to gently restore one another and bear each other's burdens.
Changing from bad to good is an ongoing process filled with temptations and challenges. In these moments, a supportive Christian community can make a difference.
As 1 Thessalonians 5:11 suggests, mutual encouragement helps us stay resilient in our faith and resist sin.
Sin's deceitful nature can harden our hearts, making change difficult. Hebrews 3:13 warns us of this danger, urging daily encouragement to prevent our hearts from hardening.
Commitment to spiritual growth is essential for change. Nurturing our faith through prayer, Bible study, and fellowship is vital. Daily encouragement helps us focus on our relationship with God and progress in our spiritual journey.
Accountability within a Christian community is a powerful tool for change. When accountable to others, we make better choices and stay on the path of righteousness.
Fellow believers' support and encouragement help us stay committed to our journey, overcome sin, and experience genuine transformation.
Barnabas is a prime biblical example of mutual encouragement. Known as the "Son of Encouragement," he supported fellow believers, including Apostle Paul, and inspires us to follow his example.
Billy Graham's life and ministry demonstrate the transformative power of mutual encouragement in modern times.
His dedication to sharing the Gospel inspired millions to embrace faith in Christ, and his message of hope continues to impact lives today.
In summary, the Bible highlights the significance of mutual encouragement, community, and accountability in transforming from bad to good.
By learning from examples like Barnabas and Billy Graham, we can appreciate the role of a supportive Christian community in our spiritual growth.
By surrounding ourselves with uplifting fellow believers, we can overcome sin, grow spiritually, and embrace God's transformative grace.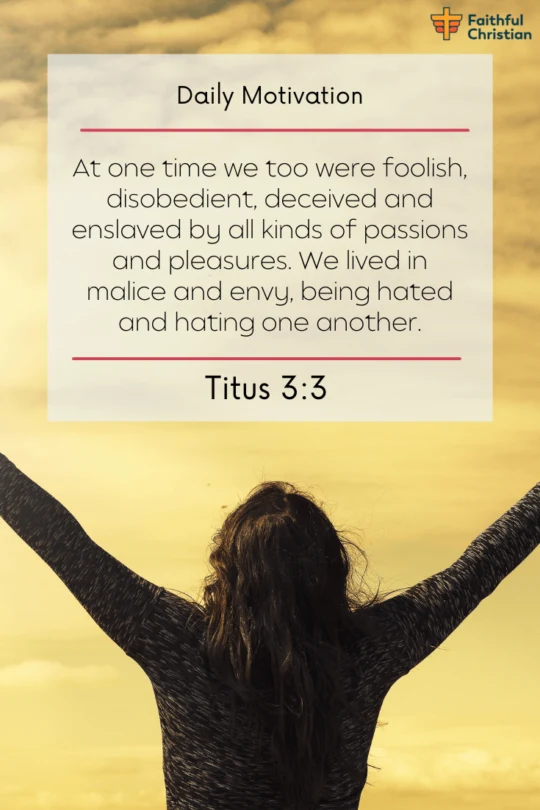 At one time we too were foolish, disobedient, deceived and enslaved by all kinds of passions and pleasures. We lived in malice and envy, being hated and hating one another.
The powerful message of Titus 3:3 guides us on our journey from darkness to light, showing us the potential for change from bad to good.
It reminds us of our once sinful past and highlights the need for transformation through God's love.
Take Mary Magdalene, for example. She was tormented by seven demons before meeting Jesus (Luke 8:2).
Her faith in Jesus brought life-altering change, turning her into a devoted follower. Her story offers hope and shows the amazing impact of God's love.
In more recent times, Nicky Cruz, a former gang leader, experienced a similar transformation. Once leading the violent Mau Maus gang in New York City, he heard God's message from a preacher named David Wilkerson.
This encounter led Cruz to leave his past behind and become an evangelist. Now, he shares the gospel and helps others find hope and transformation through God's love.
As we face our sinful past and seek change, it's essential to remember God's kindness, love, and mercy in our transformation.
Romans 5:8 highlights that God's love is a gift, given even while we were sinners, emphasizing that it isn't dependent on our actions or merits.
Ephesians 2:1-5 further illustrates the power of God's love in our lives. It tells us that although we were once dead in our sins, God's great mercy and love made us alive with Christ.
This passage encourages us to embrace our new identity as God's children, leaving our sinful past behind and walking in the light of His love.
In conclusion, our journey from darkness to light is full of challenges and triumphs. Both Mary Magdalene and Nicky Cruz show us the transformative power of God's love, offering hope for those seeking change.
Recognizing our past and recalling the impact of God's kindness, love, and mercy enables us to embrace our new identity as children of God, allowing for profound transformation.
As we walk in this newfound light, we can live a life that reflects our commitment to change from bad to good, impacting those around us in a positive way.
Then I acknowledged my sin to youand did not cover up my iniquity. I said, "I will confessmy transgressions to the Lord." And you forgavethe guilt of my sin.
Psalm 32:5 is a powerful passage highlighting the importance of spiritual growth and character development. This verse teaches us the significance of confessing our sins to God and experiencing His forgiveness.
It's essential to acknowledge our sins and transgressions before God. When we come clean, we open ourselves to the transformative power of repentance.
As 1 John 1:9 assures us, confession leads to a changed life, a vital component of spiritual growth and character development.
Take King Manasseh, for example. He was once an idolatrous and wicked king. Faced with the consequences of his actions, he repented and sought forgiveness.
God forgave him and restored his kingdom, demonstrating the potential for change when we humble ourselves.
In modern times, Lee Strobel's story is inspiring. A former atheist set on disproving Christianity, his journey led him to embrace faith.
He became a renowned Christian author and apologist, exemplifying the transformative power of embracing God's love and forgiveness.
Confessing our sins and seeking God's forgiveness is crucial in our spiritual journey. It helps us realize the depth of God's love and mercy.
Proverbs 16:6 reminds us that God's steadfast love and faithfulness provide the foundation for transformation.
With God's forgiveness, we can leave our past behind and embrace a new beginning. Our lives become testimonies of God's redemptive power, inspiring others to seek spiritual growth and character development.
Confessing our sins allows God to reshape us into the people He wants us to be.
In conclusion, changing from bad to good is vital for spiritual growth and character development.
Psalm 32:5 and other scriptures remind us to confess our sins, embrace God's forgiveness, and experience His transformative love and mercy.
By following examples like King Manasseh and Lee Strobel, we can become living testaments to the change God brings.
This transformation impacts us personally and inspires others to grow spiritually and develop Christ-like character.
Whoever conceals their sins does not prosper, but the one who confesses and renounces them finds mercy.
Proverbs 28:13 teaches us the value of acknowledging our sins and seeking forgiveness. Let's explore the importance of repentance and forgiveness in our spiritual journey.
Hiding our sins can hinder spiritual growth. Guilt, shame, and unworthiness may arise from concealing our wrongdoings. Confessing our sins opens the door to God's mercy and healing.
Psalm 51:10 urges us to seek a pure heart: "Create in me a pure heart, O God, and renew a steadfast spirit within me."
True repentance goes beyond just confessing our sins. It requires a change of heart and a commitment to leave sinful behavior behind.
Acts 3:19 calls for repentance to experience renewal: "Repent, then, and turn to God, so that your sins may be wiped out, that times of refreshing may come from the Lord."
Genuine repentance brings us closer to God and renews our sense of purpose.
Humility is crucial when admitting our sins and asking for forgiveness. We need to recognize our imperfections and rely on God's grace to overcome them.
The Prodigal Son's story (Luke 15:11-32) is a powerful example of humility and repentance. The son returns to his father, asking for forgiveness after wasting his inheritance.
The father embraces him, symbolizing God's loving forgiveness.
Confessing and turning away from our sins open the door to God's blessings and restoration. Our relationship with God strengthens, and we can experience salvation's joy.
Augustine of Hippo, a famous philosopher and theologian, illustrates transformation through confession and repentance. Once a hedonist, Augustine became an influential Christian thinker.
Honesty and transparency about our struggles are vital for spiritual growth. By acknowledging our weaknesses, we can seek support and let God work in our lives. This openness helps us grow in faith and become more Christ-like.
In conclusion, Proverbs 28:13 emphasizes the need for confession, repentance, and forgiveness to change from bad to good. Embracing humility, honesty, and transparency, we can experience God's transformative grace, leading to a righteous life.
Remember the Prodigal Son and Augustine of Hippo as we strive to reflect God's love and mercy.
8 I will cleanse them from all the sin they have committed against me and will forgive all their sins of rebellion against me.
Jeremiah 33:8 unveils God's astounding mercy and love. It says, "I will cleanse them from all the sin they have committed against me and will forgive all their sins of rebellion against me."
This verse highlights the biblical teachings of leaving sinful ways for godly living. It emphasizes the change from bad to good through God's grace.
God's cleansing power is always available for those who seek it. No matter how far we stray, His love and mercy offer us a fresh start.
Isaiah 1:18 conveys the message that despite the severity of our sins, God's forgiveness can cleanse us and make us pure again.
Recognizing our sinful nature and seeking forgiveness leads to profound transformation. The Bible story of Nineveh exemplifies this principle.
God warned the Ninevites of destruction through Jonah. Surprisingly, they repented and turned to God, who then spared their city.
Micah 7:18-19 highlights God's incredible mercy. It says, "Who is a God like you, who pardons sin and forgives the transgression of the remnant of his inheritance? You do not stay angry forever but delight to show mercy."
This passage shows that God's mercy plays a vital role in our transformation from sin to righteousness.
Embracing God's forgiveness opens the door to new beginnings. George Müller, a former gambler and founder of orphanages, is an inspiring modern-day example.
His life changed dramatically after encountering the Bible. Through God's forgiveness, he became a compassionate servant of God, impacting thousands of orphans.
God's love is boundless and immeasurable. Experiencing His love and forgiveness empowers us to leave sinful ways and pursue godly living. His love cleanses us, offering a clean slate and an opportunity to grow closer to Him.
In conclusion, Jeremiah 33:8 conveys a powerful message of hope for those seeking to change from bad to good. By acknowledging our sinful nature and embracing God's forgiveness, we can experience His love and mercy.
Turning to God and seeking His guidance, we find the strength to leave our sinful ways and embrace godliness.
Through the examples of Nineveh and George Müller, we see that God's grace can reach anyone, and new beginnings are possible for those who earnestly seek divine forgiveness.
7 You used to walk in these ways, in the life you once lived. 8 But now you must also rid yourselves of all such things as these: anger, rage, malice, slander, and filthy language from your lips. 9 Do not lie to each other, since you have taken off your old self with its practices
The Christian journey is about moving from sin to holiness. Colossians 3:7-9 calls us to face our past mistakes and welcome a new life in Christ.
In this article, we delve into the principles and practical applications of transformation, shedding light on the change from bad to good.
To tread the path of holiness, acknowledging our past sins is essential. Colossians 3:7-9 invites us to remember our sinful lives and the immoral acts we committed.
By recognizing our past, we learn to value God's grace and forgiveness, allowing us to break free from sin.
Matthew the Apostle, a former tax collector, met Jesus and became His disciple. His transformation story exemplifies the power of redemption.
On this journey, we must discard our old self and sinful habits. Romans 13:12 advises us to throw away darkness and wear the armor of light.
Similarly, 1 Peter 4:3 asserts that we've spent enough time living in worldly desires. By consciously renouncing sin, we can adopt a life of righteousness and godliness in Christ.
Civil rights activist Malcolm X experienced a spiritual transformation that reshaped his worldview and attitude. His journey from crime and hatred to love and compassion motivates those seeking change.
Pursuing a holy life demands recognizing our reliance on God's grace. Only through His grace can we defeat sin and align with our new identity in Christ. Our sincerest efforts will fall short without the Holy Spirit's guidance.
Putting off the old self underlines the significance of leaving behind our sinful history and depending on God's grace for transformation.
When we accept Christ as Savior, we gain a new identity as God's children. Our actions and choices should reflect this new identity, showcasing the transformation from bad to good.
Aligning with our identity in Christ involves actively pursuing a life of holiness, righteousness, and love.
Living in alignment with our new identity in Christ highlights the importance of mirroring the inner change in our transformed lives.
Our transformation should not only affect us personally but also positively influence our relationships and interactions.
The change from bad to good must be evident in our love, compassion, kindness, and commitment to justice and righteousness.
In conclusion, Colossians 3:7-9 serves as a potent reminder of the journey from sin to holiness that every believer is called to embrace.
Recognizing our sinful past, shedding our old self and sinful habits, relying on God's grace, and reflecting our new identity in Christ enable us to experience genuine change from bad to good.
1 Corinthians 10:13
2 Peter 2:9
2 Timothy 4:18
1 Corinthians 15:33
Luke 6:46
James 5:16
Frequently Asked Questions
How do I turn everything into a positive?
Transforming your perspective to focus on the positive involves cultivating gratitude and recognizing opportunities for growth in challenging situations.
Romans 8:28 highlights the importance of trusting in God, as it assures believers that even in challenging situations, good outcomes can result for those who love Him.
By practicing gratitude and seeking the silver lining, you can develop a positive outlook on life.
How do I let go of everything negative?
Letting go of negativity requires self-awareness, forgiveness, and trusting in God's plan. Start by identifying negative thoughts and emotions, and then release them through prayer, meditation, or journaling.
Ephesians 4:31-32 encourages kindness, compassion, and forgiveness, which can help you let go of negativity and embrace a positive attitude.
What does the Bible say about changing for good?
The Bible encourages change for the better by emphasizing the significance of leaving sin behind and embracing righteousness.
Through accepting Jesus as our Savior, as stated in 2 Corinthians 5:17, we undergo spiritual transformation, enabling us to forsake sinful ways.
How do you turn bad things into good?
To turn bad things into good, adopt a resilient mindset that helps you learn from adversity and grow stronger.
James 1:2-4 highlights the potential for personal growth in difficult situations, encouraging us to transform challenges into opportunities for spiritual development.
Can God turn bad into good?
God can indeed turn bad into good. The story of Joseph in Genesis 50:20 demonstrates that God can use even the worst circumstances to bring about good for His people and fulfill His purpose.
What does the Bible say about good coming from evil?
The Bible illustrates that good can come from evil. Romans 8:28 assures us that God can use even evil situations to bring about good outcomes for believers who trust in Him.
How do I change my bad mindset to good?
To transition from a negative to a positive mindset, focus on uplifting thoughts and emotions.
Philippians 4:8 encourages meditation on positivity, helping you gradually replace negative thinking patterns with an optimistic and constructive outlook.
Author: Akatakpo Dunn
Dr. Akatakpo Dunn is a dedicated follower of Christ, an active member and speaker, and an ongoing learner of the Scriptures. Passionate about his faith and serving others, he is committed to sharing his spiritual journey and insights to inspire and uplift fellow believers. He has been active in the church for more than 23 years. Through The
Faithful Christian Blog
,
Dr. Dunn
combines his love for God, philanthropy, and Scripture, providing a valuable resource for those seeking to grow in their faith.
Follow me: on Youtube, Facebook, Twitter, Instagram, and Pinterest.
Content Disclosure:
At The Faithful Christian Blog, I create authentic and inspiring content. Although I am the main author, I occasionally use AI for minor language enhancements. This minimal AI usage ensures high-quality, trustworthy articles without compromising originality or sincerity, ultimately supporting our shared faith journey.
Warmly,
Dr. Akatakpo Dunn
Was this article helpful?