Is your heart heavy with the weight of a shattered relationship?
Has someone you deeply love left you feeling abandoned and alone, like you're navigating through an endless storm?
Heartbreak can feel like a crushing wave, but in these moments of pain and despair, it's comforting to know that God can be your steadfast anchor.
The Bible offers a wealth of verses that provide comfort and healing during heartache and love-related pain, reminding us of God's constant love and presence, even in our darkest moments.
He is our unfailing stronghold, a guiding light that leads us through the labyrinth of sorrow and uncertainty.
As we delve into these Bible verses about pain in love, may you find renewed strength, hope, and the reassurance that your broken heart can be mended by the loving touch of our heavenly Father.
Bible verse About pain in love [Heartbreak Scriptures]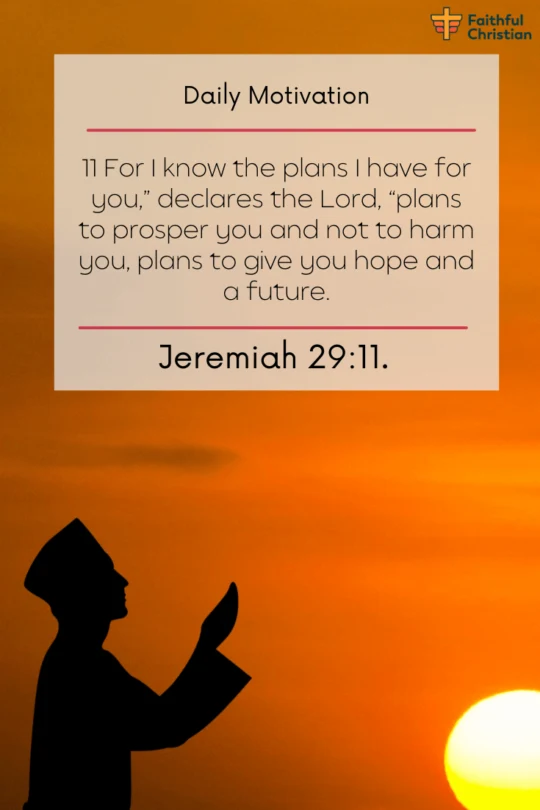 11 For I know the plans I have for you," declares the Lord, "plans to prosper you and not to harm you, plans to give you hope and a future.
The good news
In the midst of heartache and pain in love, remember God has a greater plan in store for you.
Even though the journey might be tough, these struggles are temporary, and brighter days await you.
Though God's decisions may be confusing or painful, He prioritizes our well-being.
The promise in Jeremiah 29:11 serves as a reminder that, amidst heartbreak, God is our refuge and shelter, providing the strength we need.
The phrase "plans to prosper you and not to harm you" should swiftly revive your spirit.
God's desire is for us to flourish and find happiness. So when you're engulfed by heartache and pain, trust that a better plan from God is near.
I remember years ago when I experienced a devastating loss of a close friendship.
I never imagined that our bond, built on years of mutual support and shared memories, would crumble.
Yet, when the storm came, it left our friendship in ruins, with nothing left to cling to.
However, as I look back now, I can see the unique plan God had in store for me all along.
I am now blissfully united with an enchanting woman who embodies the essence of God's tender and loving plan for my life, filling my heart with warmth and joy.
Consider the story of Jacob, Leah, and Rachel from Genesis 29.
Jacob's love for Rachel brought heartache to Leah, who felt unloved and neglected.
Yet, even in this challenging situation, God had a plan that ultimately led to the twelve tribes of Israel through both Leah and Rachel.
Micah 4:12 also reminds us that God's ways are often mysterious and beyond our understanding.
Similarly, Job 23:13 declares, "But he stands alone, and who can oppose him? He does whatever he pleases."
Although our pain's reasons might be unclear, we can trust that God's intentions are for our good.
Lamentations 3:26 teaches us, "It is good to wait quietly for the salvation of the Lord." In times of heartache, we should seek comfort in prayer and turn to God for strength and hope.
God assures us of peace and prosperity, even in difficult times. He will never abandon you or let you face pain alone. Trust in His plan to heal your heart and bring joy back into your life.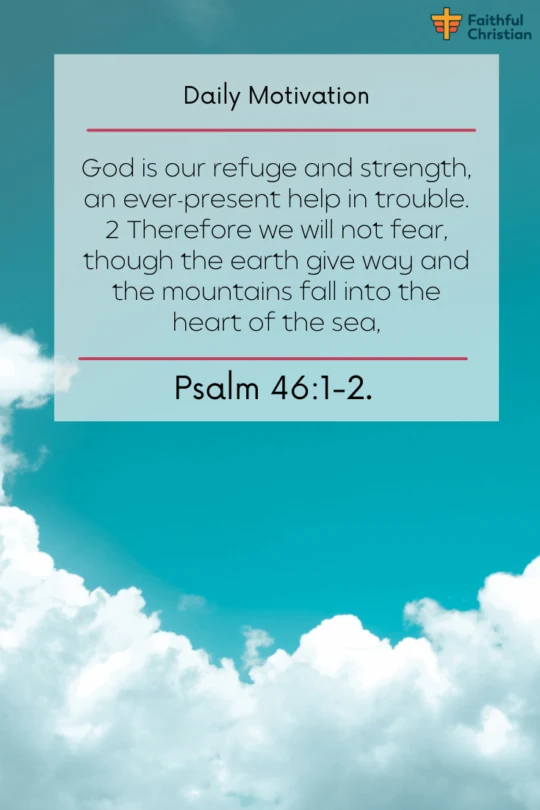 God is our refuge and strength,an ever-present help in trouble. 2 Therefore we will not fear, though the earth give wayand the mountains fall into the heart of the sea,
The good news
As heartbreak takes hold, it may feel like everything you knew is now crumbling around you.
Thoughts race through your mind: "How could they hurt me? Why would God allow this? Haven't I been nothing but kind and loving?" These distressing questions can send you on a quest for answers and understanding.
Psalm 46:1-2 encourages you to turn to God for comfort and healing when faced with the heartache of a broken relationship.
Moreover, Psalm 145:18 offers a comforting reminder: "The Lord is near to all who call on him." This verse reassures us that as we genuinely turn to God during our moments of pain, He remains close by. In this way, He provides the support and guidance we so desperately need.
Psalm 9:9 further emphasizes God's role as our stronghold: "The Lord is a refuge for the oppressed, a stronghold in times of trouble." In moments of heartbreak, remember that God is there to provide shelter and strength, guiding you through the storm.
God is our sanctuary and guardian, always ready to wipe away our tears. He won't let us endure unbearable heartache; instead, He provides the courage we need to overcome life's challenges.
The story of Hosea and Gomer (Hosea 1-3) is a powerful biblical example of heartbreak and the resilience of love. Despite Gomer's unfaithfulness, Hosea remained devoted to her, reflecting God's unwavering love and commitment to His people. This story reminds us that amidst heartbreak, God's unwavering love offers hope and healing.
So, when love's pain feels unbearable, lean on God as your refuge and strength. Trust that He will help you navigate these turbulent times, and lead you to a place of peace and joy. Remember, God often has a greater plan in store for us, and sometimes, temporary pain opens the door to a more fulfilling relationship.
In your moments of heartache, pray for healing and trust that God is your refuge, providing the strength and support you need to overcome any obstacle.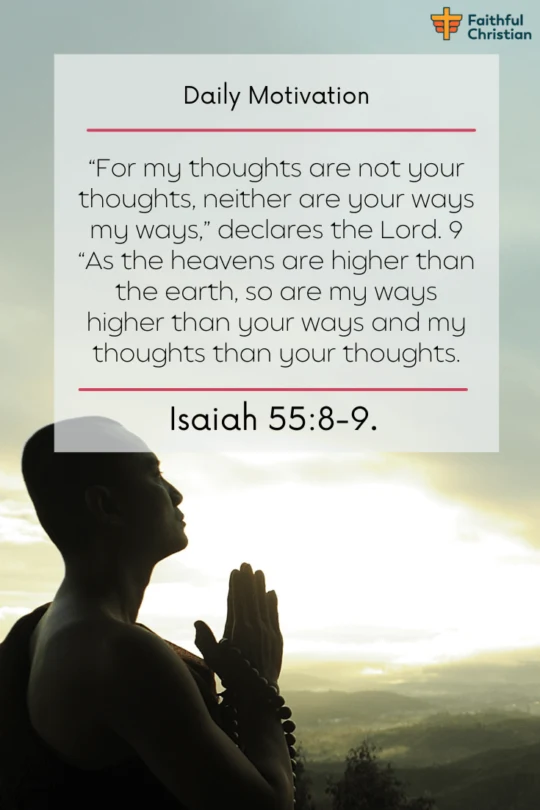 "For my thoughts are not your thoughts,neither are your ways my ways," declares the Lord. 9 "As the heavens are higher than the earth,so are my ways higher than your waysand my thoughts than your thoughts.
The good news
Isn't it puzzling how God sometimes permits us to experience heartache?
You may ask yourself, if God genuinely cares for me, why let me endure such pain?
Why does He let the enemy bring so much pain into my life?
The reality is that God's ways are profoundly different from ours. Recall the Phrase, "For my thoughts are not your thoughts," in Isaiah 55:8-9. God's ways are not like ours, and his understanding is infinite.
He sees beyond the present moment, understanding what's best for us. As the timeless Creator, God possesses a far-reaching vision of our lives that we simply can't grasp.
Despite our best efforts, comprehending God's viewpoint remains elusive. When He allows us to experience pain, there's always a purpose behind it.
Perhaps we're not quite ready for what's next or haven't matured enough to embrace the upcoming phase of life. In these cases, God permits pain and trials to help develop our perseverance and resilience. Ultimately, He reveals a divine alternative that surpasses our expectations.
In times of heartache, whether from a broken relationship or the loss of a dear friend, keep in mind that God might have an even greater plan waiting for you.
Psalm 92:5 says, "How great are your works, Lord, how profound your thoughts!" signifying that we can no matter how much we try or how many questions we choose to ask, God's thoughts are perfect and deep.
In the story of Abraham and Hagar (Genesis 16, 21), we witness the heartbreak that arises from impatience and taking matters into our own hands. Despite the pain, God's plan ultimately unfolds in His perfect timing, bringing about His promises.
It's often challenging to comprehend God's decisions for our lives, but He uses trials to shape us and guide us toward our destiny. Hosea 14:9 reminds us, "Whoever is wise, let him understand these things."
Stay strong and trust that God has a reason for everything, even when the path ahead is obscured by the fog of heartache.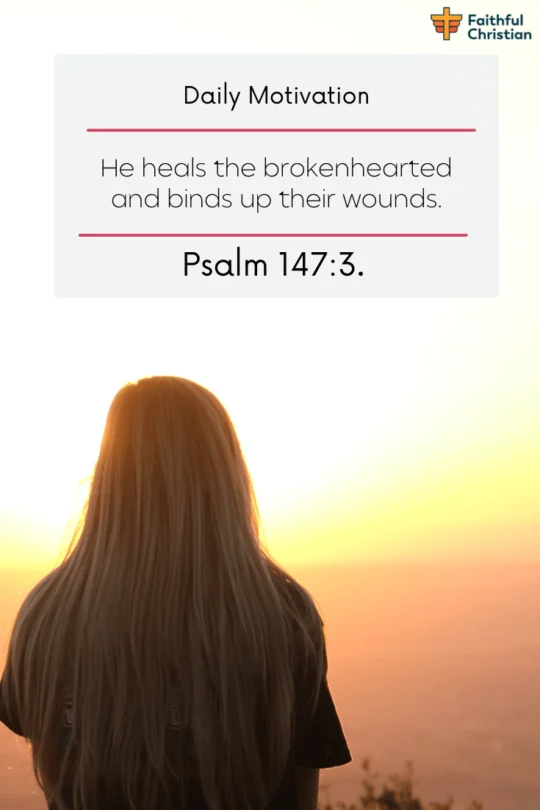 He heals the brokenheartedand binds up their wounds.
The good news
Is your heart torn apart by the painful sting of love and betrayal?
Psalm 147:3 offers solace during these challenging times, emphasizing God's unwavering love and compassion as He aims to ease our suffering from fractured relationships.
God reaches out with His healing touch to mend our broken hearts and provide us with the fortitude to overcome our worries and distress.
In times of heartache, it's important to depend on God's strength and believe in His capacity to heal our emotional wounds. Jeremiah 33:6 serves as an inspiring affirmation: "I will heal my people and will let them enjoy abundant peace and security." This verse instills hope, reminding us that God has remarkable plans for our lives and wishes to grant us lasting peace and safety.
During heartbreak, we may find ourselves consumed by sadness and caught in a never-ending loop of self-doubt and regret over past choices. However, God desires to mend our broken hearts and restore joy to our lives, as expressed in Job 5:18:
"For He wounds, but He also binds up; He injures, but His hands also heal."
Consider Peter's denial of Jesus in Luke 22:54-62. Despite Peter's heart-wrenching betrayal, Jesus forgave him, demonstrating that even in our darkest moments, there is hope for healing and restoration.
When love leaves us feeling lost and broken, don't isolate yourself or dwell on the past. Instead, embrace the healing power of prayer and let God's love mend your heart. He is always ready to bind our wounds and guide us towards a brighter future.
So, release your worries and surrender your heartache to God. Trust in His ability to heal your heartbreak and grant you the strength to move forward with grace and resilience.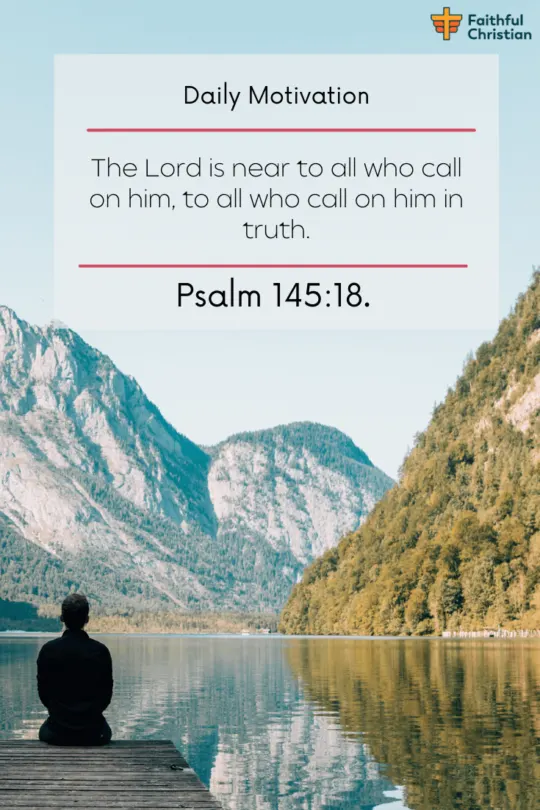 The Lord is near to all who call on him,to all who call on him in truth.
Amidst the turmoil of heartache, embracing the profound message of Psalm 145:18 is crucial.
When confronted with the pain and disappointment of love, seeking God's guidance and support becomes essential. With an open heart and prayerful spirit, we can turn to Him for divine assistance in overcoming our emotional distress.
Remember that patience is vital when offering prayers to the heavens. As we sincerely seek His direction, let's entrust our lives to God and allow Him to navigate us through these difficult times.
Psalm 145:18 comforts us with the knowledge that God is always close, ready to heal our broken hearts. Prayer provides solace and assurance that God is with us, granting inner peace in times of hardship. This divine connection offers comfort during life's challenges.
Jeremiah 29:12-13 declares, "Then you will call on me… and I will listen to you." This scripture underscores the importance of genuine prayer and confirms that God is attentive when we call upon Him.
Deuteronomy 4:7 echoes this sentiment, stating, "For what great nation is there that has a god so near to them…whenever we call upon Him?" This verse reminds us that God is continually accessible and prepared to listen, providing the strength we need to endure our grief.
In moments of heartbreak, draw close to God through prayer, assured that He is never far away. Trust that He is eager to offer the strength and peace necessary for healing and renewal.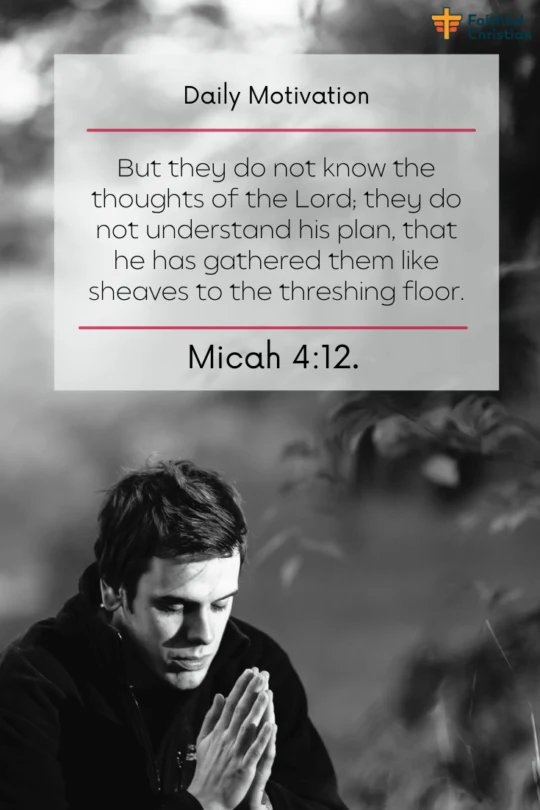 But they do not knowthe thoughts of the Lord; they do not understand his plan,that he has gathered them like sheaves to the threshing floor.
Life can be puzzling, especially when we're confronted with heartbreak and left wondering why.
Remember, everything unfolds for a reason, and if God permits it, there's a greater purpose at play.
During love's pain and heartache, it's important to pause and consider God's possible intentions for our situation.
While we might never fully grasp His plans, such introspection can offer solace, knowing He always has our well-being at heart.
Rest assured, God is our unyielding shield, safeguarding us from harm and serving as our unwavering pillar of strength.
During trying times, let's exercise patience and permit God's design to unravel in its own time.
With faith in His divine guidance, we can tread the path towards peace, happiness, and joy.
Trust that God will never fail us in the future, as this belief is key to mending a broken heart.
Micah 4:12 holds great significance for those experiencing love's anguish, for it reminds us of the mystery of God's ways.
Even when heartache clouds our vision, let us remain patient and steadfast in trusting God's flawless plan for our lives.
The Lord is close to the brokenhearted and saves those who are crushed in spirit.
Has your heart ever ached with the intensity of a thousand piercing shards, leaving you to question if you'll ever feel whole again?
Have you experienced the crushing weight of disappointment, as someone you cherished walks away, leaving you to gather the fragments of your fractured heart?
In these darkest hours, it's crucial to hold onto hope. Embrace the belief in the potential for a brighter tomorrow.
Psalm 34:18 offers profound solace for the brokenhearted: "The Lord is close to the brokenhearted and saves those who are crushed in spirit."
Amidst our anguish and despair, God reaches out to us, enfolding us in His tender embrace, and providing the soothing remedy of His divine presence.
He is a constant source of comfort and peace during our most turbulent times.
During our darkest hours, it's essential to maintain hope for a brighter future. God is a constant source of comfort and peace, especially in difficult times, as He is present with those who are contrite and lowly in spirit to help revive and mend their hearts. (Isaiah 57:15).
Moreover, Isaiah 61:1 reveals the heart of God's mission. The Line, "He has sent me to bind up the brokenhearted," reaffirms God's commitment to stand with us in our trying moments.
In your deepest moments of heartbreak and pain, remember that God is near, eager to restore your spirit and mend your broken heart. Trust in His unwavering love and allow Him to guide you through the storm, leading you to the calm shores of healing and hope.
The Lord is a refuge for the oppressed,a stronghold in times of trouble.
Psalm 9:9 speaks to the hope we have in Christ, especially during the trials of heartbreak and pain in love.
It reminds us that God is our refuge, a sanctuary in times of distress and heartache.
Remember that God is always with us during relationship struggles, offering support and a solid foundation.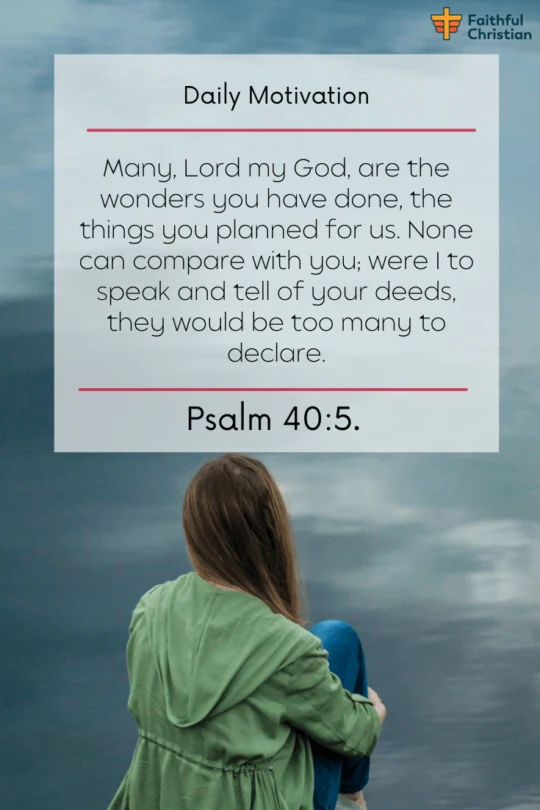 Many, Lord my God,are the wonders you have done,the things you planned for us. None can compare with you;were I to speak and tell of your deeds,they would be too many to declare.
Psalm 40:5 teaches us the importance of gratitude, even when we're facing the heartache of a broken relationship.
It encourages us to see the bigger picture and recognize that God has never abandoned us.
Instead, He has always been present, guiding us through various challenges in life.
In times of emotional pain, acknowledge the blessings we have and trust in God's greater plans for our future.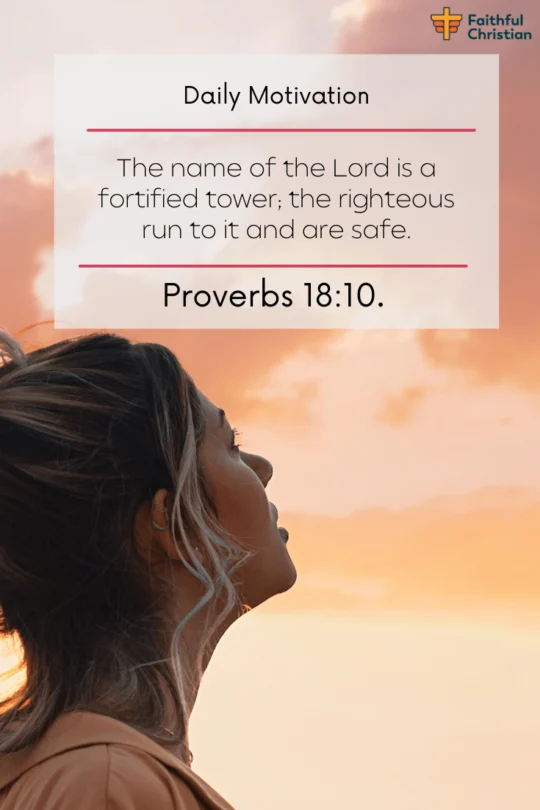 The name of the Lord is a fortified tower;the righteous run to it and are safe.
Proverbs 18:10 advises us to seek help when dealing with heartbreak.
By calling upon the Lord's name, we find a strong tower that can shelter us from our troubles.
Turning to God for solace during difficult times allows us to experience His healing and hope for a brighter future.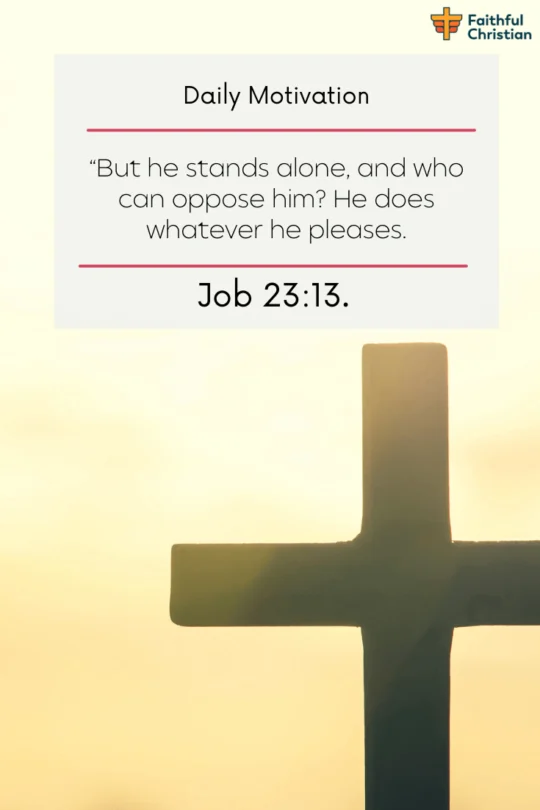 "But he stands alone, and who can oppose him?He does whatever he pleases.
Job 23:13 offers comfort during a breakup, emphasizing that there is nothing beyond God's capabilities.
We can rely on Him to fix even the most complex relationship issues.
Turn to God in prayer, trusting His ability to heal our hearts and provide guidance.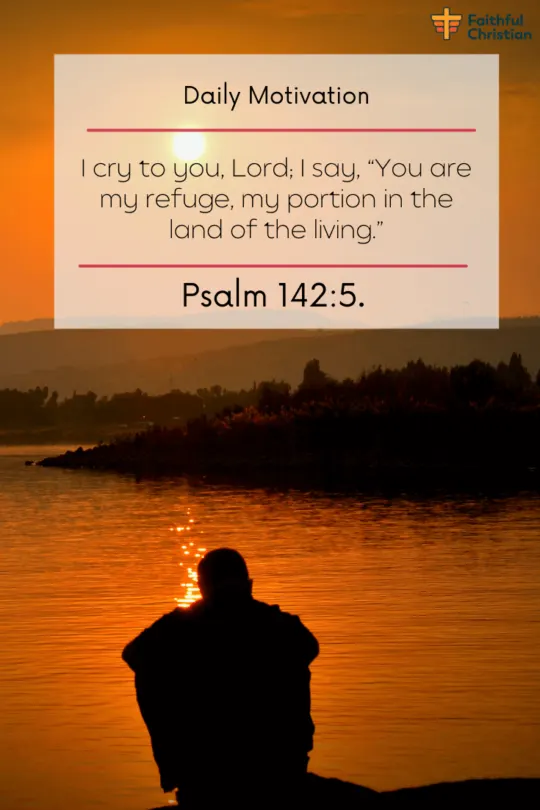 I cry to you, Lord;I say, "You are my refuge,my portion in the land of the living."
Psalm 142:5 urges us not to face heartbreak alone. Seek God's help to overcome challenges, asking for strength and wisdom, which leads to hope and resilience.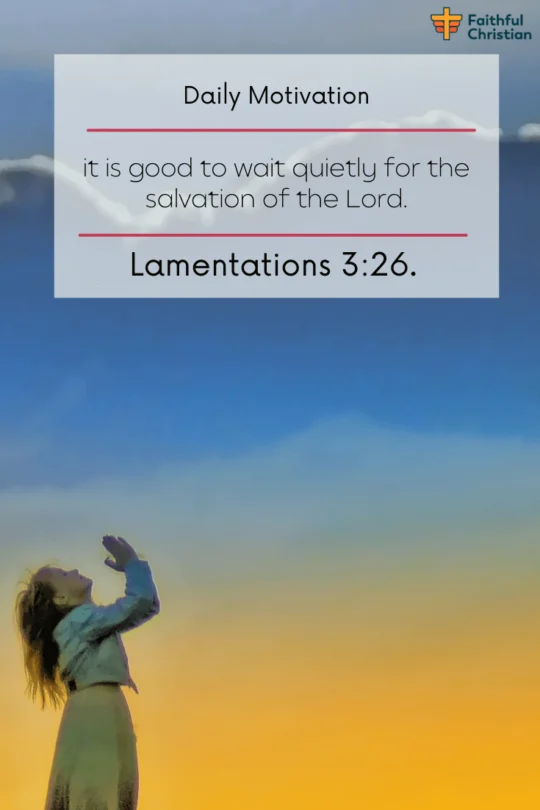 it is good to wait quietlyfor the salvation of the Lord.
Lamentations 3:26 highlights the importance of patience when dealing with heartbreak.
Entrust our problems to God, demonstrating faith in His plan as we patiently await His guidance.
This verse encourages us to be patient, avoid rushing into new relationships, and let go of thoughts of revenge, as we trust in God's healing process.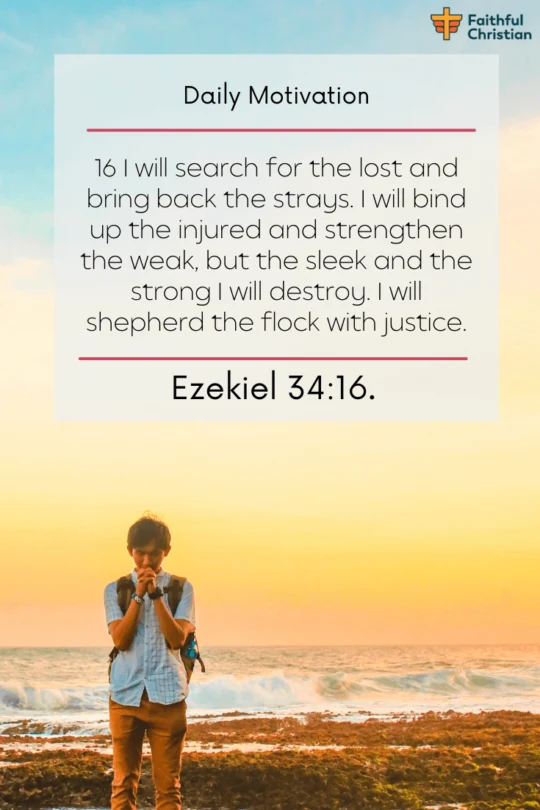 16 I will search for the lost and bring back the strays. I will bind up the injured and strengthen the weak, but the sleek and the strong I will destroy. I will shepherd the flock with justice.
Ezekiel 34:16 provides reassurance when we are hurt, reminding us that God will not abandon us to suffer indefinitely.
He promises to intervene, offering peace and healing for our broken hearts.
This verse also highlights God's role as our protector, fighting our battles and defeating our enemies on our behalf.
6 Do not be anxious about anything, but in every situation, by prayer and petition, with thanksgiving, present your requests to God.
Philippians 4:6 counsels those dealing with heartbreak to stop worrying about circumstances beyond their control.
Instead of dwelling on pain, we should express gratitude and turn to prayer for solace. Focus on God's blessings to start healing and anticipate a brighter future.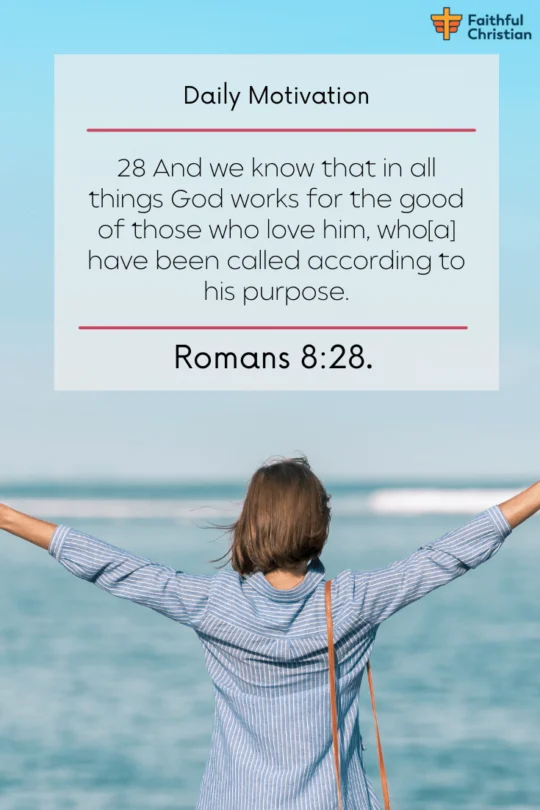 28 And we know that in all things God works for the good of those who love him, whoa]">[a] have been called according to his purpose.
Romans 8:28 inspires us to believe that even our heartbreaks will ultimately lead to our benefit.
This verse reminds us that God works in all situations, turning even the most painful experiences into stepping stones toward a more joyful and fulfilling future.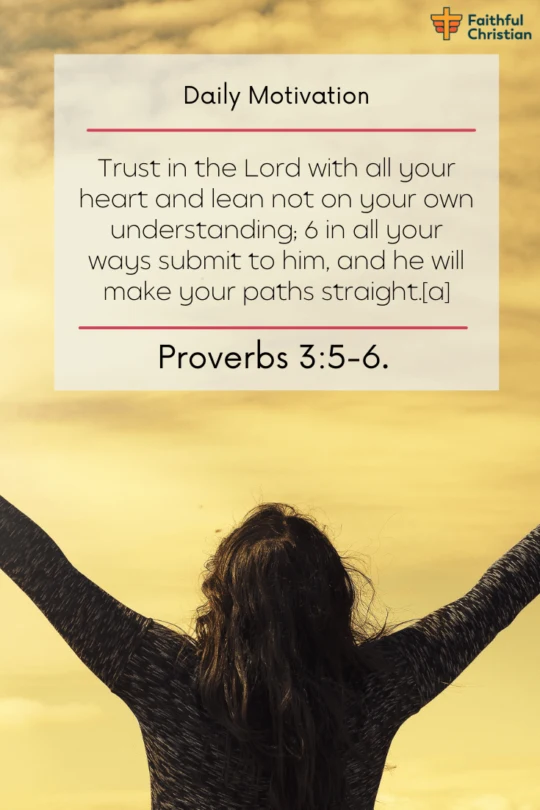 Trust in the Lord with all your heartand lean not on your own understanding; 6 in all your ways submit to him,and he will make your paths straight.a]">[a]
Proverbs 3:5-6 encourages us not to lose hope or abandon our values when facing relationship difficulties.
Trust in God rather than seeking revenge or succumbing to bitterness, allowing Him to guide us toward healing and restoration.
1 Peter 5:10.
Matthew 6:25-27.
James 1:12.
1 Peter 5:7.
Genesis 50:20.
Psalm 55:22.
Romans 5:3-5.
Matthew 7:7-8.
1 Corinthians 2:9.
Psalm 34:5-7.
Matthew 11:28.
Matthew 11:29.
John 6:37.
Revelation 21:4.
Frequently Asked Questions (FAQs)
What does the Bible say about love and pain?
Love and pain often intertwine, as the Bible acknowledges. It highlights love's patience, kindness, and endurance (1 Corinthians 13:4-7), while showcasing love's depth through Jesus' sacrifice (John 3:16).
In difficult times, we're urged to love one another (John 13:34-35).
What is a good Bible verse for pain?
Psalm 34:18 comforts the brokenhearted, reminding us that God is near and offers healing.
In times of emotional pain, the Bible encourages finding solace in God's love (Psalm 147:3).
What does the Bible say about pain in the heart?
The Bible addresses emotional pain, noting that heartache can crush one's spirit (Proverbs 15:13).
To heal, turn to God's love and remember He is near the brokenhearted (Psalm 34:18).
How do I love someone who hurt me in the Bible?
The Bible promotes forgiveness (Matthew 18:21-22) and overcoming evil with good (Romans 12:17-21).
Embrace God's grace and extend kindness to those who've caused pain.
What is the pain of true love?
True love's pain stems from vulnerability and selflessness in deep emotional connections.
It involves sacrifice, forgiveness, and compassion, fostering growth and a deeper understanding of love's power.
How do you endure pain in love?
Enduring pain in love requires faith, forgiveness, and resilience.
Seek God's comfort, support from loved ones, and self-care. Embrace healing and the growth that comes from pain.
What God says to do when someone hurts you?
When someone hurts you, God urges forgiveness, love, and grace.
Jesus teaches us to forgive repeatedly (Matthew 18:21-22), and Romans 12:19-21 advises against revenge, instead leaving it to God.
How do you heal when someone you love hurts you?
Healing from a loved one's hurt involves seeking God's comfort, practicing forgiveness, and focusing on self-care.
Lean on supportive friends and family, and consider professional help if needed.
Can I love again after being hurt?
Absolutely. Forgiveness, self-reflection, and personal growth lead to healing.
Trust in God and rebuild your emotional resilience; knowing His love offers strength and hope for new relationships.
Author: Akatakpo Dunn
Dr. Akatakpo Dunn is a dedicated follower of Christ, an active member and speaker, and an ongoing learner of the Scriptures. Passionate about his faith and serving others, he is committed to sharing his spiritual journey and insights to inspire and uplift fellow believers. He has been active in the church for more than 23 years. Through The
Faithful Christian Blog
,
Dr. Dunn
combines his love for God, philanthropy, and Scripture, providing a valuable resource for those seeking to grow in their faith.
Follow me: on Youtube, Facebook, Twitter, Instagram, and Pinterest.
Content Disclosure:
At The Faithful Christian Blog, I create authentic and inspiring content. Although I am the main author, I occasionally use AI for minor language enhancements. This minimal AI usage ensures high-quality, trustworthy articles without compromising originality or sincerity, ultimately supporting our shared faith journey.
Warmly,
Dr. Akatakpo Dunn
Was this article helpful?