We all need money for our daily needs.
We need money to take good care of our families and ourselves.
But there is a limit to everything.
In our quest for more money, we should always act like Christians.
Contentment and selflessness are two priceless qualities of a faithful Christian.
We should not be greedy and selfish with money.
Thankfully, there are bible verses about money and greed.
These verses go straight to the point to remind us that we should be satisfied with what we have.
And what about covetousness? What does the bible say about being greedy about other people's money?
God is unhappy when we are selfish and jealous.
I have put together bible verses about greed and money.
Read and be blessed.
---
Recommended for you
---
Bible Verses about Money and Greed
Proverbs 15:27
The greedy bring ruin to their households,
    but the one who hates bribes will live.
Proverbs 1:19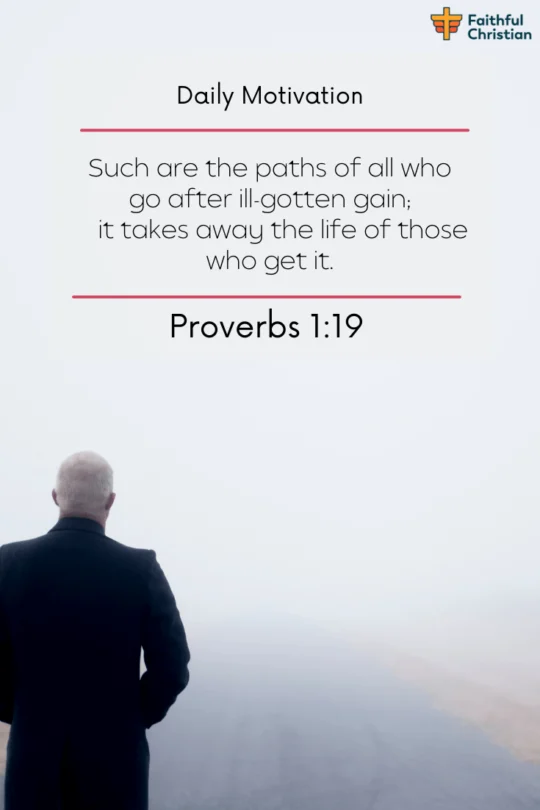 Such are the paths of all who go after ill-gotten gain;
    it takes away the life of those who get it.
Exodus 23:8
Do not accept a bribe, for a bribe blinds those who see and twists the words of the innocent.
Jeremiah 17:11
Like a partridge that hatches eggs it did not lay
    are those who gain riches by unjust means.
When their lives are half gone, their riches will desert them,
    and in the end they will prove to be fools.
Deuteronomy 16:19
Do not pervert justice or show partiality. Do not accept a bribe, for a bribe blinds the eyes of the wise and twists the words of the innocent
Isaiah 33:15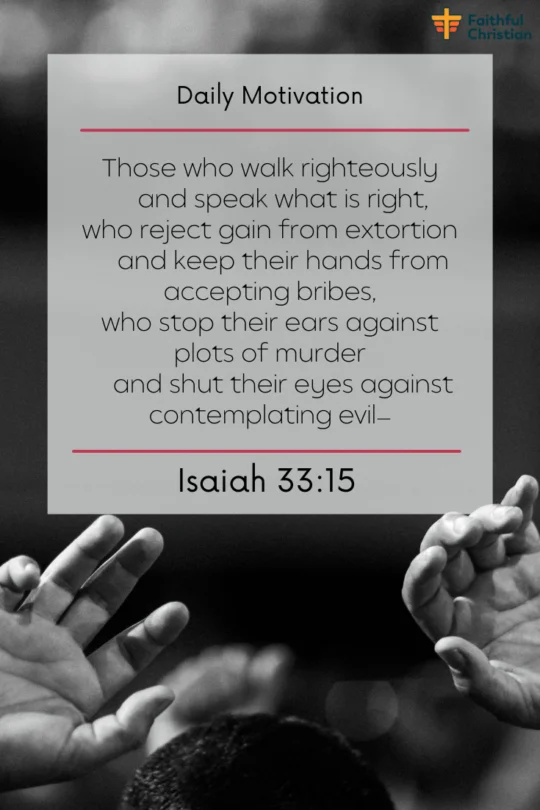 Those who walk righteously
    and speak what is right,
who reject gain from extortion
    and keep their hands from accepting bribes,
who stop their ears against plots of murder
    and shut their eyes against contemplating evil—
Isaiah 33:16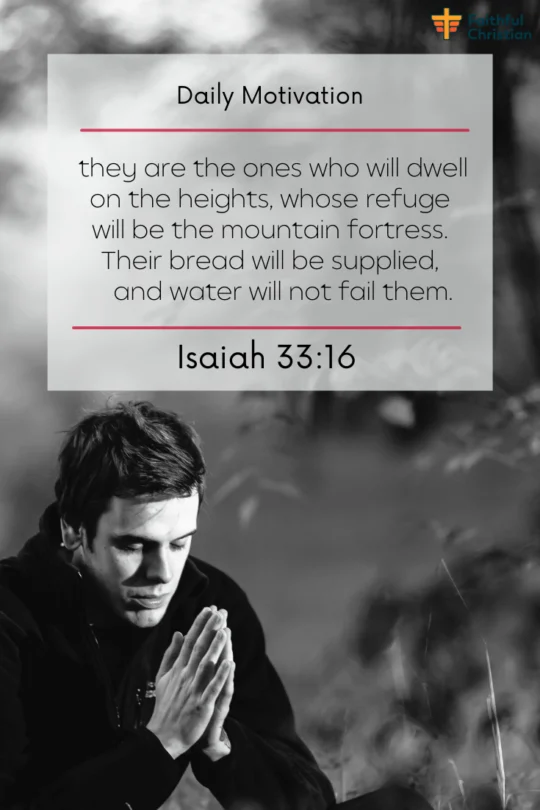 16 they are the ones who will dwell on the heights,
    whose refuge will be the mountain fortress.
Their bread will be supplied,
    and water will not fail them.
Proverbs 20:21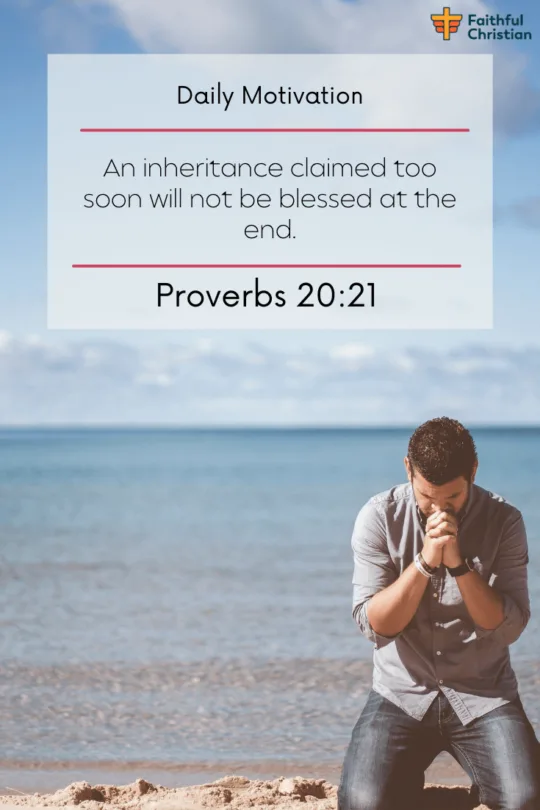 An inheritance claimed too soon
    will not be blessed at the end.
Proverbs 28:16
A tyrannical ruler practices extortion,
    but one who hates ill-gotten gain will enjoy a long reign.
1 Corinthians 5:11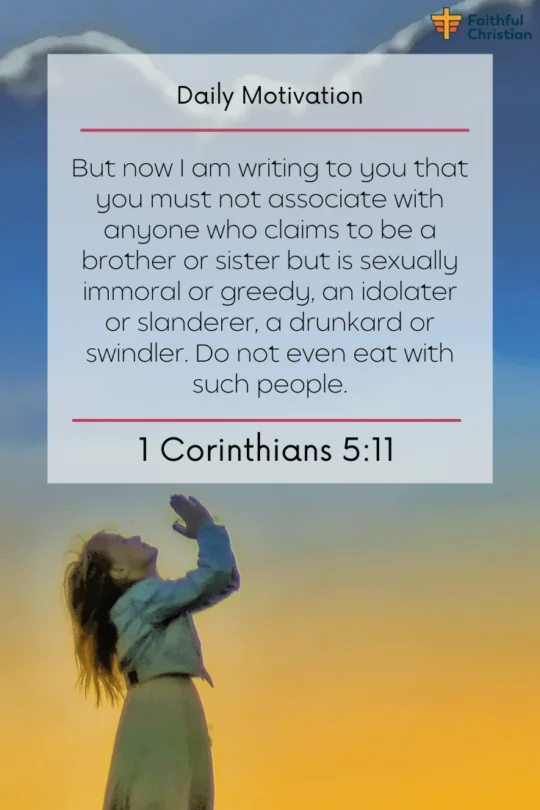 But now I am writing to you that you must not associate with anyone who claims to be a brother or sister[a] but is sexually immoral or greedy, an idolater or slanderer, a drunkard or swindler. Do not even eat with such people.
Proverbs 28:22
The stingy are eager to get rich
    and are unaware that poverty awaits them.
Proverbs 23:6
Do not eat the food of a begrudging host,
    do not crave his delicacies;
1 Timothy 6:9
Those who want to get rich fall into temptation and a trap and into many foolish and harmful desires that plunge people into ruin and destruction.
Proverbs 28:20
A faithful person will be richly blessed,
    but one eager to get rich will not go unpunished.
Job 27:16-17
Though he heaps up silver like dust
    and clothes like piles of clay,
17 what he lays up the righteous will wear,
    and the innocent will divide his silver.
Mark 8:36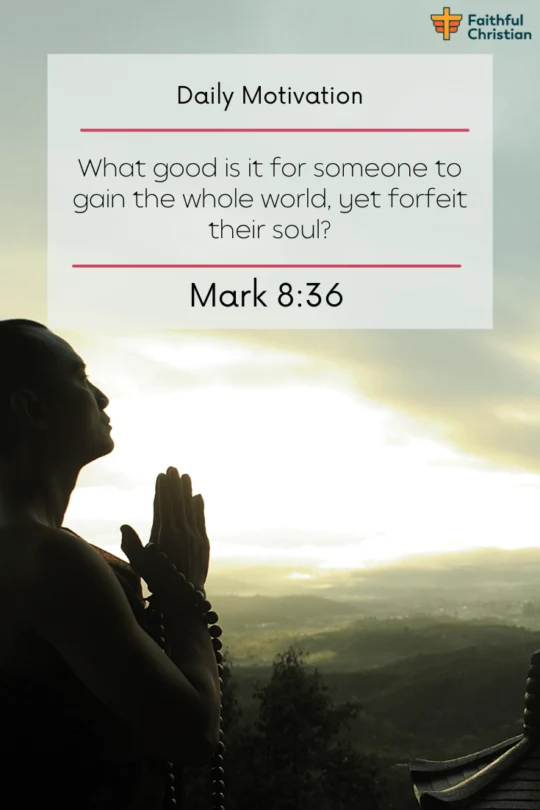 What good is it for someone to gain the whole world, yet forfeit their soul?
---
Recommended for you
---
More Bible Verses about Greed and Selfishness
Matthew 16:26
What good will it be for someone to gain the whole world, yet forfeit their soul? Or what can anyone give in exchange for their soul?
James 1:9-10
Believers in humble circumstances ought to take pride in their high position. 10 But the rich should take pride in their humiliation—since they will pass away like a wildflower.
James 1:11
For the sun rises with scorching heat and withers the plant; its blossom falls and its beauty is destroyed. In the same way, the rich will fade away even while they go about their business.
Philippians 3:7-9
But whatever were gains to me I now consider loss for the sake of Christ. 8 What is more, I consider everything a loss because of the surpassing worth of knowing Christ Jesus my Lord, for whose sake I have lost all things. I consider them garbage, that I may gain Christ
Luke 9:25
What good is it for someone to gain the whole world, and yet lose or forfeit their very self?
Romans 6:21
 What benefit did you reap at that time from the things you are now ashamed of? Those things result in death!
Psalm 49:17
for they will take nothing with them when they die,
    their splendor will not descend with them.
Luke 12:19-20
And I'll say to myself, "You have plenty of grain laid up for many years. Take life easy; eat, drink, and be merry." But God said to him, 'You fool! This very night your life will be demanded from you. Then who will get what you have prepared for yourself?'
Luke 12:15
Then he said to them, "Watch out! Be on your guard against all kinds of greed; life does not consist in an abundance of possessions."
Hebrews 13:5
Keep your lives free from the love of money and be content with what you have, because God has said, "Never will I leave you; never will I forsake you."
1 Timothy 6:6-8
But godliness with contentment is great gain. 7 For we brought nothing into the world, and we can take nothing out of it. 8 But if we have food and clothing, we will be content with that.
1 Timothy 6:9-10
9 Those who want to get rich fall into temptation and a trap and into many foolish and harmful desires that plunge people into ruin and destruction. 10 For the love of money is a root of all kinds of evil. Some people, eager for money, have wandered from the faith and pierced themselves with many griefs.
Psalm 119:36-37
Turn my heart toward your statutes
    and not toward selfish gain.
37 Turn my eyes away from worthless things;
    preserve my life according to your word
Proverbs 16:16
How much better to get wisdom than gold,
    to get insight rather than silver!
Proverbs 15:16
Better a little with the fear of the Lord
    than great wealth with turmoil.
2 Timothy 3:2-3
People will be lovers of themselves, lovers of money, boastful, proud, abusive, disobedient to their parents, ungrateful, unholy, without love, unforgiving, slanderous, without self-control, brutal, not lovers of the good,
Ecclesiastes 5:10-16
Whoever loves money never has enough;
    whoever loves wealth is never satisfied with their income.
    This too is meaningless.
2 Peter 2:3
In their greed these teachers will exploit you with fabricated stories. Their condemnation has long been hanging over them, and their destruction has not been sleeping.
Colossians 3:5
Put to death, therefore, whatever belongs to your earthly nature: sexual immorality, impurity, lust, evil desires and greed, which is idolatry.
Psalm 62:10
Do not trust in extortion
    or put vain hope in stolen goods;
though your riches increase,
    do not set your heart on them.
Mark 7:22
adultery, greed, malice, deceit, lewdness, envy, slander, arrogance and folly.
Habakkuk 2:9
"Woe to him who builds his house by unjust gain,
    setting his nest on high
    to escape the clutches of ruin!
Ephesians 5:3-5
But among you there must not be even a hint of sexual immorality, or of any kind of impurity, or of greed, because these are improper for God's holy people
1 Corinthians 6:10
nor thieves nor the greedy nor drunkards nor slanderers nor swindlers will inherit the kingdom of God.
Jeremiah 6:13
"From the least to the greatest,
    all are greedy for gain;
prophets and priests alike,
    all practice deceit.
Luke 21:34
"Be careful, or your hearts will be weighed down with carousing, drunkenness and the anxieties of life, and that day will close on you suddenly like a trap.
Proverbs 23:4-5
Do not wear yourself out to get rich;
    do not trust your own cleverness.
5 Cast but a glance at riches, and they are gone,
    for they will surely sprout wings
    and fly off to the sky like an eagle.
Psalm 10:3
He boasts about the cravings of his heart;
he blesses the greedy and reviles the Lord
---
Recommended for you
---
Be content in all circumstances.
Please don't take my word for it.
There are numerous scriptures in the bible that admonishes us to be selfless and contented.
The love of money is the root of all evil.
It does not bring glory to God in any way.
God is more concerned that we are saved from this sinful world.
And that means we obey his commandment and love one another.
The love of money makes us visionless of the secret things of life.
We become fixated on the quest to get rich by all means.
Don't get me wrong; there is nothing wrong is success and wealth.
If there is, God wouldn't have blessed Solomon with riches in his time.
But we must be wise and understand the world.
God wants us to be selfless and not greedy.
He wants us to love one another with anything he has blessed us with
He understands one thing — that all we have is vanity.
The moment we die, they all disappear.
The story of Ananias and Saphira is a story that teaches us to be truthful and not greedy.
They sold their possession and only returned a part to the apostles.
In the end, they were sentenced to death by God.
They didn't get the chance to spend the rest of their greed.
They left it behind and were buried.
In the end, their selfishness was all in vain.
Everything we own is for a while, and when we die, they become meaningless to us.
May God take away all forms of greediness in you and open your hearts to understanding the truth about the love for money. Amen.
Author: Akatakpo Dunn
Dr. Akatakpo Dunn is a dedicated follower of Christ, an active member and speaker, and an ongoing learner of the Scriptures. Passionate about his faith and serving others, he is committed to sharing his spiritual journey and insights to inspire and uplift fellow believers. He has been active in the church for more than 23 years. Through The
Faithful Christian Blog
,
Dr. Dunn
combines his love for God, philanthropy, and Scripture, providing a valuable resource for those seeking to grow in their faith.
Follow me: on Youtube, Facebook, Twitter, Instagram, and Pinterest.
Content Disclosure:
At The Faithful Christian Blog, I create authentic and inspiring content. Although I am the main author, I occasionally use AI for minor language enhancements. This minimal AI usage ensures high-quality, trustworthy articles without compromising originality or sincerity, ultimately supporting our shared faith journey.
Warmly,
Dr. Akatakpo Dunn
Was this article helpful?