We've all heard about the bible's command on love.
That we should love our neighbors and treat them equally.
That is, we should care for their needs and assist them in the best way we can.
But, what does the bible say about loving yourself? Is it unscriptural to do so?
There is nothing wrong with loving yourself.
In fact, there are numerous bible verses about loving yourself we can fall on.
These scriptures teach us to love ourselves the way we are.
But we must be careful not to overdo it.
There are lots of misconceptions about self-love.
That, you must love yourself first before loving others.
This is entirely not what the scripture teaches.
Christ has commanded us to show love to others just the same way we love ourselves.
That's where self-love comes in.
You need to eat, drink, look good, be happy, and be content with yourself.
It would be best if you also had a sense of self-worth.
There is no need to look down on yourself in any manner or form.
God has created you in his image, and you are beautifully made.
So, stay happy and love yourself the way you are.
I have compiled bible verses about loving your body to inspire you today.
---
Recommended for you
---
Bible verses about loving yourself
Psalm 139:14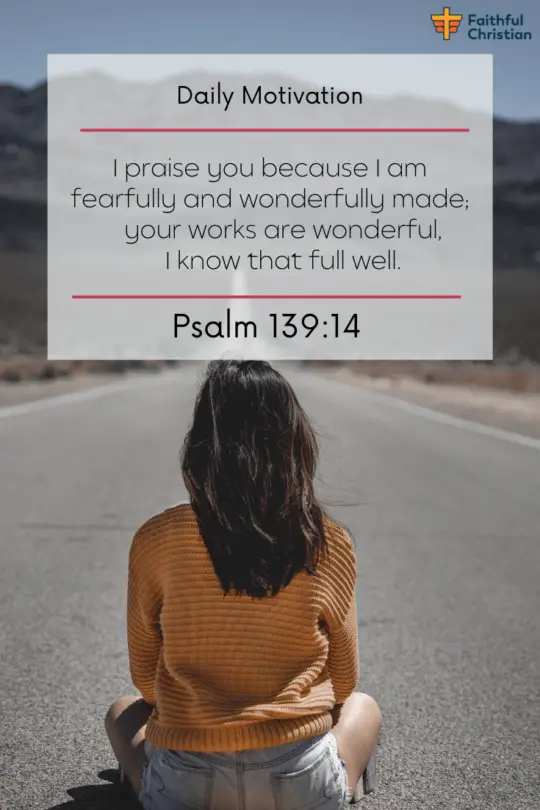 I praise you because I am fearfully and wonderfully made;
    your works are wonderful,
    I know that full well.
Genesis 1:26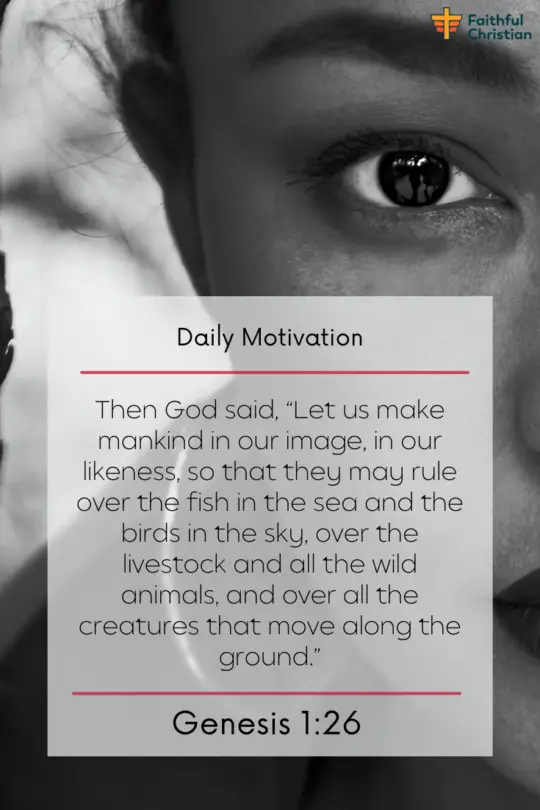 26 Then God said, "Let us make mankind in our image, in our likeness, so that they may rule over the fish in the sea and the birds in the sky, over the livestock and all the wild animals,[a] and over all the creatures that move along the ground."
Genesis 1:27
27 So God created mankind in his own image,
    in the image of God he created them;
    male and female he created them.
Psalm 104:24
How many are your works, Lord!
    In wisdom you made them all;
    the earth is full of your creatures.
Ephesians 5:29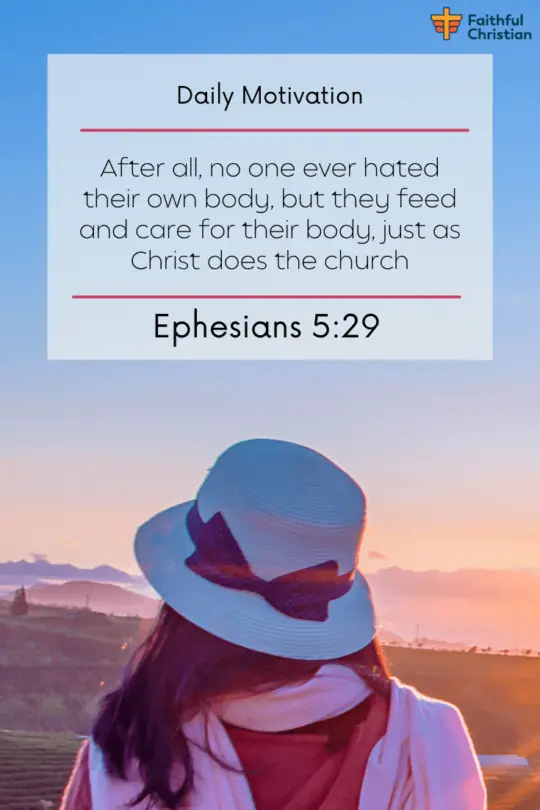 After all, no one ever hated their own body, but they feed and care for their body, just as Christ does the church—
Ecclesiastes 4:5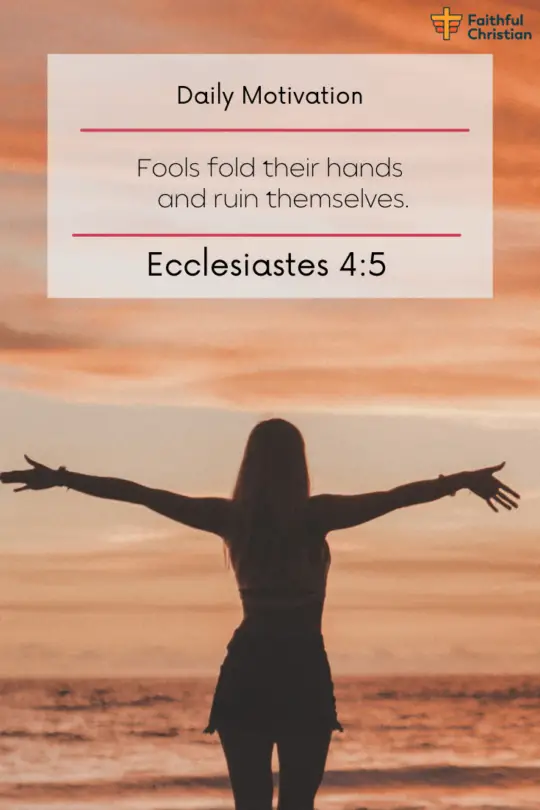 Fools fold their hands
    and ruin themselves.
Proverbs 11:17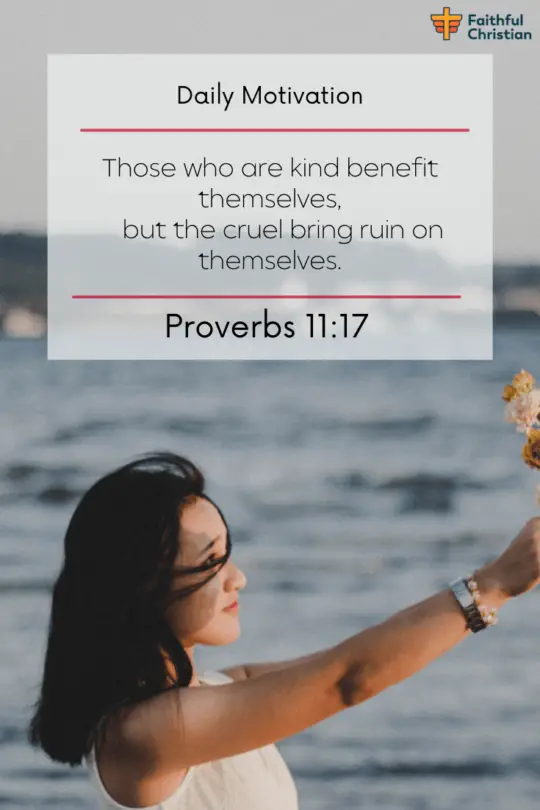 Those who are kind benefit themselves,
    but the cruel bring ruin on themselves.
Proverbs 19:8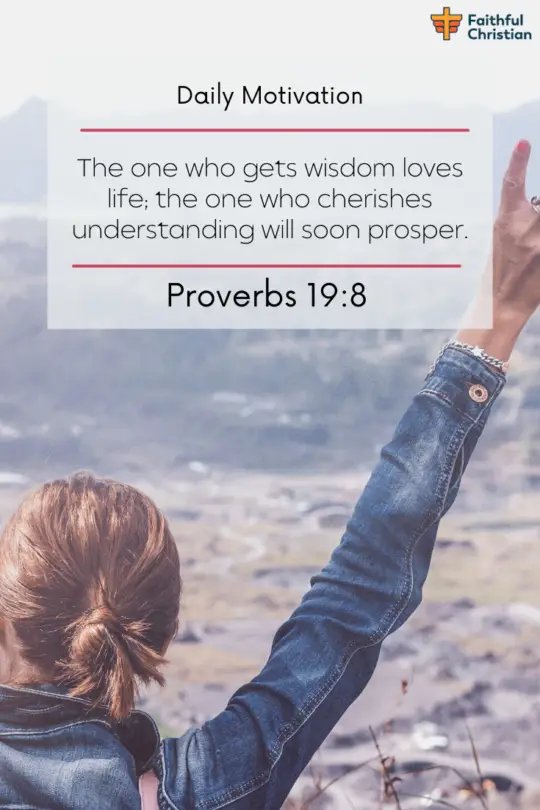 The one who gets wisdom loves life;
    the one who cherishes understanding will soon prosper.
Proverbs 8:35-36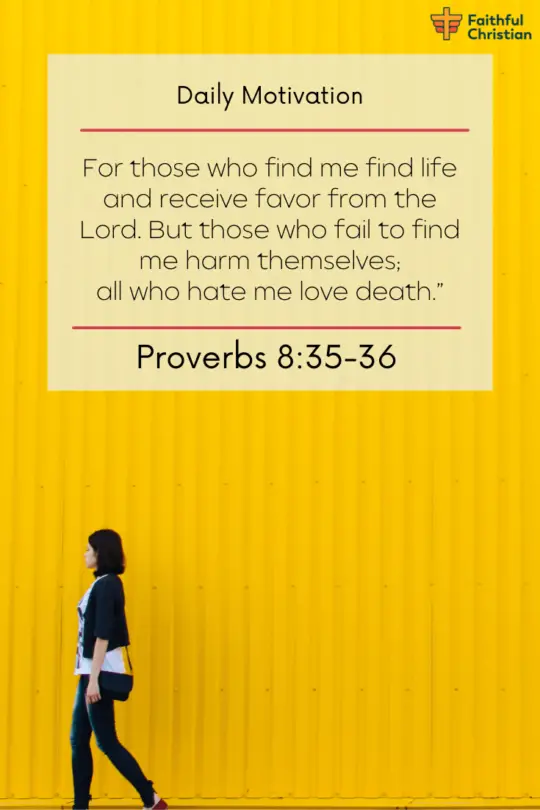 For those who find me find life
and receive favor from the Lord.
36 But those who fail to find me harm themselves;
all who hate me love death."
Mark 12:31
The second is this: 'Love your neighbor as yourself.'[a] There is no commandment greater than these."
---
Recommended for you
---
More Bible verses about loving your body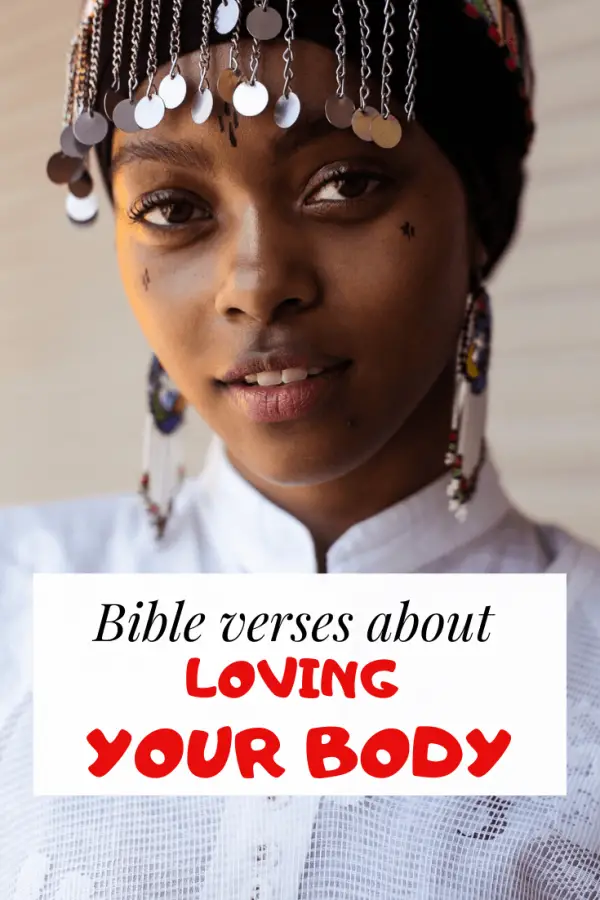 Romans 13:8
Let no debt remain outstanding, except the continuing debt to love one another, for whoever loves others has fulfilled the law.
Romans 13:9
9 The commandments, "You shall not commit adultery," "You shall not murder," "You shall not steal," "You shall not covet,"[a] and whatever other command there may be, are summed up in this one command: "Love your neighbor as yourself."
Matthew 22:39
And the second is like it: 'Love your neighbor as yourself.'[a]
Galatians 5:14
For the entire law is fulfilled in keeping this one command: "Love your neighbor as yourself
Matthew 7:12
So in everything, do to others what you would have them do to you, for this sums up the Law and the Prophets.
Leviticus 19:18
Do not seek revenge or bear a grudge against anyone among your people, but love your neighbor as yourself. I am the Lord
Leviticus 19:34
 The foreigner residing among you must be treated as your native-born. Love them as yourself, for you were foreigners in Egypt. I am the Lord your God.
2 Timothy 3:1-2
But mark this: There will be terrible times in the last days. 2 People will be lovers of themselves, lovers of money, boastful, proud, abusive, disobedient to their parents, ungrateful, unholy,
2 Peter 3:3
Above all, you must understand that in the last days scoffers will come, scoffing and following their own evil desires.
Philippians 2:21
 For everyone looks out for their own interests, not those of Jesus Christ.
Psalm 10:3
He boasts about the cravings of his heart;
    he blesses the greedy and reviles the Lord.
Jude 1:16
These people are grumblers and faultfinders; they follow their own evil desires; they boast about themselves and flatter others for their own advantage.
2 Timothy 3:4
Treacherous, rash, conceited, lovers of pleasure rather than lovers of God—
James 4:6
 But he gives us more grace. That is why Scripture says: "God opposes the proud but shows favor to the humble."
Galatians 6:3
If anyone thinks they are something when they are not, they deceive themselves.
1 Corinthians 3:18
 Do not deceive yourselves. If any of you think you are wise by the standards of this age, you should become "fools" so that you may become wise.
Proverbs 26:12
Do you see a person wise in their own eyes?
    There is more hope for a fool than for them.
Romans 12:3
For by the grace given me I say to every one of you: Do not think of yourself more highly than you ought, but rather think of yourself with sober judgment, in accordance with the faith God has distributed to each of you.
Romans 12:10
Be devoted to one another in love. Honor one another above yourselves.
John 13:34-35
"A new command I give you: Love one another. As I have loved you, so you must love one another. 35 By this everyone will know that you are my disciples, if you love one another."
Philippians 2:3
Do nothing out of selfish ambition or vain conceit. Rather, in humility value others above yourselves,
Romans 5:8
But God demonstrates his own love for us in this: While we were still sinners, Christ died for us.
---
Recommended for you
---
Love your body through these four critical steps
1.  Love God first
There is no doubt that we must love God to be saved.
Loving God means we obey his commandments and do them.
There are numerous commandments in the scriptures.
If we keep God's command, we have loved him wholeheartedly.
The scripture says,
Love the Lord your God with all your heart and with all your soul and with all your strength.
2.  Love your neighbors
This is the most powerful commandment in the scriptures.
And that's because if you love your neighbors as yourself, you have loved God too.
Loving your neighbor means you are forward-thinking about their affair.
You help them when in need and stay away from anything that causes them pain.
That means you don't steal from them or try to hurt them.
The scriptures say,
Whoever claims to love God yet hates a brother or sister is a liar. For whoever does not love their brother and sister, whom they have seen, cannot love God, whom they have not seen.
So, it's that simple. Our love must be geared toward those around us.
We must help our family and friends in need.
Not just that, we must also love strangers and the poor.
By loving our neighbor sincerely, we have fulfilled all the commandments.
For the entire law is fulfilled in keeping this one command: "Love your neighbor as yourself
3.  Love yourself after loving others
This is the undisputed truth of the scriptures.
If we must love others, it means we have inadvertently put their needs before ours.
For instance, if you help the poor, you have to love him even more than yourself.
Because whatever help you have given could have done something in your life (no matter how tiny it is).
But you have let it go because you have put their interest before yours.
Do nothing out of selfish ambition or vain conceit. Rather, in humility value others above yourselves
4.  Love your body the way you are
You have been created in the likeness of God.
The bible describes us as "gods."
In other words, you are uniquely made by our Father in heaven.
There is no reason not to love yourself.
Whether black, white, chocolate, fair, thin, or obese, you must love the way you are created.
God has blessed you by giving you life, and you must cherish it.
Be content with how you look and forget what people say.
No one is ugly in God's eyes because we are all beautifully made.
Author: Akatakpo Dunn
Dunn is a firm believer and a teacher of God's word. Suffering for Jesus is an attribute of a faithful Christian, and I hope to win new souls to Christ with every chance that I get. Articles are well-researched and backed by the scriptures.
Follow me: on Youtube, Facebook, Twitter, Instagram, and Pinterest.