Taking an act of revenge is a sin before God.
Though the scripture mentions an "eye for an eye" multiple times, Christ has ended such laws.
Notwithstanding, we still practice these laws unknowingly.
Sometimes, we get so frustrated with our offenders that we pay them back.
I have had a similar issue with a friend in the past.
It all started more than ten years ago before I was born again.
I had a girlfriend that I loved so much. We were best of friends and truly loved each other.
Then over time, I noticed she was cheating on me. Not once, but many times.
This really hurt the very foundation of my soul.
I said to myself, "If she could hurt me this much without any remorse, She deserves to feel the same way."
So, I continued in the relationship for years without saying a word.
Then came the d-day.
Immediately, I noticed she was now so interested in the relationship; I broke up.
She was so devastated and lost control of herself.
And sadly, I was so happy that she felt the same way.
She begged for months, but I was just interested in paying her back.
I look back to my past and regret how shamefully I had behaved.
God has accepted us with all our iniquities.
Christ, God's only begotten son, came to the earth to be humiliated and killed for our sake.
Because of his shame, we now have a hope of salvation.
Therefore, we must forgive our transgressors and let go when they hurt us.
I have put together bible verses about an eye for an eye to encourage you.
---
Recommended for you
---
Bible verses about Eye for an Eye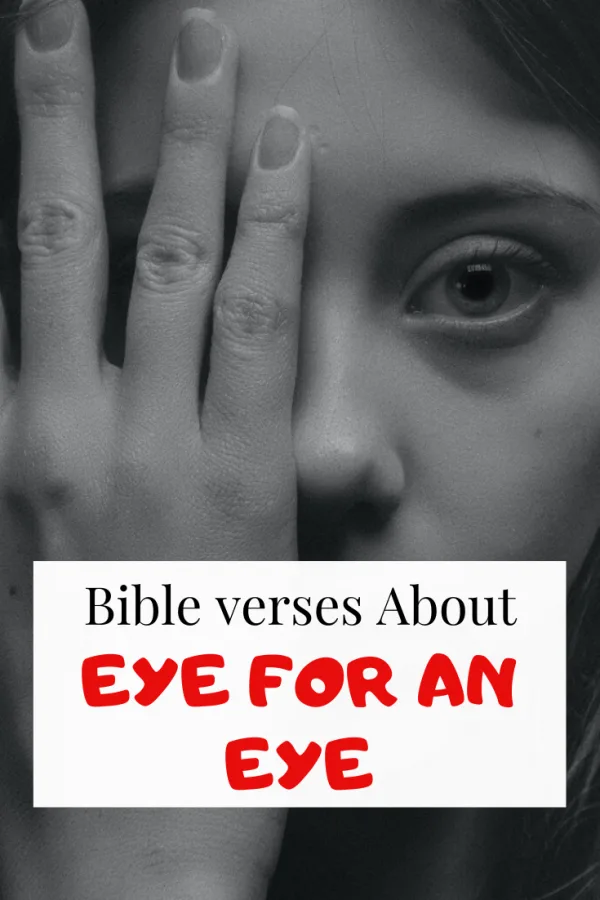 Exodus 21:22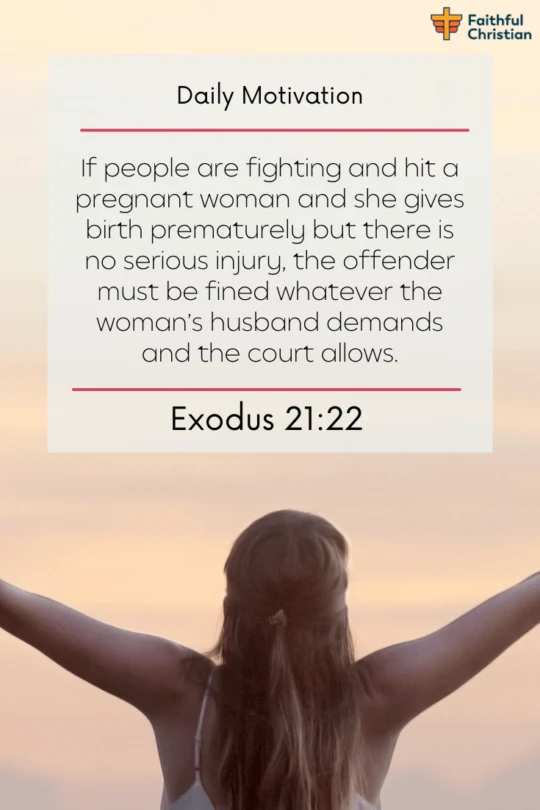 If people are fighting and hit a pregnant woman and she gives birth prematurely[a] but there is no serious injury, the offender must be fined whatever the woman's husband demands and the court allows.
Exodus 21:23-25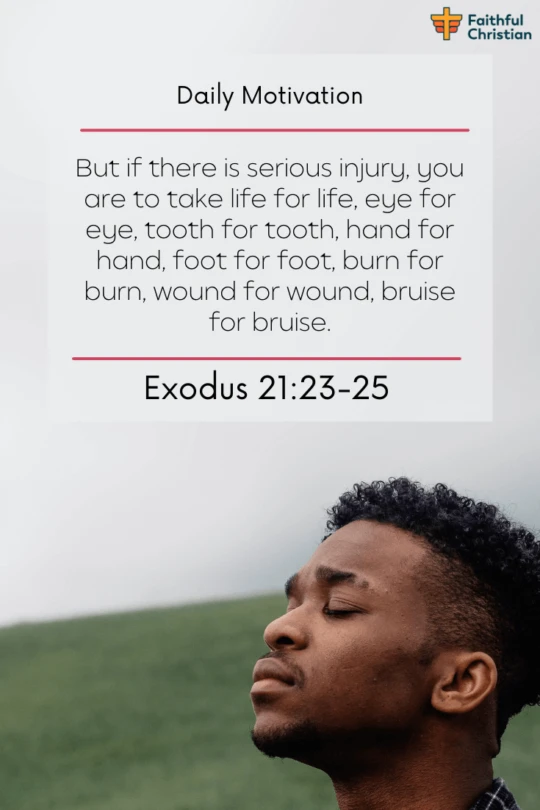 23 But if there is serious injury, you are to take life for life, 24 eye for eye, tooth for tooth, hand for hand, foot for foot, 25 burn for burn, wound for wound, bruise for bruise.
Leviticus 24:19-20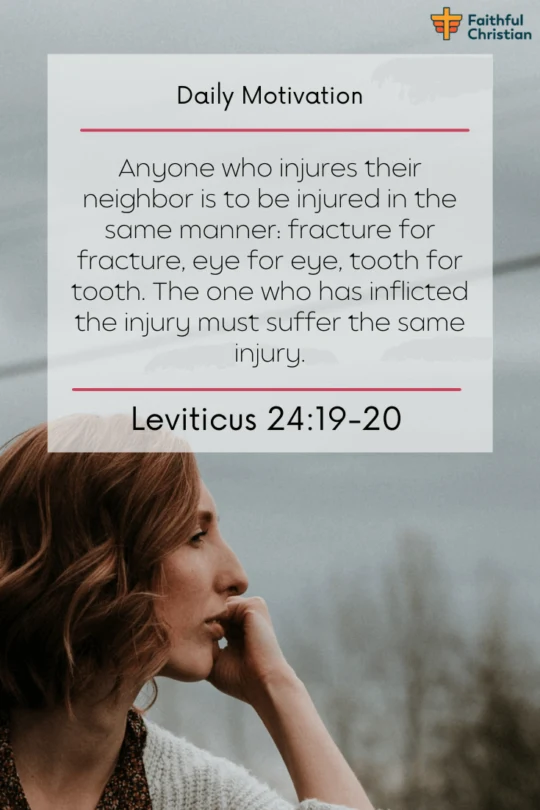 Anyone who injures their neighbor is to be injured in the same manner: 20 fracture for fracture, eye for eye, tooth for tooth. The one who has inflicted the injury must suffer the same injury.
Leviticus 24:21-22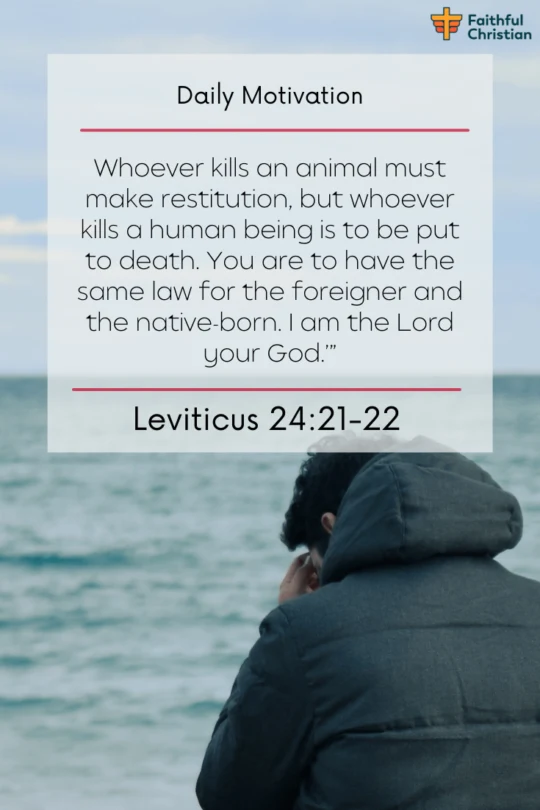 21 Whoever kills an animal must make restitution, but whoever kills a human being is to be put to death. 22 You are to have the same law for the foreigner and the native-born. I am the Lord your God.'"
Leviticus 24:17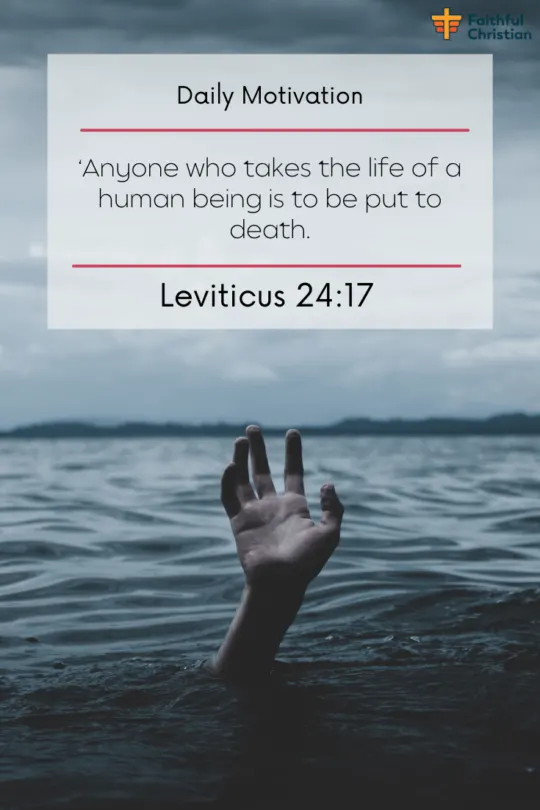 'Anyone who takes the life of a human being is to be put to death.
Deuteronomy 19:11-12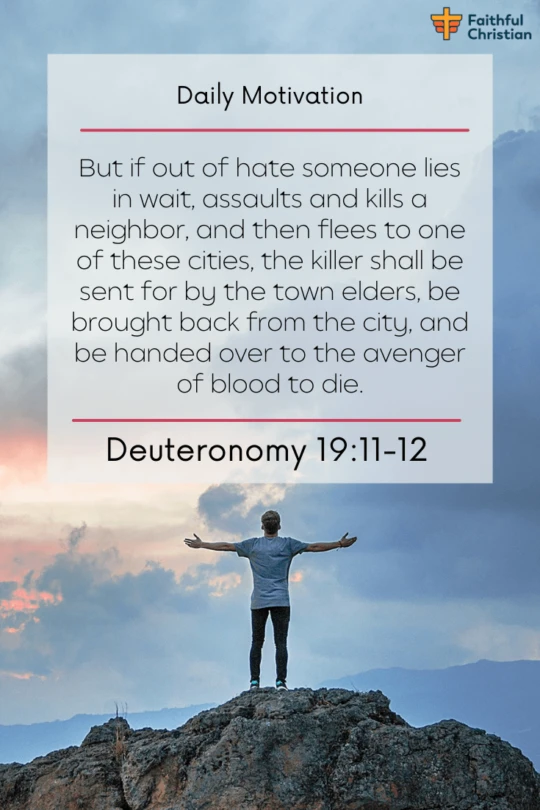 But if out of hate someone lies in wait, assaults and kills a neighbor, and then flees to one of these cities, 12 the killer shall be sent for by the town elders, be brought back from the city, and be handed over to the avenger of blood to die.
Genesis 9:5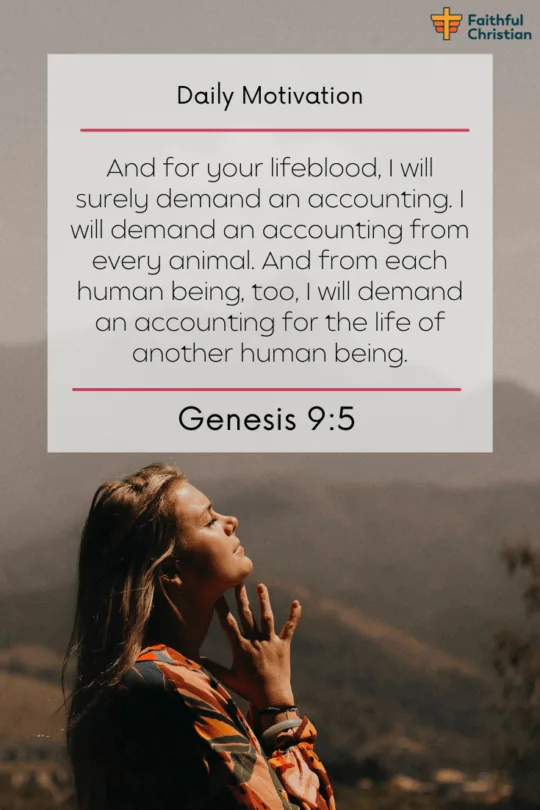 And for your lifeblood, I will surely demand an accounting. I will demand an accounting from every animal. And from each human being, too, I will demand an accounting for the life of another human being.
Genesis 9:6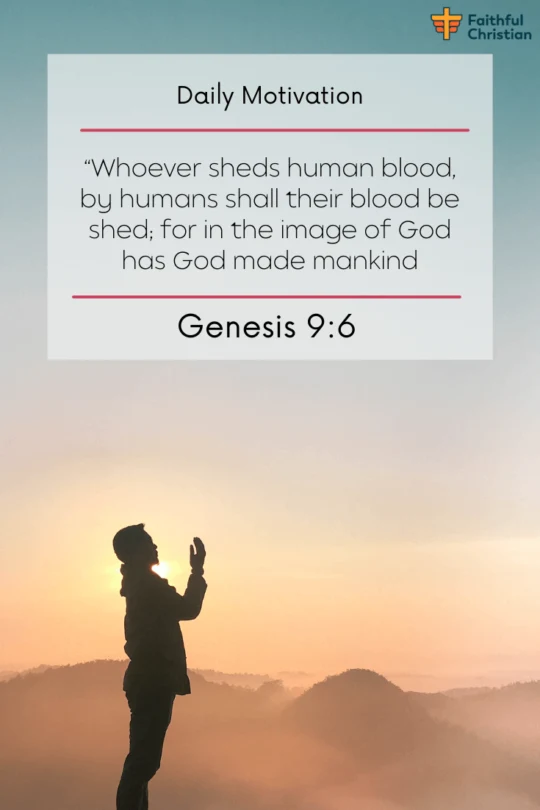 6 "Whoever sheds human blood,
    by humans shall their blood be shed;
for in the image of God
    has God made mankind
Numbers 35:30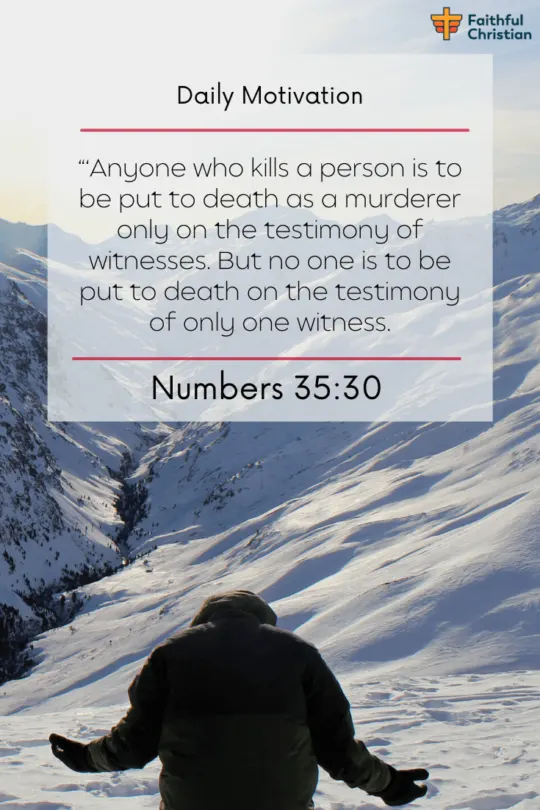 "'Anyone who kills a person is to be put to death as a murderer only on the testimony of witnesses. But no one is to be put to death on the testimony of only one witness.
Numbers 35:31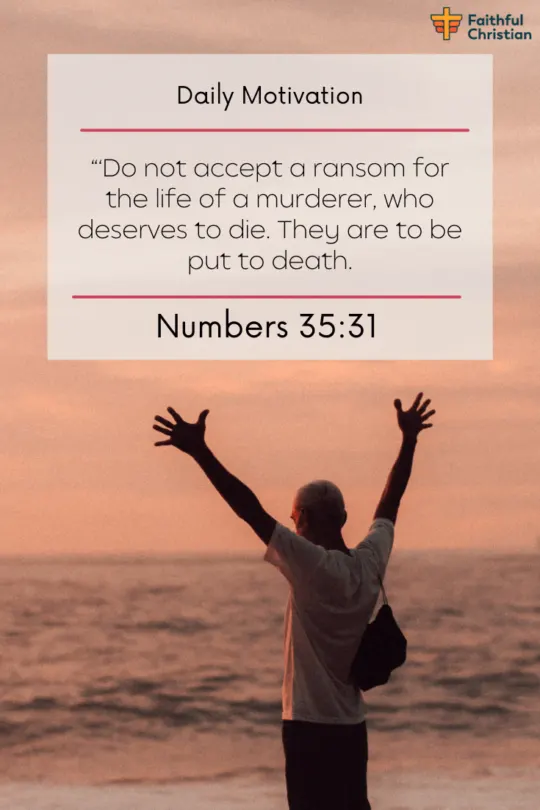 31 "'Do not accept a ransom for the life of a murderer, who deserves to die. They are to be put to death.
Exodus 21:12-13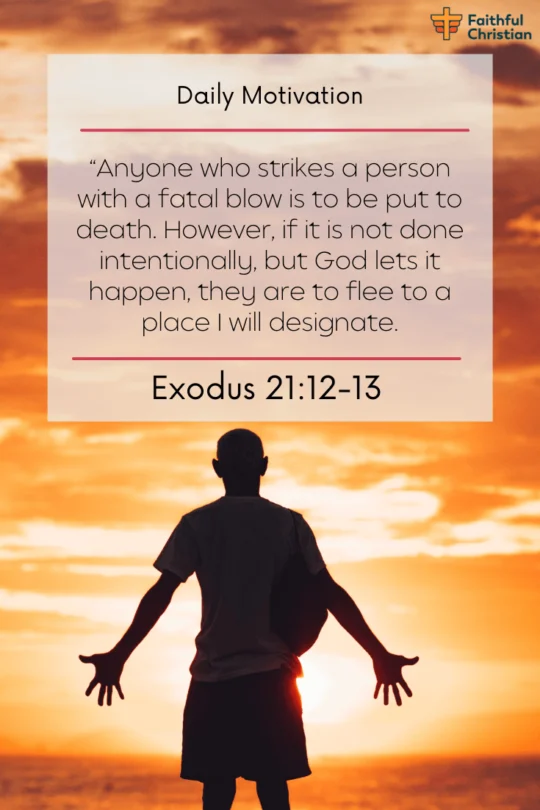 "Anyone who strikes a person with a fatal blow is to be put to death. 13 However, if it is not done intentionally, but God lets it happen, they are to flee to a place I will designate.
Exodus 21:14
14 But if anyone schemes and kills someone deliberately, that person is to be taken from my altar and put to death.
Deuteronomy 19:19-21
 then do to the false witness as that witness intended to do to the other party. You must purge the evil from among you. 20 The rest of the people will hear of this and be afraid, and never again will such an evil thing be done among you. 21 Show no pity: life for life, eye for eye, tooth for tooth, hand for hand, foot for foot.
Proverbs 19:5
A false witness will not go unpunished,
    and whoever pours out lies will not go free.
---
Recommended for you
---
An eye for an Eye Scriptures: What you must know
1. Christ has abolished the law
Have you ever gone through the 613 laws of Moses?
They are so numerous that we cannot memorize and obey them.
Christ's death has put an end to such laws, and the scripture says, if we love one another, we have fulfilled God's commandments.
In other words, God wants us to love each other, just as we love ourselves.
And if that's the case, there would be no room for hate and revenge.
We forgive and move on from our pains and past.
Indeed, if I had known Christ, I wouldn't have behaved the way I did.
Here are some scriptures to encourage you.
Matthew 5:38-39
"You have heard that it was said, 'Eye for eye, and tooth for tooth.'[a] 39 But I tell you, do not resist an evil person. If anyone slaps you on the right cheek, turn to them the other cheek also.
Matthew 5:40-41
40 And if anyone wants to sue you and take your shirt, hand over your coat as well. 41 If anyone forces you to go one mile, go with them two miles.
Matthew 5:42
42 Give to the one who asks you, and do not turn away from the one who wants to borrow from you.
Matthew 5:43-45
"You have heard that it was said, 'Love your neighbor[b] and hate your enemy.' 44 But I tell you, love your enemies and pray for those who persecute you, 45 that you may be children of your Father in heaven. He causes his sun to rise on the evil and the good, and sends rain on the righteous and the unrighteous.
Matthew 5:46-47
46 If you love those who love you, what reward will you get? Are not even the tax collectors doing that? 47 And if you greet only your own people, what are you doing more than others? Do not even pagans do that?
Galatians 5:14
For the entire law is fulfilled in keeping this one command: "Love your neighbor as yourself.
Matthew 7:12
So in everything, do to others what you would have them do to you, for this sums up the Law and the Prophets.
Galatians 6:2
Carry each other's burdens, and in this way you will fulfill the law of Christ.
2. Do not pay evil for evil
There are evil people around us.
Some of our friends or even family members may severely maltreat us.
It could come in any shape or form.
Recently, I got insulted and hurt by a friend in the bank.
I just said within myself that, "I forgive you."
It doesn't take anything away from you.
I have learned that when you continuously forgive even the grievous of sins, it becomes effortless to do so.
Remember, there is no limit to your forgiveness.
As Christians, we must forgive all the time and never consider paying back wickedness for wickedness.
Here are some scriptures to encourage you.
Romans 12:17
Do not repay anyone evil for evil. Be careful to do what is right in the eyes of everyone.
Matthew 5:39
But I tell you, do not resist an evil person. If anyone slaps you on the right cheek, turn to them the other cheek also.
Proverbs 20:22
Do not say, "I'll pay you back for this wrong!"
    Wait for the Lord, and he will avenge you.
1 Thessalonians 5:15
Make sure that nobody pays back wrong for wrong, but always strive to do what is good for each other and for everyone else.
1 Peter 3:9
Do not repay evil with evil or insult with insult. On the contrary, repay evil with blessing, because to this you were called so that you may inherit a blessing.
Romans 12:19
Do not take revenge, my dear friends, but leave room for God's wrath, for it is written: "It is mine to avenge; I will repay,"[a] says the Lord.
Matthew 18:21-22
Then came Peter to him, and said, Lord, how oft shall my brother sin against me, and I forgive him? till seven times? 22 Jesus saith unto him, I say not unto thee, Until seven times: but, Until seventy times seven
Author: Akatakpo Dunn
Dr. Akatakpo Dunn is a dedicated follower of Christ, an active member and speaker, and an ongoing learner of the Scriptures. Passionate about his faith and serving others, he is committed to sharing his spiritual journey and insights to inspire and uplift fellow believers. He has been active in the church for more than 23 years. Through The
Faithful Christian Blog
,
Dr. Dunn
combines his love for God, philanthropy, and Scripture, providing a valuable resource for those seeking to grow in their faith.
Follow me: on Youtube, Facebook, Twitter, Instagram, and Pinterest.
Content Disclosure:
At The Faithful Christian Blog, I create authentic and inspiring content. Although I am the main author, I occasionally use AI for minor language enhancements. This minimal AI usage ensures high-quality, trustworthy articles without compromising originality or sincerity, ultimately supporting our shared faith journey.
Warmly,
Dr. Akatakpo Dunn
Was this article helpful?