Contentment is the key to salvation.
It is the only way to serve God in your predicament and still be happy.
Most people don't realize that serving God should be our main focus.
Not the kind of cars we ride or the type of houses we live in.
It is not surprising that you expect the very best from life, but as Christians, we must not be misled.
Last year, while in a church service, the pastor said some words that I felt were inappropriate.
He said, "if you are not rich, then you have not fully experienced the blessings of God."
I was stunned because that's a blatant lie.
God blesses us every day.
Think about it for a second.
How many times have you slept and woken up without any problems?
You may have been sick in the past, but you are fine today.
Or is it the food you eat every day?
In fact, we cannot count them one by one.
But it's expected almost everyone needs more additional blessings from God.
There is nothing wrong with asking God for financial blessings in your life.
But at all times, even when your request is not yet approved by God, you must be content with yourself.
This may be a tough decision to accept.
Because, of course, your friends or family members are doing relatively better.
That's where "bible verses about being content with who you are" come in.
It helps reassure you that God has considerably better plans for you.
I have compiled bible verses about contentment and happiness to inspire you today.
Read and be blessed.
---
Recommended for you
---
Bible verses about contentment and happiness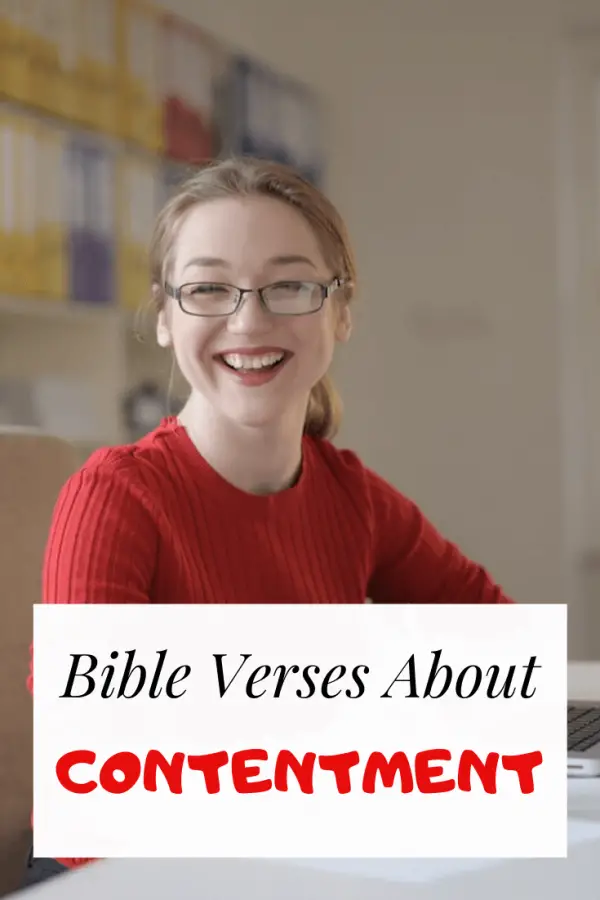 1. Proverbs 19:23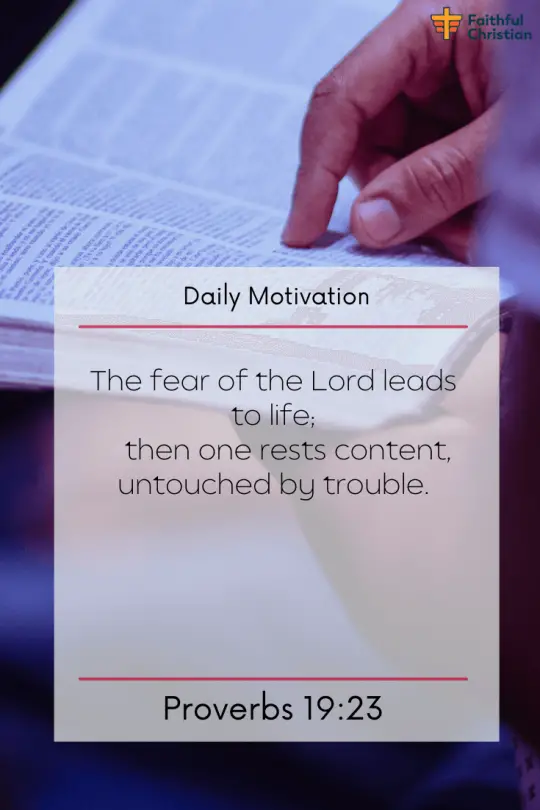 The fear of the Lord leads to life;
    then one rests content, untouched by trouble.
2. Hebrews 13:5-6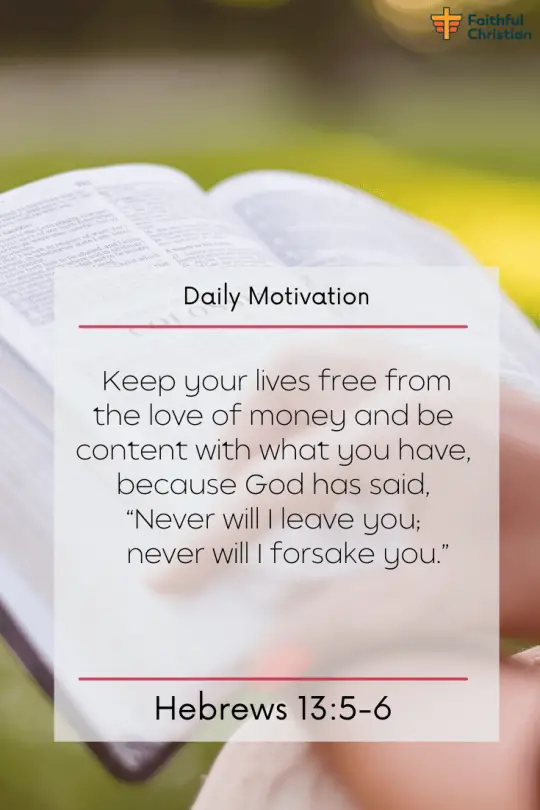 5 Keep your lives free from the love of money and be content with what you have, because God has said,

"Never will I leave you;
    never will I forsake you."[a]

6 So we say with confidence,
"The Lord is my helper; I will not be afraid.
    What can mere mortals do to me?"[b]
3. Matthew 5:6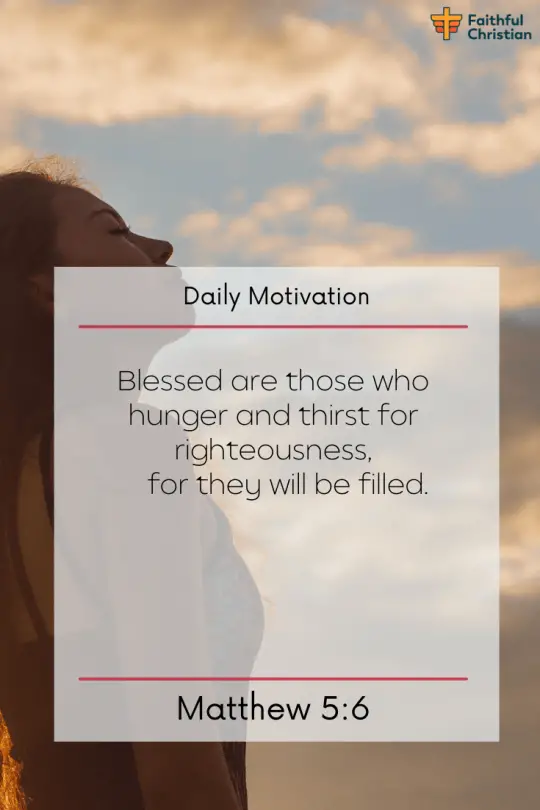 Blessed are those who hunger and thirst for righteousness,
    for they will be filled.
4.  1 Timothy 4:8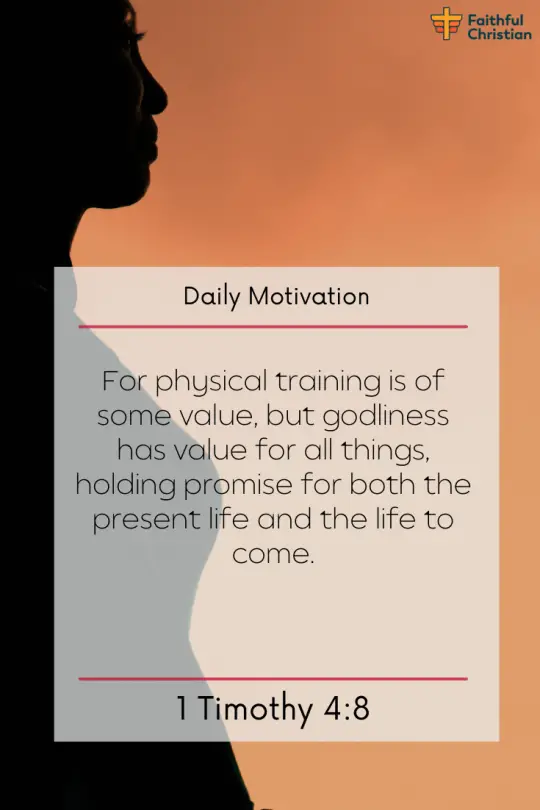 For physical training is of some value, but godliness has value for all things, holding promise for both the present life and the life to come.
5. Philippians 4:11-12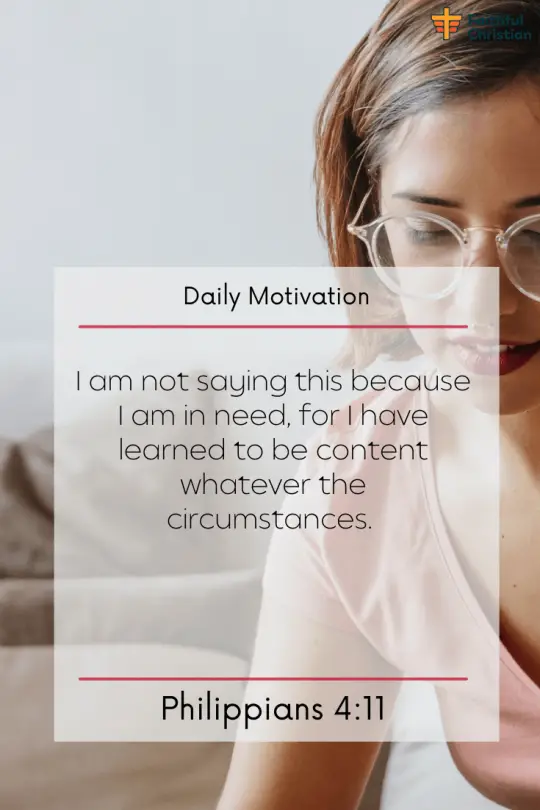 I am not saying this because I am in need, for I have learned to be content whatever the circumstances.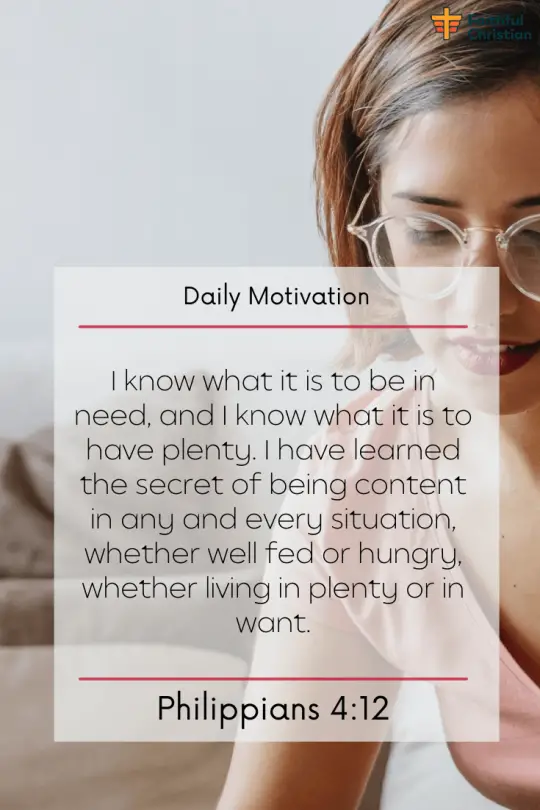 I know what it is to be in need, and I know what it is to have plenty. I have learned the secret of being content in any and every situation, whether well fed or hungry, whether living in plenty or in want.
6.  1 Timothy 6:6-11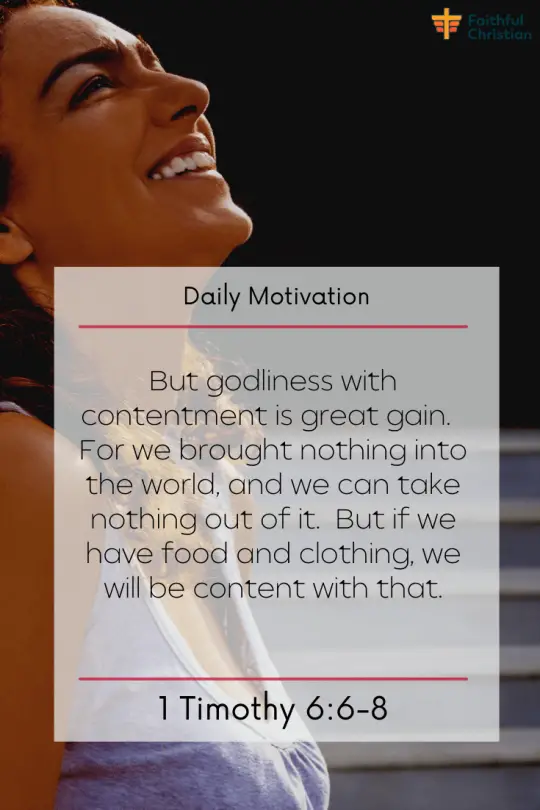 But godliness with contentment is great gain. 7 For we brought nothing into the world, and we can take nothing out of it. 8 But if we have food and clothing, we will be content with that.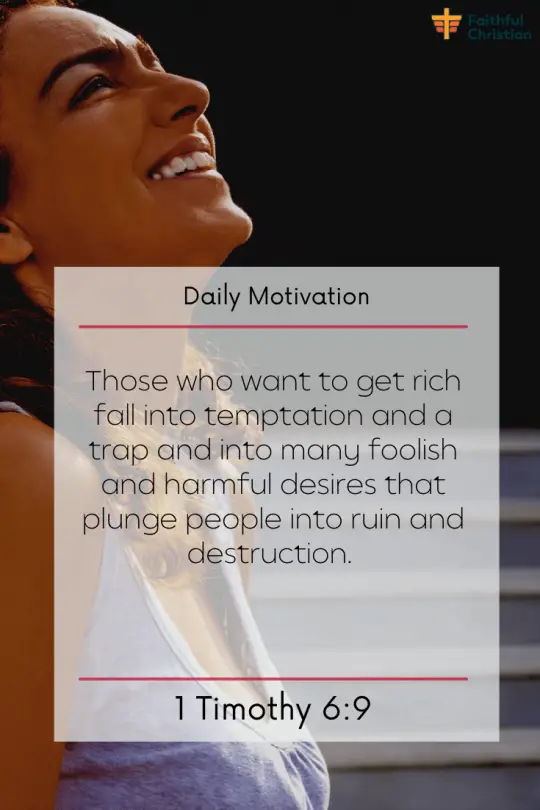 9 Those who want to get rich fall into temptation and a trap and into many foolish and harmful desires that plunge people into ruin and destruction.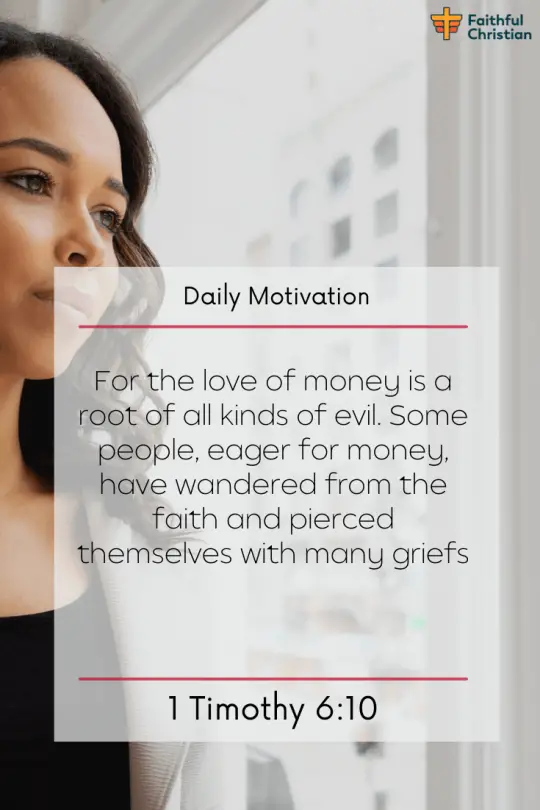 10 For the love of money is a root of all kinds of evil. Some people, eager for money, have wandered from the faith and pierced themselves with many griefs..
7. Isaiah 58:10-11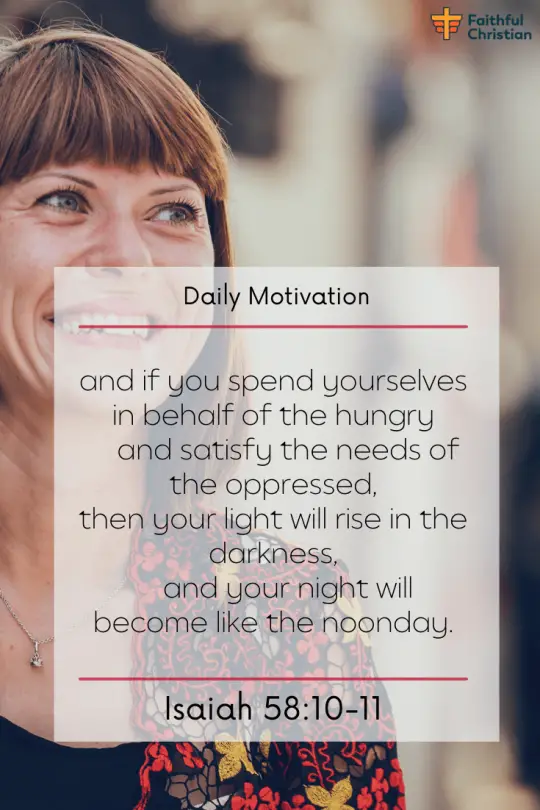 and if you spend yourselves in behalf of the hungry
    and satisfy the needs of the oppressed,
then your light will rise in the darkness,
    and your night will become like the noonday.
11 The Lord will guide you always;
    he will satisfy your needs in a sun-scorched land
    and will strengthen your frame.
You will be like a well-watered garden,
    like a spring whose waters never fail.
8. Psalm 119:36-37
Turn my heart toward your statutes
    and not toward selfish gain.
37 Turn my eyes away from worthless things;
    preserve my life according to your word.[a]
9. Proverbs 16:16
How much better to get wisdom than gold,
    to get insight rather than silver!
10. Proverbs 15:16
Better a little with the fear of the Lord
    than great wealth with turmoil.
11. Matthew 6:25-26
"Therefore I tell you, do not worry about your life, what you will eat or drink; or about your body, what you will wear. Is not life more than food, and the body more than clothes? 26 Look at the birds of the air; they do not sow or reap or store away in barns, and yet your heavenly Father feeds them. Are you not much more valuable than they?
12.  2 Timothy 3:2
People will be lovers of themselves, lovers of money, boastful, proud, abusive, disobedient to their parents, ungrateful, unholy,
13. Ecclesiastes 5:10-16
Whoever loves money never has enough;
    whoever loves wealth is never satisfied with their income.
    This too is meaningless.
11 As goods increase,
    so do those who consume them.
And what benefit are they to the owners
    except to feast their eyes on them?

12 The sleep of a laborer is sweet,
    whether they eat little or much,
but as for the rich, their abundance
    permits them no sleep.

13 I have seen a grievous evil under the sun:
wealth hoarded to the harm of its owners,
14     or wealth lost through some misfortune,
so that when they have children
    there is nothing left for them to inherit.
15 Everyone comes naked from their mother's womb,
    and as everyone comes, so they depart.
They take nothing from their toil
    that they can carry in their hands.
14. Colossians 3:5
Put to death, therefore, whatever belongs to your earthly nature: sexual immorality, impurity, lust, evil desires and greed, which is idolatry.
15. Psalm 62:10
Do not trust in extortion
or put vain hope in stolen goods;
though your riches increase,
do not set your heart on them.
---
Recommended for you
---
More scriptures about being content
16. Philippians 4:19
And my God will meet all your needs according to the riches of his glory in Christ Jesus.
17.  2 Corinthians 9:8-11
And God is able to bless you abundantly, so that in all things at all times, having all that you need, you will abound in every good work. 9 As it is written:

"They have freely scattered their gifts to the poor;
    their righteousness endures forever."[a]

10 Now he who supplies seed to the sower and bread for food will also supply and increase your store of seed and will enlarge the harvest of your righteousness. 11 You will be enriched in every way so that you can be generous on every occasion, and through us your generosity will result in thanksgiving to God.
18. Psalm 84:11
For the Lord God is a sun and shield;
    the Lord bestows favor and honor;
no good thing does he withhold
    from those whose walk is blameless.
19.  1 Timothy 6:17
Command those who are rich in this present world not to be arrogant nor to put their hope in wealth, which is so uncertain, but to put their hope in God, who richly provides us with everything for our enjoyment.
20. Deuteronomy 8:3-4
He humbled you, causing you to hunger and then feeding you with manna, which neither you nor your ancestors had known, to teach you that man does not live on bread alone but on every word that comes from the mouth of the Lord. 4 Your clothes did not wear out and your feet did not swell during these forty years.
---
Recommended for you
---
Be content with what you have (more words of encouragement)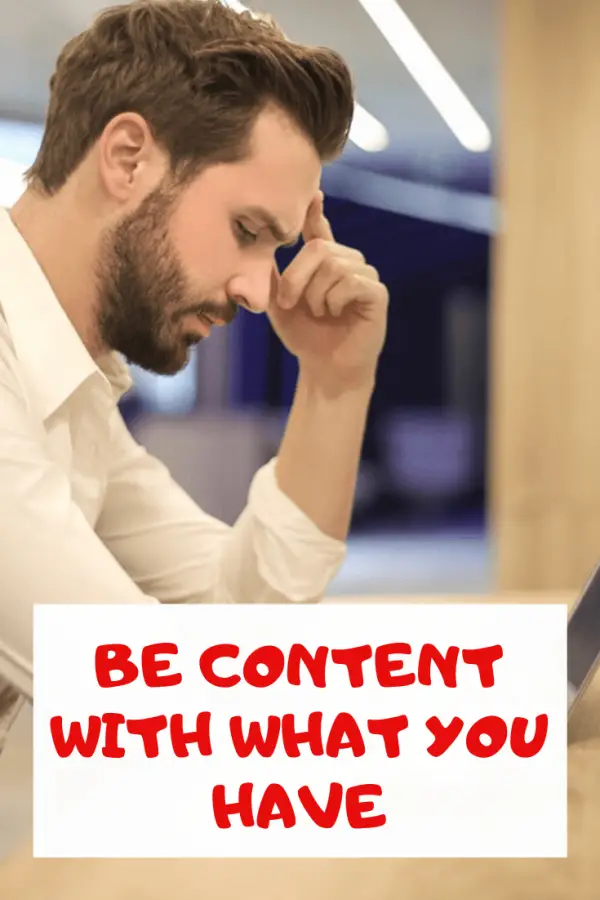 1. God is aware of your troubles
We all want to ride on the most desirable cars and live in the finest places.
That's good for the body, but is it good for our soul?
God always has a better plan for us.
Money is the root of all evil.
And God knows this.
If you will, as a result of riches, be deceived and tricked by the devil, Why will God grant you what will destroy you?
He will not.
He wishes that you flourish and be spared in the end.
God knows that there is a blissful paradise where all your needs will be satisfied by his grace.
In God's paradise, we will be short of nothing.
In other words, your wants are only temporary, and God will accomplish all of them in his kingdom.
2. Pray, and don't be discouraged
Being content does not necessarily mean you shouldn't tell God what you want.
If you need a car or a new job, talk to God through prayer.
Being content also does not mean accepting all that life throws in your face.
, But it means even after searching for God's help, you must remain patient and continue serving him.
So, get on your knees and pray for a financial breakthrough.
But remember, do not pray amiss.
There are prayers that God will not likely answer.
And that's when we pray without an understanding of the scriptures.
Always let your prayer be guided by your love for God and those around you.
He will act and bless you with all good things.
My prayer is for you to find peace and be content.
Dear heavenly Father,
We live in terrible times when our wants are infinite.
We are always tempted by the devil to forsake our trust in you.
But we know you love us and wish that we should prosper.
You said in your word, "No harm overtakes the righteous."
Therefore, in these perilous times, guide our hearts and those of our households.
Protect us from the scourge of the devil and grant us peace.
Provide all our needs and give us the grace to continue in your service.
Forgive us our sins and let them not block our heavenly blessing.
Bless us with spiritual and material things according to your will.
In all, give us the heart to be content in all things.
All these we ask through Jesus Christ our Lord.
Amen.
Author: Akatakpo Dunn
Dunn is a firm believer and a teacher of God's word. Suffering for Jesus is an attribute of a faithful Christian, and I hope to win new souls to Christ with every chance that I get. Articles are well-researched and backed by the scriptures.
Follow me: on Youtube, Facebook, Twitter, Instagram, and Pinterest.